Centralized exchanges are easy to use, easy to access and they provide advanced trading functionalities like margin trading and others. However, they also represent a security risk for your funds. While some exchanges are better guarded than others, hacks are not an uncommon event in the cryptocurrency scene, and some like the recent Bitfinex hack have led thousands of users losing their savings. Some exchanges are simply incompetent or malicious, practicing fractional reserve systems that can either lead to a voluntary elimination of the excess instruments (Mt. Gox hack from June 2011), bankruptcy (the demise of mybitcoin) or a new investor bailout. The Mt. Gox case had such an impact on the Bitcoin community that it led to the term "Getting Goxed".
Nevertheless, we need to exchange our currencies. There are certain items and services that we cannot buy with Bitcoin (yet) and in order to acquire Bitcoin or cryptocurrencies, most people have to exchange it for a national currency. Furthermore, some cryptocurrencies like Ether or Bitshares have special features or tools that are not present in Bitcoin. So how can we exchange our coins without entrusting them to a third party service? The answer lies with decentralized exchanges.
Decentralized exchanges are becoming more popular every day. Cryptocurrencie platforms like the Waves Platform, Bithsares, CounterParty and others feature their own Decentralized Exchanged our DEX.
Today we are going to show you how to use the Bitshares Decentralized Exchange where you can buy and sell any cryptocurrency, fiat currency or commodities. Bitshares allows users to issue and use  Market Pegged Assets (MPA) and User Issued Assets (UIA) which can be exchanged within the Bitshares DEX.
Market Pegged Assets are pegged to the value of their underlying assets like the Dollar, Euro, Bitcoin or Gold.
User Issued Assets can be issued by anyone, allowing users to issue stocks or other forms of assets on the blockchain.
So, let's learn how to use Bitshares! If you prefer, you can access the Bitshares DEX through the official software or through the OpenLedger exchange here. In this guide, we'll use the former on Windows 10.
Part 1 - Download the Bitshares client
Step 1: Click here to go to the Bitshares websit
Step 2: Click "Download"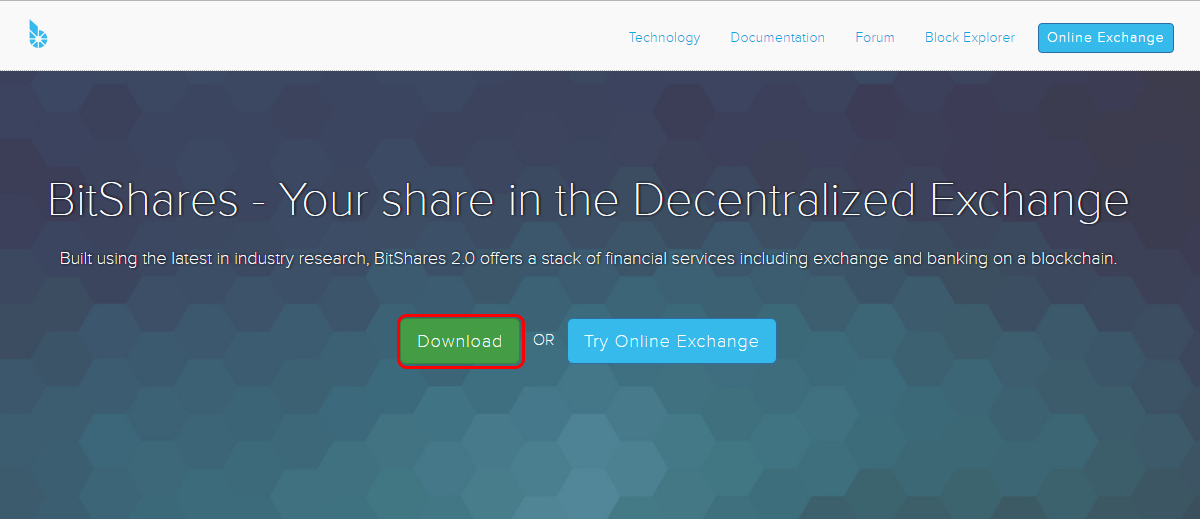 Step 3: Download the correct version according to your O.S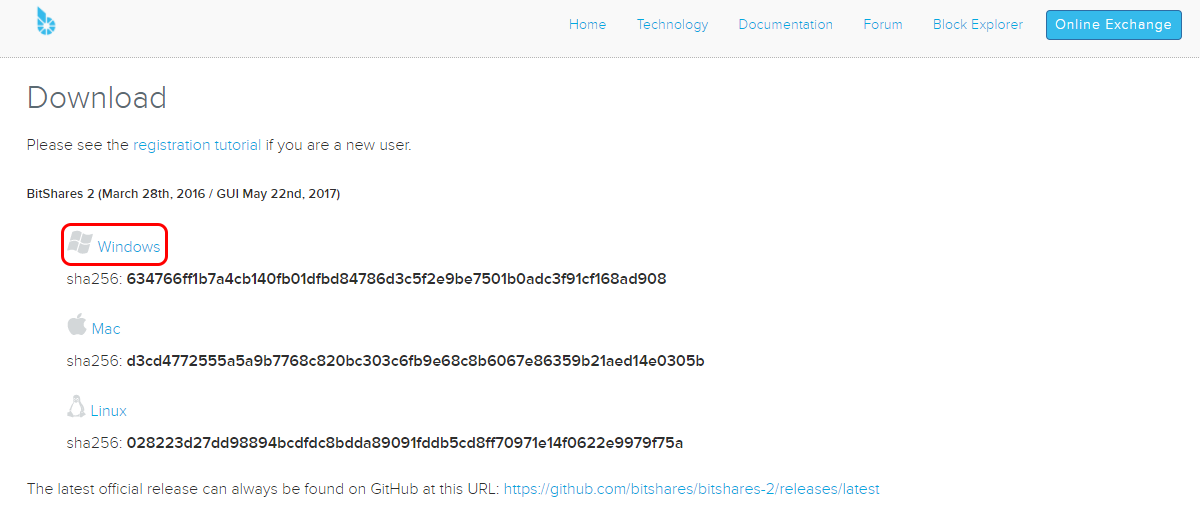 Step 4: Run the downloaded setup

Step 5: Click "Install"

Wait for the setup to finish

Step 6: Click "Close"

Part 2 - Create a Bitshares account
Step 1: Open the Bitshares app (you may need to run as an administrator)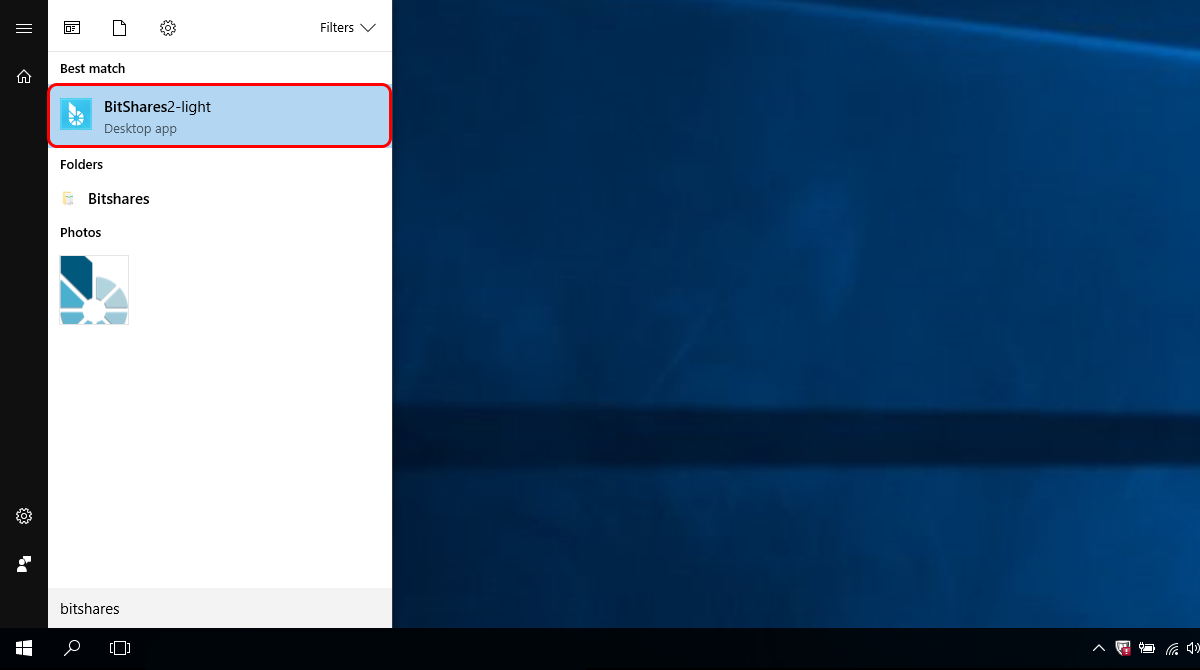 Step 2: On the left window, click scroll down and click "Create a new Account"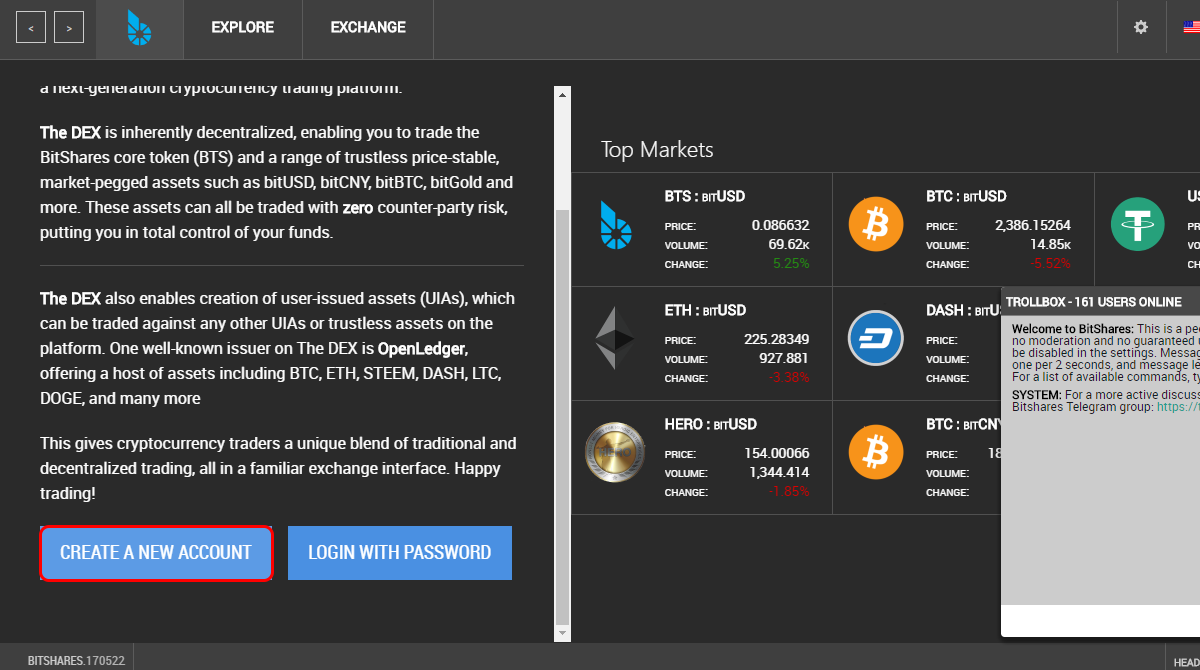 Step 3: Click "Use the Wallet Model" for higher security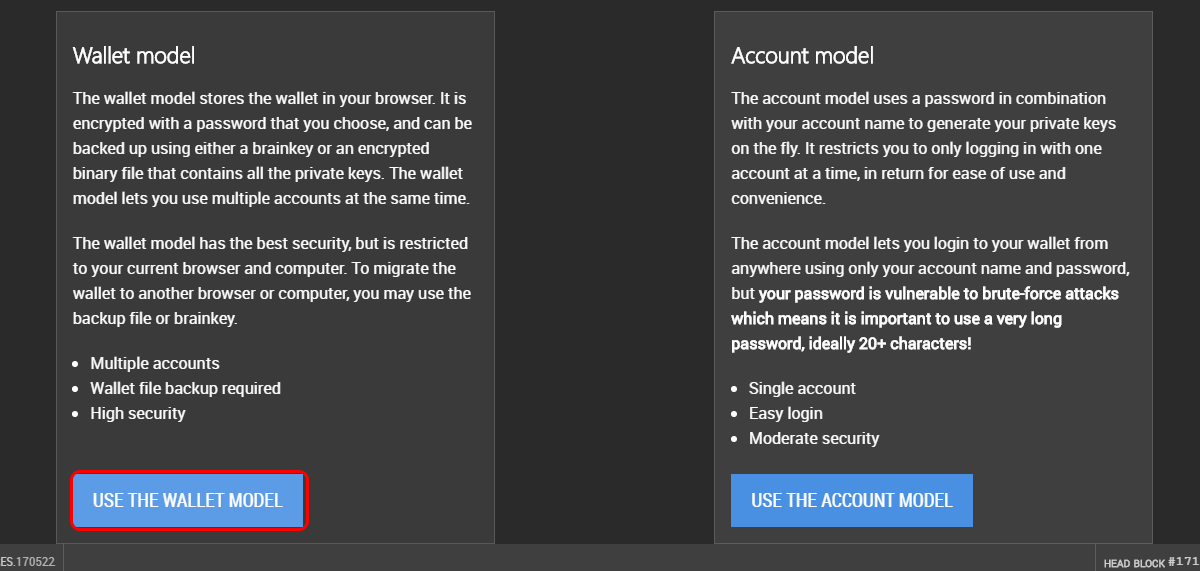 Step 4: Choose a name with a - and that ends with a letter or number

Step 5: Enter and confirm your password

Step 6: Click "Create Account"

Step 7: Click "Create Backup Now"

Step 8: Click "Download" to get your backup

Step 9: Save your file

Part 3 - Deposit Bitshares or other cryptocurrencies
Step 1: Click "Deposit/Withdraw"

Let's start with depositing BTS, which is the most simple.
Step 2: To receive BTS from another user, simply give them your username as seen below

Now, if you want to deposit other tokens like Bitcoin, Ether, or even fiat, you need to choose gateway or bridge. You can use OpenLedger to deposit crypto or fiat, Blocktrades to automatically convert deposits and withdrawals and lastly you can also use Transwire for fiat currencies.
Step 3: Choose your service

Step 4: Choose if you're using a gateway/bridge/fiat.

Step 5: Choose the currency you want to deposit

Step 6: Send the currency to the address shown or give it to the sender

You can see your balance in the upper right corner
Part 4 - Exchange cryptos
Now that you have received funds, BTC in our case (which is converted into Open.BTC). You will always see your balance in BTS worth, but you can over above it to your actual holdings. Let's see how buying and selling works.
Step 1: Click "Exchange"

Step 2: Choose the market you want to access. In our case, BTC

Step 3: Choose your desired trading pair. We're going with BTS

Step 4: Now, below the chart, choose wether you're buying BTS or selling BTS (or whichever pair you chose)

Step 5: We're going to buy some BTS, so now we're entering the price we want to pay for it in the "buy" section

Step 6: Enter the amount of BTS you want to buy

Step 7: Click "Buy"

Step 8: Enter your password and click "Log in (Unlock the Wallet)"

Step 9: Click "Confirm"

If the order is successfully created you will see this warning:

And a similar one when the order is filled. You can see your open orders and history by scrolling down below the buy and sell orders.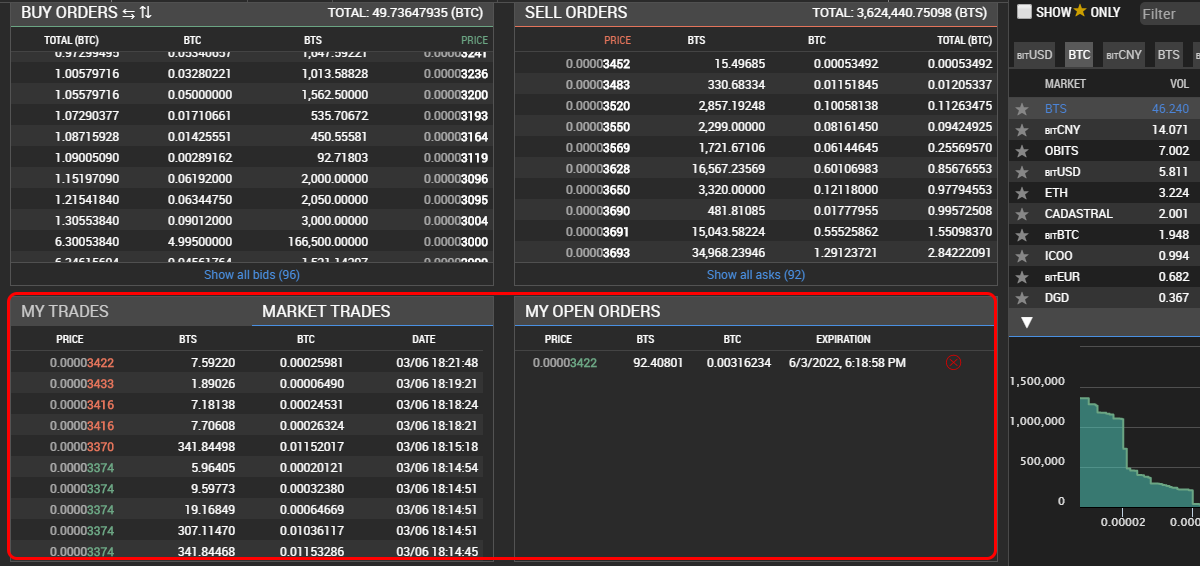 Part 5 - Transfer Bitshares or other cryptocurrencies
Now, if you want to withdraw funds from this BitShares wallet, you can use the same tools we saw when depositing. Withdrawing BTS isn't really necessary as this is the official wallet, but if you need to transfer BTS to someone or another wallet, you can follow the steps below. These steps allow you to transfer any asset between Bitshares accounts:
Step 1: Click "Send"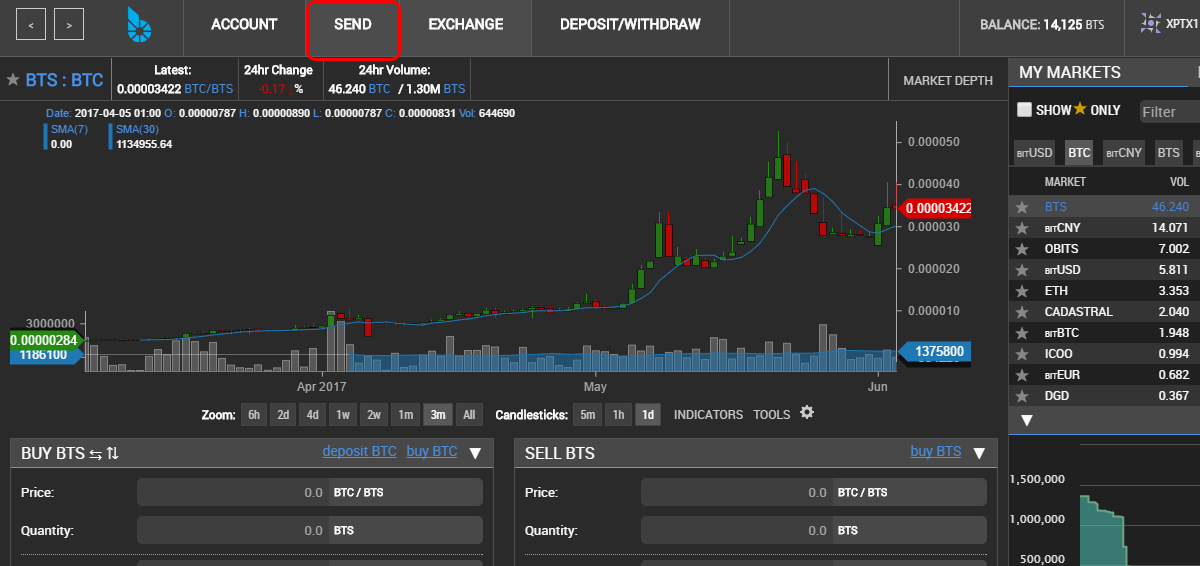 Step 2: Enter the name of the account you're sending to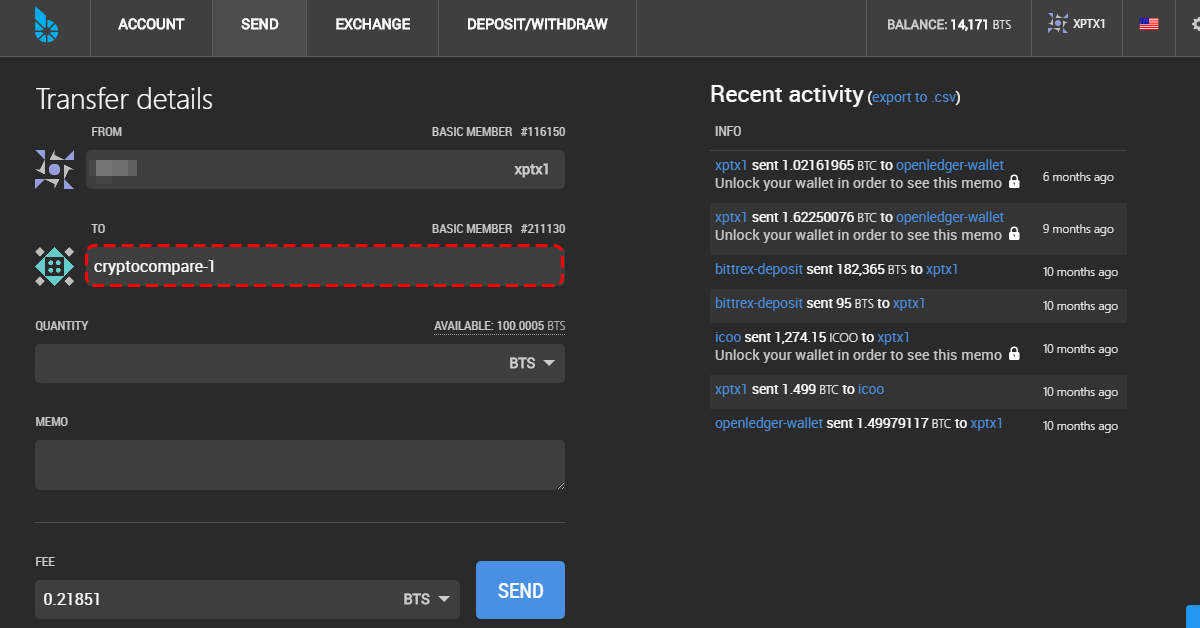 Step 3: Choose the asset you're sending and enter the amount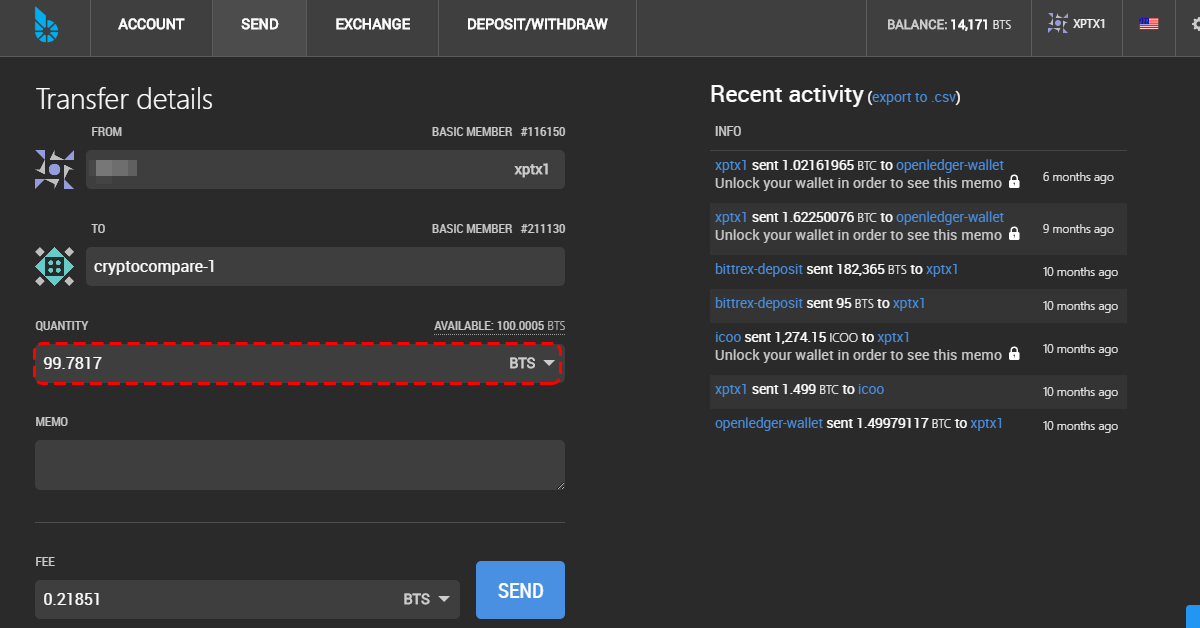 Step 4: Enter the memo if necessary (exchanges may request this)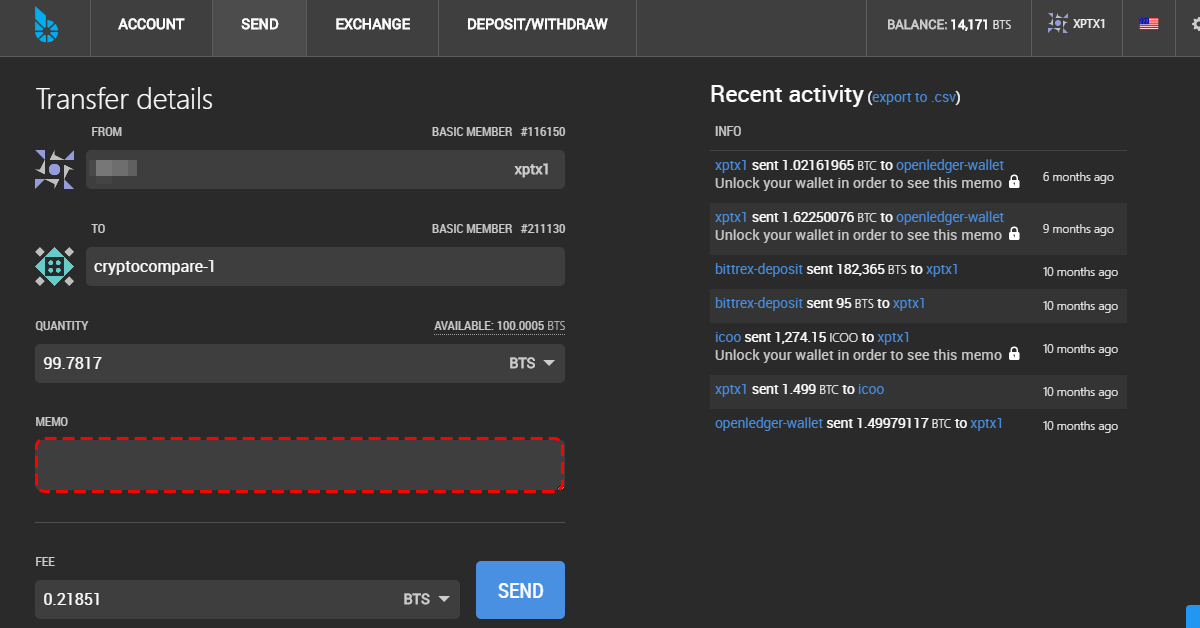 Step 5: Choose the asset you want to pay the transfer with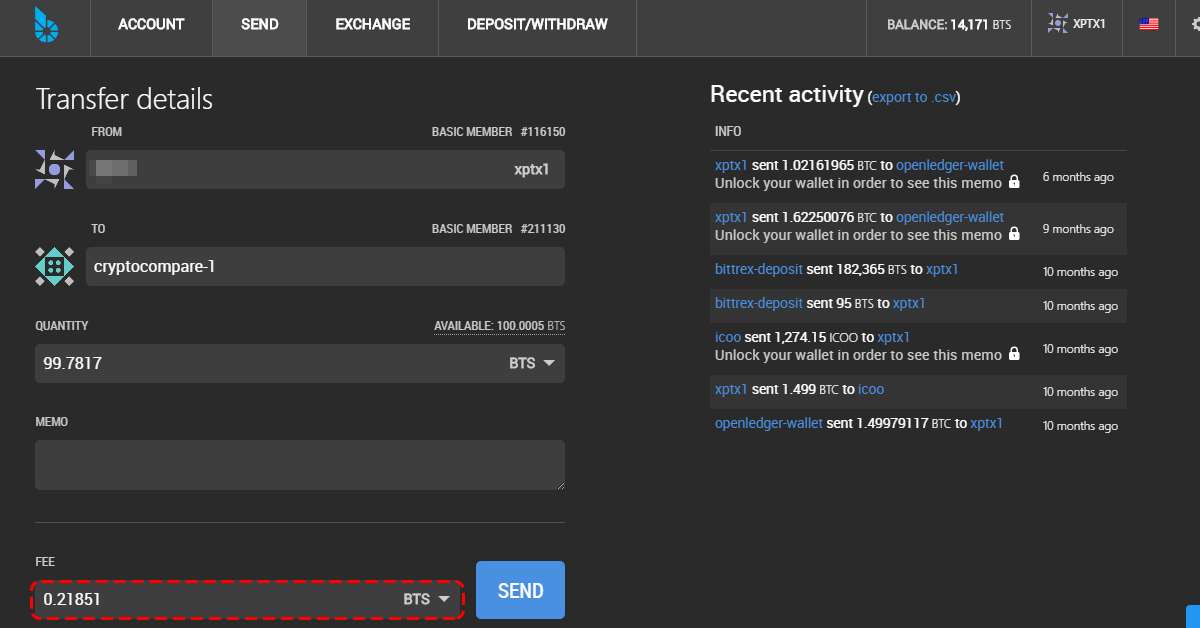 Step 6: Click "Send"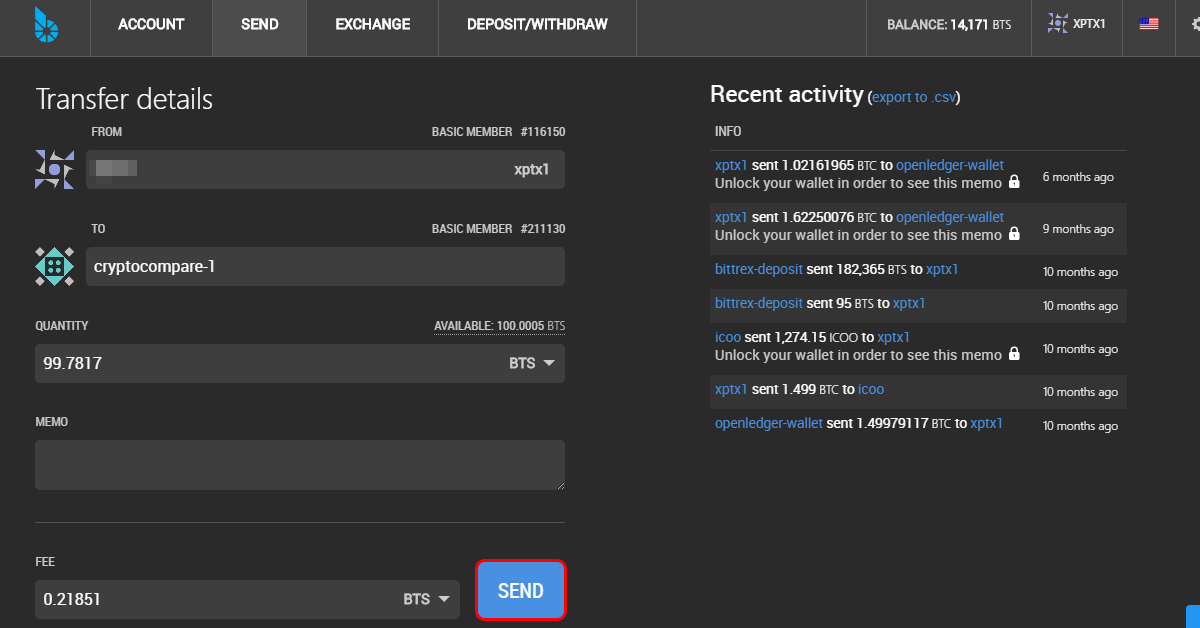 Step 7: Click "Confirm"

Part 6 - Withdraw cryptocurrencies and fiat
Step 1: Click "Deposit/Withdraw"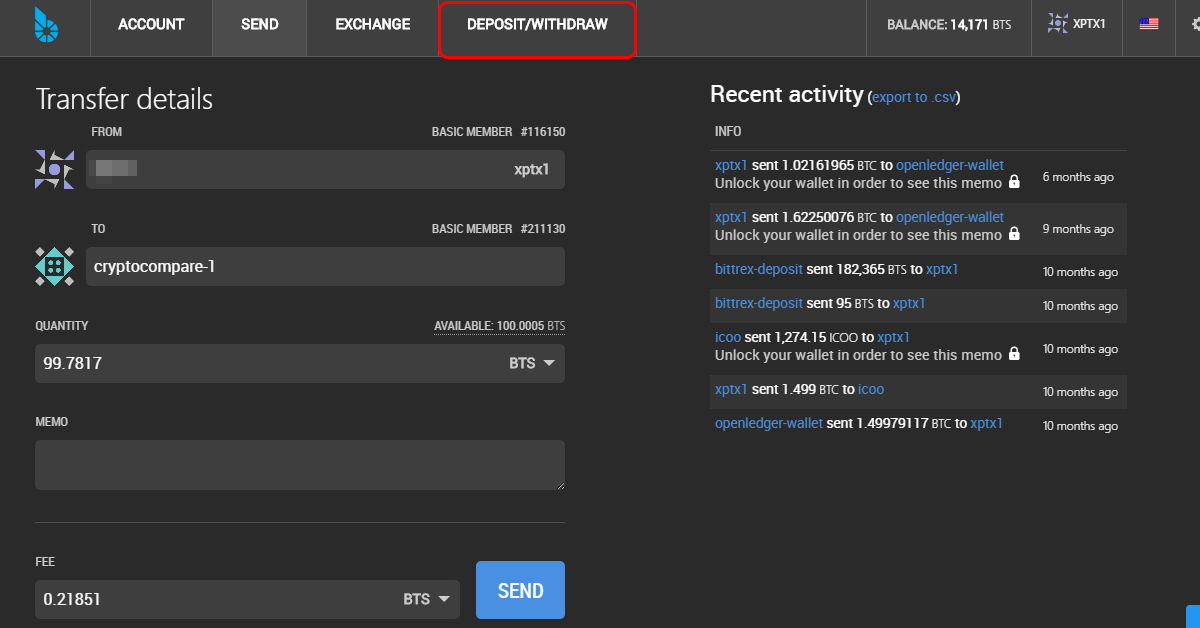 Step 2: Choose your service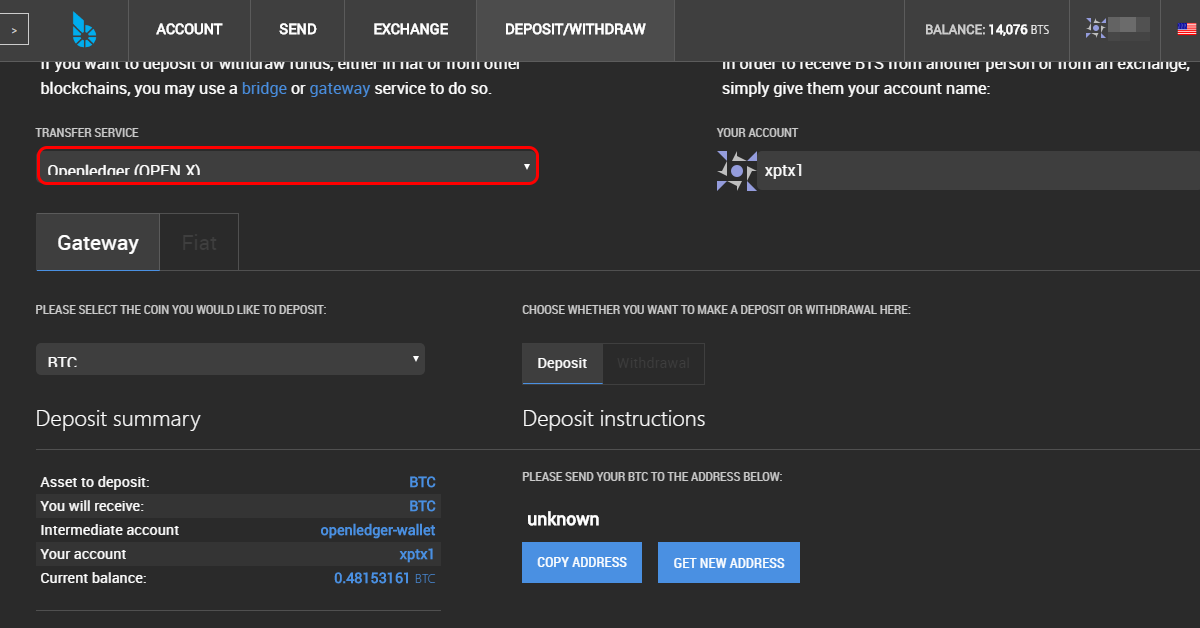 Step 3: Choose if you're using a gateway/bridge/fiat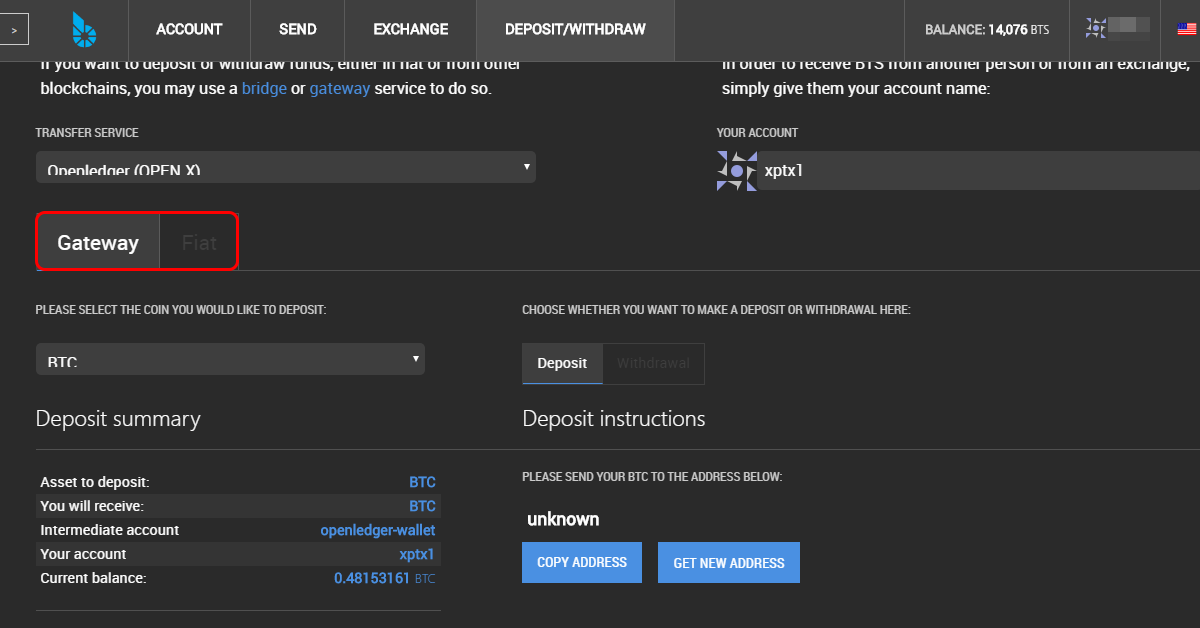 Step 4: Click "Withdrawal"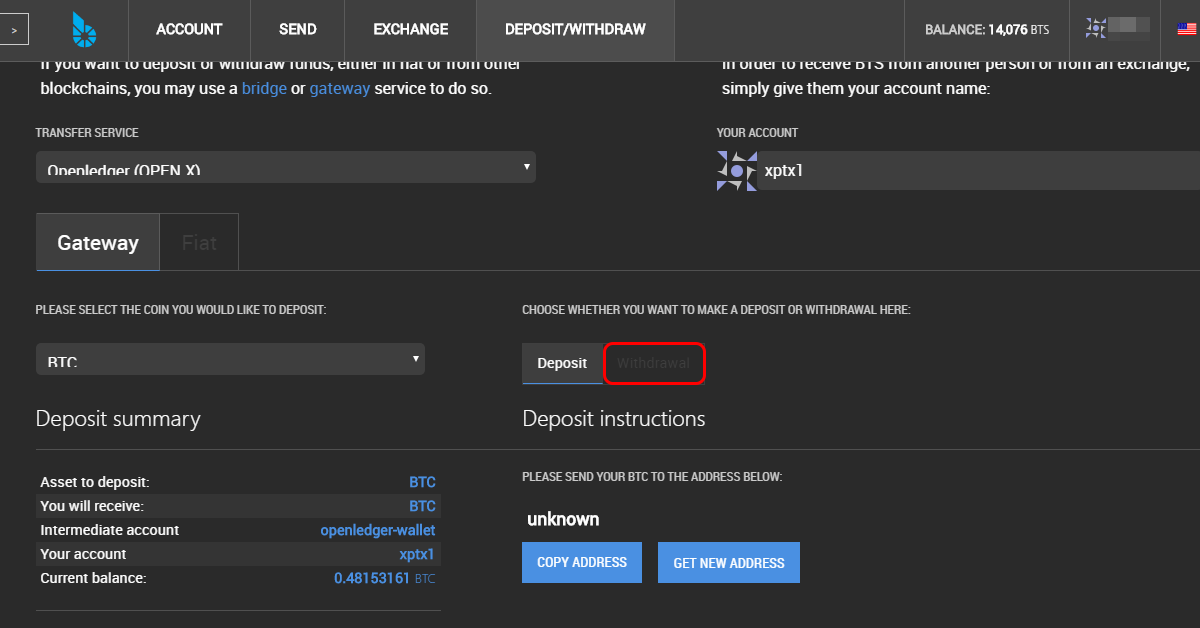 Step 5: Choose the currency you want to withdraw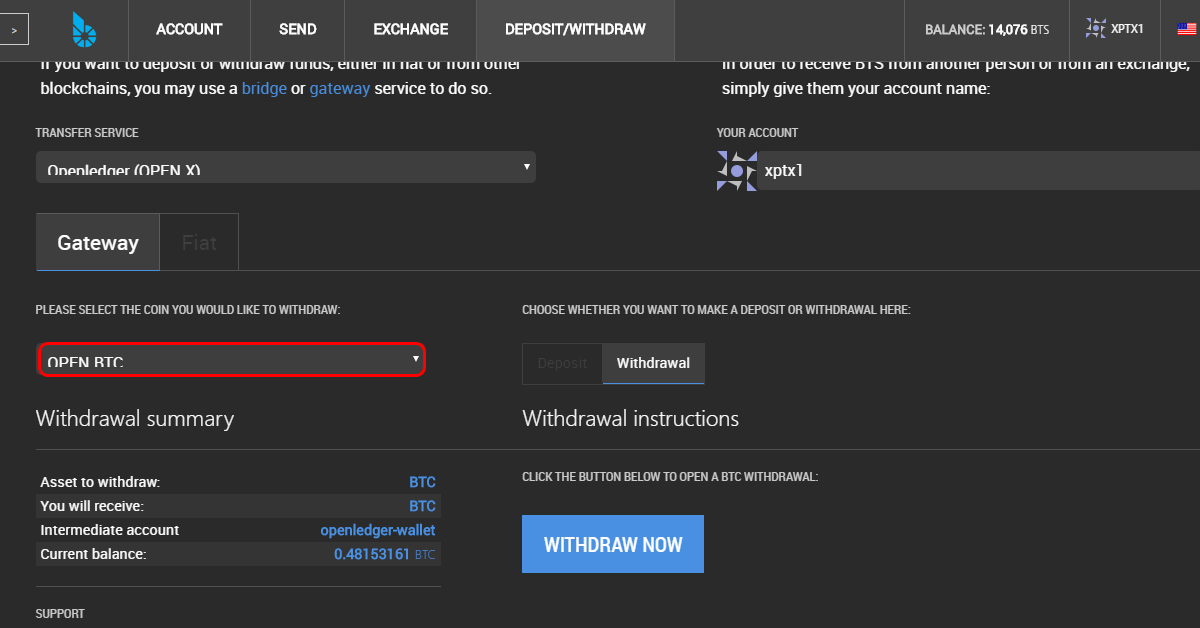 Step 6: Click "Withdraw"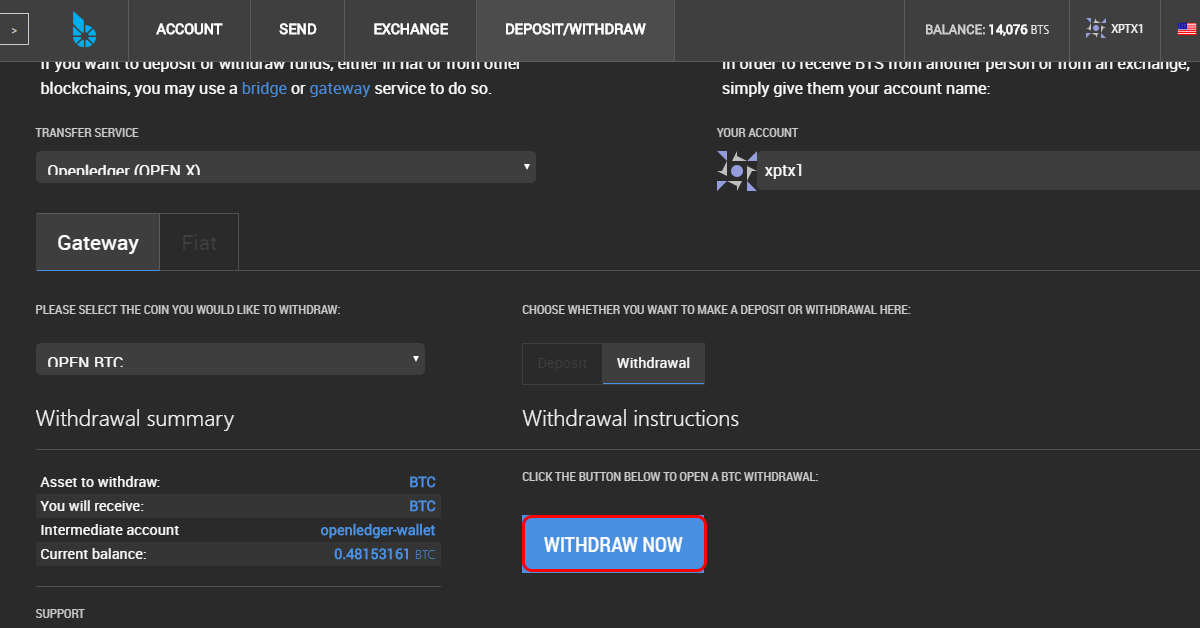 Step 7: Enter the number of coins you want to withdraw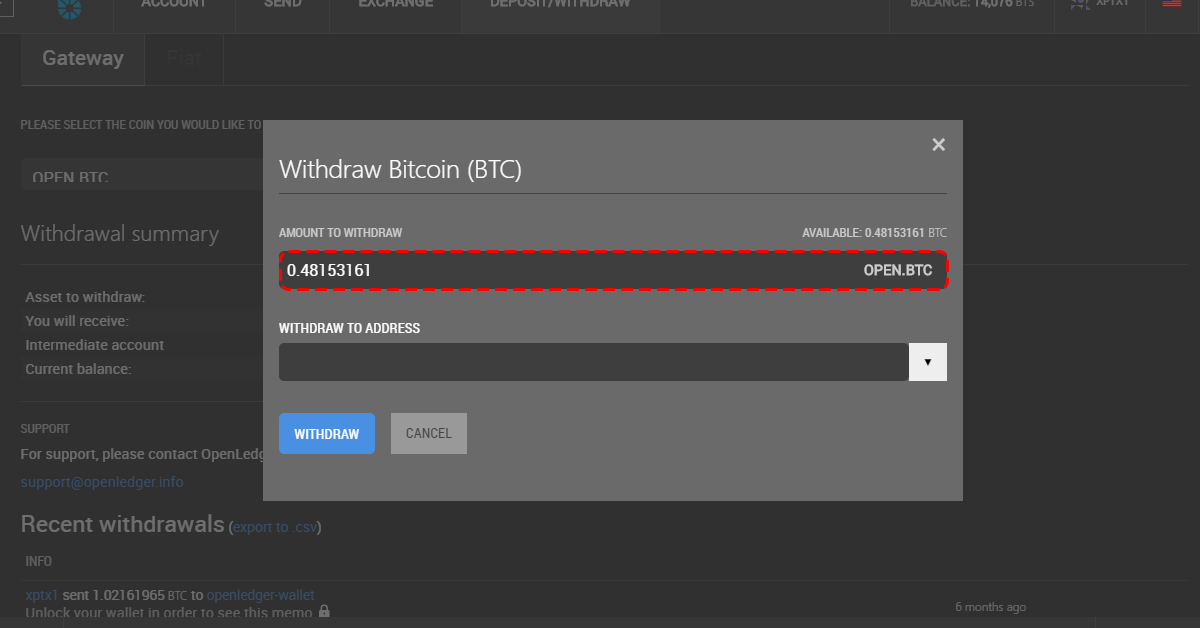 Step 8: Enter the recipient address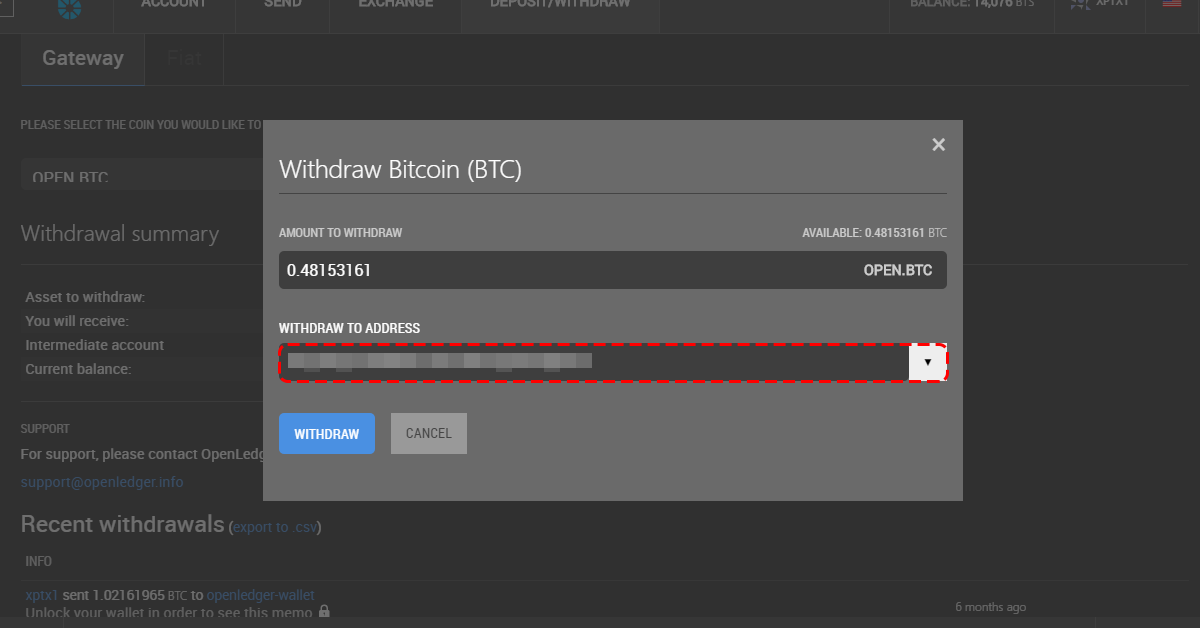 Step 9: Click "Withdraw"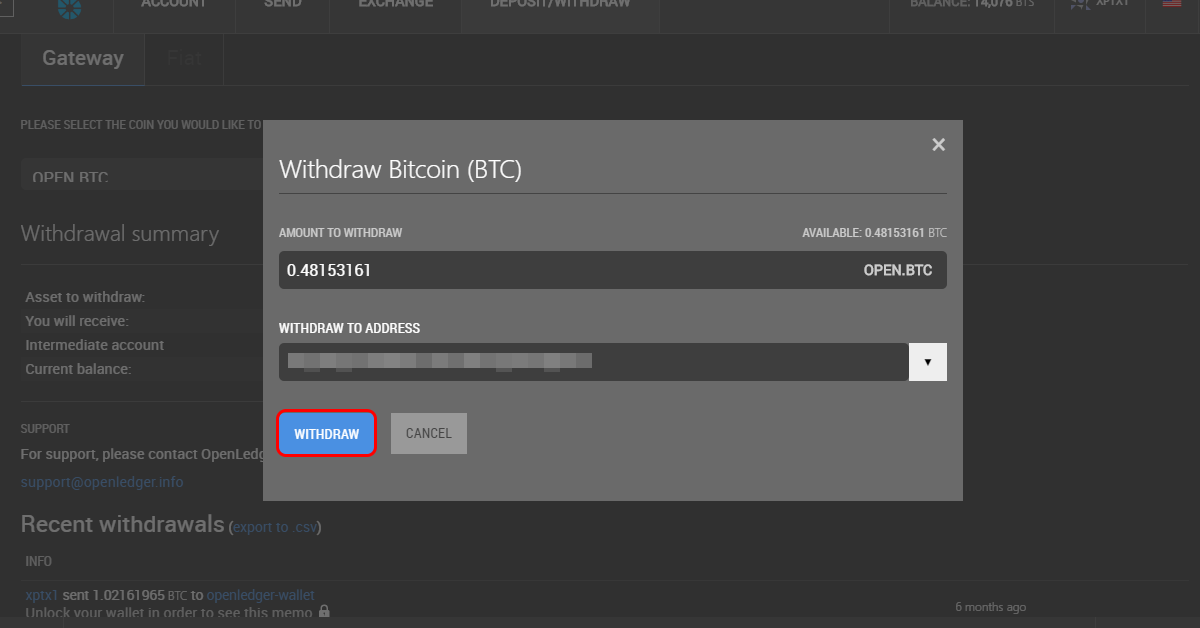 Step 10: Enter your password and click "Log in (Unlock the Wallet)"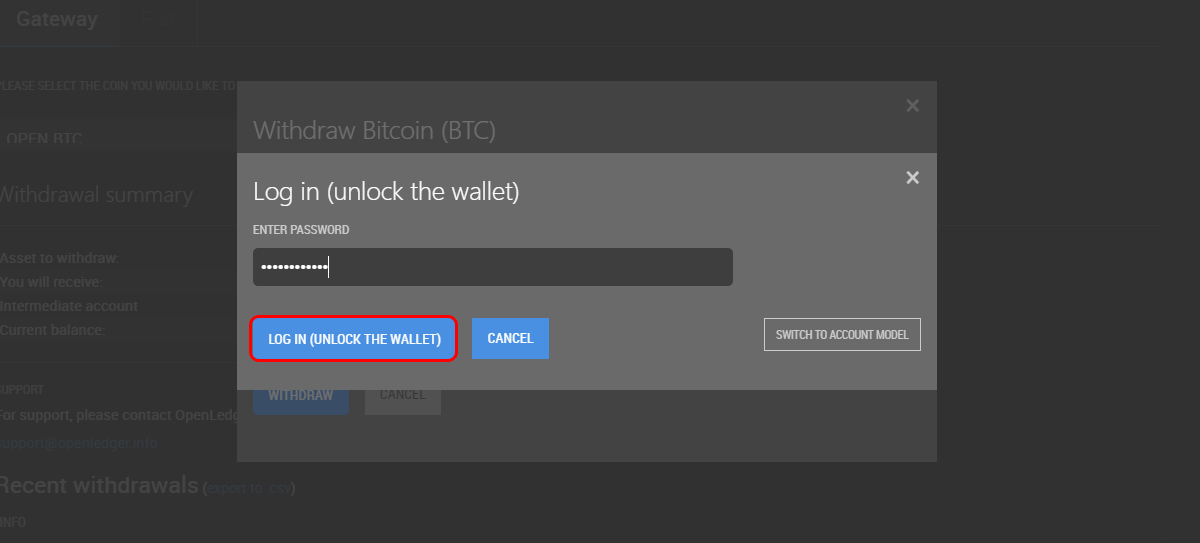 Step 11: Verify the details and click "Confirm"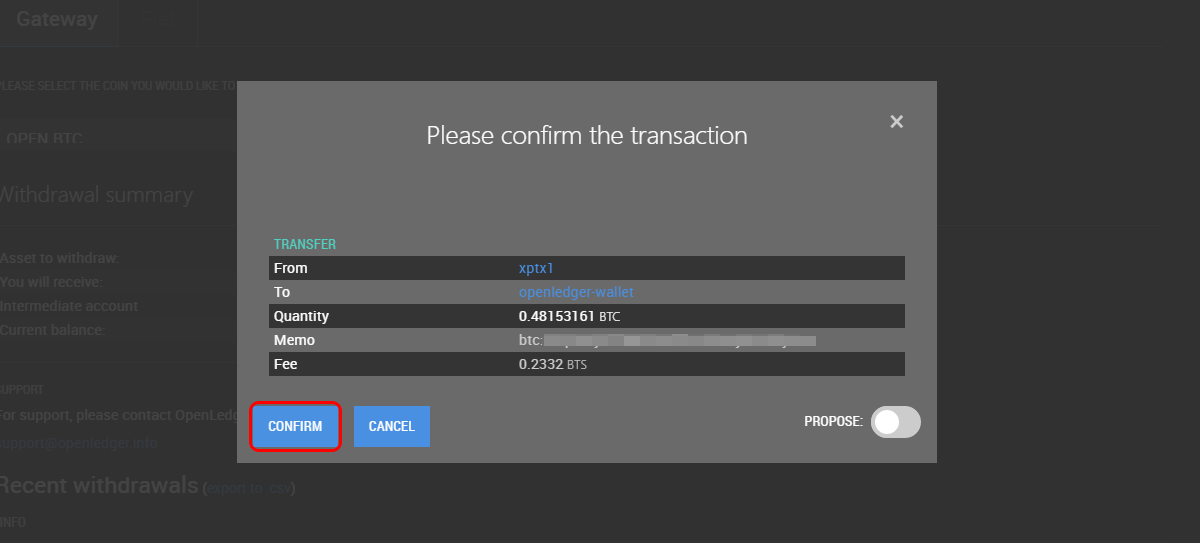 You will see a confirmation message like the one below:

That's it for our guide! Bitshares has a lot to explore though, so make sure to look around.
This website is only provided for your general information and is not intended to be relied upon by you in making any investment decisions. You should always combine multiple sources of information and analysis before making an investment and seek independent expert financial advice.
Where we list or describe different products and services, we try to give you the information you need to help you compare them and choose the right product or service for you. We may also have tips and more information to help you compare providers.
Some providers pay us for advertisements or promotions on our website or in emails we may send you. Any commercial agreement we have in place with a provider does not affect how we describe them or their products and services. Sponsored companies are clearly labelled.