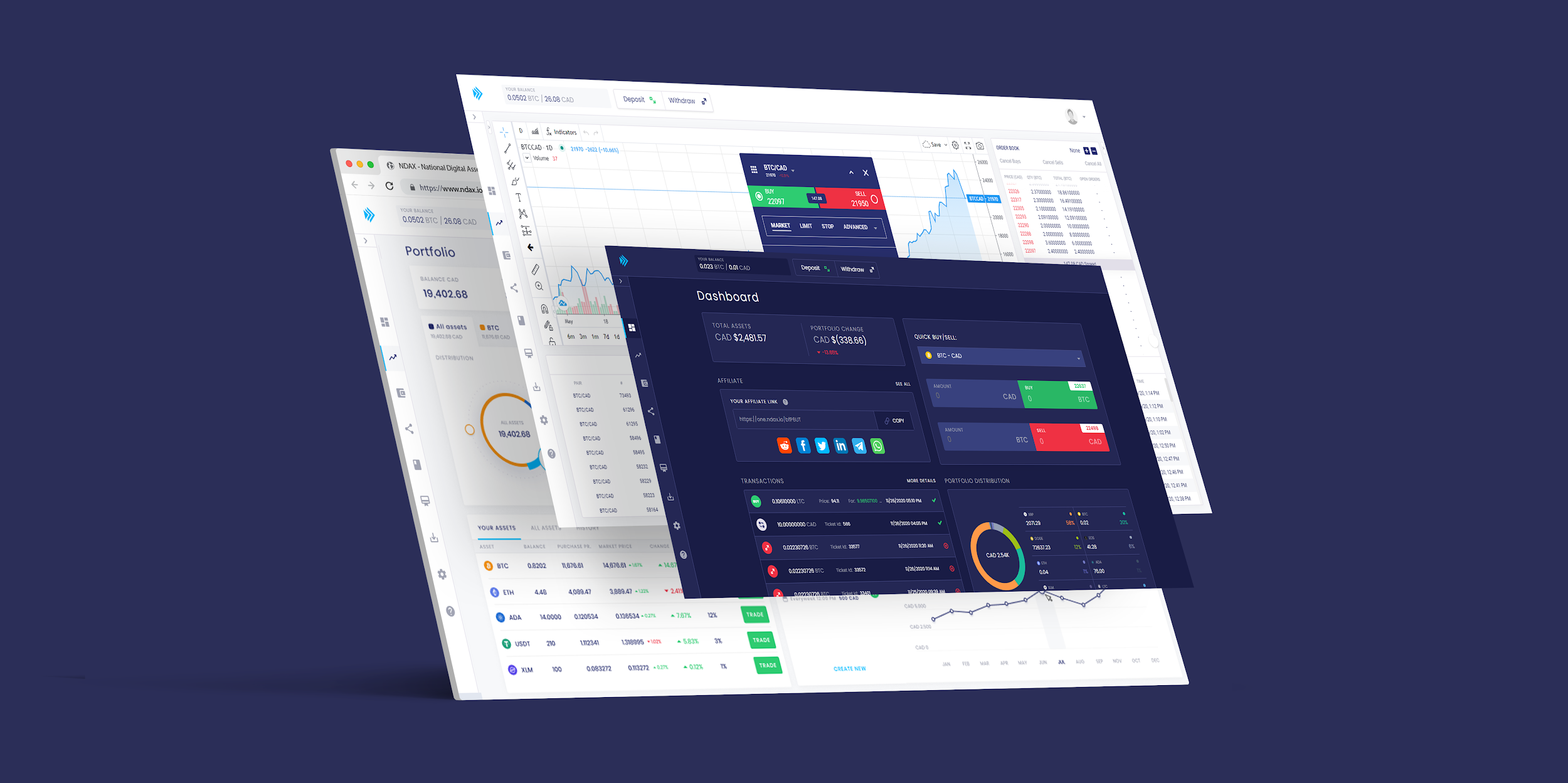 The cryptocurrency space has been steadily growing over the last few years, despite the price of bitcoin failing to reach a new all-time high. The space's growth has seen companies innovate in their offerings, even when it comes to quality and focus.
Canada-based cryptocurrency exchange NDAX is a good example of how companies in the crypto space are innovating in these two areas: the firm focuses on giving its users the best possible cryptocurrency trading experience on a professionally-built platform, and its advantages stand out after using it for more than a few minutes.
NDAX Overview
NDAX appears to be a one-stop solution for investors looking to gain exposure to top cryptocurrencies, offering them a robust platform in which they can use the country's fiat currency, the Canadian dollar (CAD) and enjoy advantages that let them participate in the crypto space.
On NDAX, verifying one's identity – a regulatory requirement in most jurisdictions throughout the world – is instant and deposits and withdrawals are processed on the same day they are made, helping users catch price movements before the chance to do so is gone.
The cryptocurrency exchange have the largest cryptocurrency portfolio available on a Canada's crypto trading platform, with several trading pairs being available for users. Trading pairs for CAD are available for most top cryptocurrencies, including BTC, ETH, XRP, LTC, EOS, DOGE, USDT, and LINK.
The exchange is also recommended for more advanced traders and users, boasting a state-of-the-art user interface filled with advanced trading options such as fill or kill, trailing stop loss, and iceberg trades.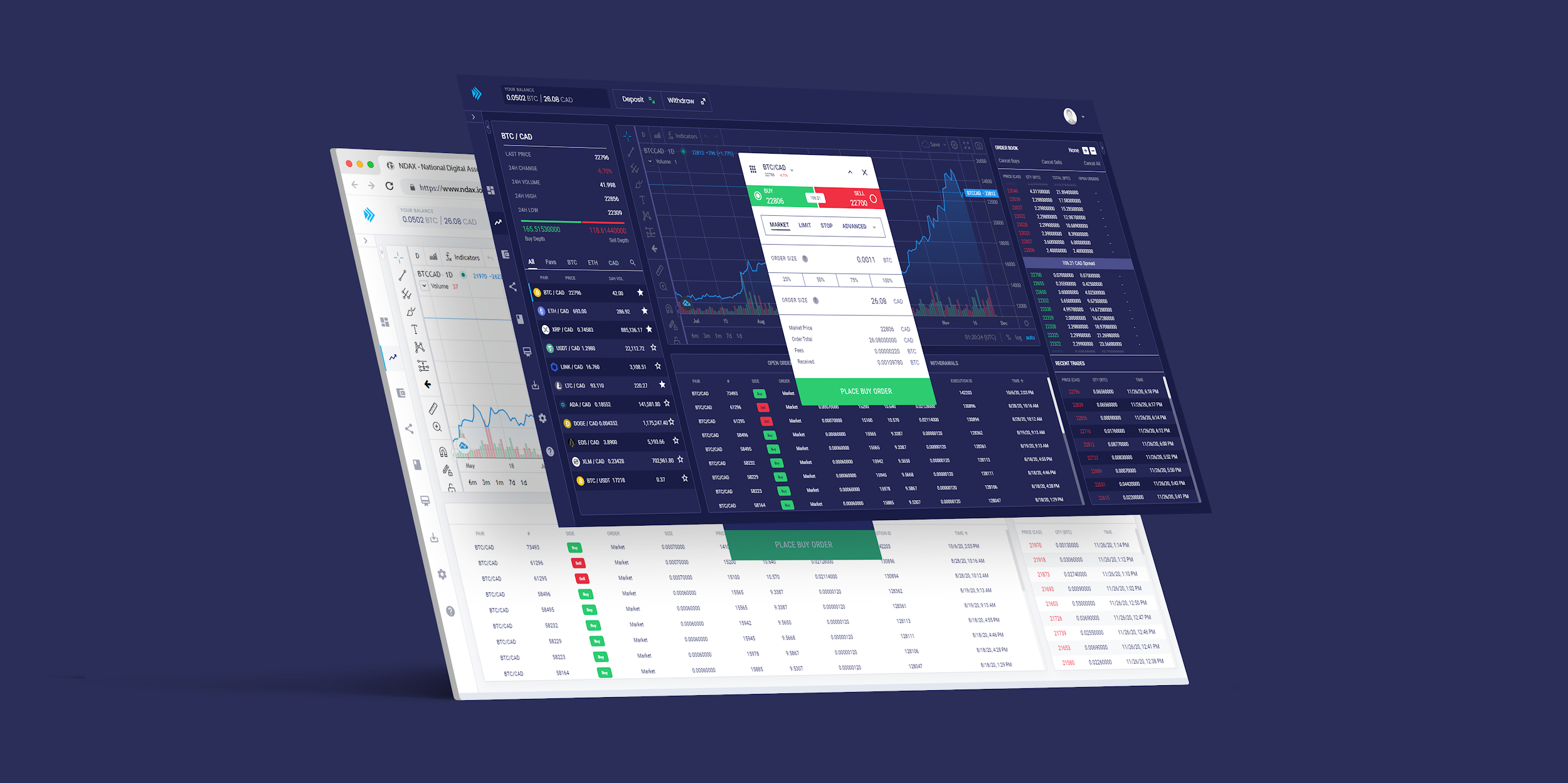 While users can look at simple charts on the platform, there are also advanced charting tools available for those who want to add technical indicators to their charts, or simply analyze trends. NDAX's trade-matching engine is reportedly capable of handling up to 1 million transactions per second.
The user interface also includes a dark mode, an option that makes platforms more comfortable when available.
Build Your Crypto Asset Portfolio
The Canada-based cryptocurrency trading platform is a one-stop-shop for crypto users who want to trade crypto assets and make a regular profit, and for investors who simply want to gain exposure to the space as part of their investment portfolio.
For the latter, advanced trading options may not be of much use, but portfolio management tools are. On NDAX, it's possible to quickly glance at your cryptocurrency portfolio to see how much each coin weights, how they are performing, and how exposed you are to a specific cryptoassets.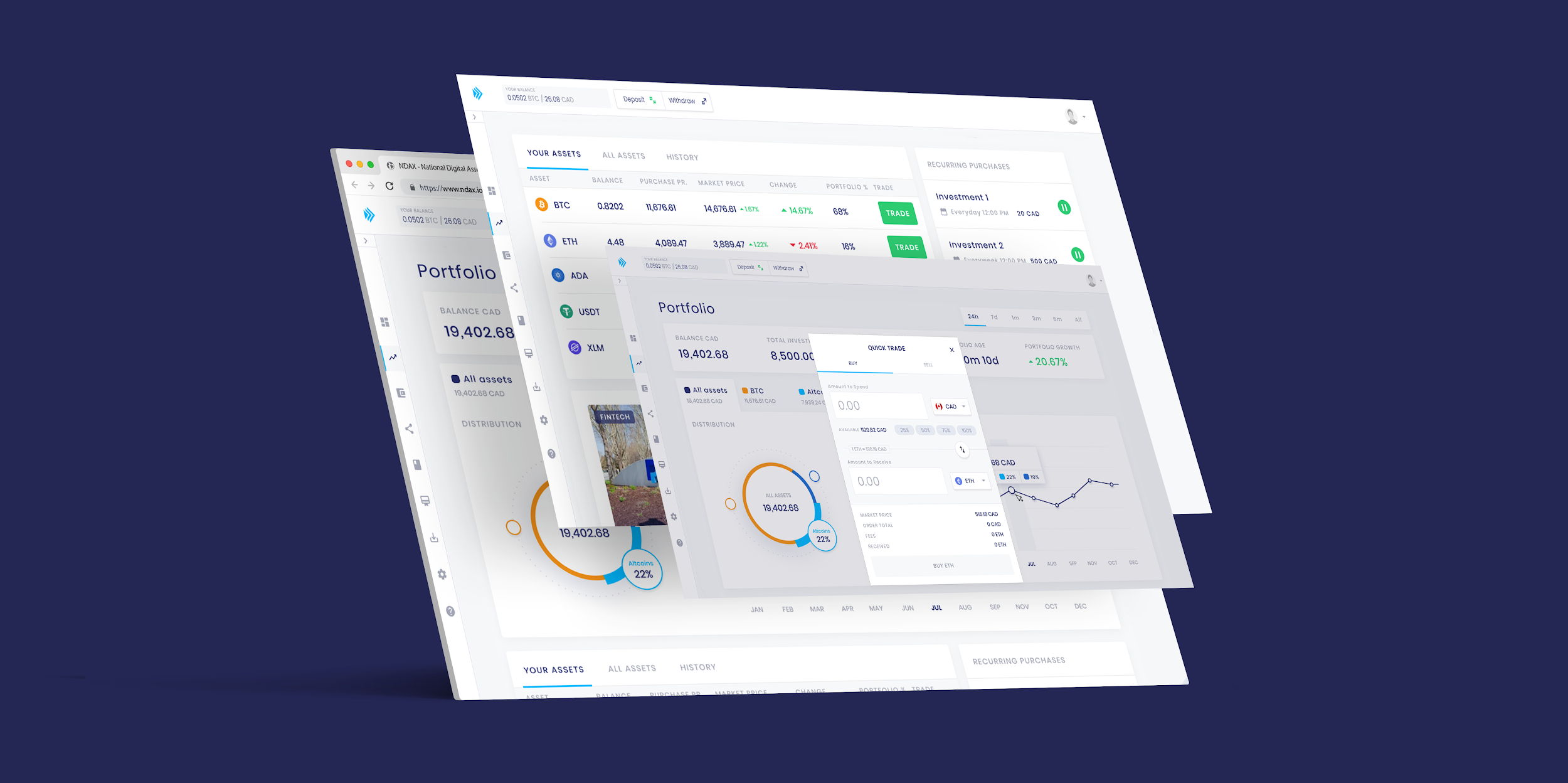 NDAX's portfolio management interface also makes it easy to see the allocation to BTC, altcoins, or stablecoins. If you need to shift funds to maintain a balanced portfolio, it makes things easier to manage.
For those in it for the long run, the cryptocurrency exchange also makes it easy to set up recurring purchases. All you need to do is set up a timeframe and choose the amount to be spent on a specific cryptocurrency distribution.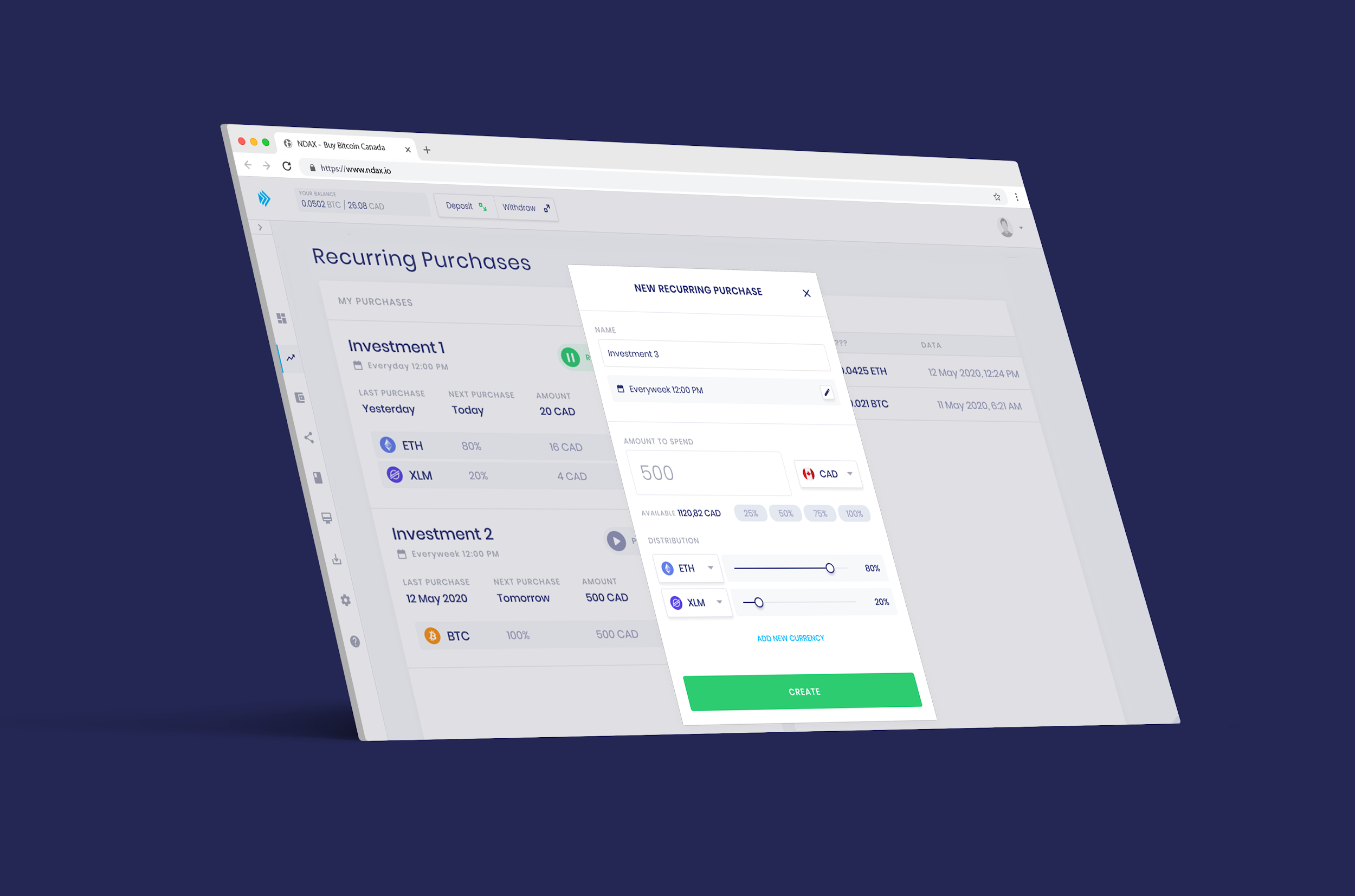 This almost automates dollar-cost averaging your investment in cryptocurrencies. Dollar-cost averaging your investment into BTC, at $100 per month for the last five years, would've meant a total investment of $6,000, which would now be worth over $41,000.
Making the exact same type of investment into gold would mean your $6,000 would now be worth $8,700.
The exchange also has a digital asset over-the-counter (OTC) trading desk built for investors who want to trade more than $50,000. The OTC desk gives them access to a deep liquidity pool on a selection of cryptoassets to allow them to buy while avoiding price slippage.
Fee Schedule
One important factor to always consider when choosing a cryptocurrency trading platform are the fees charged. NDAX charges a 0.2% trading fee, and no deposit fees on fiat and cryptocurrencies.
Withdrawal fees are fixed and can be seen on NDAX's fee schedule. The exchange charges a flat fee so the customer does not ever have to worry about the uncertainty of network fees.
NDAX's Security
The company also ensures it follows the highest security standards in the fintech industry, holding the majority of the funds offline in cold storage, in wallets protected by multi-signature technology provided by Ledger Vault.
The firm has insurance to cover $5 million on its cold wallets, including for internal theft and Hardware Security Module malfunction, as well as $3 million to cover its hot wallets.
Through a banking relationship with a Canadian Crown-owned financial institution, user funds are kept in a segregated bank account held at the financial institution, separate from its working capital.
In the event of insolvency, authorities would look to identify the owners of the deposited funds and distribute them accordingly.
Affiliate Program
The platform has an affiliate program for existing users to invite over their friends and acquaintances. For users who refer up to 10 other users, they give and get $10 per each new user that signs up, and a 10% lifetime trading fee from the revenue generated from those users.
If a user refers up to 20 other users a month, they give $10 to each new user, but get $15 for each signup, along with a 20% lifetime trading fee revenue from their signups. Referring 21 or more users per month leads to a $25 referral bonus, and a 30% share of their trading fee revenue for life.
If you are looking to buy Bitcoin in Canada, head over to NDAX's website and sign up. To follow up with the cryptocurrency exchanges progress follow them on  Twitter.
This is a sponsored story. Its content does not constitute financial advice. Please remember that the value of investments, and any income from them, can fall as well as rise so you could get back less than you invest. If you are unsure of the suitability of your investment please seek advice.
This website is only provided for your general information and is not intended to be relied upon by you in making any investment decisions. You should always combine multiple sources of information and analysis before making an investment and seek independent expert financial advice.
Where we list or describe different products and services, we try to give you the information you need to help you compare them and choose the right product or service for you. We may also have tips and more information to help you compare providers.
Some providers pay us for advertisements or promotions on our website or in emails we may send you. Any commercial agreement we have in place with a provider does not affect how we describe them or their products and services. Sponsored companies are clearly labelled.