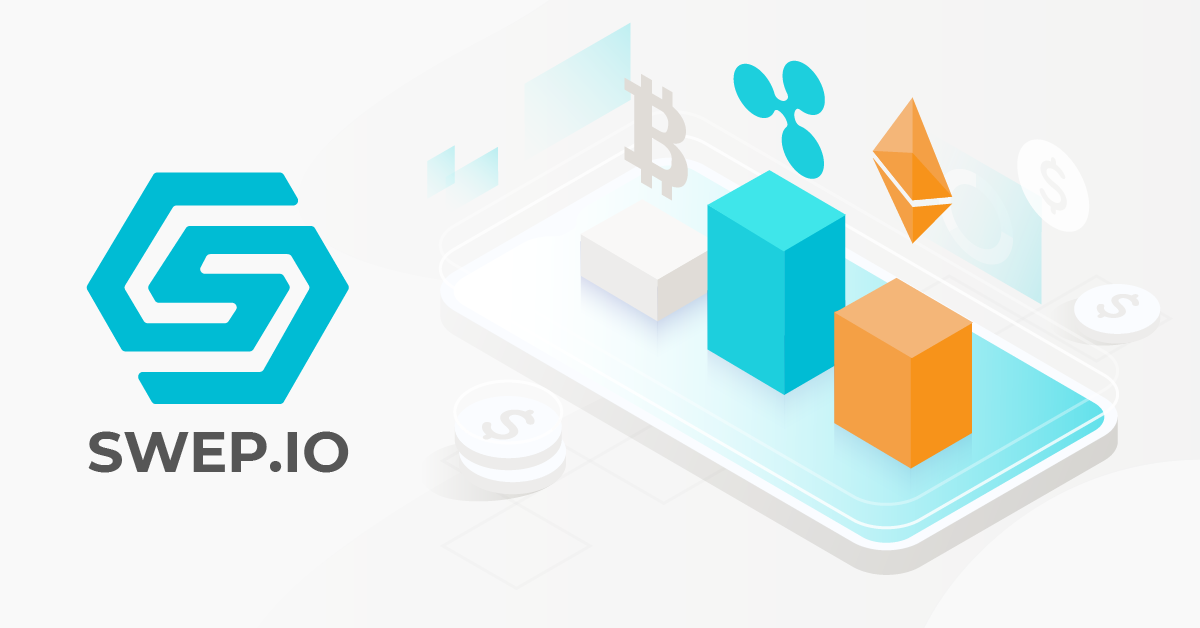 A team of professional developers from Estonia is launching a new cryptocurrency exchange called Swep.io. Being extremely enthusiastic about making a name in the space, the Swep.io team has serious plans on improving and adding features into their brainchild.
Swep.io users can already choose from more than 121 cryptocurrencies in order to proceed in exchanging cryptocurrency operations legally. Swep.io is a service that will unite services for the exchange of cryptocurrencies, as well as their safe storage, and will allow its clients to transfer funds to secure wallets within a short time frame.
Moreover, the team is going to present its affiliate program, which will delight active users with pleasant bonuses and the possibility of earning passive income.
The Benefits of Using Swep.io's Services
The execution time on exchange usually varies from 1 to 30 minutes, depending on how quickly the transaction is confirmed by the network. Different coins require different confirmation times, and if one coin needs more confirmations, Swep.io notifies users of possible delays before they send the coins to the platform. In the case of large volumes (more than 1 BTC), the processing time may be longer than just a few minutes during general transactions. 
While other services impose artificial limits on the exchange volumes, io allows the exchange of any amount at a time. Swep.io guarantees that a client will get the exact amount of coins that he has stated. There are no upper limits for cryptocurrency exchanges on Swep.io. 
The number of exchanges with the option to protect clients from sudden market fluctuations is limited. Swep.io has advantages over other exchanges by allowing its clients to make operations with a fixed rate which is displayed to the client on the moment of transaction. Swep.io fixes the exchange rate in order to protect its customers from adverse market rate fluctuations. The fixed-rate remains if the funds arrive within 15 minutes after the transaction is created. 
Swep.io's technical support line is available 24\7. 
Exchanges take their percentage of transactions as payment for their services. This percentage lowers potential revenue. For the exchange of any volume, io takes a single fair fee varying from 0.1% to 0.3%.
Currently, there is a noticeable positive trend in increasing the financial literacy of the population, thus more and more people understand the intricacies of working with cryptocurrencies.
Making cryptocurrencies more expendable, creating a supportive ecosystem around them which includes both reliable wallets and digital asset exchanges, can facilitate the adoption of digital assets around the world.
The growing popularity of cryptocurrencies and the expansion of the range of opportunities for their use has led to the emergence of specialized services that exchange digital coins for other coins or fiat money.
If at one time these exchanges had to be searched for at incomprehensible Internet nooks, nowadays such exchangers are almost at every step. Therefore, seeing the need for worthy crypto exchanges that have proven their worth by time and deed, Swep.io decided to launch a well-thought-out and in-demand product. As the developers say, "We are working every day to improve the processes of cryptocurrency exchange".
About Swep.io
Swep.io is a licensed platform for legal digital assets and cryptocurrency exchanges, which provides its users with legal, secure, and fast cryptocurrency swaps. You can choose from more than 121 coins, and the list of available coins is constantly expanding. The company is located in Estonia and has all the necessary permits and documents to carry out activities in the field of cryptocurrencies. Our support managers are always ready to help you and answer your questions, 24/7.
Swep.io Website https://swep.io/
Follow us:
Twitter https://twitter.com/swep_io_
Instagram https://www.instagram.com/swep.io
Facebook https://www.facebook.com/swep.io/
Telegram https://t.me/swepio
This website is only provided for your general information and is not intended to be relied upon by you in making any investment decisions. You should always combine multiple sources of information and analysis before making an investment and seek independent expert financial advice.
Where we list or describe different products and services, we try to give you the information you need to help you compare them and choose the right product or service for you. We may also have tips and more information to help you compare providers.
Some providers pay us for advertisements or promotions on our website or in emails we may send you. Any commercial agreement we have in place with a provider does not affect how we describe them or their products and services. Sponsored companies are clearly labelled.