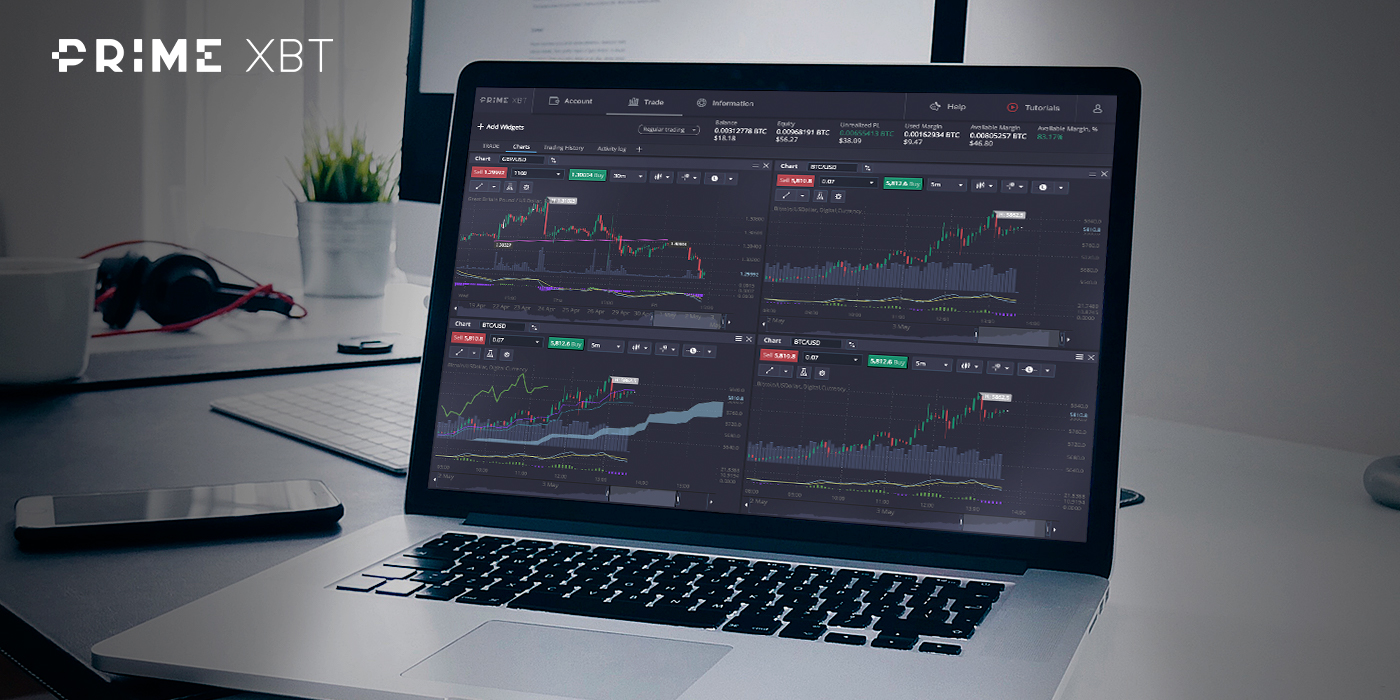 In the arena of crypto-powered derivatives platforms, the battle is ever-raging. Ever since 2018 when the altcoin market was decimated, more and more options have emerged for trading the main cryptos on leverage as traders have sought other methods of profit. What was once a handful of exchanges offering this particular capability has turned into dozens.
Launched in 2018, PrimeXBT was one of them. Since then, PrimeXBT has made a name for itself and presents some interesting features to set it apart from the pack.
Basics
PrimeXBT as a whole is registered partially in the Seychelles islands, and partially in St. Vincent and the Grenadines islands. Unfortunately, users from the usual cast of countries jurisdictions may not use the platform as per their own laws: from the US, Quebec, and a few other countries whose governments are not very stable.
PrimeXBT doesn't require KYC verification, ensuring the highest possible level of personal data privacy and security. After confirming your email address is active, you will be prompted to enter your country of residence, then registration is complete. The upshot here is that registration is exceedingly simple and fast; no barrier to making a first deposit and trading (and withdrawing).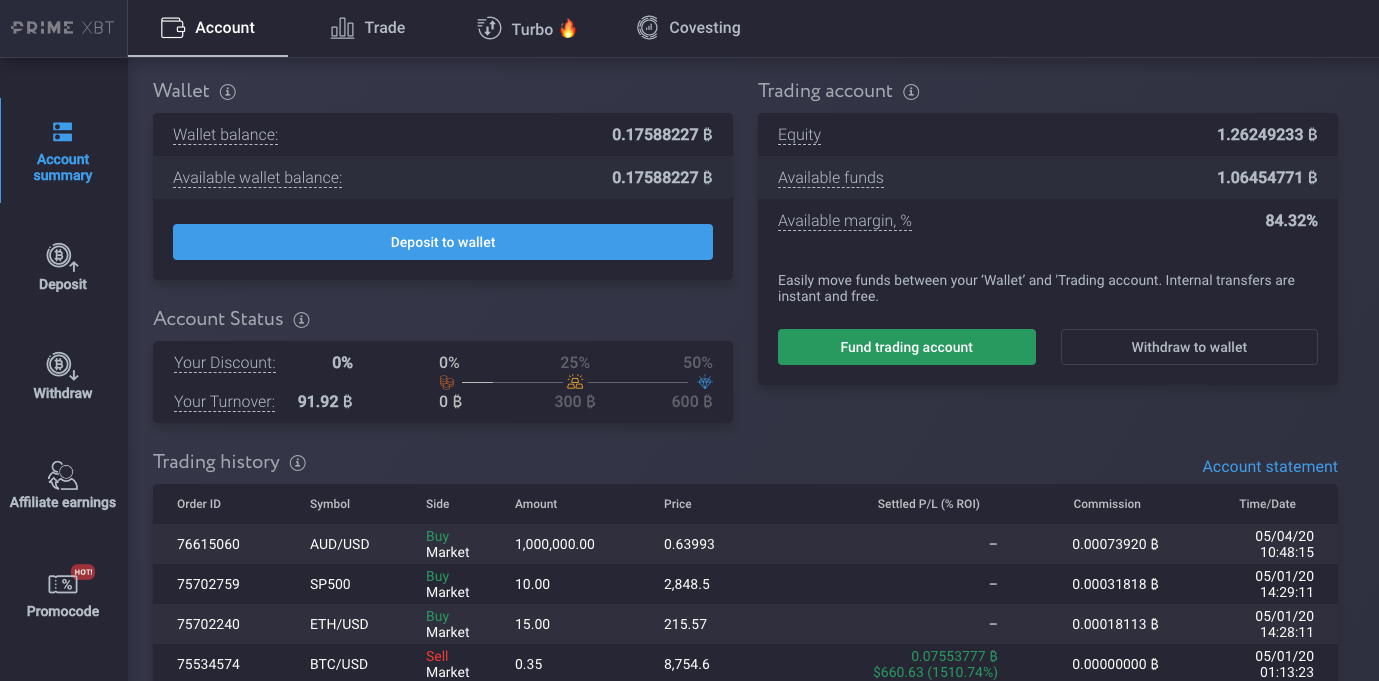 PrimeXBT recommends enabling 2FA immediately after you complete the registration process. This is the standard Google two-factor authentication feature, commonly known as "2FA", which you really should be using for account security purposes anyway.
Withdrawal address whitelisting is another security feature which adds an additional layer of protection by allowing customers to whitelist specific withdrawal addresses. In the unlikely event that your PrimeXBT account is compromised, an unauthorized user will not be able to withdraw digital assets to a different address.
There is also a very helpful Telegram bot, that allows you to quickly receive information such as account balance, open positions, active orders, current market rates and more. This is especially handy when you are on slow internet.

PrimeXBT is notable in that the only funding method available is with bitcoin, although this is not completely unique in the cryptoasset industry. This means that the healthy array of assets available on PrimeXBT (we'll get to that below) are all essentially synthetic assets, traded implicitly against bitcoin when it's time to withdraw.
However, an integrated Changelly widget is available to fund the bitcoin account using different methods such as credit/debit cards, or other cryptocurrencies. This makes it much easier to fund your account, as Changelly offers a wide selection of purchasing options.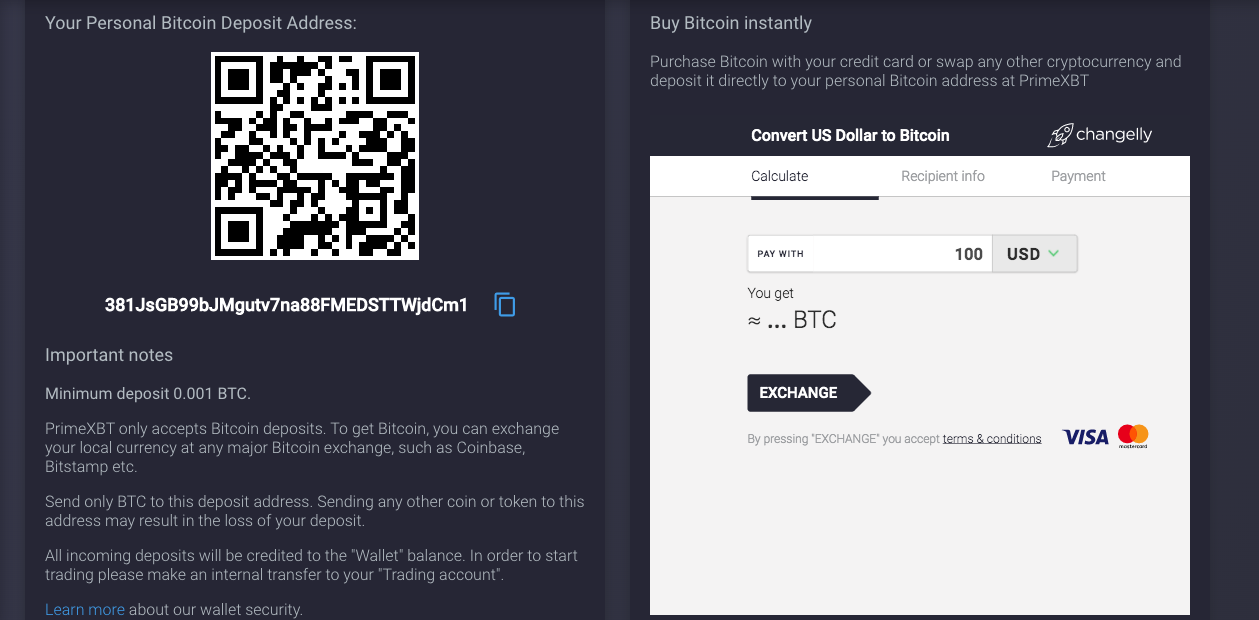 Chock Full of Options
The main event of PrimeXBT is the trading interface. And here, the experience is exceptional. The entire interface is completely customizable, and these customized interfaces can be saved. All of the saved interfaces, called Workspaces in the system, are displayed right near the top of the window.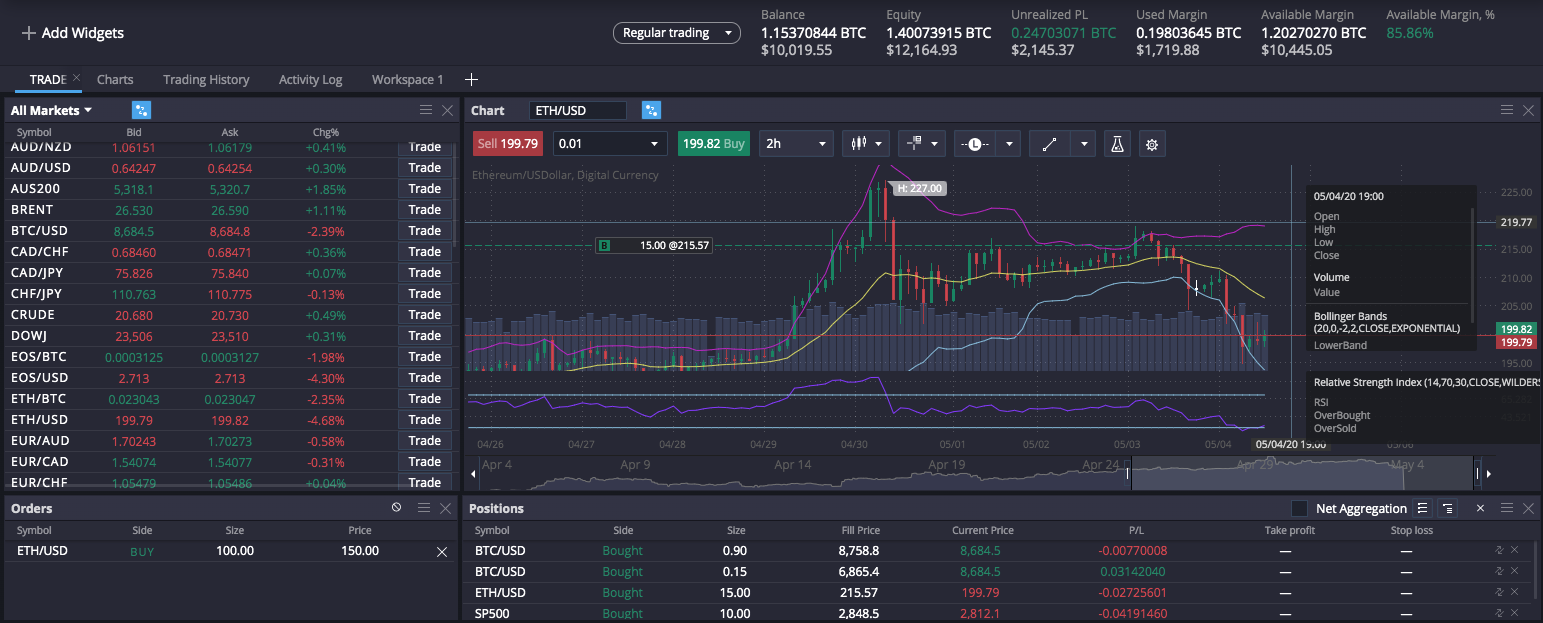 There are a number of prefab Workspaces, and a plus button to add a presumably infinite amount of new ones.

Custom Workspaces are populated using the Add Widgets button. Here, pretty much anything having to do with trading or your account can be added to a custom window and saved. It's all pretty straightforward and very useful.
A proprietary chart is featured, and it's quite capable, slick, and fast. However, it doesn't have quite as much functionality and polish as a TradingView chart – but you will want for nothing with this chart.
One- or two-click trading can be turned on for rapid trades, although the platform makes sure to warn you how dangerous that is – like a gun with no safety switch. Generally, the only thing that seems to be lacking within the trading interface is an order book.
There are not actually that many crypto trading pairs, only nine. Only the majors are represented here: BTC, LTC, ETH, EOS, and XRP. We are definitely not dealing with a bona fide altcoin platform, like Binance for example. But this is not what PrimeXBT is designed for, anyway.
Because beyond the typical offerings of crypto-to-crypto or crypto-to-stablecoin (or in this case, synthetic dollar), one of the features that really sets PrimeXBT apart is its trading of non-crypto, synthetic versions of traditional assets – all while actually funded with bitcoin and only bitcoin. This translates to an extensive, and from a cryptoasset perspective exotic, panoply of assets that one can trade.
Canadian dollar against Japanese Yen? They have that. Gold or silver? They have that. The S&P500? Brent crude oil? The Nasdaq? Swiss pounds? Those are all available to trade on PrimeXBT.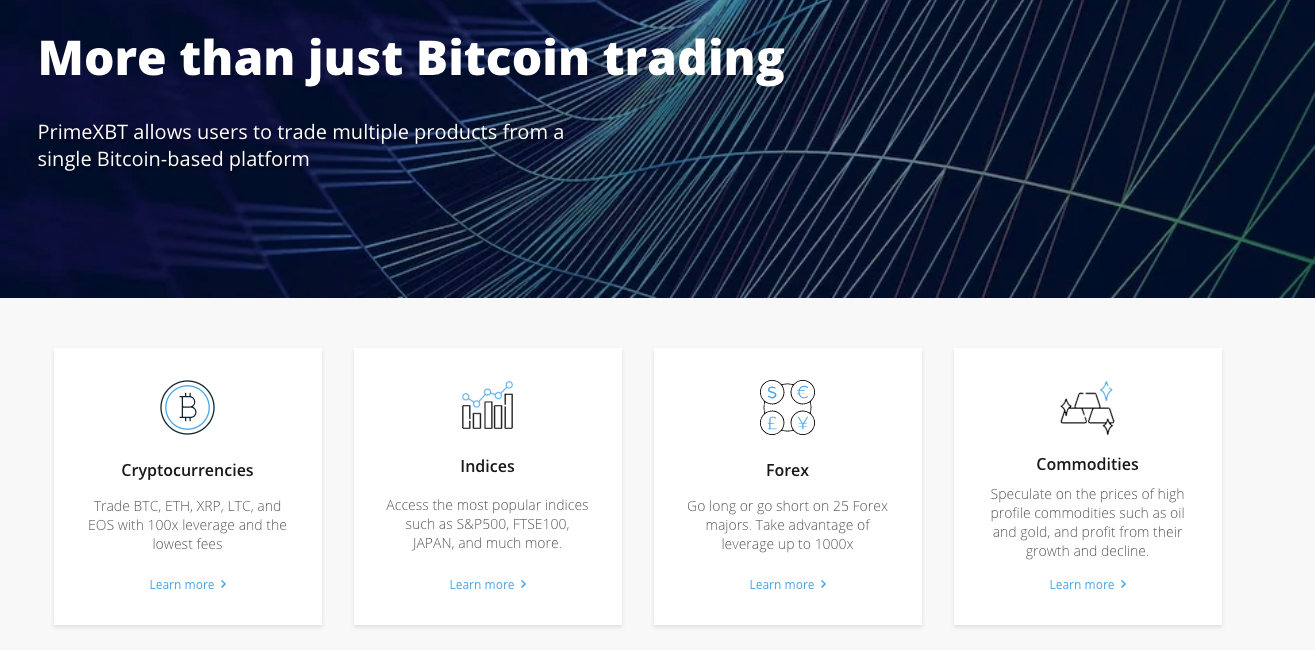 This makes PrimeXBT an extremely interesting platform for crypto traders looking to expand their trading into the wider world, beyond just crypto. Because while many crypto traders came into crypto from trading traditional assets, tempted by ideology or volatility, many others have only ever known crypto. But we have seen, especially following the COVID-19 epidemic, how volatile – thus potentially profitable – traditional assets or FOREX can be to trade.
Turbocharged
Another interesting feature of PrimeXBT is "Turbo", which is a high-stakes and highly packaged form of low-timeframe trading built into the platform.
Turbo mode automatically calculates a number of factors to dynamically spit out a trade setup. This is a highly leveraged trade, meant to almost double a position within 5 minutes. This setup takes the form of: "If the price reaches x price within 5 minutes, you will profit y%".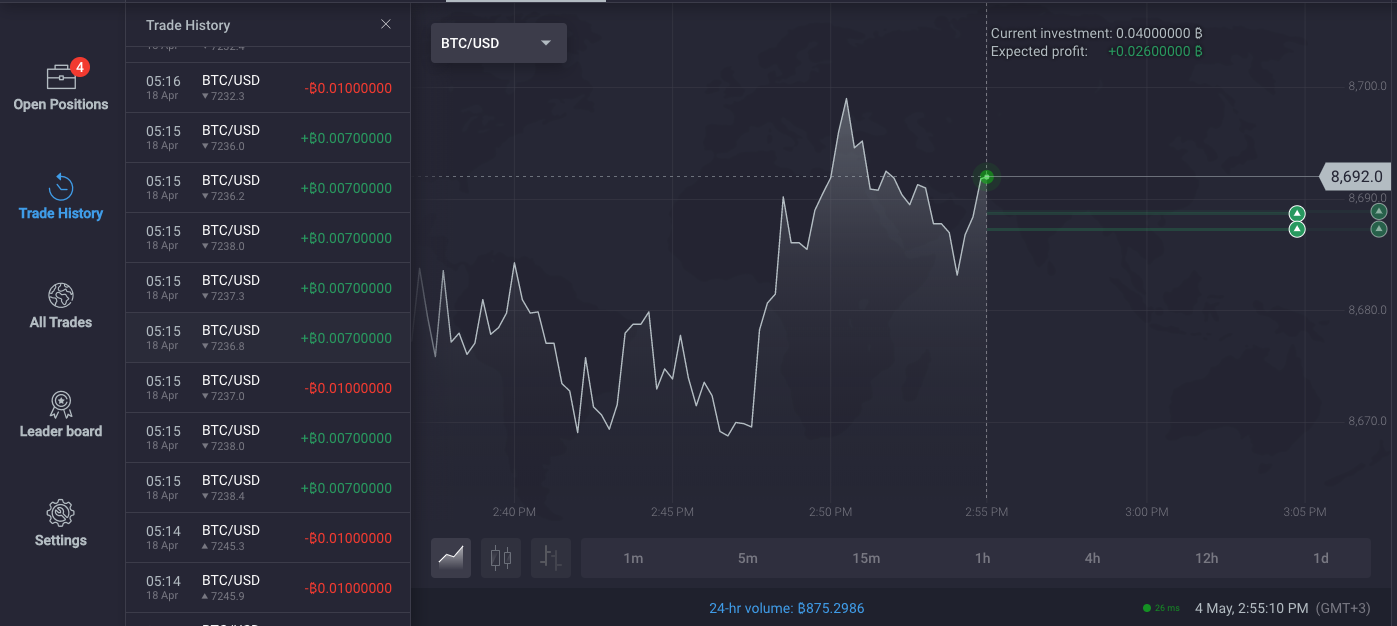 Looking very specifically like an EKG graph, there is nothing really substantially different about this trading mode than something you might set up yourself with an organized trade with take-profit and stop-loss set up.
However, it is much faster, and if you know what you're doing – this is very important here – you can quickly get into a trade after spotting an opportunity. Having said that, it does feel quite a bit like gambling, and plenty of users will probably be fine with that.
Another feature that is sure to please is Covesting. In beta at the time of writing, it is essentially a social trading feature similar to what we see on other platforms like eToro.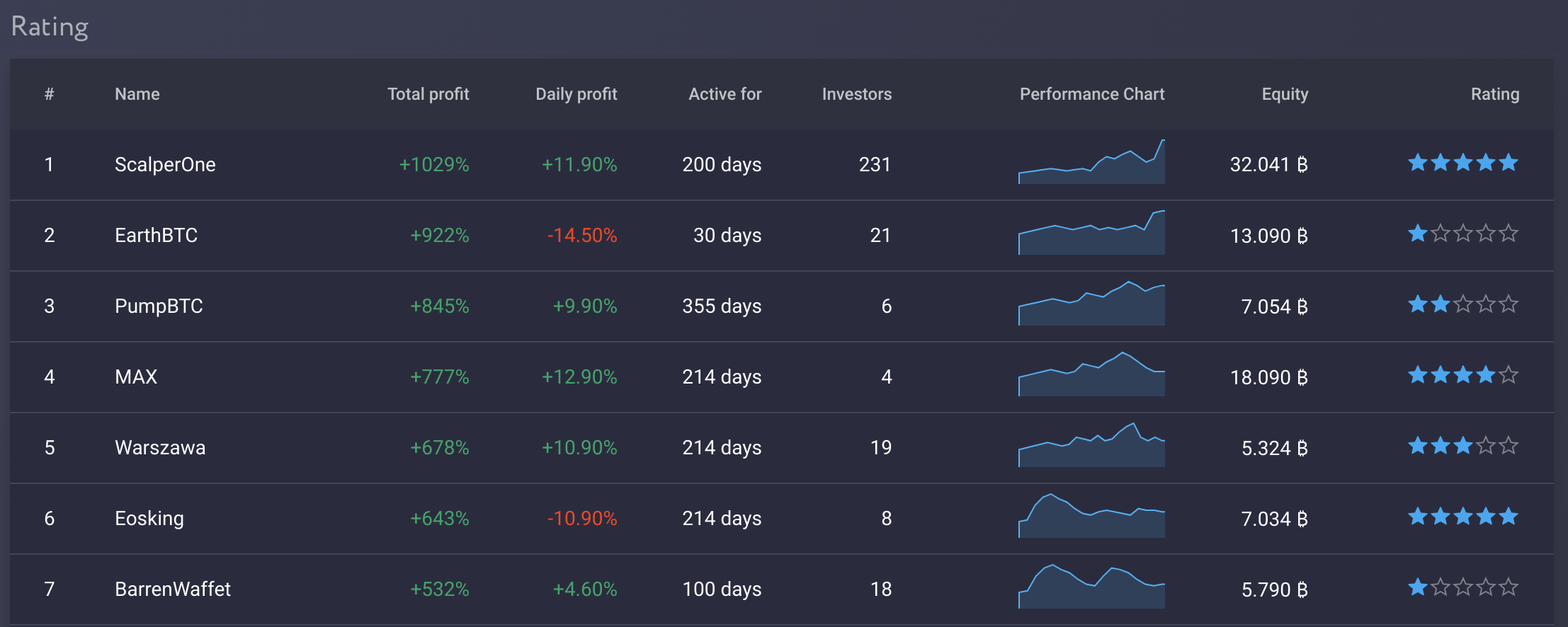 That is, traders can make their trades public and garner a reputation for winning. Other traders can then choose to automatically follow the winning traders, essentially turning them into fund managers.
We are seeing this feature more and more, and it is doubtless going to a requirement in the future for any successful exchange.
All in all, PrimeXBT has a lot going for it. The ease of signup and bitcoin-only funding will make many comfortable; the wide, non-crypto trading pairs are genuinely exciting fotraders looking to expand; and innovative features like Turbo and Covesting can both contribute to particular, winning strategies.
This website is only provided for your general information and is not intended to be relied upon by you in making any investment decisions. You should always combine multiple sources of information and analysis before making an investment and seek independent expert financial advice.
Where we list or describe different products and services, we try to give you the information you need to help you compare them and choose the right product or service for you. We may also have tips and more information to help you compare providers.
Some providers pay us for advertisements or promotions on our website or in emails we may send you. Any commercial agreement we have in place with a provider does not affect how we describe them or their products and services. Sponsored companies are clearly labelled.