What is ShapeShift and How to Use It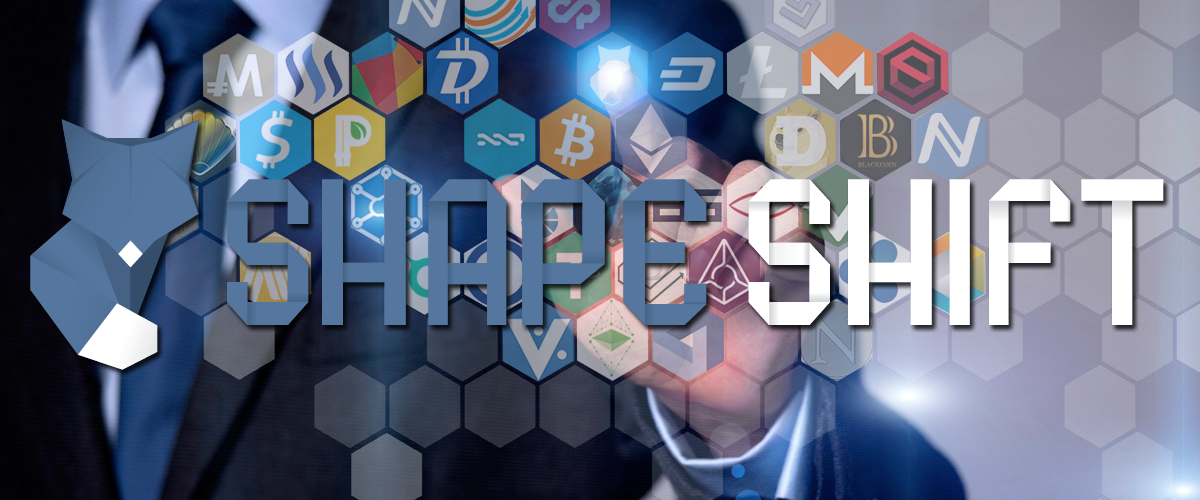 What is ShapeShift
ShapeShift is one of the fastest ways to exchange cryptoassets. Using this service, users can exchange cryptocurrencies in a matter of seconds. ShapeShift greatly reduces the risk of stolen funds and maximizes increases privacy because it requires no account or personal data to use. ShapeShift has a strict "no fiat" policy meaning that it can not be used to purchase cryptocurrencies with credit/debit cards or bank accounts. ShapeShift can be used everywhere except in New York and North Korea.
How does it Work
When using ShapeShift, users specify the currency they want to exchange and where to send the exchanged coins to. ShapeShift will send the exchanged coins once it receives the payment. The exchange rate used by ShapeShift is derived from several market sources and it always stays the same, regardless of the volume traded.
Users can also choose between Quick and Precise orders. Quick transactions refer to a transaction where the user inputs the receiving address and is given a deposit address from ShapeShift. Using quick order, the user is not required to specify how much of the wanted altcoin is required, as they can deposit whatever they like. The Precise transaction allows a user to receive the exact number
ShapeShift also provides a number of special tools and features like the ShapeShift Lens and Shifty Button. These tools allow users to buy items with any alternative cryptocurrency and to easily receive and exchange altcoin payments as a merchant.
How to use ShapeShift
Step 1: Click here to go to ShapeShift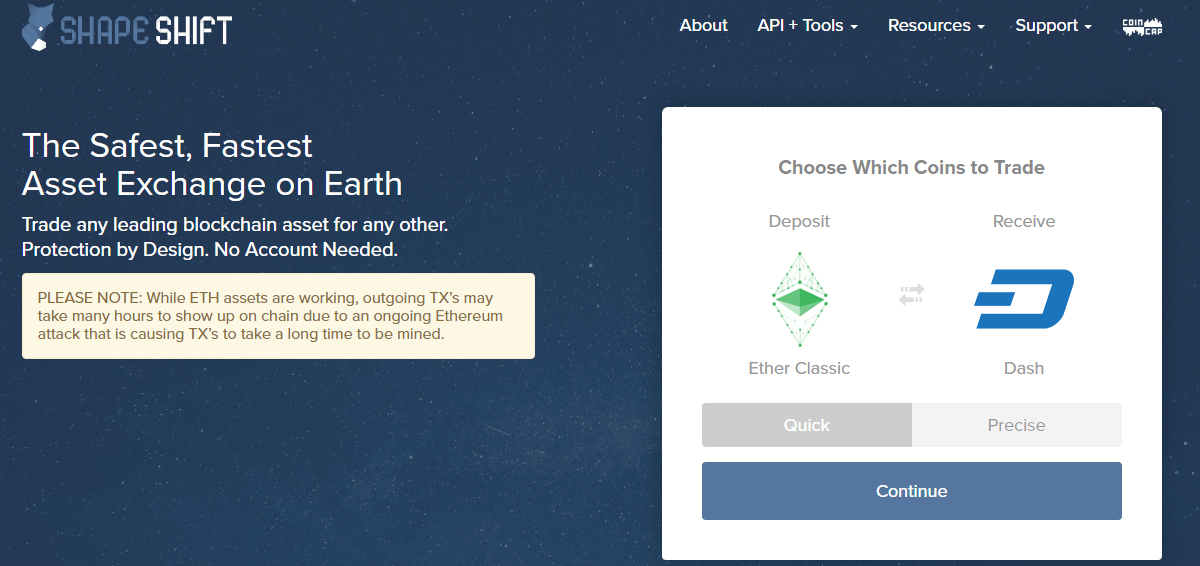 Step 2: Choose the cryptocurrencies you want to exchange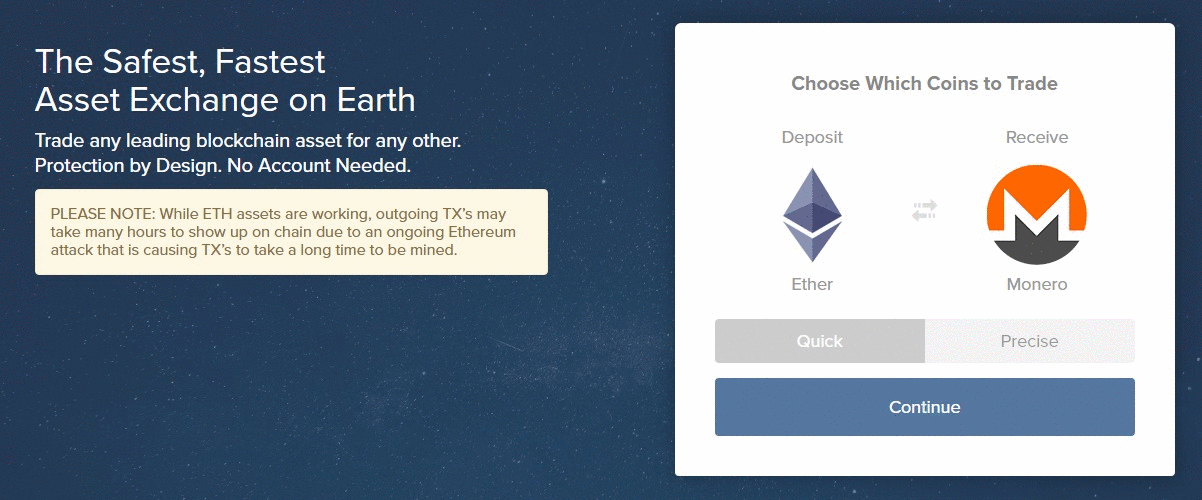 Step 3: Choose between "Quick" or "Precise"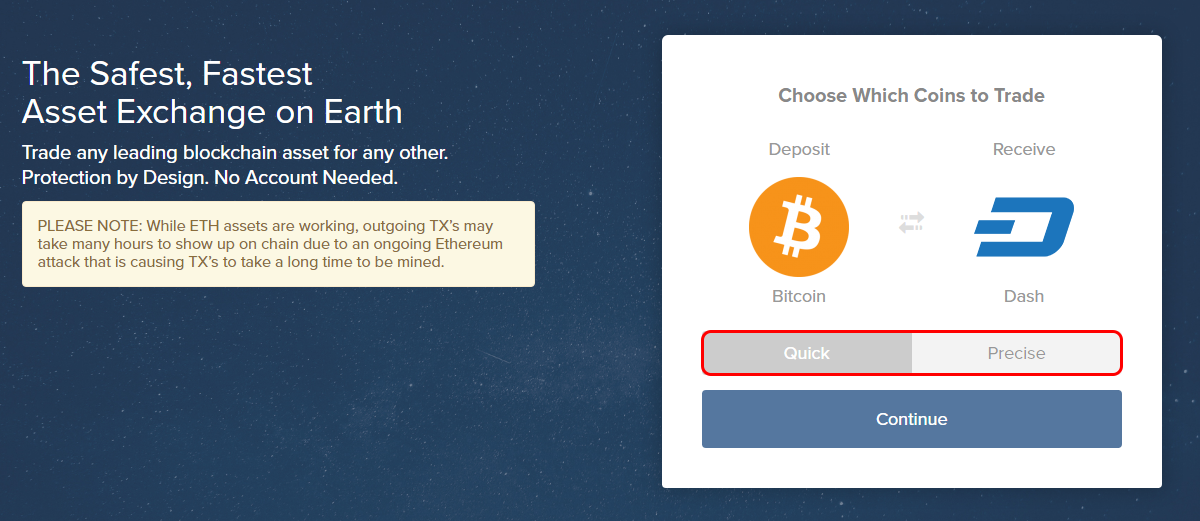 Step 4: Then click "Continue"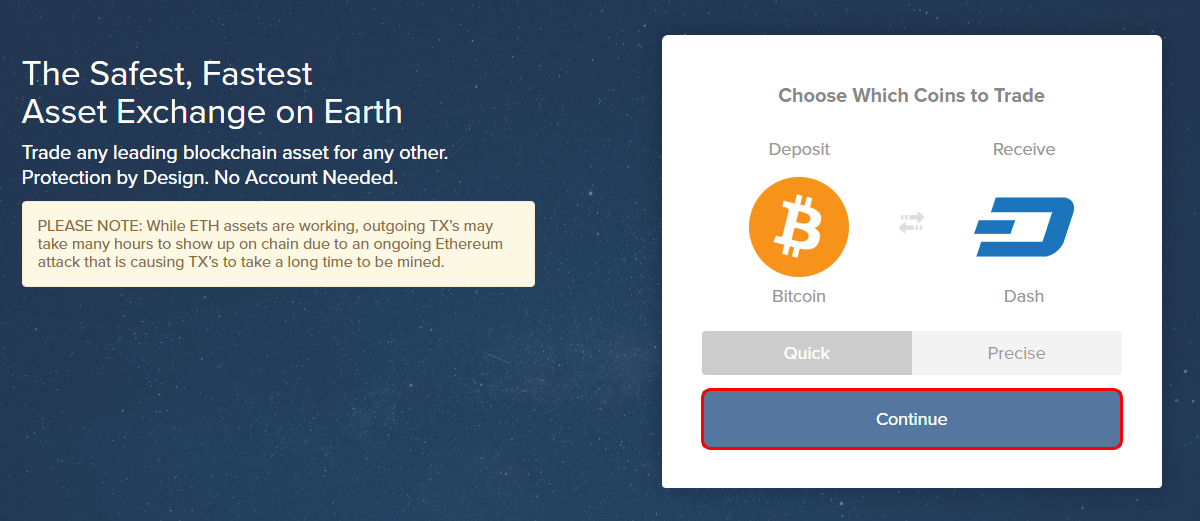 Step 5: If you chose Precise, see Step 6. If you chose Quick, enter the destination address (1), your refund address (2), and agree to the terms and conditions (3)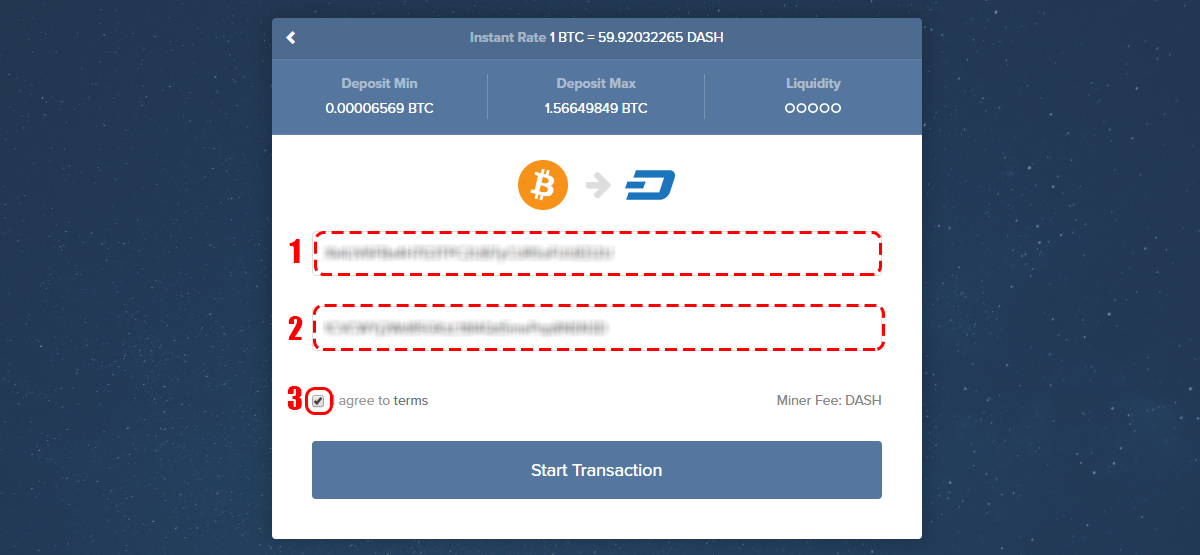 Step 6: If you chose Quick, see Step 5. If you chose Precise, enter the amount of coins you want to send or receive (1),

the destination address

(2)

, your refund address

(3)

, and agree to the terms and conditions

(4)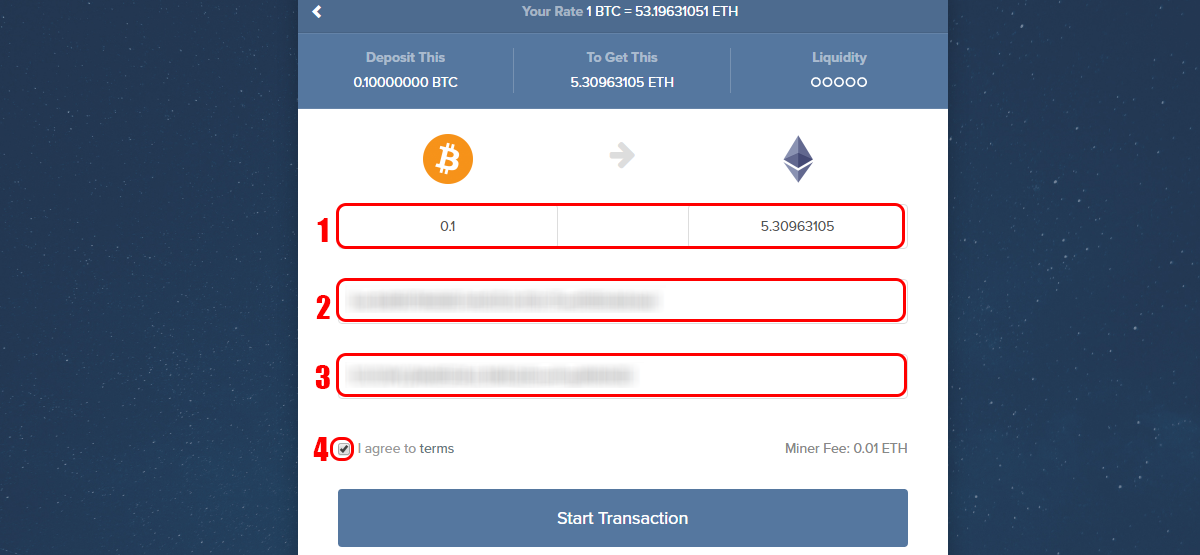 Step 7: Click "Start Transaction"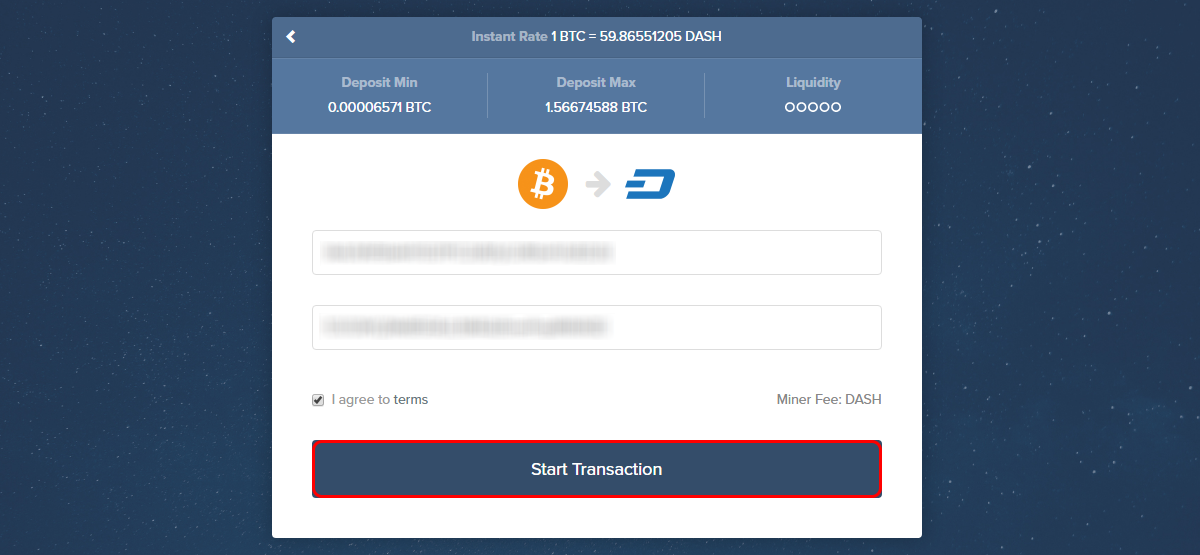 Step 8: Send the designated amount of Bitcoin to the address shown (1)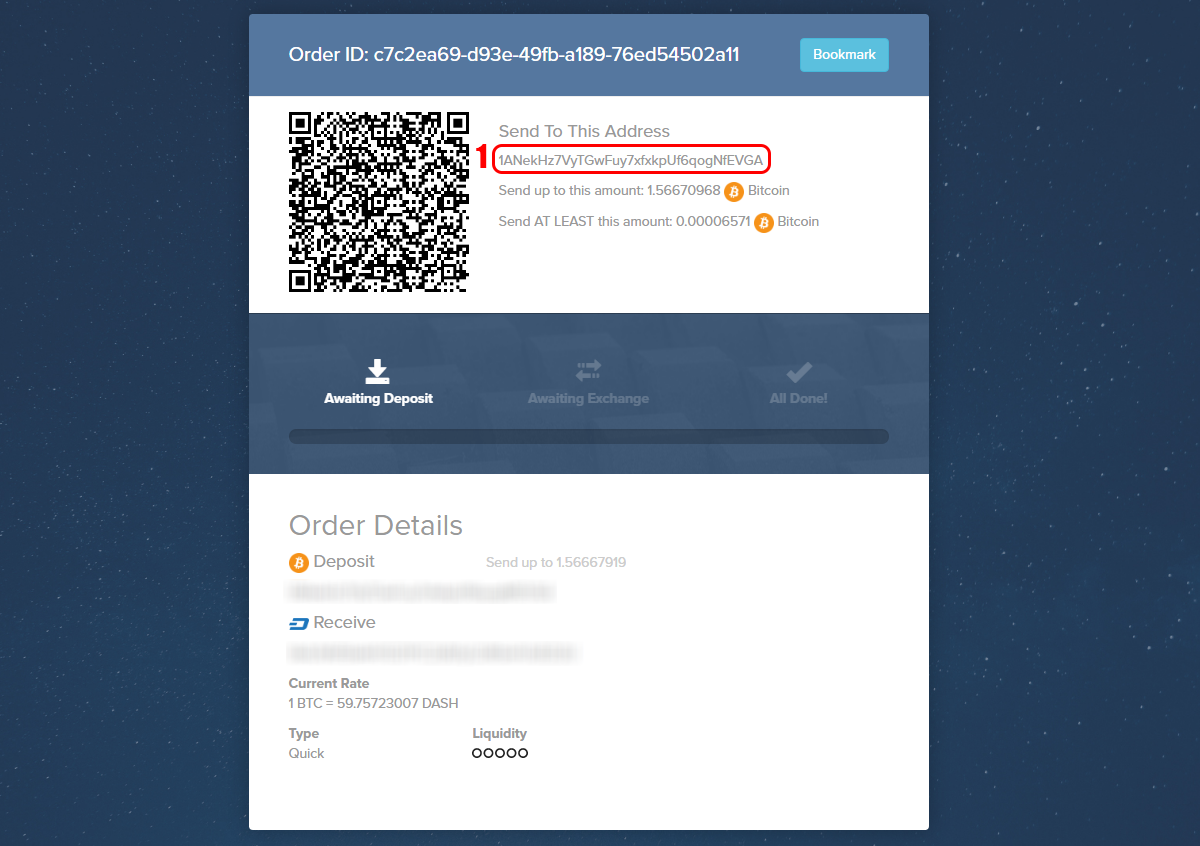 Step 9: Wait for the exchange to complete


The trade is now complete and your newly exchanged coins are ready to be used. Anytime the limits for exchanging coins are too low, it means the system is reloading. Just wait a few minutes and refresh the page.
ShapeShift Lens
The ShapeShift Lens helps you use alternative cryptocurrencies to buy anything you would normally buy with Bitcoin. Watch the video below to learn how to use ShapeShift Lens.
Shifty Button
The Shifty Button allows you to add a button to your website that will allow you to accept altcoin payments that will be exchanged for your preferred cryptocurrency (usually bitcoin). Furthermore, you can receive an affiliate share for every person that uses your Shifty Button
Step 1: Click here to get an affiliate code
Step 2: Enter your personal information (1) and your Bitcoin address (2)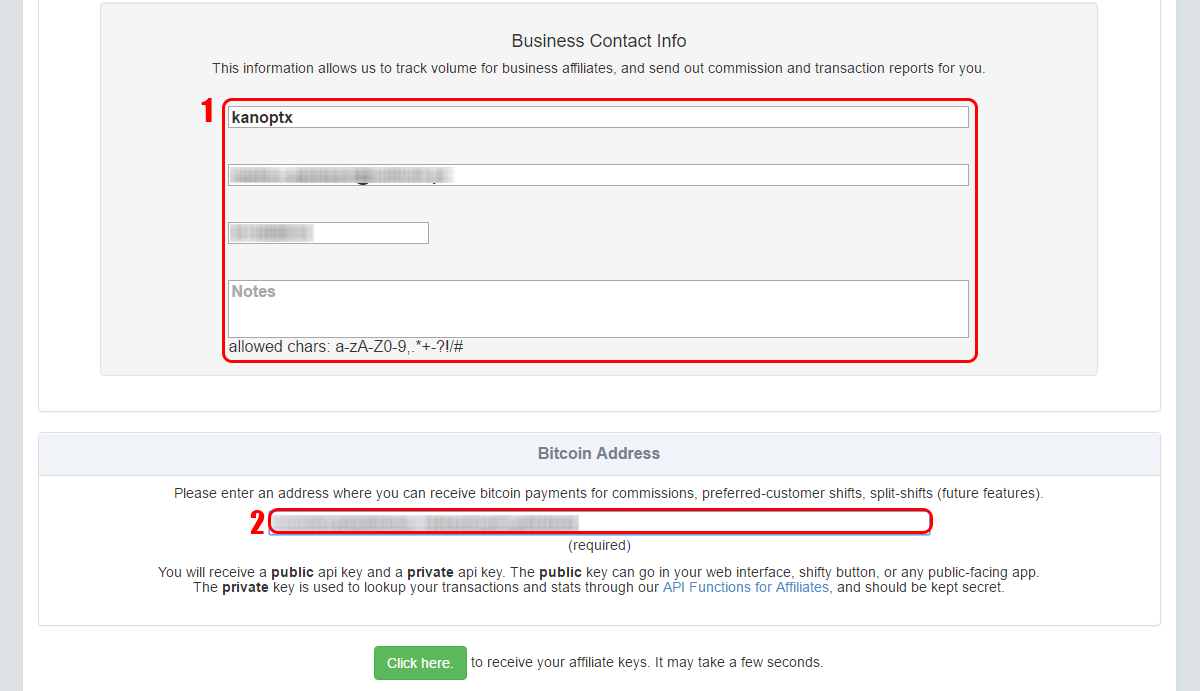 Step 3: Hit "Click Here" to get your code. Store both the keys.

Step 4: Click here to get the Shifty Button
Step 5: Chose your button style and your preferred currency

Step 6: Enter your affiliate private key (1) and the destination address (2)

Step 7: Click "Generate Code"

and you're done

You can now use this button on your website or application to accept most cryptocurrencies and receive your favorite one automatically.
This website is only provided for your general information and is not intended to be relied upon by you in making any investment decisions. You should always combine multiple sources of information and analysis before making an investment and seek independent expert financial advice.
Where we list or describe different products and services, we try to give you the information you need to help you compare them and choose the right product or service for you. We may also have tips and more information to help you compare providers.
Some providers pay us for advertisements or promotions on our website or in emails we may send you. Any commercial agreement we have in place with a provider does not affect how we describe them or their products and services. Sponsored companies are clearly labelled.