How to review products on CryptoCompare?
CryptoCompare not only gives you all the data from exchanges, specs of different mining equipment and contracts, and wallet info - we also give you the chance to review products and let others know what you think of them. We then take your reviews and average them out to make it easy for other users to see the most active reviews and general opinion on a particular product or service - whether it is a mining rig or the customer service of an exchange.
You have to be logged in to be able to comment on a particular product. For example if we wanted to review CEX.io we could log in via the CEX.io exchange page or mining contract page and give a view on how we found using the service.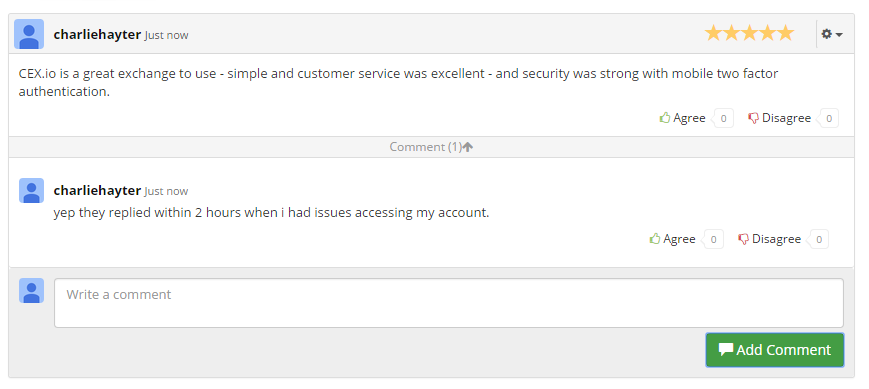 You can also review mining equipment - i.e. how easy it was to set up and get connected to a pool... or you can review a wallet and how easy it is to use - or the features they have that make it more functional for certain applications.
This website is only provided for your general information and is not intended to be relied upon by you in making any investment decisions. You should always combine multiple sources of information and analysis before making an investment and seek independent expert financial advice.
Where we list or describe different products and services, we try to give you the information you need to help you compare them and choose the right product or service for you. We may also have tips and more information to help you compare providers.
Some providers pay us for advertisements or promotions on our website or in emails we may send you. Any commercial agreement we have in place with a provider does not affect how we describe them or their products and services. Sponsored companies are clearly labelled.