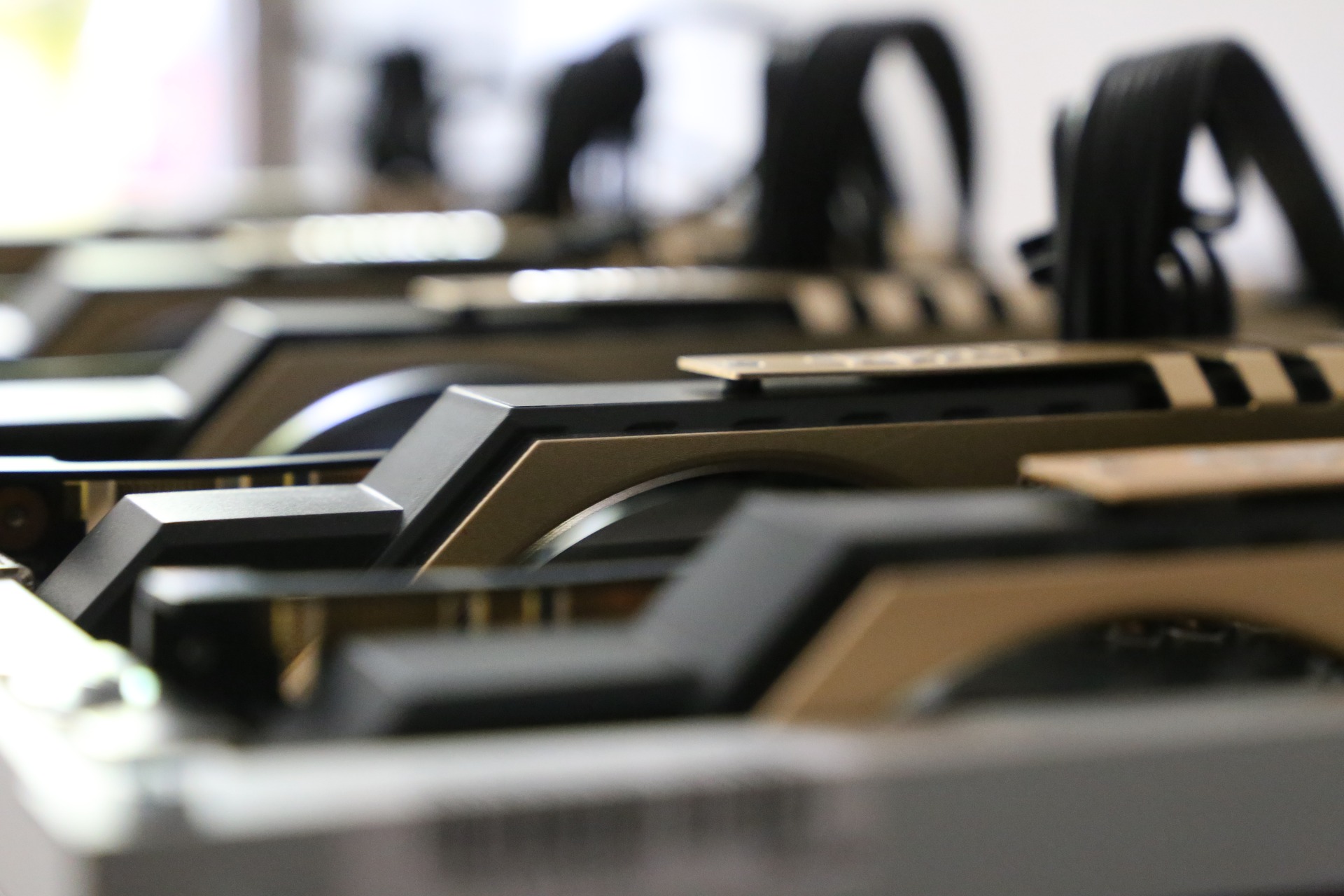 While those in crypto may still be well inside the early adopter section of the adoption curve, the days of easily mining copious amounts of cryptocurrencies on a laptop, with the free air of a hobbyist, are basically over.
These days, mining is a competitive field, with miners vying to survive amid tight margins of profit - pretty much like any other industry. The 2018-19 bear market saw many casualties in the mining sector, with even the crypto mining unicorn Bitmain experiencing a sharp reversal of fortune in recent months. Many miners have shuttered operations during this crypto winter.
The upshot to this reality is that, with a maturing industry comes maturing tools - in this case software.
Minerstat
Minerstat is a fairly new mining software platform, which has in the past year been well received by many in the mining world. Minerstat's mining software includes a complete mining suite: Windows mining software, dedicated mining OS, and ASIC monitoring software.
Some of its key features are dedicated monitoring apps for mobile, and profit switching. This guide will detail the basics of how to get set up on minerstat mining OS.
Minerstat runs a dedicated and custom Linux mining operating system to run the hardware, called msOS. The first thing you'll need to do to get up on minerstat is download msOS, linked here (or a torrent version here).
You'll need a USB thumb drive to accomplish the install - pretty much any old USB stick with at least 16GB of memory will do.
After the software is downloaded, you need to "flash," or install it on the USB stick. There are many applications that you can use to do this. Etcher is my personal favorite application for this, which can be downloaded here for MacOS, Linux and Windows; and it is also widely available through software app stores on all of these platforms.
Flashing is extremely easy. Click the "Select image" button and find the msOS software that you downloaded. With that loaded, click "Select drive" and slect your USB drive from the list of drives that the menu presents. Then - Flash.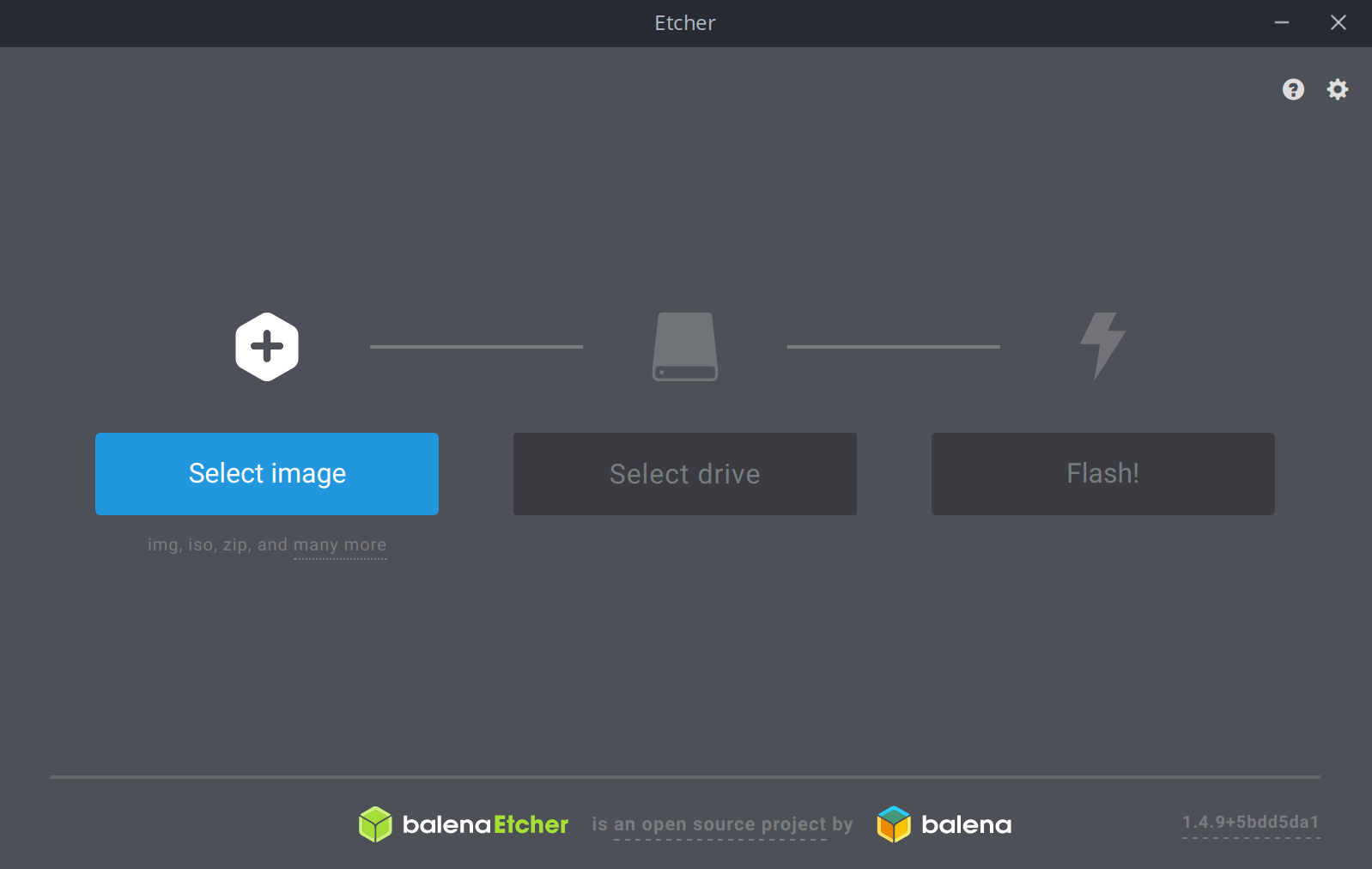 Normally, when installing some other classic Linux OS - like Ubuntu or Mint, for example - you would just leave the USB drive in and restart your computer, and use the USB to boot up instead of your hard drive. But with msOS there is an extra step. When flashing is finished, take out the USB drive and reinsert it into your computer.
Go back into your file explorer and find the newly flashed drive labelled MSOS. Click on it. In it you'll see this file, "config.js." Open this with any text editor.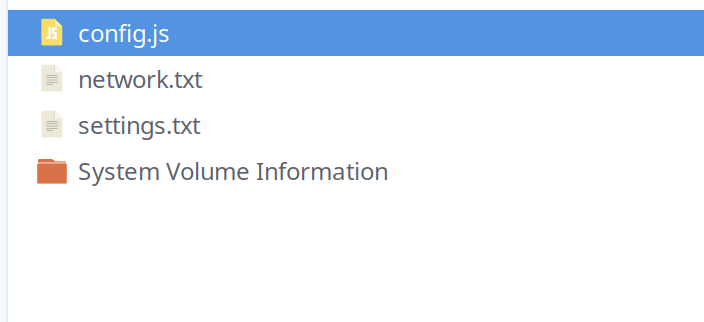 In the config file you'll find these rather self-explanatory instructions:

Now, leave the config file like this for the time being. Both of the "CHANGEME" fields must be filled in with relevant information, namely the access key and worker values - and to get these, the user must sign up at Minerstat.com.

Signing up is extremely easy and quick, just an email affair. After you're in, go to the "Workers" tab, under the "General" panel on the left.
From here, you can create a new worker profile to input into your "config.js" file. This is extremely easy to do. To start, pick a name for your worker profile. I've picked "woRK3r1."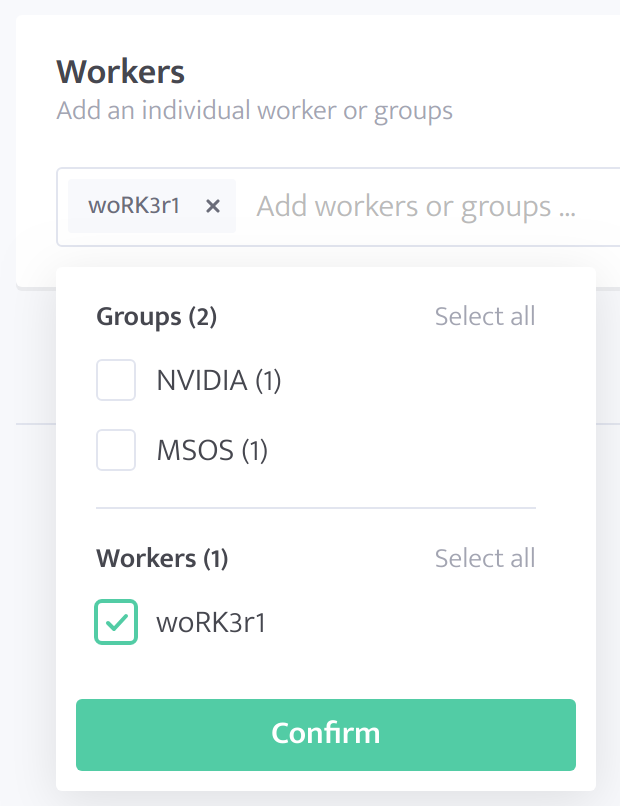 After hitting "Add worker," you are given an access key. Mine is "1fc04328."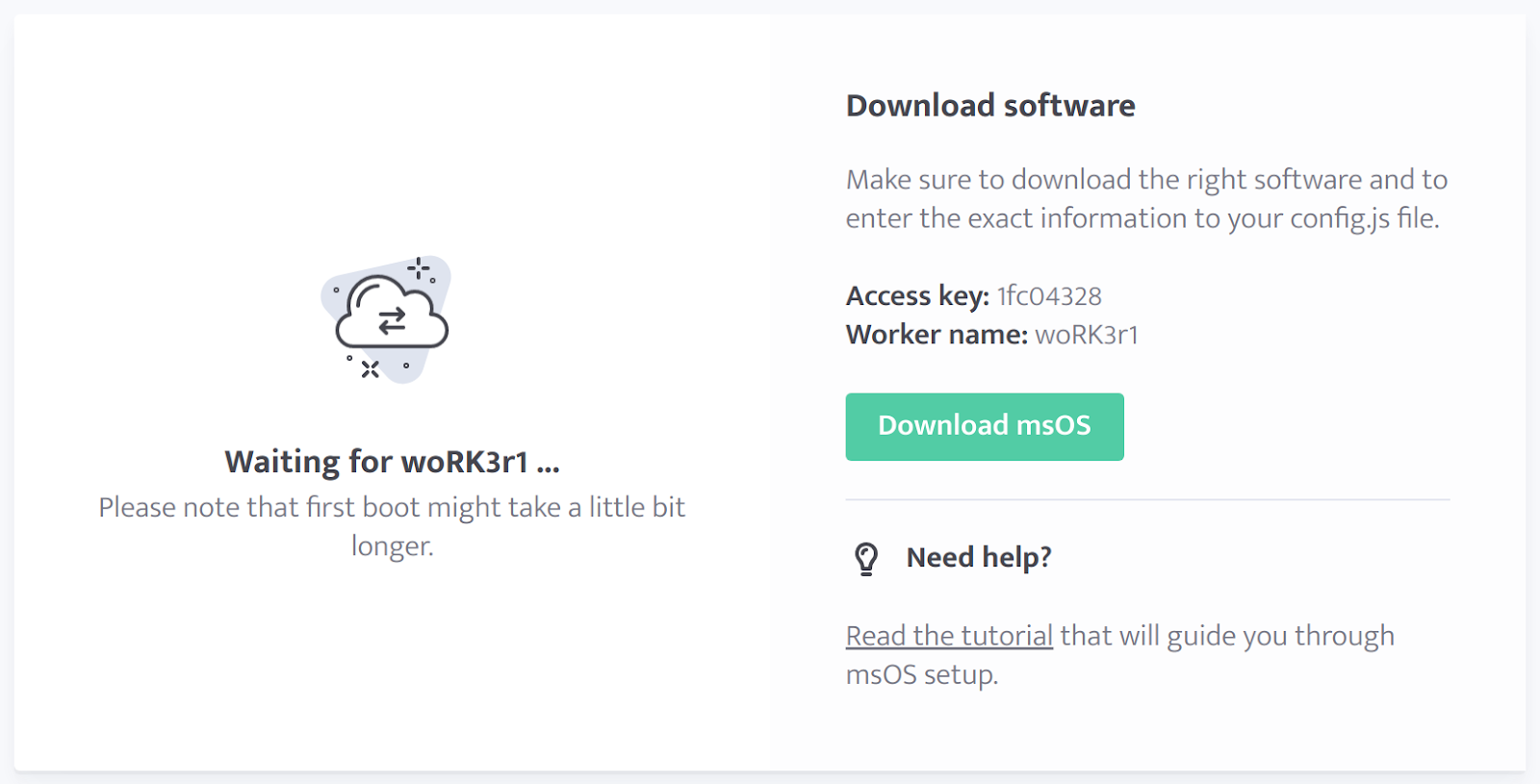 With these credentials in hand, you can fill in the variable values in your config file. Do note: These values are case sensitive, and so must be entered exactly as they are. Also, as the note indicates, do not remove the quotation marks. It should like this:


Save this file. You're now ready to load the software onto your mining rigs. If nothing goes wrong, it will connect with the profile you made.
The next thing you'll have to do is configure your worker. Navigate to the "Worker config" option under the "Mining" section on the left sidebar to do this. The first pane you will see is the "Target" section. Here you can easily select workers and groups to edit. I've selected my "woRK3r1" worker.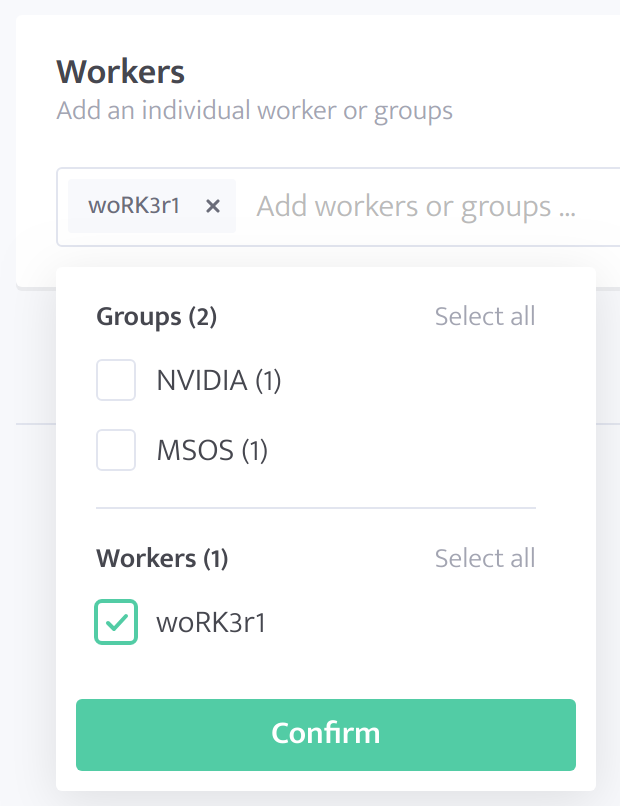 The range of options on this page are beyond the scope of this brief guide. Minerstat have a more detailed guide - one of very many comprehensive and well written ones - about how to set up the worker profile here.
But briefly, the "Default client" panel is perhaps the most important option on this page. In this pull-down window, the user will choose a mining software and algorithm, which will dictate which coins they will mine on their rig.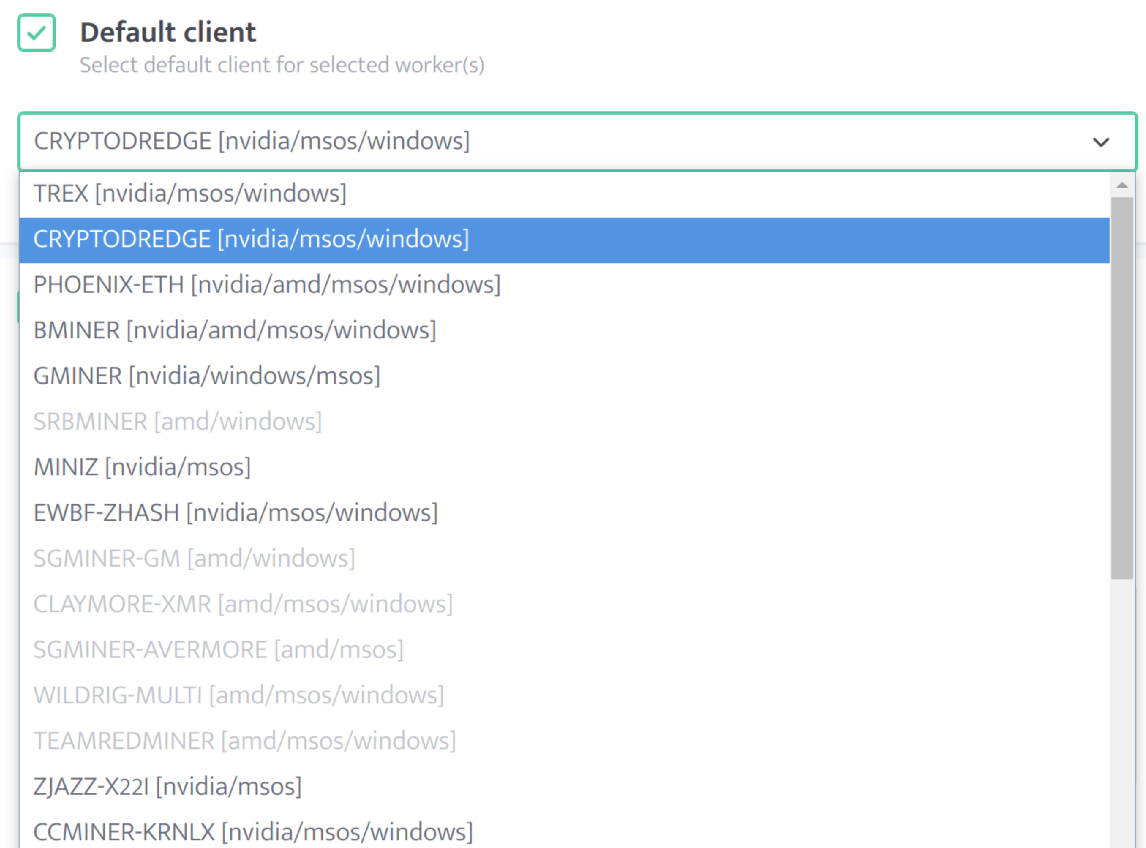 Selection of the mining client will open a custom configuration text area where you can set up pools, wallet, and different parameters this mining client offers.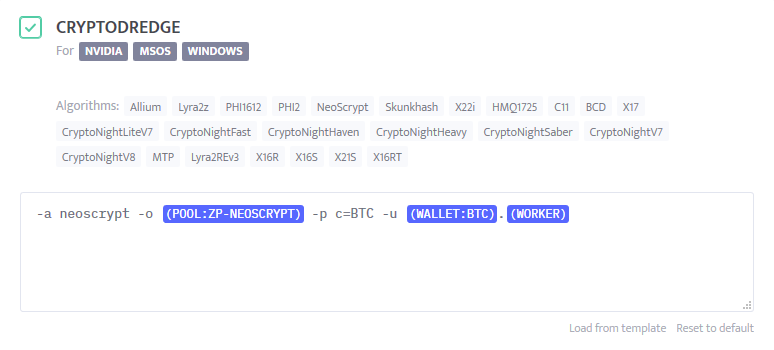 When you have successfully connected and explored your mining dashboard, also don't forget to set up 2FA to protect your minerstat account. This and all other settings (such as overclocking, fans, profit switch, and alerts) can be set remotely through the minerstat dashboard.
Conclusion
This guide has been a very brief introduction on how to get set up with minerstat and their mining OS. Mining is not the easiest activity to adopt, but minerstat's clean and easy interface makes it just about as pain-free as possible.
This website is only provided for your general information and is not intended to be relied upon by you in making any investment decisions. You should always combine multiple sources of information and analysis before making an investment and seek independent expert financial advice.
Where we list or describe different products and services, we try to give you the information you need to help you compare them and choose the right product or service for you. We may also have tips and more information to help you compare providers.
Some providers pay us for advertisements or promotions on our website or in emails we may send you. Any commercial agreement we have in place with a provider does not affect how we describe them or their products and services. Sponsored companies are clearly labelled.