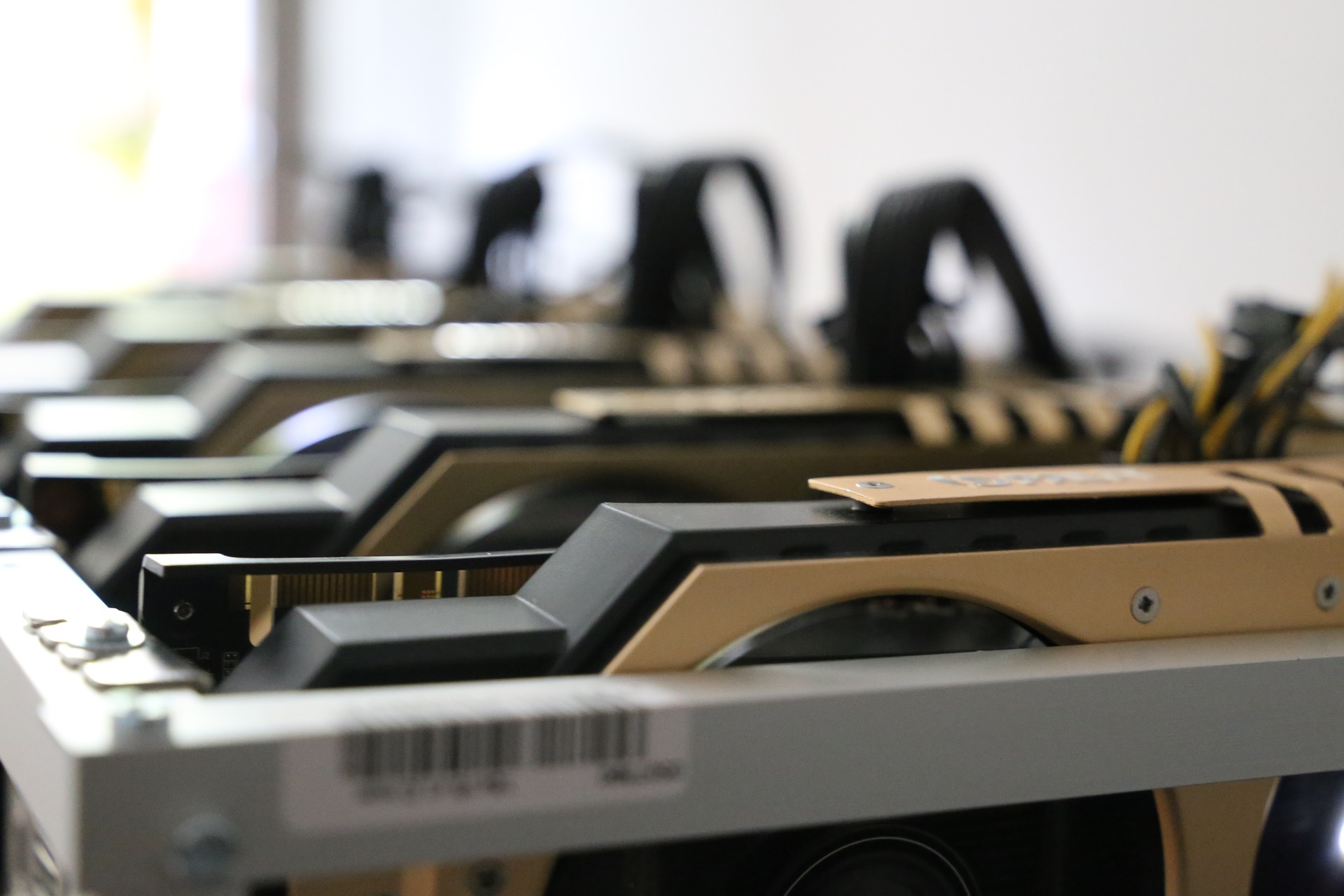 In this guide, we assume you already have a wallet address. If this is not the case click here to learn how to create one for Ethereum. 
Claymore has created a miner that allows users to mine both Ethereum and another cryptocurrency like Decred/Siacoin/Lbry/Pascal at the same time without losing too much efficiency, allowing you to not lose much of the Ethereum hashrate while mining a different coin at the same time.
This miner has a built-in fee of 1% but the optimization surpasses said fee by far, making this the most efficient Ethereum miner out there. This miner works both with pool and solo modes and even allows for dual mining. In this guide, we're going to show you how to dual mine Ethereum + Sia.
Decred/Siacoin/Lbry/Pascal is mined without a developer fee.
Let's get started.
Part 1 - Configure your rig
In order to use the Claymore miner, there are a few requirements:
For multi-GPU systems, set Virtual Memory size in Windows at least 16 GB:
("Computer Properties / Advanced System Settings / Performance / Advanced / Virtual Memory".)
This version is for recent AMD videocards only: 7xxx, 2xx and 3xx, 2GB or more. Recent nVidia videocards are supported as well.
There are builds for Windows x64 and for Linux x64 (tested on Ubuntu 12.04). No 32-bit support.
For AMD cards, Catalyst (Crimson) 15.12 is required for best performance and compatibility. You can get very bad results for different drivers version, or miner can fail on startup.
Part 2 - Download Claymore miner
Step 1: Click here to go to the Claymore miner download page
Step 2: Choose the correct O.S and the latest version, then click on it to download

Step 3: Once the download is complete, extract the contents of the .zip file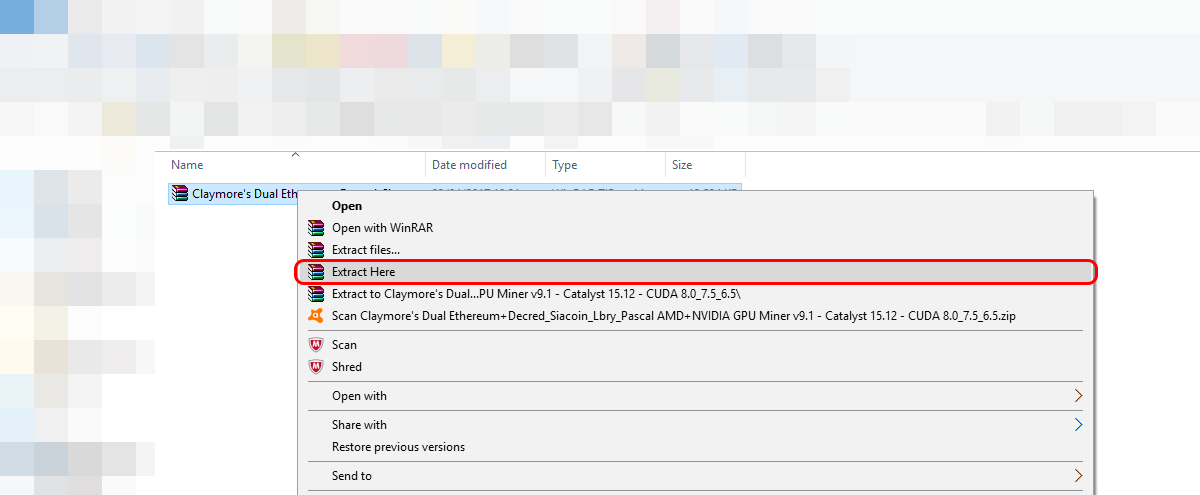 Part 3 - Mine Ethereum + another coinThe first thing you'll need in order to mine on a pool is to choose a proper Ethereum mining pool. You can compare pools here and check their reviews. We are going to use Nanopool which doesn't require us to register an account.
You'll need to do the same for the other coin. Luckily, Nanopool also has a Sia pool.
In order to connect to the pool, you'll need to know which server to use. Nanopool has the following servers for Ethereum:
| | | | |
| --- | --- | --- | --- |
| Europe | eth-eu1.nanopool.org | 9999 | 8888 |
| Europe | eth-eu2.nanopool.org | 9999 | 8888 |
| US East | eth-us-east1.nanopool.org | 9999 | 8888 |
| US West | eth-us-west1.nanopool.org | 9999 | 8888 |
| Asia | eth-asia1.nanopool.org | 9999 | 8888 |
And the following ones for Sia:
| | | | |
| --- | --- | --- | --- |
| Europe | sia-eu1.nanopool.org | 7777 | 9980 |
| Europe | sia-eu2.nanopool.org | 7777 | 9980 |
| US East | sia-us-east1.nanopool.org | 7777 | 9980 |
| US West | sia-us-west1.nanopool.org | 7777 | 9980 |
| Asia | sia-asia1.nanopool.org | 7777 | 9980 |
We are going to use the one from Europe.
Step 1: Go to the folder where we extracted Claymore miner to. Select the "Start.bat" file and right-click it. Then, click "Edit"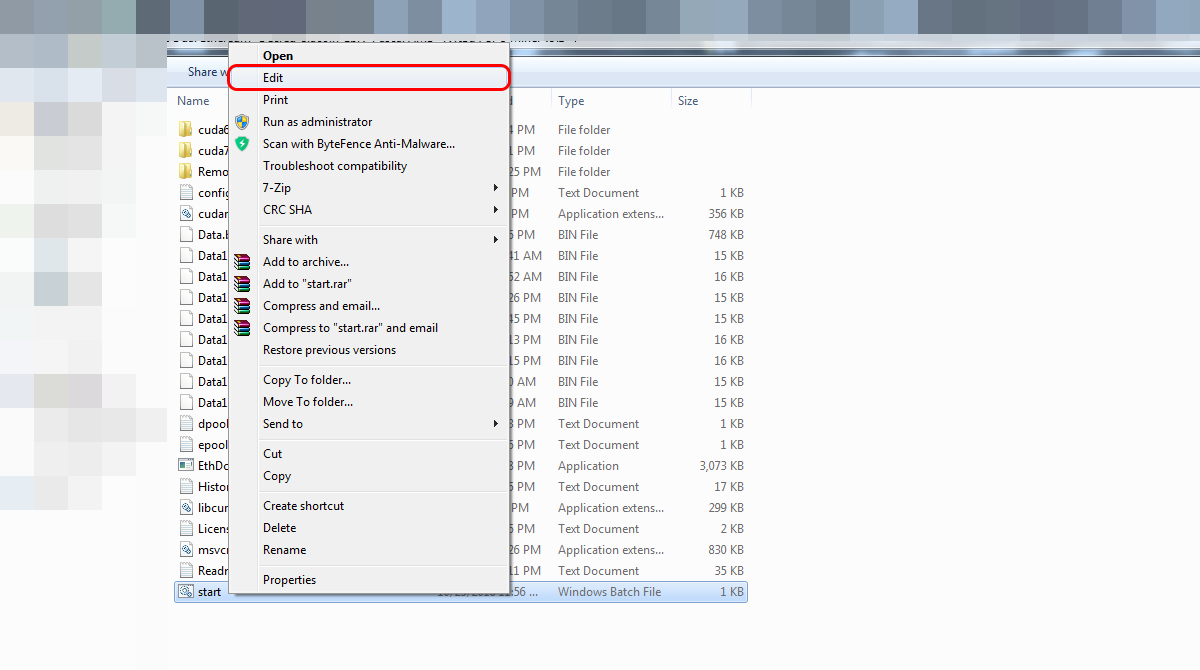 Now, we're going to enter a command that tells our miner what to do.
Step 2: Enter the following command:
GPU_FORCE_64BIT_PTR 0
GPU_MAX_HEAP_SIZE 100
GPU_USE_SYNC_OBJECTS 1
GPU_MAX_ALLOC_PERCENT 100
GPU_SINGLE_ALLOC_PERCENT 100
EthDcrMiner64.exe -epool eu1.nanopool.org:9999 -ewal 0xd69af2a796a737a103f12d2f0bcc563a13900e6f -epsw x -dpool stratum+tcp://sia-eu1.nanopool.org:7777 -dwal 96a9ce4384c1bdde4467b01e5bae2a1da6372d29b4012e86d2e788d5cf8c1ee27631f50a8d32 -dcoin sia

These command needs to be tailored for you, so let's look at the parameters:
EthDcrMiner64.exe = This is what starts the miner
-epool = The Ethereum pool you want to you. In this case, we'll use Nanopool
-ewal = your wallet address
-epsw = your worker password
-eworker = your worker's name
-dwal = the second coin's wallet address
-dcoin = specifying the second coin to mine
You can also set a name for your worker with your email address. This allows you to get notifications. Like so: EthDcrMiner64.exe -epool eu1.nanopool.org:9999 -ewal YOUR_ETH_WALLET/YOUR_WORKER/YOUR_EMAIL -epsw x -dpool stratum+tcp://sia-eu1.nanopool.org:7777 -dwal YOUR_SIA_WALLET/YOUR_WORKER/YOUR_EMAIL -dcoin sia
Step 5: Now, close and save the document
Step 6: Double-click on it to start the miner

That's it! You're now, mining Ethereum and Siacoin:

Alternatively, you can also mine Ether through a cloud mining contract with Hashflare or Genesis Mining.
This website is only provided for your general information and is not intended to be relied upon by you in making any investment decisions. You should always combine multiple sources of information and analysis before making an investment and seek independent expert financial advice.
Where we list or describe different products and services, we try to give you the information you need to help you compare them and choose the right product or service for you. We may also have tips and more information to help you compare providers.
Some providers pay us for advertisements or promotions on our website or in emails we may send you. Any commercial agreement we have in place with a provider does not affect how we describe them or their products and services. Sponsored companies are clearly labelled.