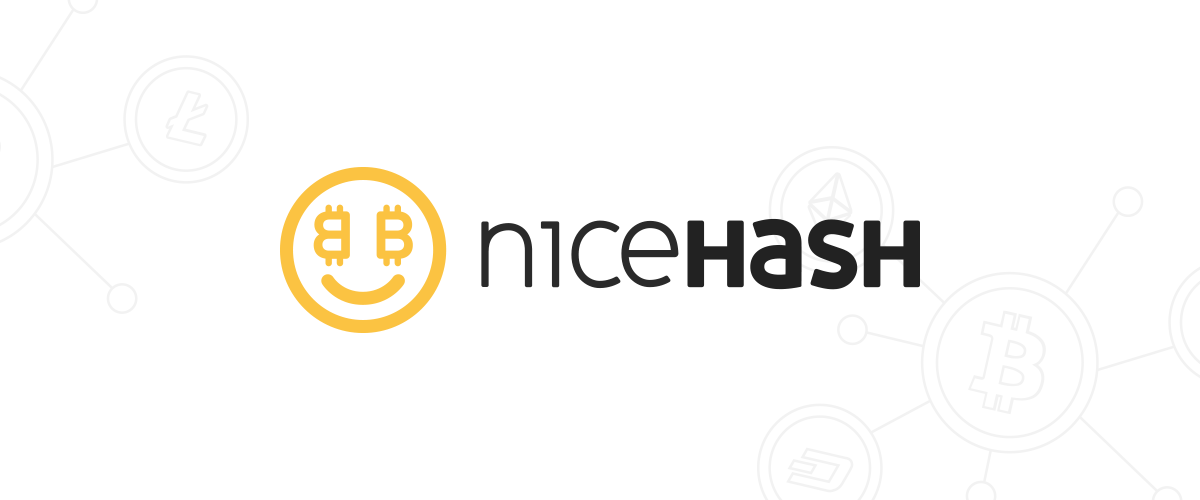 NiceHash Miner Legacy (NHML) is a continuation of NiceHash Miner v1. This version is intended for experienced miners or advanced users who are okay with some customization of the software and want the quickest updates and highest hashrates. If you are new to mining, please check out the new NiceHash Miner v2 for a simpler start at earning Bitcoins with your idle GPU & CPU.
NiceHash Miner Legacy is an advanced auto-miner that supports the latest algorithms and miners. No need to go through tons of configuration files, various mining software versions, configuration tuning or cryptocurrency coins market analysis. Features like auto-tuning for best performance and efficiency, automatic selection and runtime automatic switching to the most profitable cryptocurrency algorithm are all integrated into NiceHash Miner Legacy allowing you to enjoy your mining experience without concerns.
Part 1: Download NiceHash Miner Legacy (NHML)
Step 1: Go to the

NiceHash Miner Legacy website (or click

here) and click on "view on Github" button (or click here

)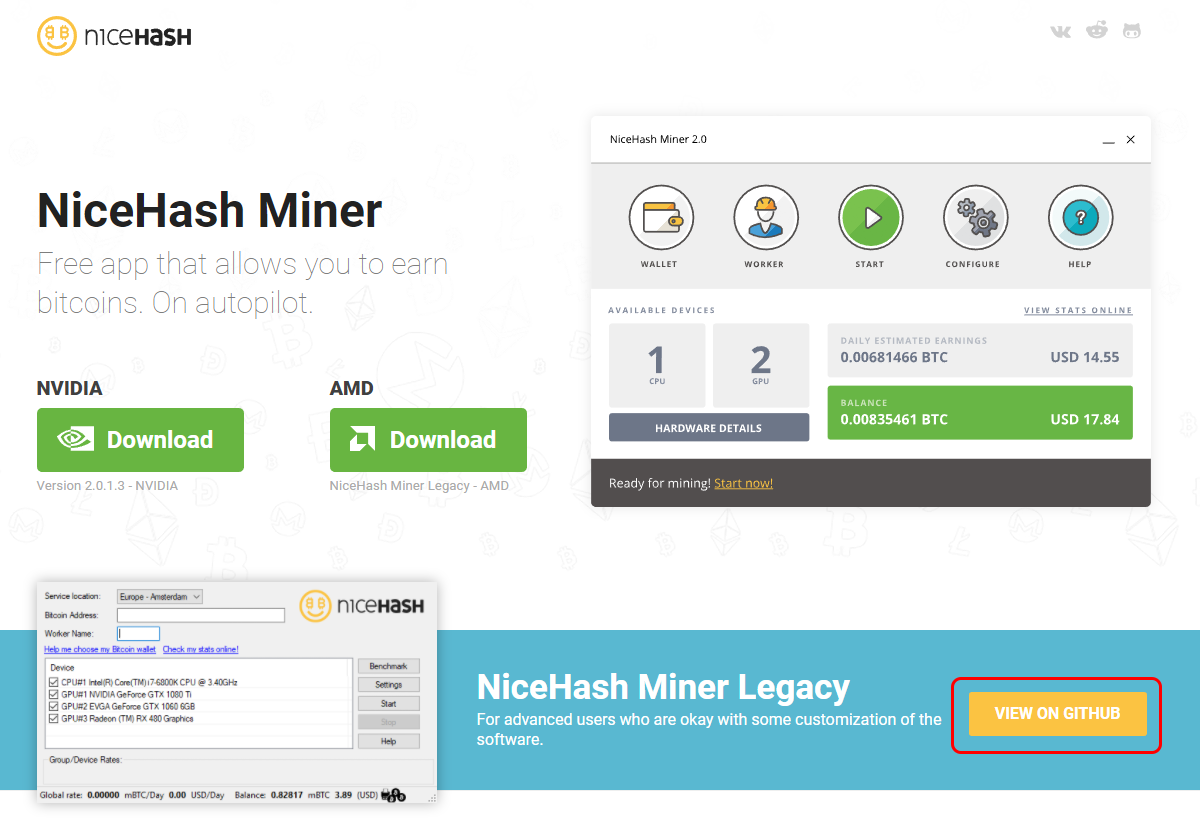 Step 2: Now that we are on the Github website, grab the latest release zip file

named "NHML" (For this guide, we are using the

NHML-1.8.1.4.zip

)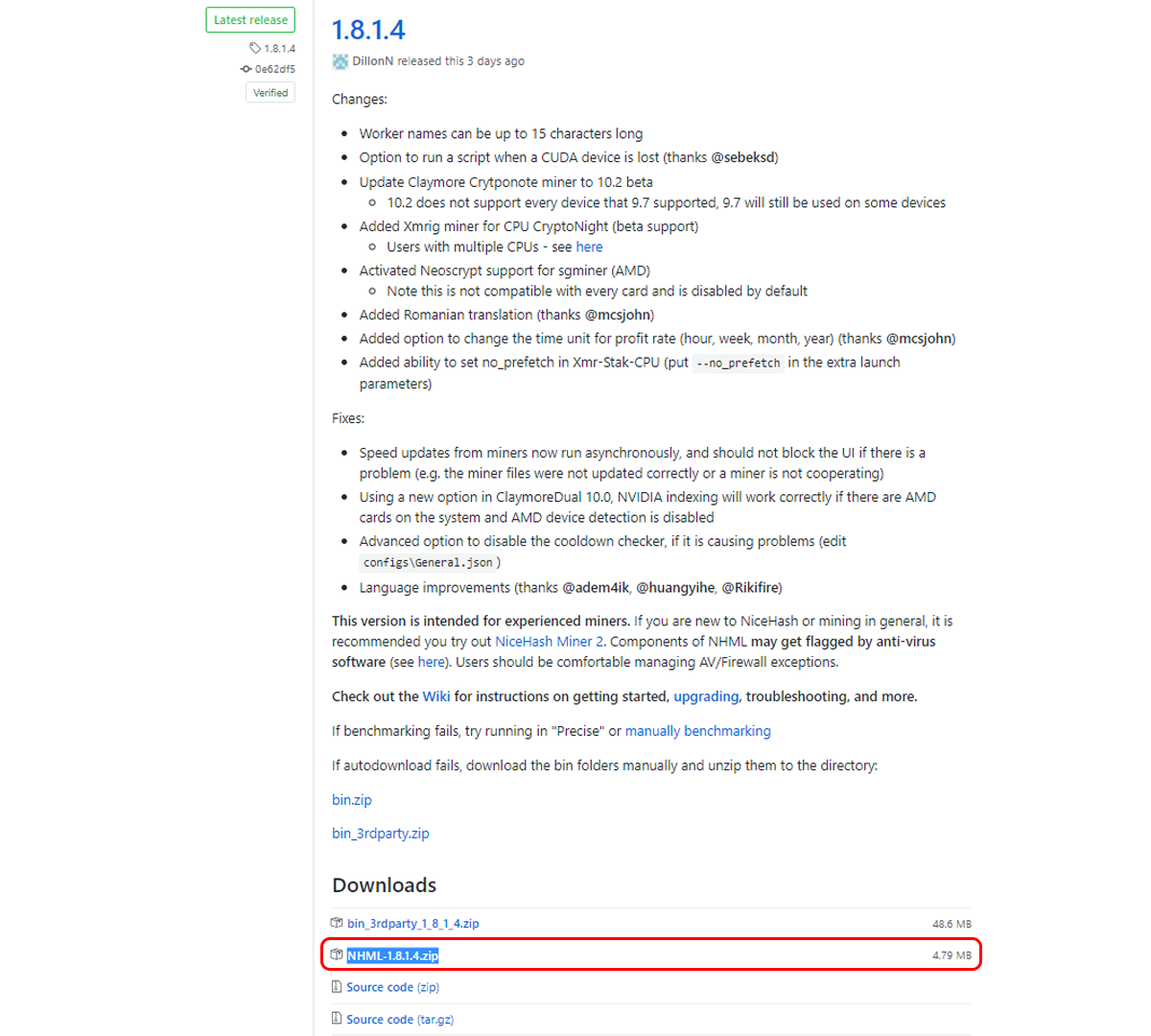 Step 3: When the download is complete, unzip the folder to a place of your choosing, then run NiceHashMinerLegacy.exe (the NiceHashMinerLegacy.exe is inside the main folder)
Step 4: Accept the End-User License Agreement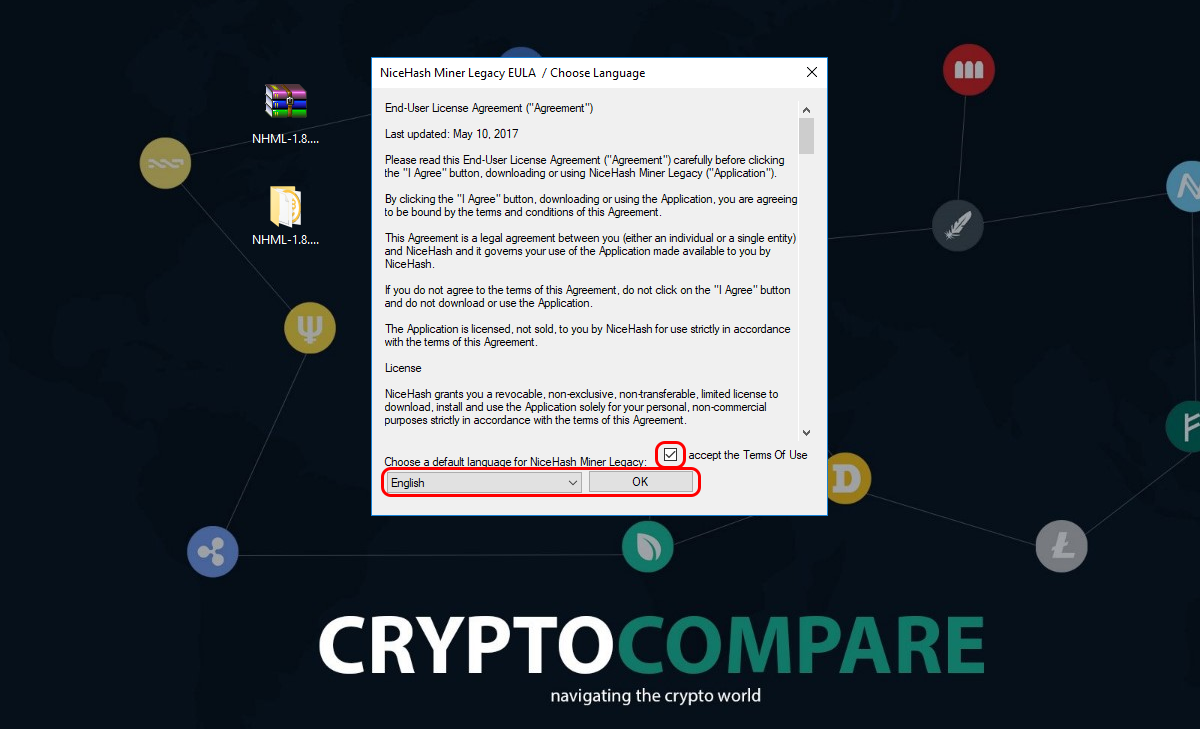 Step 5: And then, Agree to the usage of 3rd party software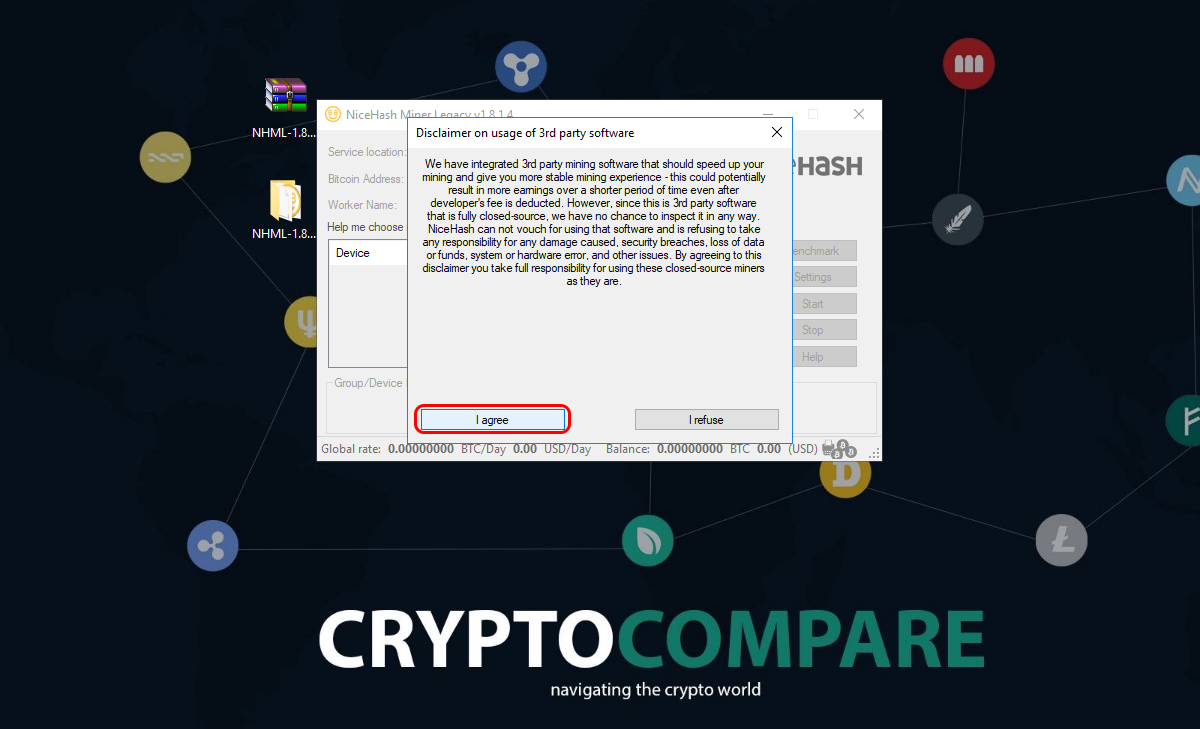 Now the NiceHashMinerLegacy will automatically download the miner bins. Alternatively, you can download the bin .zip files (bin.zip and bin_3rdparty.zip if you consented to 3rd party miners) from the release page. Simply extract the contained folders bin and bin_3rdparty to the same directory as NiceHashMinerLegacy.exe.
Part 2: Set up and Start mining
Step 1:

Once NHML is loaded, choose the location nearest to where you are, enter your Bitcoin address, your workername (0-7 characters, letters/numbers only). In the Device box, you will see your CPU and GPUs, leave the check symbol (

✔)

on what you want to use to mine and press "Benchmark"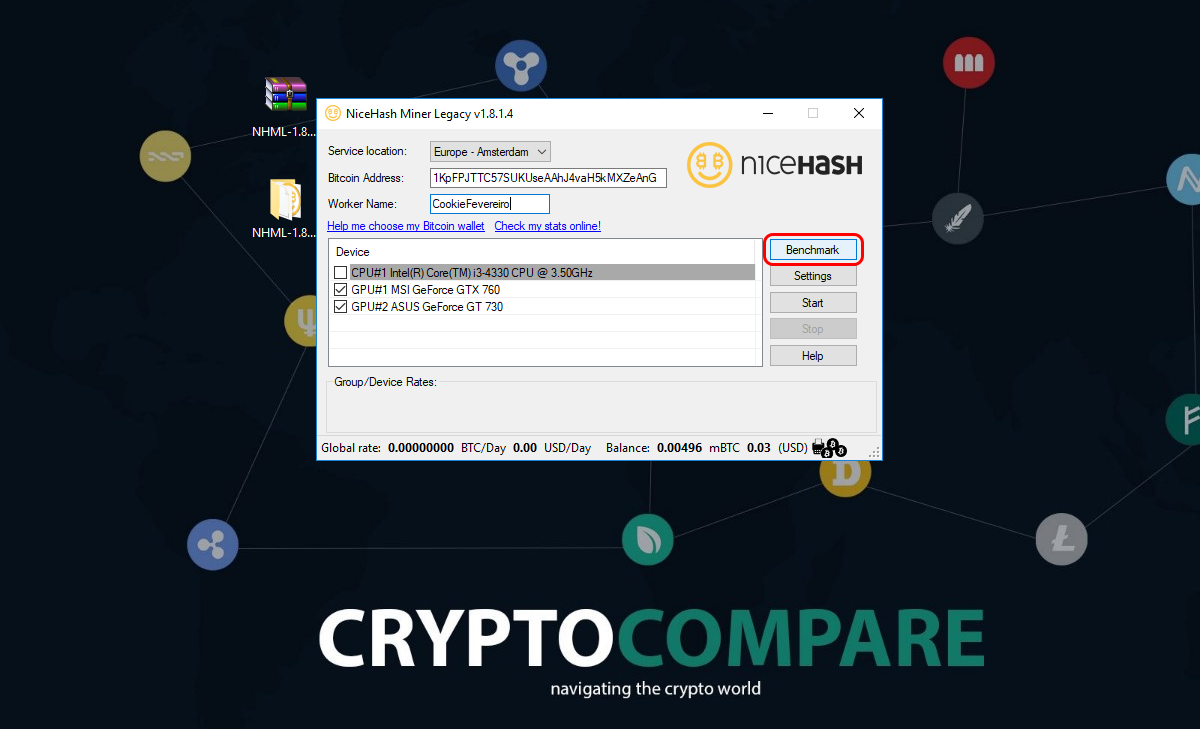 Step 2: Then, on the benchmark window click "start". NHML will automatically go through all enabled algorithm/miner combinations and record their speeds. If some fail, you can try them again with the time is set to "Precise".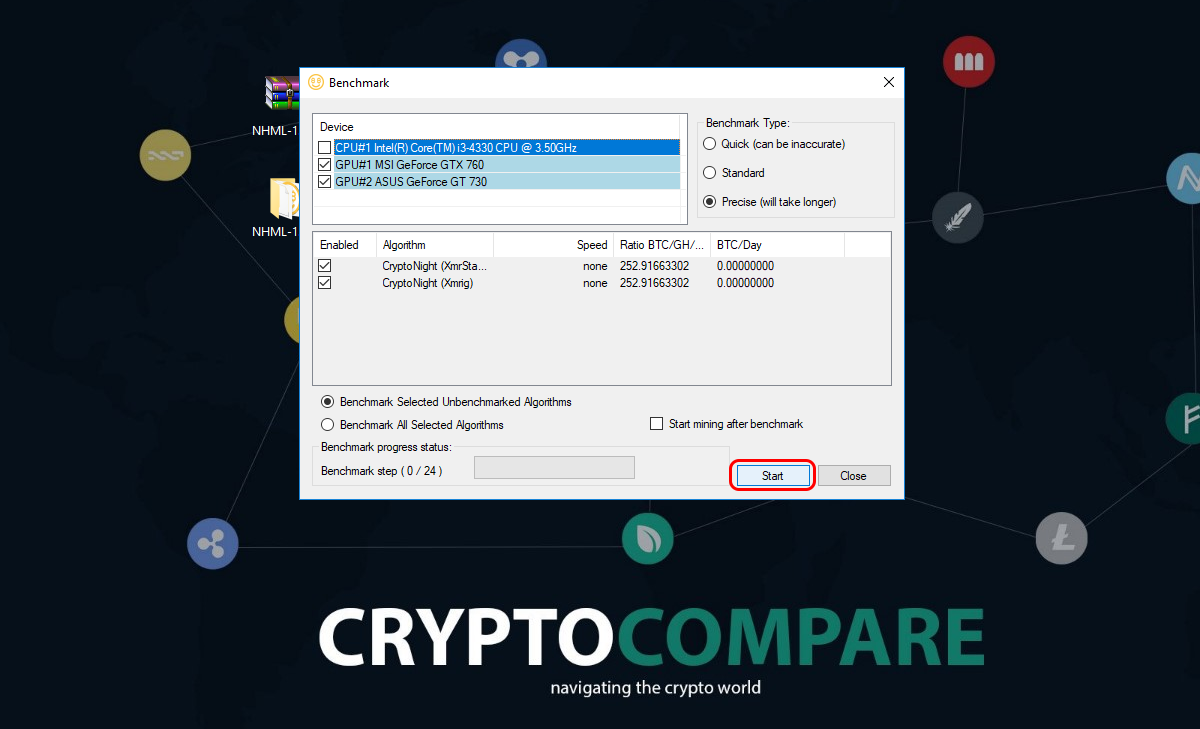 Wait until it finishes all the benchmark steps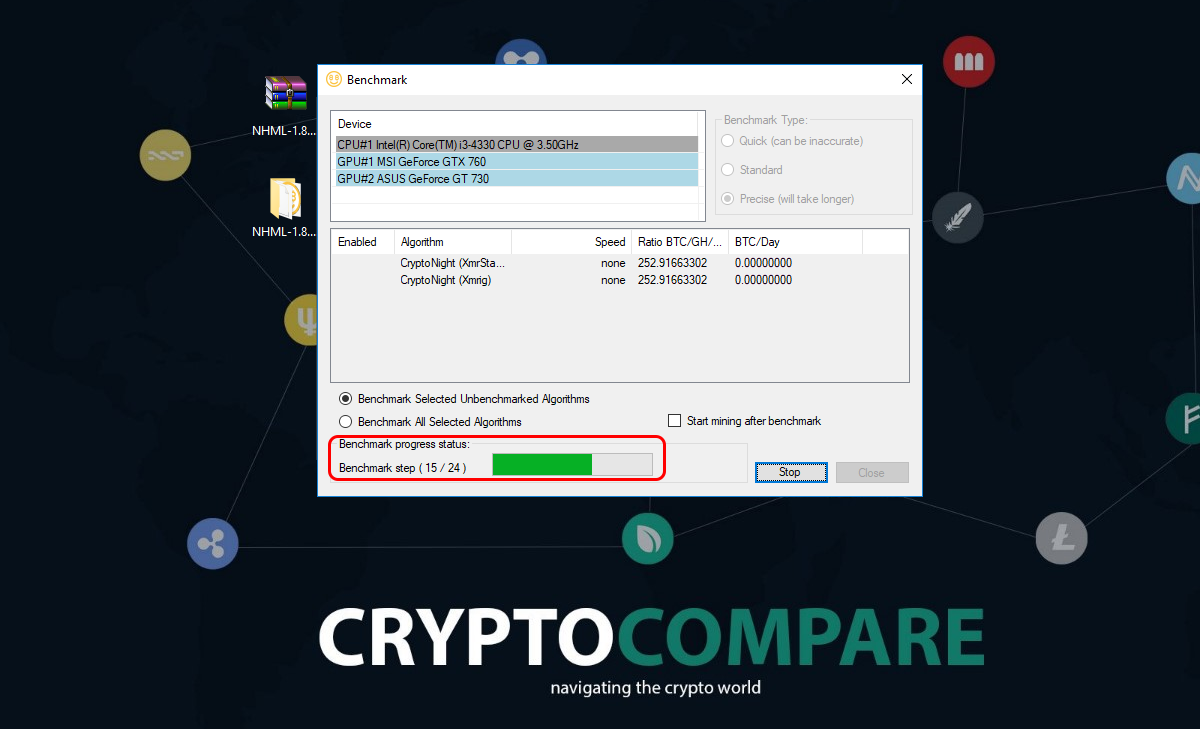 When it finishes, you are probably going to see this message below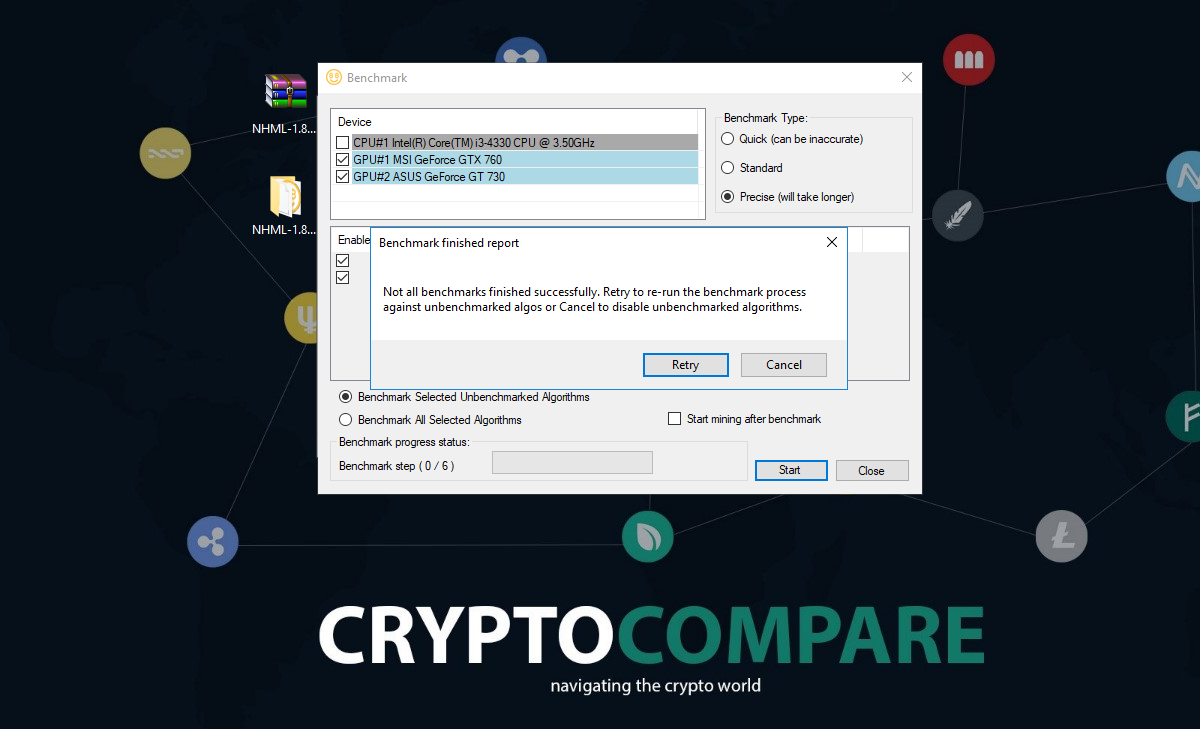 Don't worry, some algorithms are geared more toward advanced users because they require more care and/or are experimental. These will be disabled by default in the benchmark section.
There is nothing wrong with enabling the disabled algorithms, and they are generally more profitable, but you should be prepared for:
To continue, press the "cancel" button
Step 3: Return to the NHML window and press the "start" button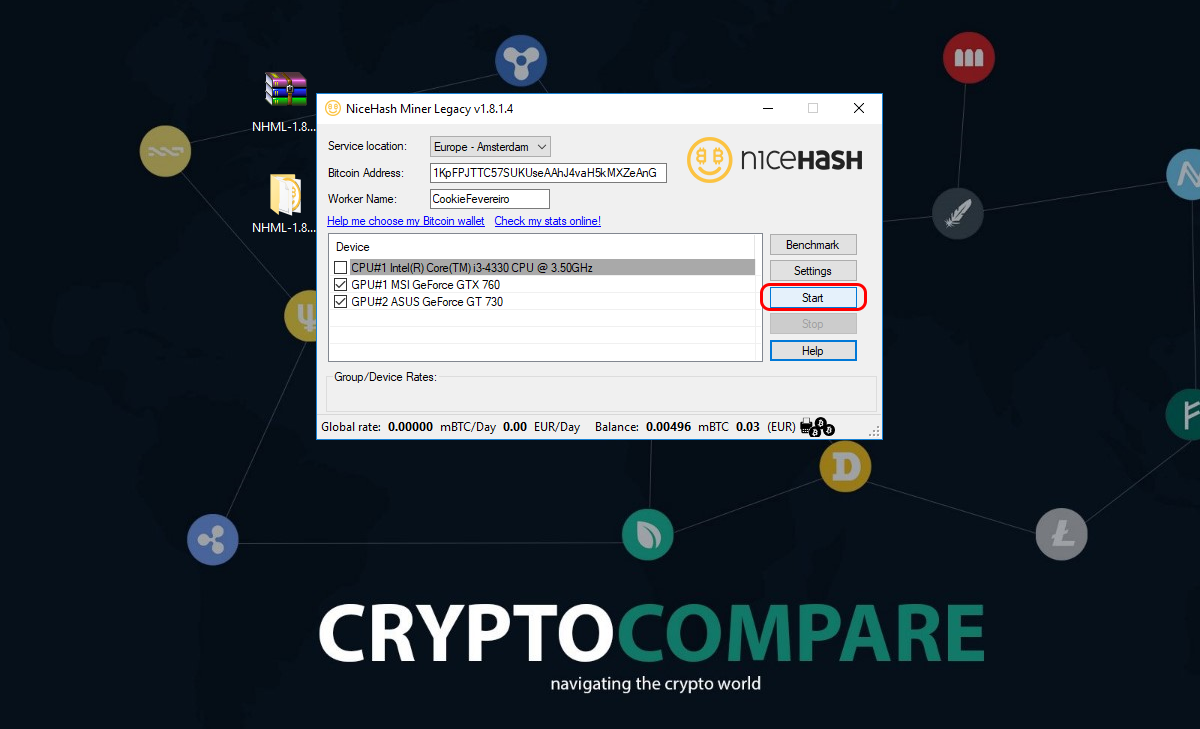 NHML will automatically start the most profitable miner/algorithm combination based on the current paying rates from NiceHash.

(

NHML will frequently check the NiceHash rates and switch to the most profitable miner automatically. You can set a delay on the switching in settings

).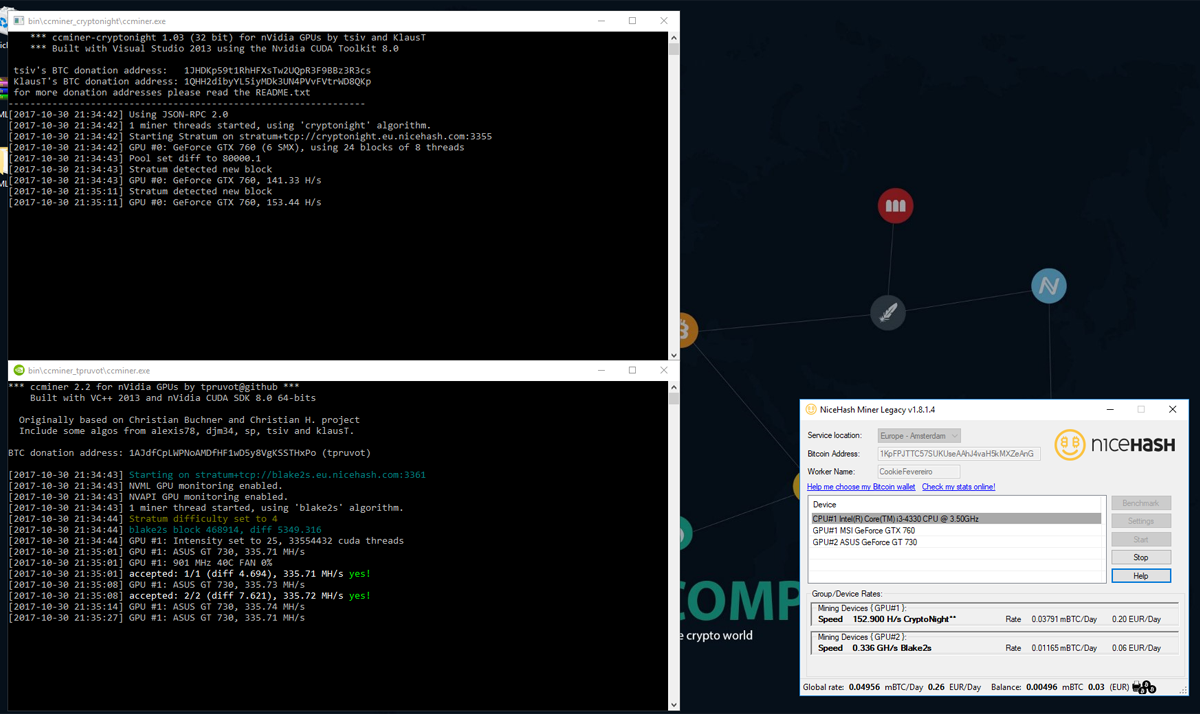 As you see, in our case, the NHML chooses the "ccminer_cryptonight" for the GTX 760 graphic card and the "ccminer_truvot" for the GT 730.
You can see in the

bottom of NHML window how much you are making per day, and how much you already made

You will receive Bitcoin payments according to your payments schedule: https://www.nicehash.com/help/when-and-how-do-you-get-paid
WARNING: Due to specific requirements of the supporting back-end program "sgminer", you can not run NiceHash Miner Legacy through Windows RDP (Remote Desktop Protocol) if you are using AMD GPUs. If you still wish to use remote access to your computer while running NiceHash Miner Legacy we suggest you to use TeamViewer: https://www.teamviewer.com.
This website is only provided for your general information and is not intended to be relied upon by you in making any investment decisions. You should always combine multiple sources of information and analysis before making an investment and seek independent expert financial advice.
Where we list or describe different products and services, we try to give you the information you need to help you compare them and choose the right product or service for you. We may also have tips and more information to help you compare providers.
Some providers pay us for advertisements or promotions on our website or in emails we may send you. Any commercial agreement we have in place with a provider does not affect how we describe them or their products and services. Sponsored companies are clearly labelled.