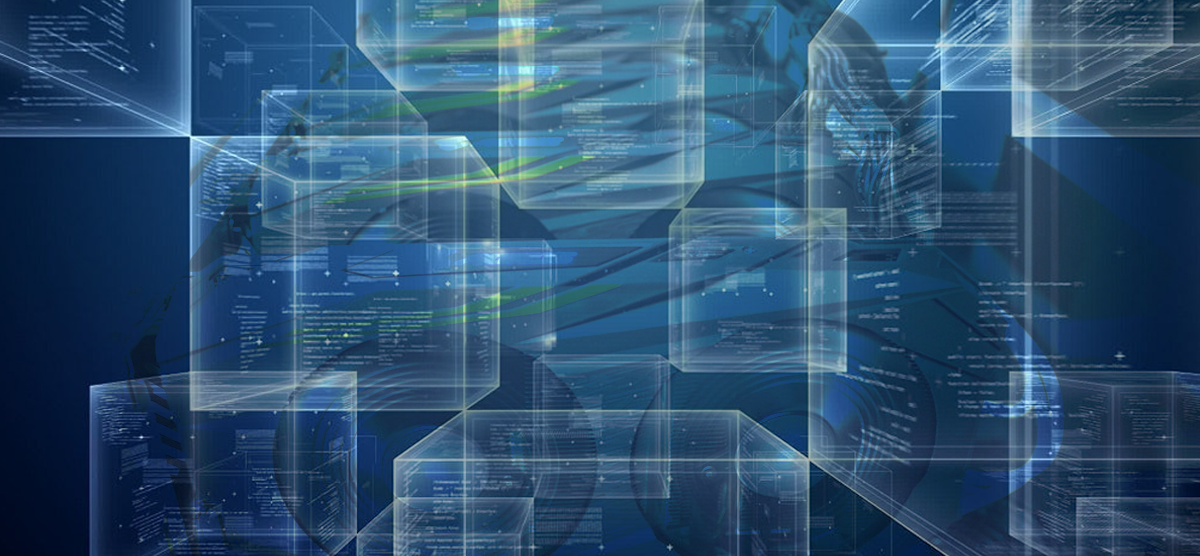 BetterHash is a cryptocurrency miner that takes care of everything: selecting the best-performing coins, switching between algorithms and even creating a wallet in case you don't have one. In short, BetterHash is a good tool for entrant users. 
Note: You can also benchmark your PC after installation and see an estimation of its earning capabilities following this step-by-step guide.
Part 1: Create an account on BetterHash
Step 1: Go to the BetterHash website (or click

here

) and, on the upper right corner, click on the "LOG IN" button (or click

here

)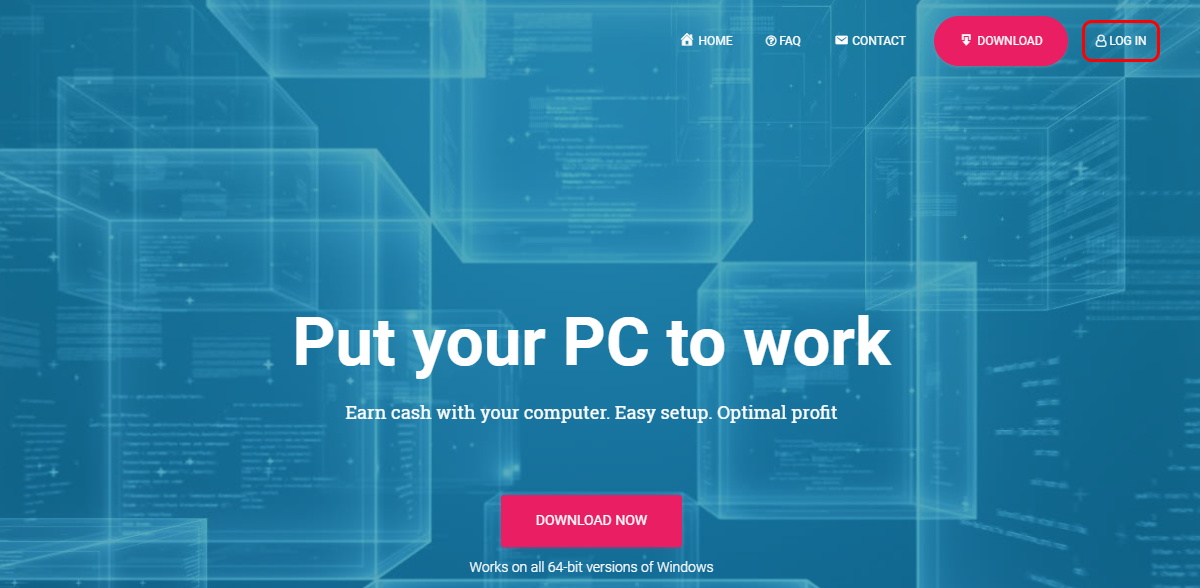 Step 2: Now, fill in the gaps with your email, choose a password and click on "Get Started"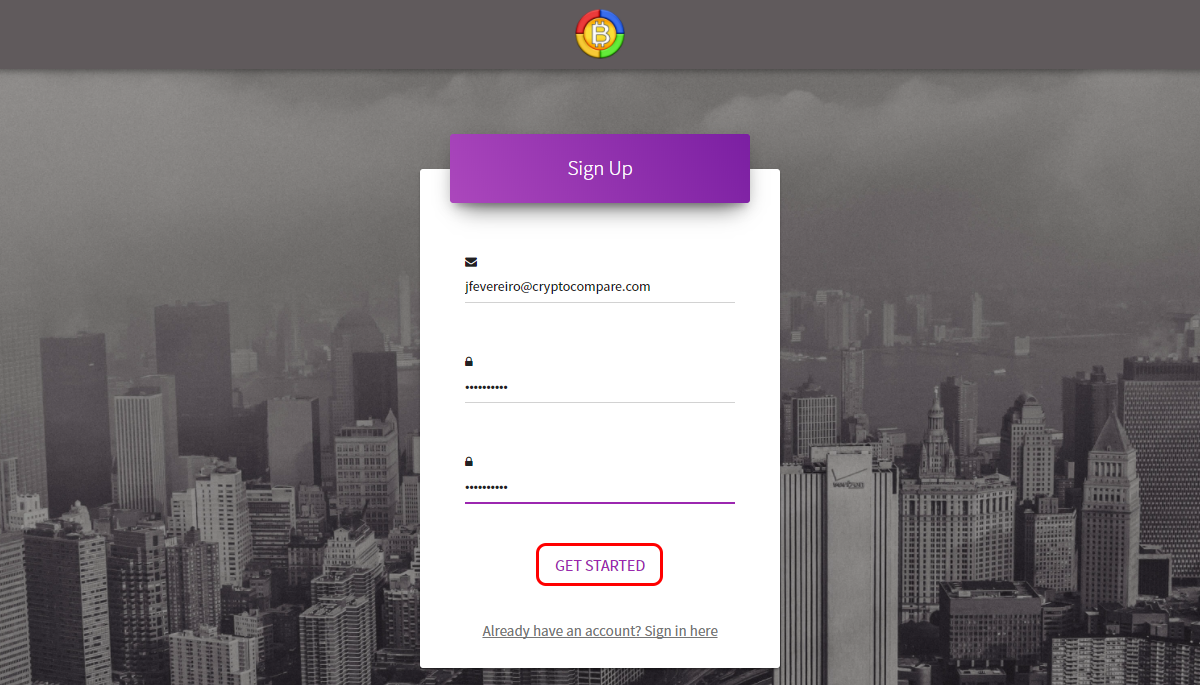 Part 2: Download and install BetterHash
Step 1: Still on the BetterHash website, in the upper right corner click on the "Download" button (or click

here to download

directly from this page)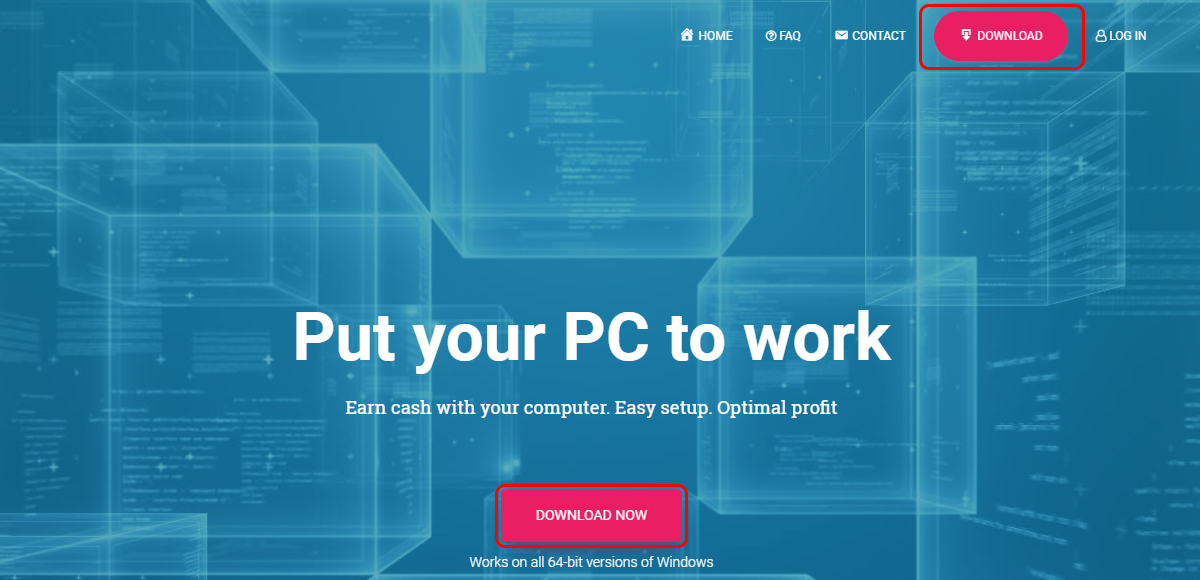 Step 2: Once the download is complete double click on it and follow the installer setup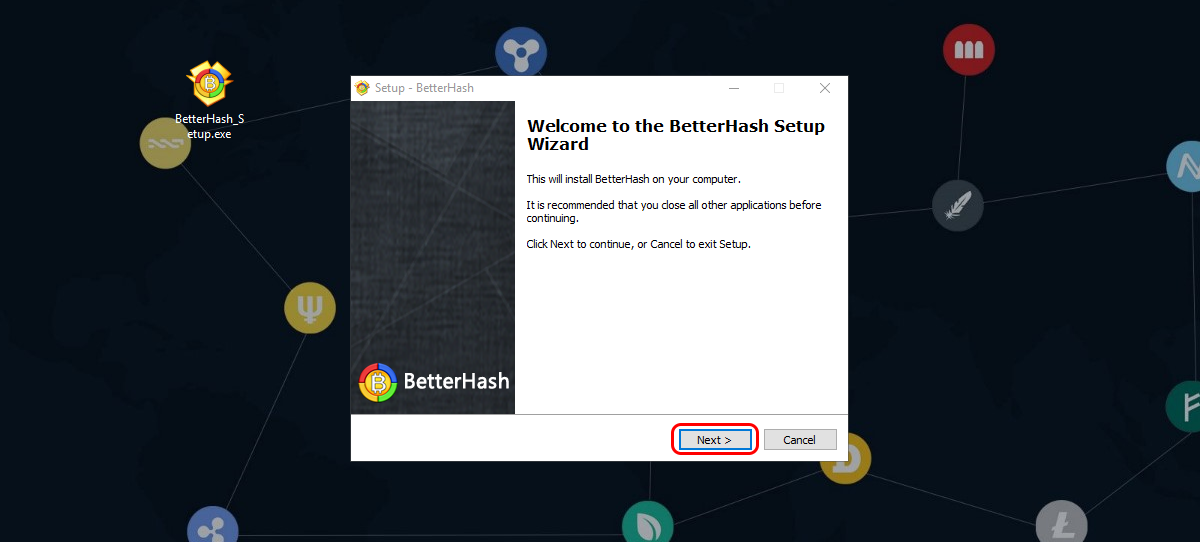 Step 3: The program will then start. Press "Next" to download the miners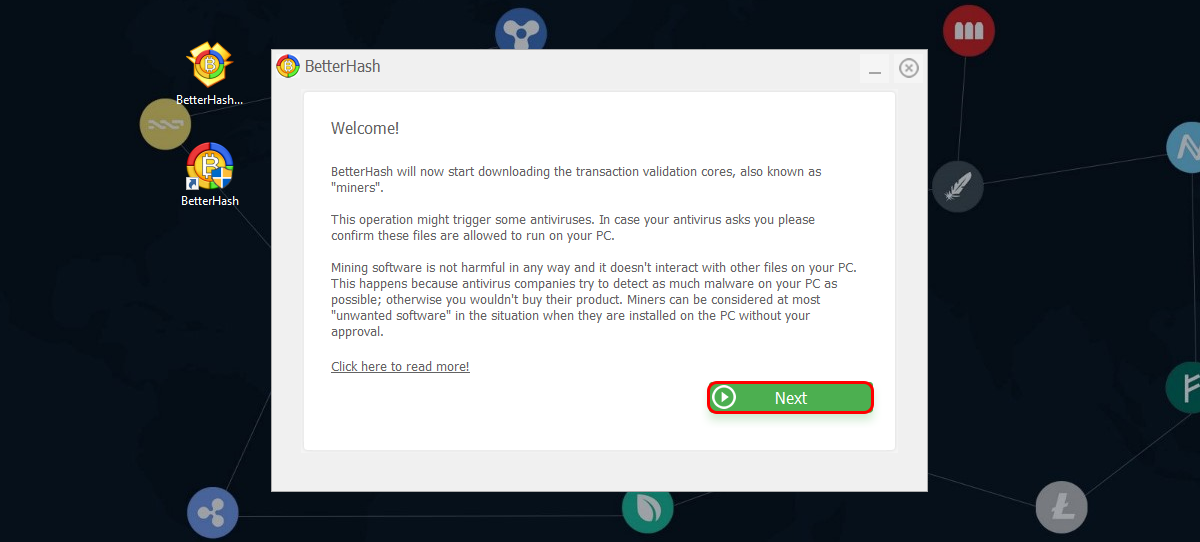 Step 4: When all the files are successfully downloaded press "Next" again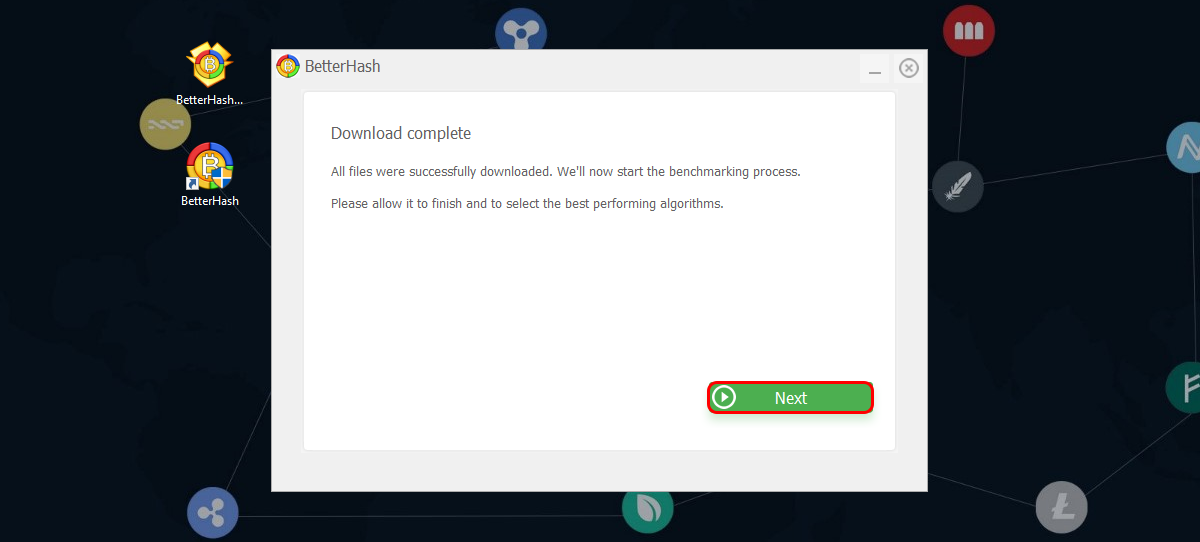 Step 5: An automatic benchmark will start, BetterHash

will automatically go through all enabled algorithm/miner combinations and record their speeds,

wait until it finishes, then press "Yes"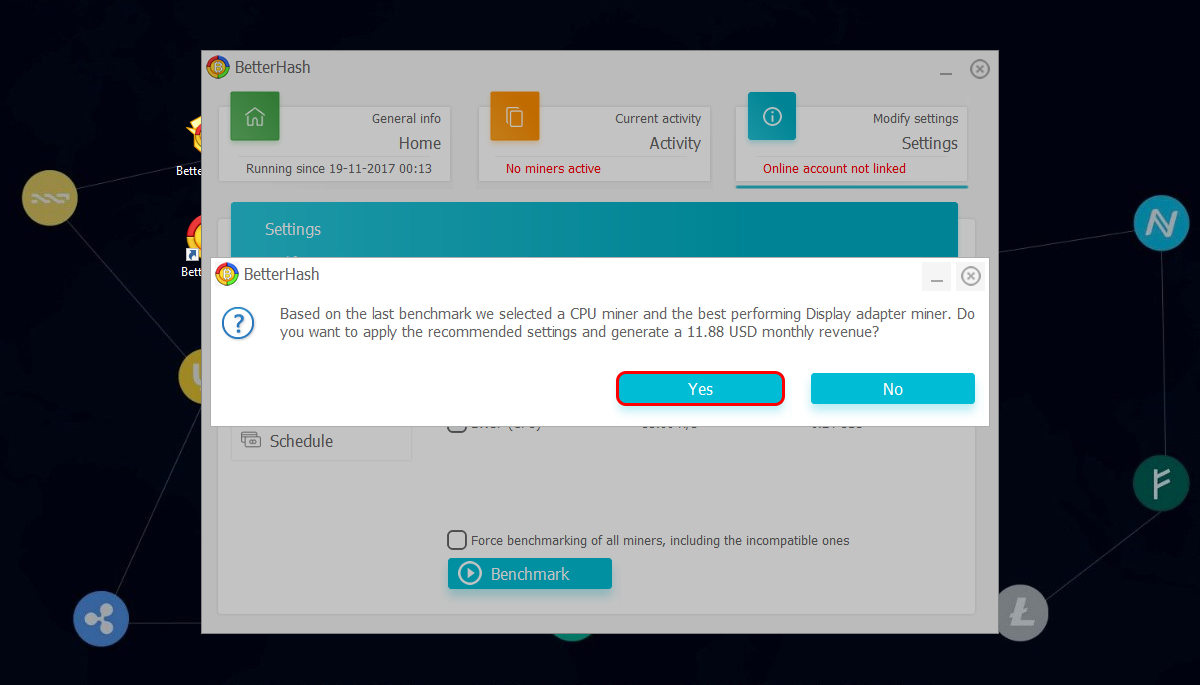 (Some miners can be incompatible with your rig. For example, in our case, we can only use the Cryptonight and the EWBF miners because for the Equihash miner only CUDA devices with SM 5.0 and higher are supported and for the claymore ethereum miner, it is no longer possible to mine with 2gb cards)
Part 3: Set up the miner
Step 1: Now we will add the account we did before, clicking on the "payment" tab on the left sidebar and then on the "Change ID" button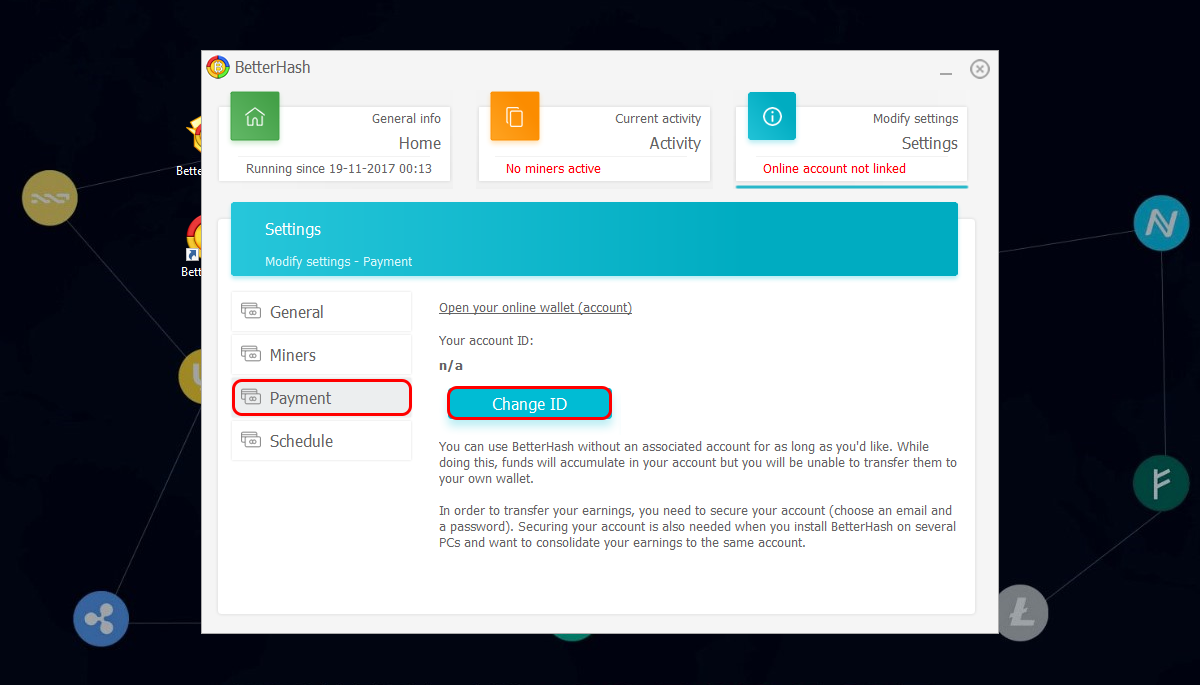 Step 2: Fill the gaps with your email and password and press "Apply"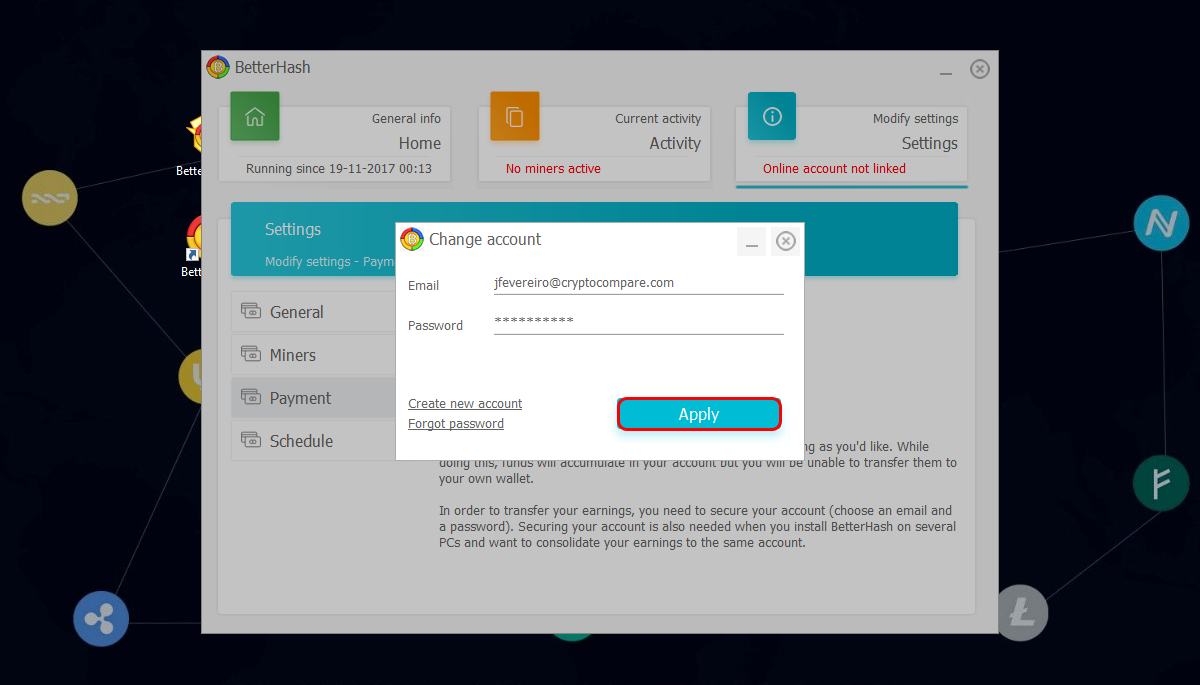 Step 3: Once you have connected your account click on "General" tab on the left sidebar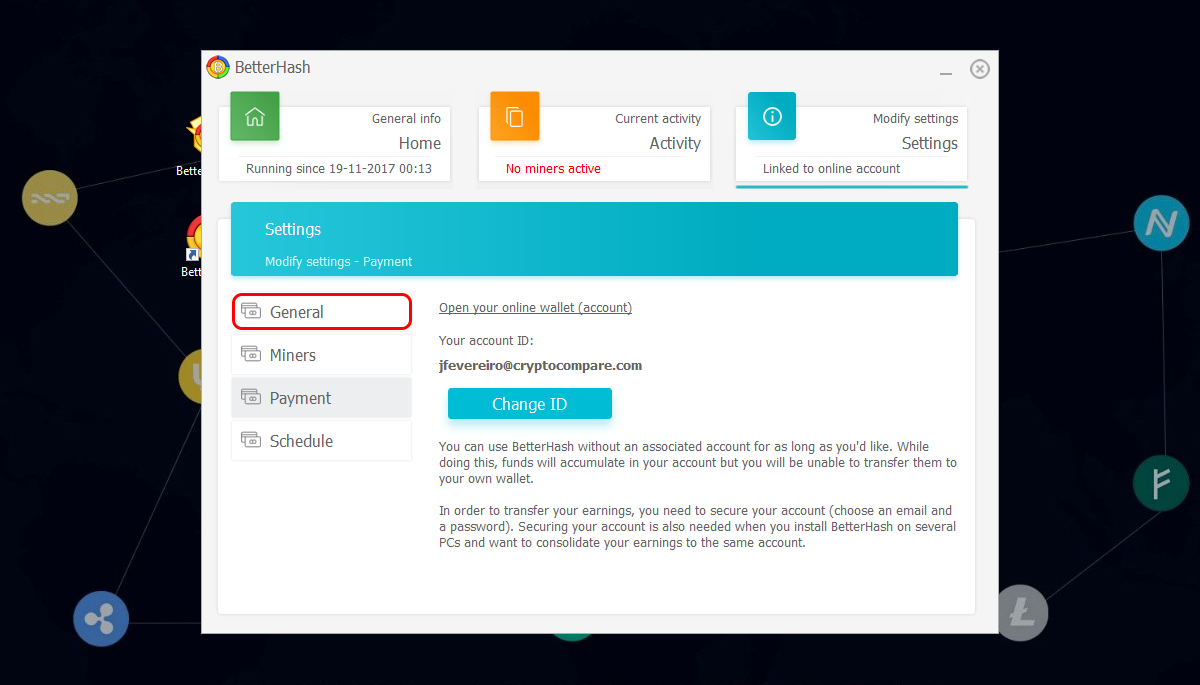 Here, you will uncheck what you want to uncheck as everything checked, by default. The image below shows what we uncheck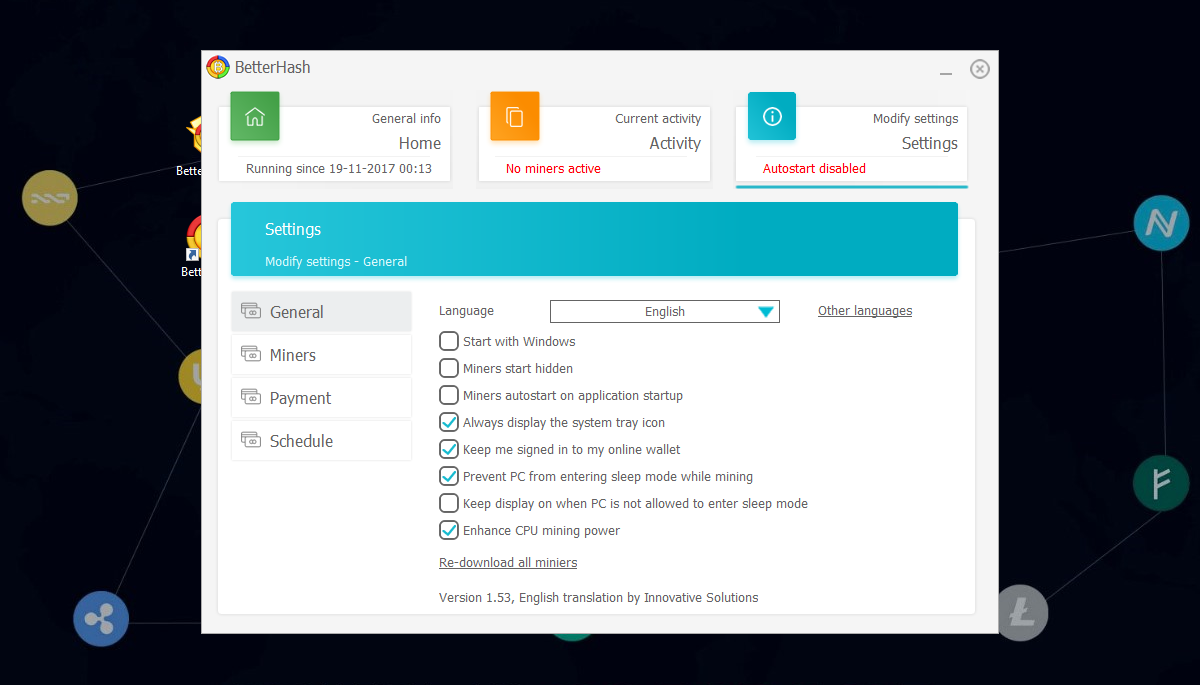 Step 4: If you didn't uncheck the "autostart" you are already mining, if not, click on the "Home" tab and then on the "Start" button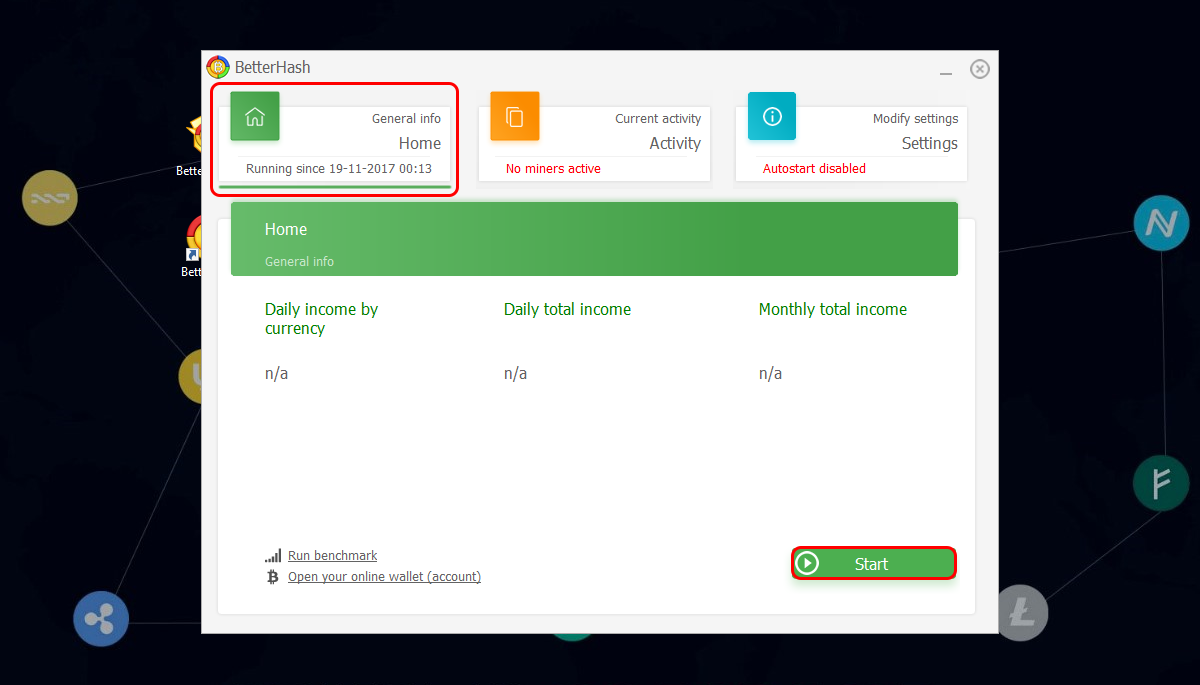 Part 4: Controle your funds
Step 1: Return to the page where you created your account on the first part of this guide, or go to Setting > Payment and press  "open your online wallet"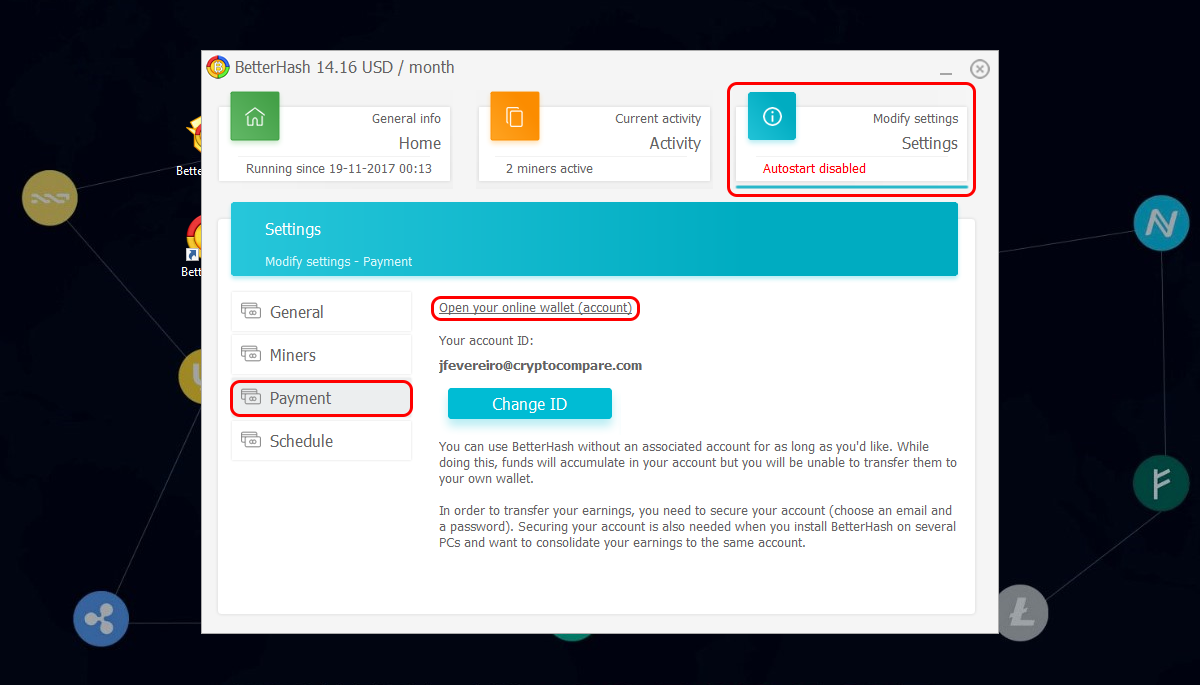 Step 2: A window will pop up. That is your web wallet from BetterHash, in "my account" you are able to see your balance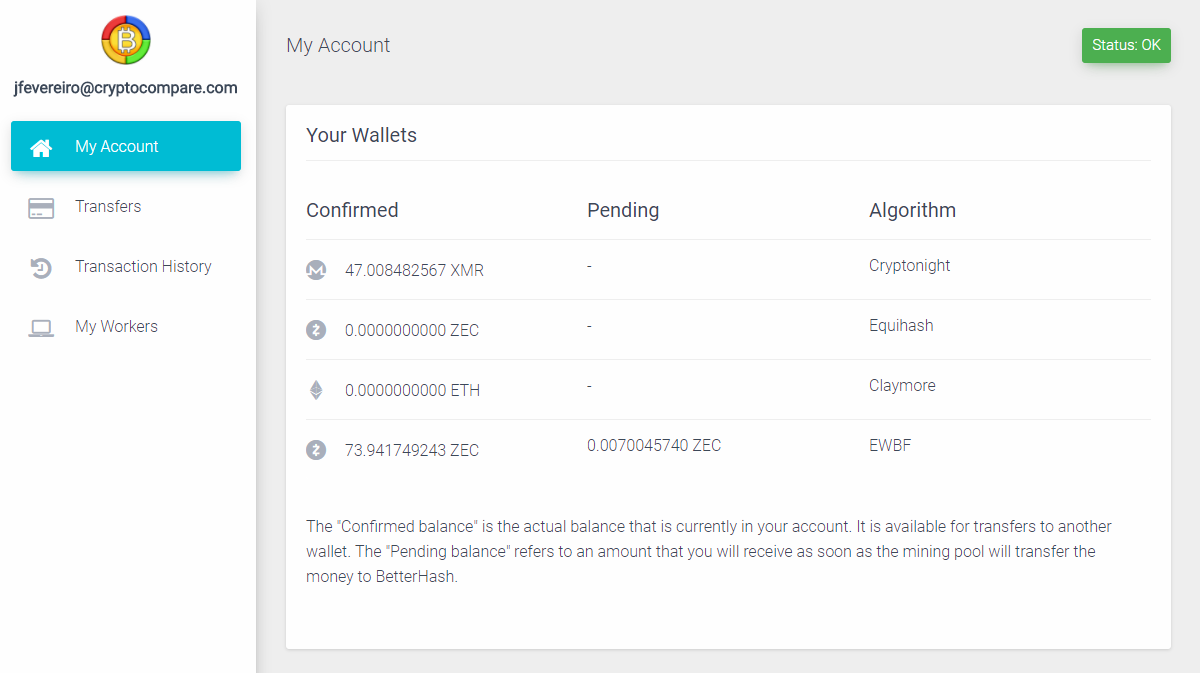 Step 3: Then, click on the "Transfers" tab. Here, you can send your funds to others wallets. To do so, type the address in the correspondent coin and click "Send"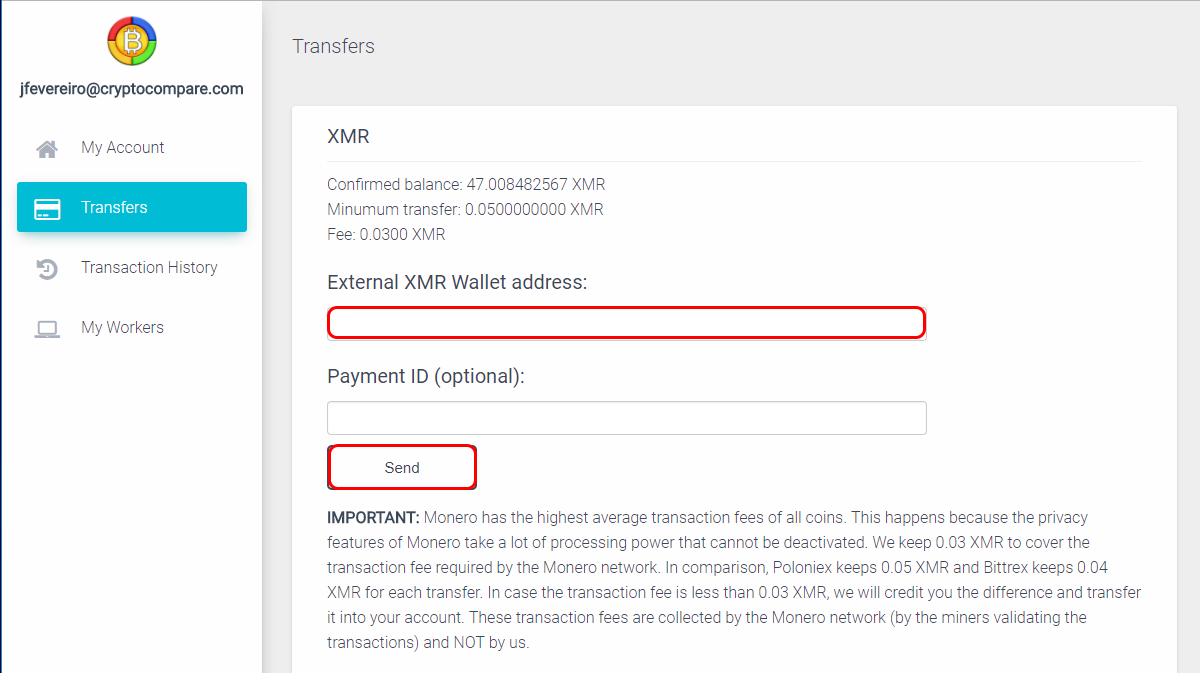 That's it, Betterhash interface is super simple to use, making your life easier by cutting some steps. Enjoy it!
This website is only provided for your general information and is not intended to be relied upon by you in making any investment decisions. You should always combine multiple sources of information and analysis before making an investment and seek independent expert financial advice.
Where we list or describe different products and services, we try to give you the information you need to help you compare them and choose the right product or service for you. We may also have tips and more information to help you compare providers.
Some providers pay us for advertisements or promotions on our website or in emails we may send you. Any commercial agreement we have in place with a provider does not affect how we describe them or their products and services. Sponsored companies are clearly labelled.