How to Mine Cryptocurrencies Without a Mining Rig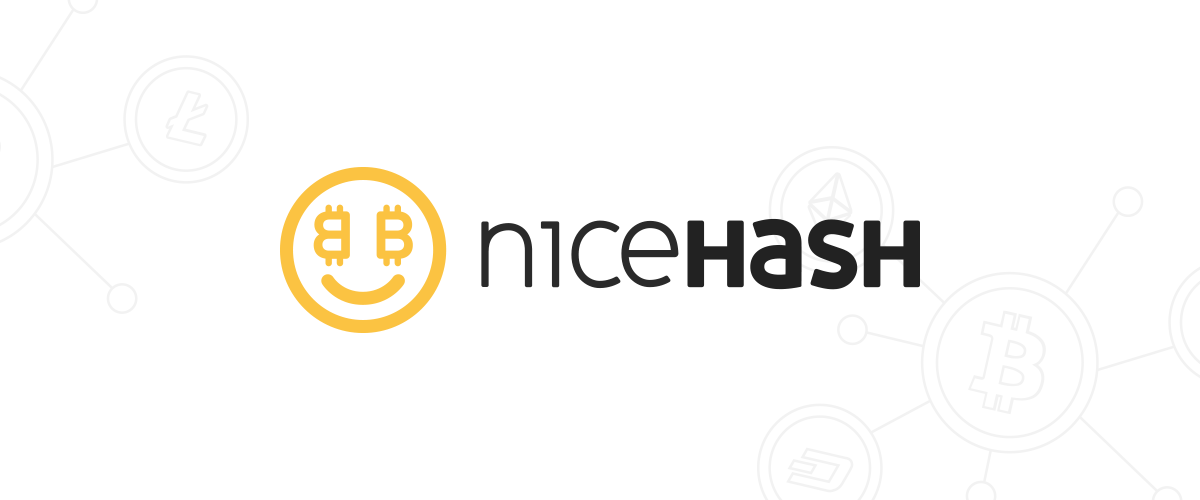 Cryptocurrency mining is, as most forms of passive income, a very attractive investment, but not everyone has the technical expertise, time or space to buy new graphic cards, ASIC machines or other mining equipment. There is an alternative, however, you can rent hashing power online.
There are several services that allow this service, the most common is cloud mining, where you subscribe to a contract. Usually, you buy a specific amount of hashing power for specified amount of time (for a month, for a year or even for a lifetime). Benefits of such contracts are affordable prices and the illusion of a long-term mining. This often results in smaller income after some months of mining, which is expected as mining gets harder with time and more hashing power is needed to achieve the same results. The values of cryptocurrencies change every day and you have to rely on luck for invested coin to survive your contract.

But there is another solution - you can buy hashing power at NiceHash.
NiceHash is a hashing power marketplace – a bridge between miners (those with mining equipment) and buyers (those who want to buy hashing power for the purpose of mining). Buying hashing power with NiceHash is similar to cloud mining, with several benefits:

⦁ There are no contracts: If mining is not profitable for you, you just don't invest in it.
⦁ Instant results: You don't have to wait for months or years to see if you will make a profit or not.
⦁ Valid share only: Never pay for dead, faulty configured rigs or invalid shares.
⦁ Real miners: You won't rent hashing power from a distant facility you even don't know if exists, but from people who connected their mining equipment to NiceHash multipool.
So, If you want to buy some hashing power but mining contracts aren't for you, you can follow the guide below to get your hashing power directly from the source, miners.
Part 1: Create new account at NiceHash
Step 1: The first think you'll need is an account. Click here to visit the registration page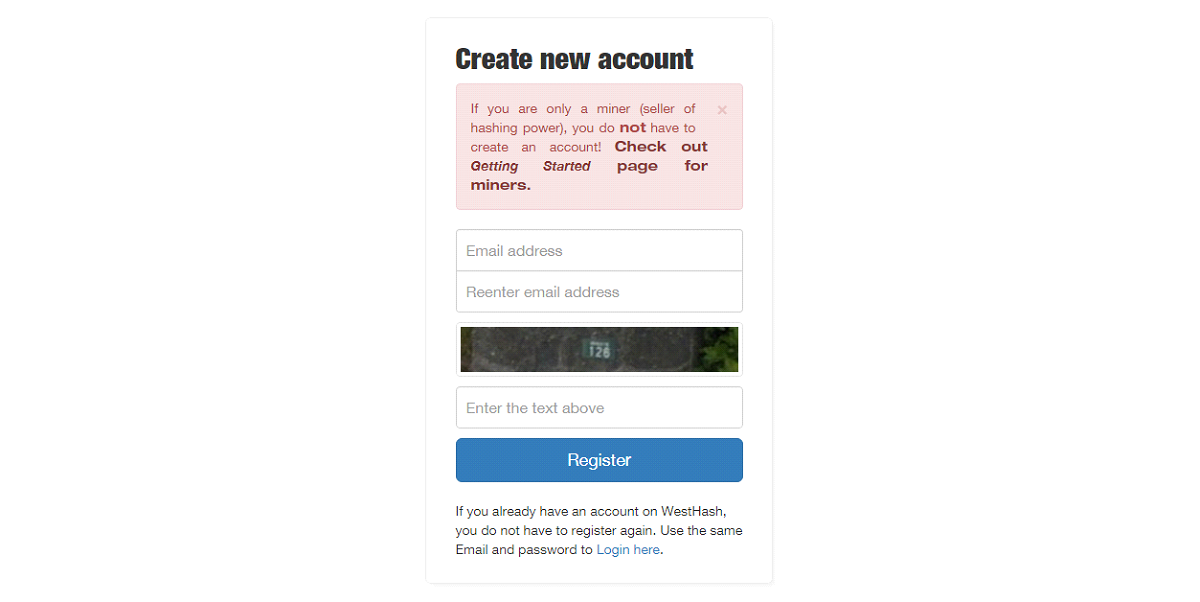 Step 2: Enter your e-mail address and click "Register"

Step 3: Nicehash will now send you an email with a 

link, click it to set your password to activate your account
Part 2: Fund your NiceHash account
You can now mine your favorite altcoins but to buy hashing power you will need to deposit Bitcoins in your NiceHash account. You can always withdraw deposited Bitcoins from your NiceHash account back to any Bitcoin wallet.
Step 1: Log into your NiceHash account

Step 2: Click "Account" (1), and a menu will appear. Click "Wallet" (2)

Step 3: Generate a new Bitcoin wallet

Step 4: 

Deposit the amount of Bitcoin you want to invest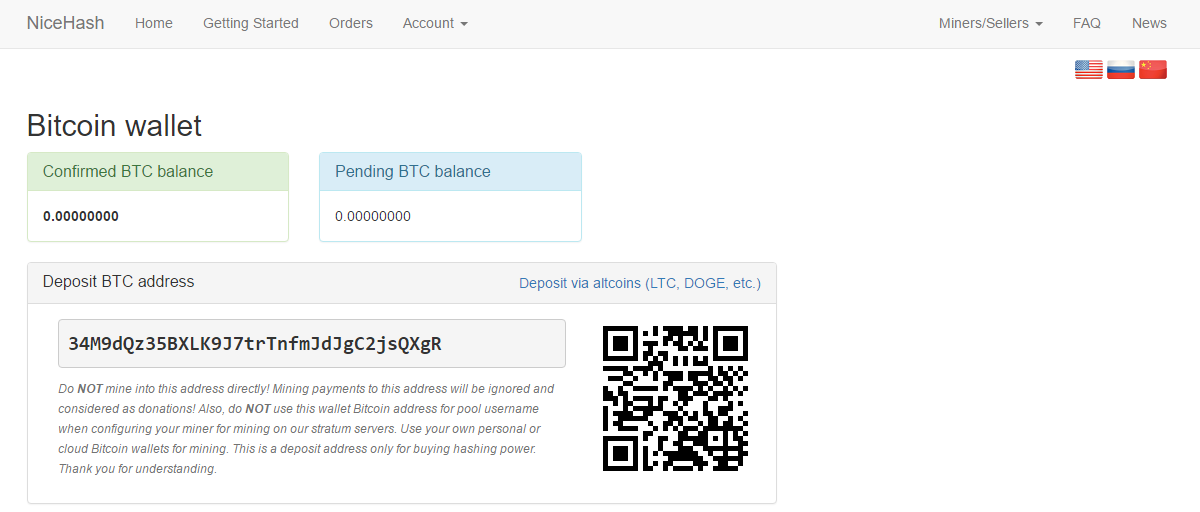 Note that the minimum price for placing an order equals 0.01 BTC.
Part 3: Find a suitable pool for mining
Now that you have funded your account you can direct your hashing power to any stratum pool and mine any coin you want (BTC, ETH, ETC, DASH, LTC, …). You'll need to register an account with the pool you want to mine on. You can find a list of recommended pools for NiceHash here, and a complete list of mining pools here. Register an account with your favorite pool.

Selection of the pool plays a big role in the final amount of mined cryptocurrency. Make sure the pool you selected can handle massive hashing rate and loads of shares, especially from a single connection.
Part 4: Add selected pool to your pool list
You can save your favorite pools and use them quickly when you want to order hashing power. 
Step 1: Click "Account" (1), and a menu will appear. Click "Manage My Pools" (2)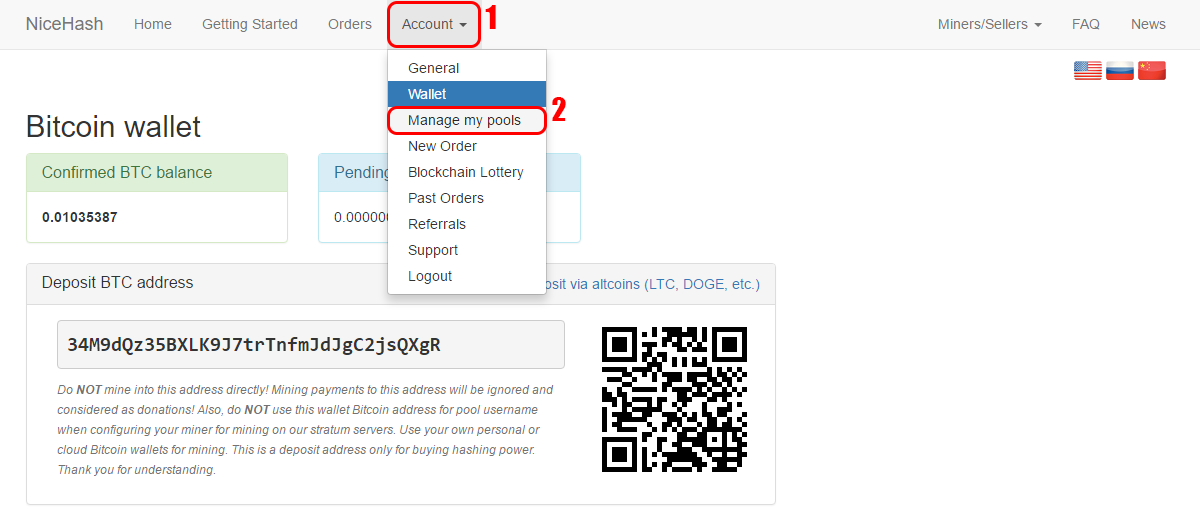 Step 2: 

Choose the algorithm you'll be mining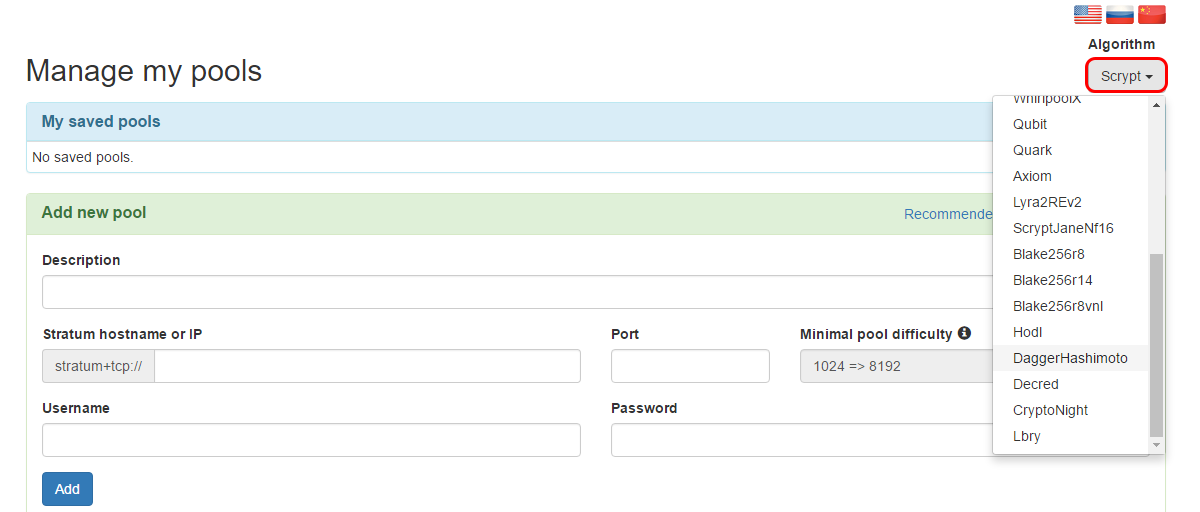 Step 3: Fill out the pool form with your pool information
⦁ Description: Type in whatever you want and will help you distinct between saved pools.
⦁ Stratum hostname or IP and port: You need that to connect to the right pool.
⦁ Username and password: You set these two for your worker.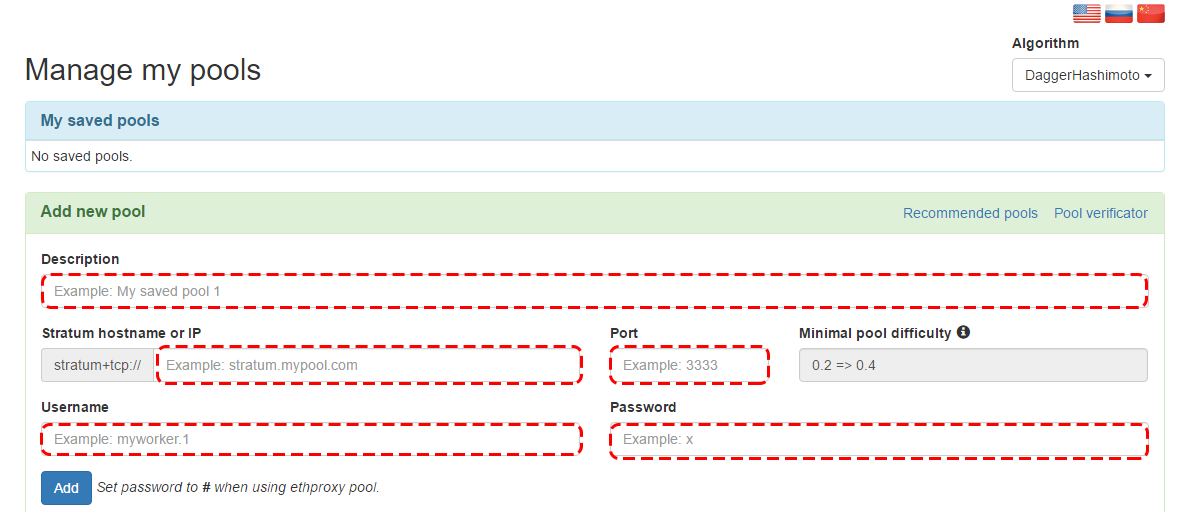 Step 4: Click "Add" to confirm the pool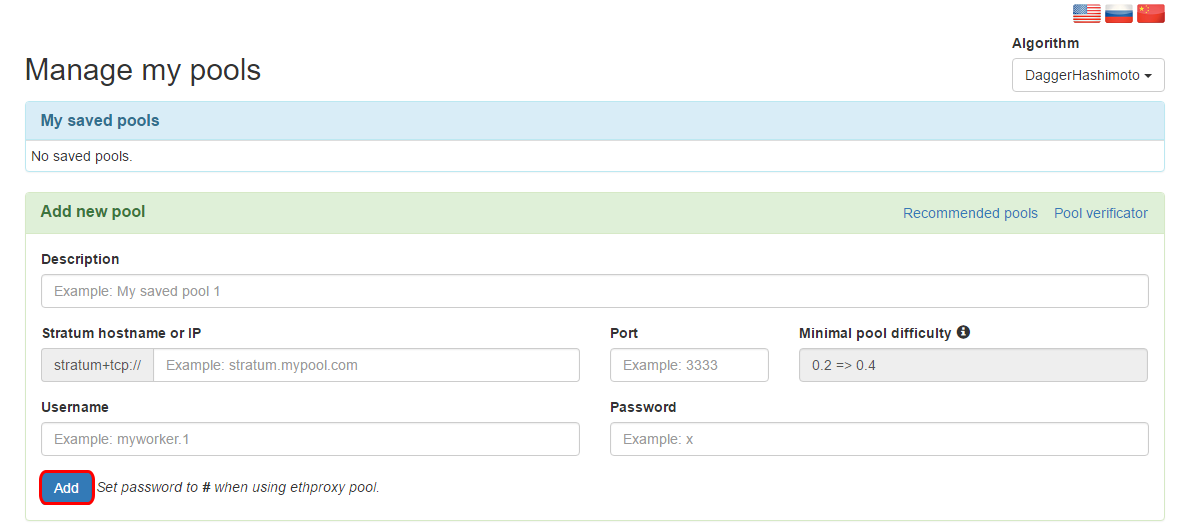 Step 5: 

Fill out the pool form with your pool information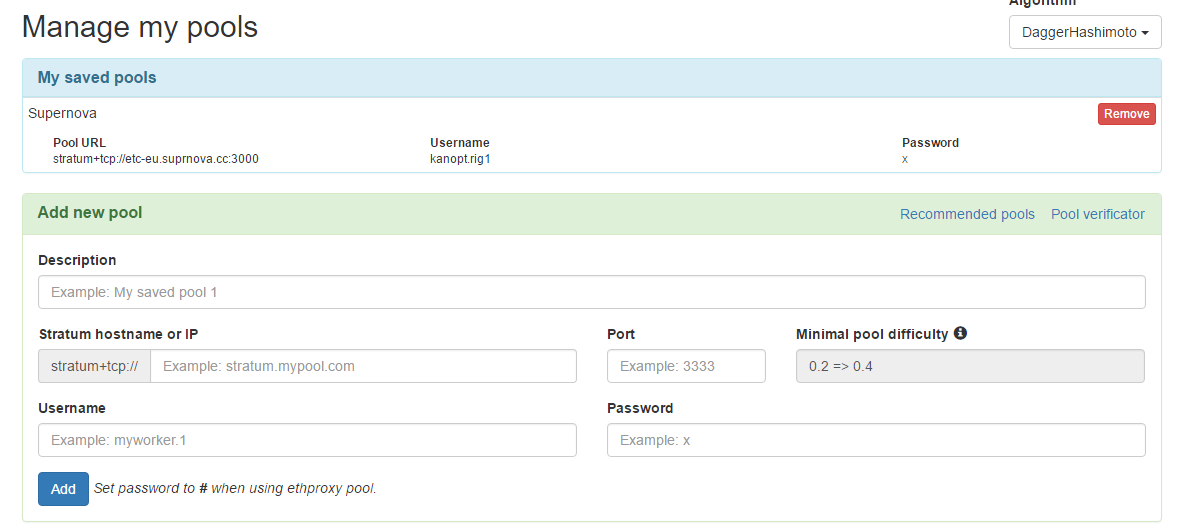 Part 5: Create new order and start mining
Now that you have added your pool to the list in pool manager, the real joy begins. The central point for everything is the live marketplace. In the following examples we are placing an order to buy Ethereum hashing power, so we shall look at DaggerHashimoto algorithm marketplace.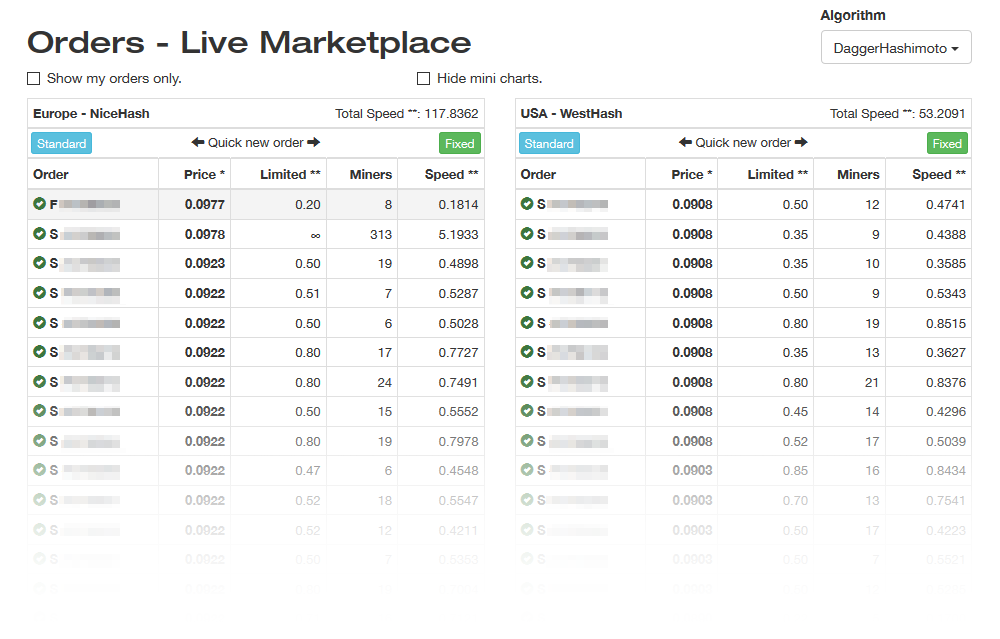 At the live marketplace you see all the current bids – orders in progress. There are two independent marketplaces: EU and USA. Choose the one that is closest to your target pool (remember the Manage my pools in the previous steps). You can also see the assigned number of miners and speed (hashing power) of each currently placed order. Orders are sorted by price - if order has the highest price, it will be at the top and more likely has some assigned hashing power. Bottom orders are more likely to have 0 hashing power – meaning that there are enough better paying orders with consumes all the available hashing power. NiceHash fills orders in a way that the best paying orders have more hashing power.

Some orders at the bottom of the list have zero assigned hashing power and are marked with red – this means that the orders are dead. In most cases, orders are dead due to connectivity issues with target pool or due to misconfiguration (wrong pool address or username/password). When placing an order, your order may be dead for a short period of time (up to 1 minute) for NiceHash's system to process it and establish connection to your chosen pool. But if your order is dead for a longer time, you may want to check it out and investigate the reason for order being dead.
NiceHash offers you two order types. One is a Standard type and other is Fixed type. Standard order is bid-type of order, which means you can change its price during the run time – this enables you dynamic bidding with other orders/users. Fixed order on the other hand has fixed price during its lifetime. Fixed orders are always at the top of the order list and have the highest priority for getting (dedicated) hashing power. NiceHash system takes care that all fixed orders have uninterrupted hashing power. Only a small portion of total available hashing power is reserved for fixed orders, thus still leaving enough space for bid-type orders. Fixed order price is usually a bit higher than standard order. It is auto calculated according to how much hashing speed you need. The more fixed hashing power you buy, the higher the price. Fixed orders can last up to 24 hours, while standard orders can be on the list for 15 days before they expire.
Both order types are easily accessible to be placed by clicking either Standard (1) or Fixed (2) button.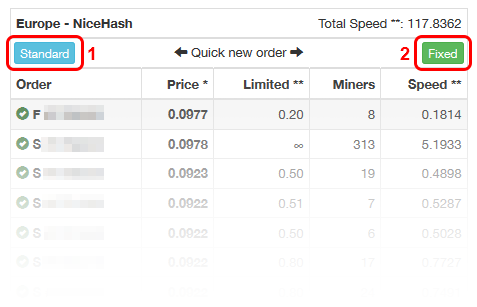 After the click, a small form opens up where you need to fill in additional information.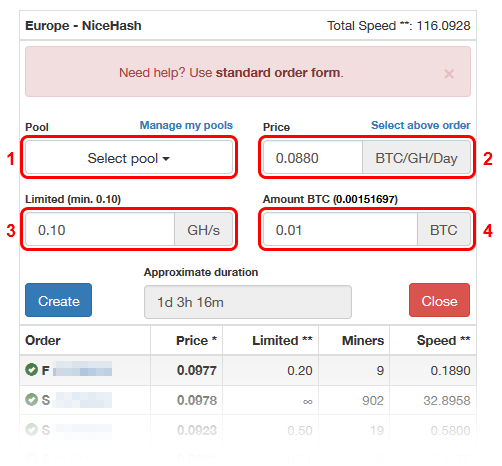 You need to select the pool (1) - just choose the one from the drop down menu. Next we select the price (2). Note that this field is disabled if you are placing fixed order, because price is automatically calculated by NiceHash. When placing standard order, a really great feature is "Select above order". You simply select the order above which you would like to put your order and NiceHash automatically sets appropriate price – no manual fiddling and entering numbers is needed. This enables you to get the desired amount of hashing power for the lowest possible price. In field Limit (3) you enter your desired speed (for DaggerHashimoto in GH/s). Lastly you enter amount of BTC you would like to invest (4). Note, that all orders placed on NiceHash can be cancelled at any time, so you can put in larger amount and if something goes wrong, you simply cancel the order and you will get the unspent amount of BTC back to your NiceHash wallet.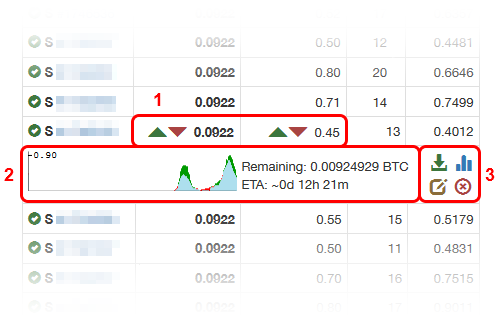 After your order is placed, you will quickly notice some quick controls for it.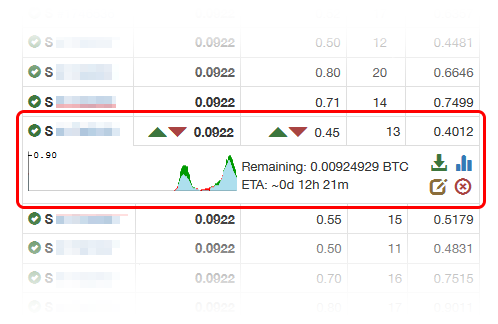 These quick controls (1) are displayed for each order you have (you can have unlimited number of orders). On quick control you can change price with a click of a button. Green up button near price will set your order price higher so your order is placed above the order that is currently above your order (enables you easy competitive bidding for hashing power). Red down button will reduce price for some fixed amount (this feature is limited and can be used only once every 10 minutes). In a similar way, you can change order's speed limit.

In second line of quick controls on the left side there is a small chart (2). This chart tells you your order history for past 2 hours. If the area is mostly light blue or with small red and greens on top, your order is working just fine. But if there is large red area, then something is wrong and you have to take a look into details. On the right side of the chart there are two basic information: your remaining unspent BTC (which is refunded to you if you cancel the order) and estimated time left for your order (ETA). ETA is calculated according to current speed and remaining BTC, also considering whether the order is fixed (max 24h) or not. Please note that ETA only determines order's current expected lifetime. But the actual runtime of your order depends on the amount of BTC you invest and the hashing speed you set. Remember – you're not renting hashing power per particular period, but rather per actual shares that you receive on the order – this is the most fair system available on the market. On the right side there are four buttons (3). Red button cancels the order, yellow gives you the ability to edit the price and limit by manually entering numbers, green takes you to the page where you can refill your order with extra BTC, and blue button opens the page where details about your order are displayed.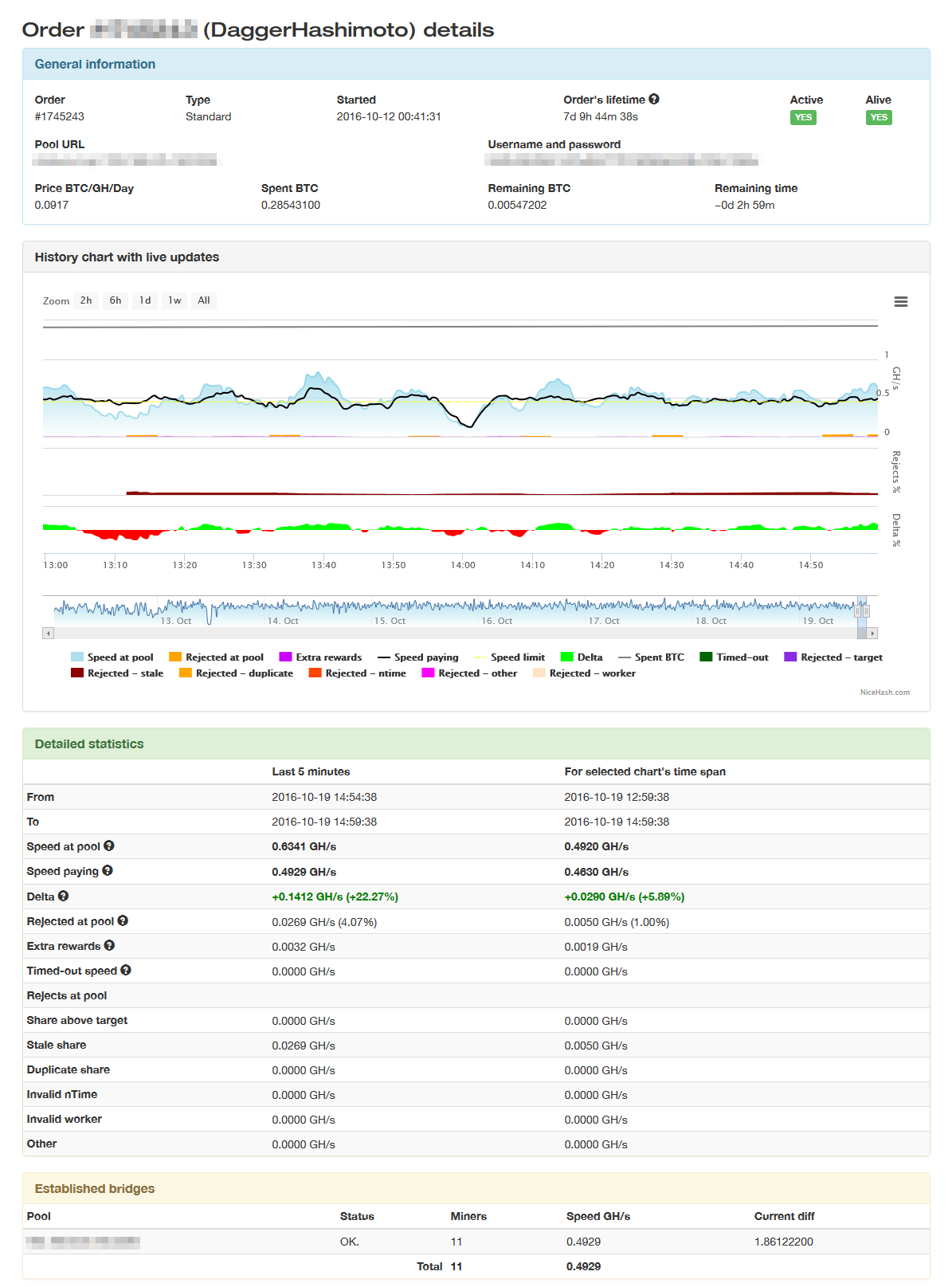 On order details page, you can see a large detailed chart that shows us pretty much everything you want to know about your mining process (such as speed you are paying for, speed you are receiving on selected pool, rejects, ...). You can quickly analyse how good remote pool is and if there are some weird rejects that should not be happening. Using chart's timeline, you can easily calculate averages for selected timeline. Important value to monitor is Delta. This is difference in % of how much you are either getting more or getting less than paying for. Delta should be near 0 or above 0. Big negative delta means that you are paying much more than getting for. There are many factors that affect Delta, we will just mention a few most common; if the pool has a lot of rejects, your delta will be low. Also if pool is unstable and dropping connection a lot or sending a lot of jobs in short time (thus creating bad situations for miners). Another reason for negative Delta can be luck (this can happen in short period of times if pool has high difficulty). A small chart on quick control panel is actually displaying your delta (red for negative, green for positive), so the most important information is at your hand on live marketplace page.
Near the bottom of the details page there's also a list of established bridges. These are connections to your selected pool. If there are some issues with certain connections, you will be able to see that under Status column.
Now that you are familiar with what you can control and what you can see/know about your order, it is time to start competing with other orders. Live marketplace updates every 10 seconds. You need to keep your order in competition with other orders or your order would lose miners and your order's speed would decrease. If you have placed a fixed order, you may take a break – NiceHash system will deliver a dedicated amount of hashing power that you have purchased. But if your order is standard (bid-type) and you don't have time to constantly monitor it, you can try free open-source application – NiceHashBot which automatically handles all your orders.
You are now mining your favorite cryptocurrency without having to buy a ton of hardware, committing to a contract and most importantly for a fair price! Click here to register your account and start using NiceHash service.
This website is only provided for your general information and is not intended to be relied upon by you in making any investment decisions. You should always combine multiple sources of information and analysis before making an investment and seek independent expert financial advice.
Where we list or describe different products and services, we try to give you the information you need to help you compare them and choose the right product or service for you. We may also have tips and more information to help you compare providers.
Some providers pay us for advertisements or promotions on our website or in emails we may send you. Any commercial agreement we have in place with a provider does not affect how we describe them or their products and services. Sponsored companies are clearly labelled.