Gridcoin
The electricity consumption generated by Bitcoin mining facilities around the world can be estimated at around 462MW, which is a lot when you consider that some studies suggest that 45 MW can power a small city of 80,000. Although this makes Bitcoin the safest cryptocurrency out there, it is also somewhat wasteful.
While there are currently other solutions that try to provide security without the need to spend such an astounding amount of electricity like Proof of Work models, they often lack the security that is provided by Bitcoin and other PoW coins.
Some projects, however, are attempting to recycle some of the energy wasted in Bitcoin and cryptocurrency mining. Komodo, for example, uses Delayed Proof of Work (dPoW) to notarize its blocks on the Bitcoin blockchain, providing it with a security system that can be considered as strong as Bitcoin. Another project, FoldingCoin, rewards users with new coins based on the computational work contributed towards the Folding@Home project, one that focuses on the study of protein folding, misfolding, aggregation, and related diseases.
Today, we're going to talk about Gridcoin, a project that offers a similar model to the one employed by FLDC, in which users are rewarded for the computational power contributed to BOINC (Berkeley Open Infrastructure for Network Computing).
However, Gridcoin takes this a step further by leveraging the BOINC networkwhich combines the computational power provided by all the participating hardware for scientific research purposes such as finding cures to diseases, mapping genomes, climate studies, and much more.
Girdcoin employs a novel mining algorithm, known as distributed Proof-of-Research (dPoR), a mechanism that combines Proof of Stake and the Proof of Work done towards BOINC, an open source computing grid that supports all kinds of hardware and adapts as technology changes.
Today, we're going to teach you how to mine Gridcoin. There are three ways you can mine GRC. Solo, on a pool or with Proof of Stake only.
In order to mine GRC solo or to earn stake rewards only, you'll need an initial balance. As so, this guide focuses on pool mining only.
Part 1 - Download and Install Gridcoin
Step 1: Click here to download the Gridcoin Research client
Step 2: Click the file you just downloaded to start the setup
Step 3: Click "Next"

Step 4: Choose where to install Gridcoin and who has access to it on the computer then click "Next". We're going to leave the default settings

Step 5: Click "Next" to start the installation

Wait for the setup to finish

Step 6: Click "Close" to finish and close the setup

Gridcoin is now installed. In order to use it, you have to go to the directory where you installed it to open gridcoinresearch.exe, so you may want to create a desktop shortcut. You'll also need to start the program as an administrator. If you don't want to right-click and select that option every time, follow the steps below:
Step 7: Right-click "gridcoinresearch.exe" and click "Properties"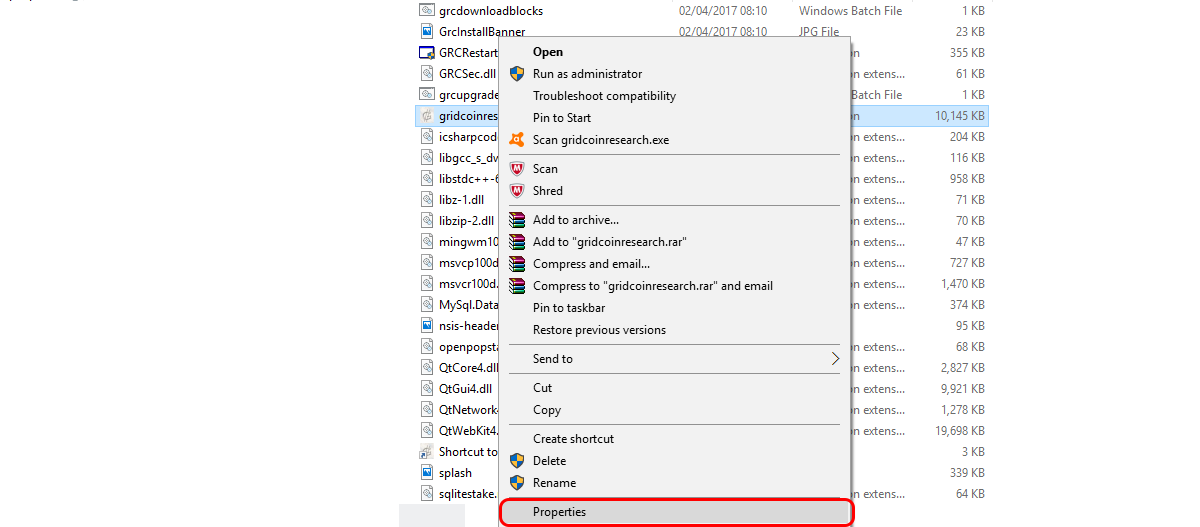 Step 8: Then click "Compatibility"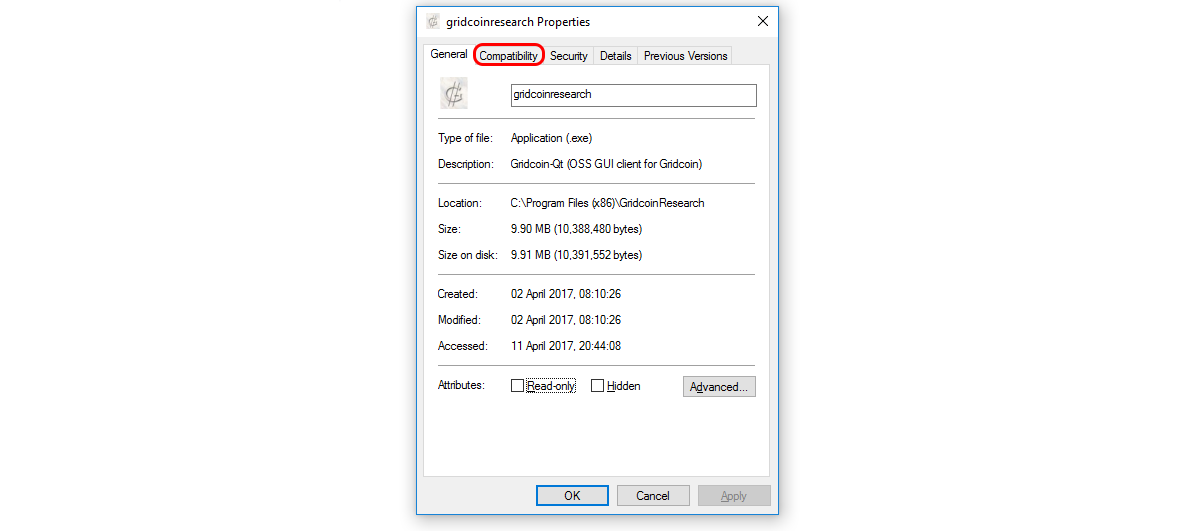 Step 9: Now, select "Run as an administrator"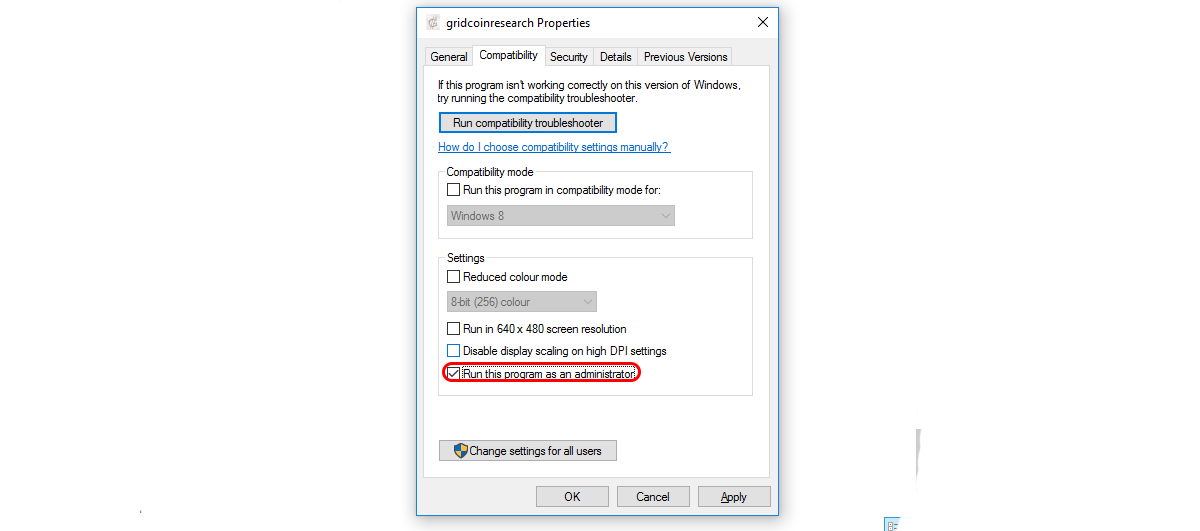 Step 10: Lastly, click "Apply"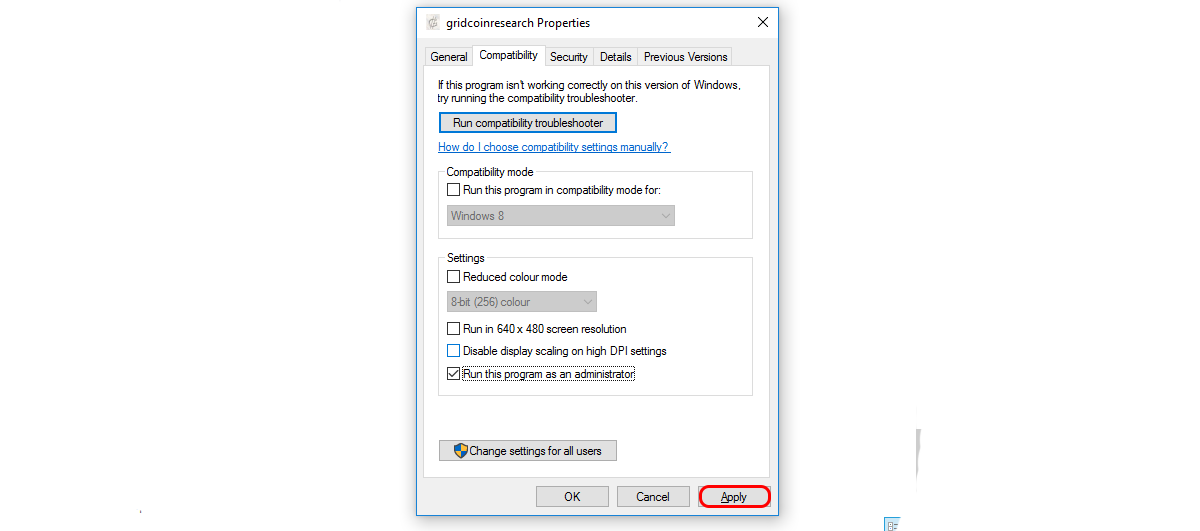 Part 2 - Configure Gridcoin and Sync the Blockchain
Step 1: Launch the Gridcoin wallet by double-clicking the "gridcoinresearch.exe" file or the shortcut created on the desktop
Step 2: Your firewall may block Gridcoin. If the window below shows up, click "Allow access"

Step 3: Since we're going to be pool mining, click  "cancel" to skip this step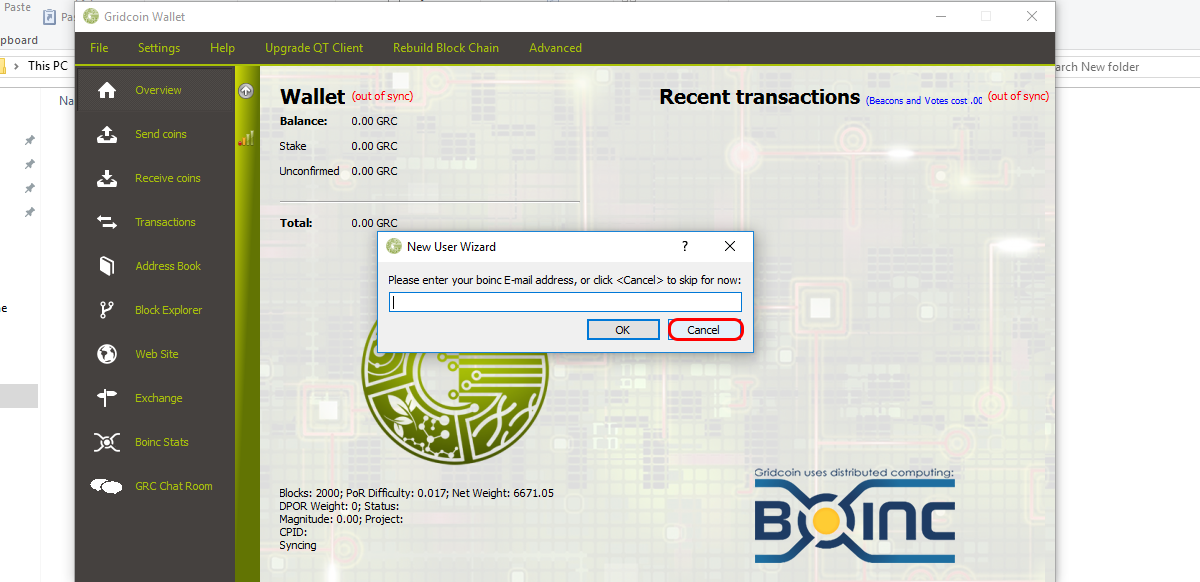 Step 4: Click "ok"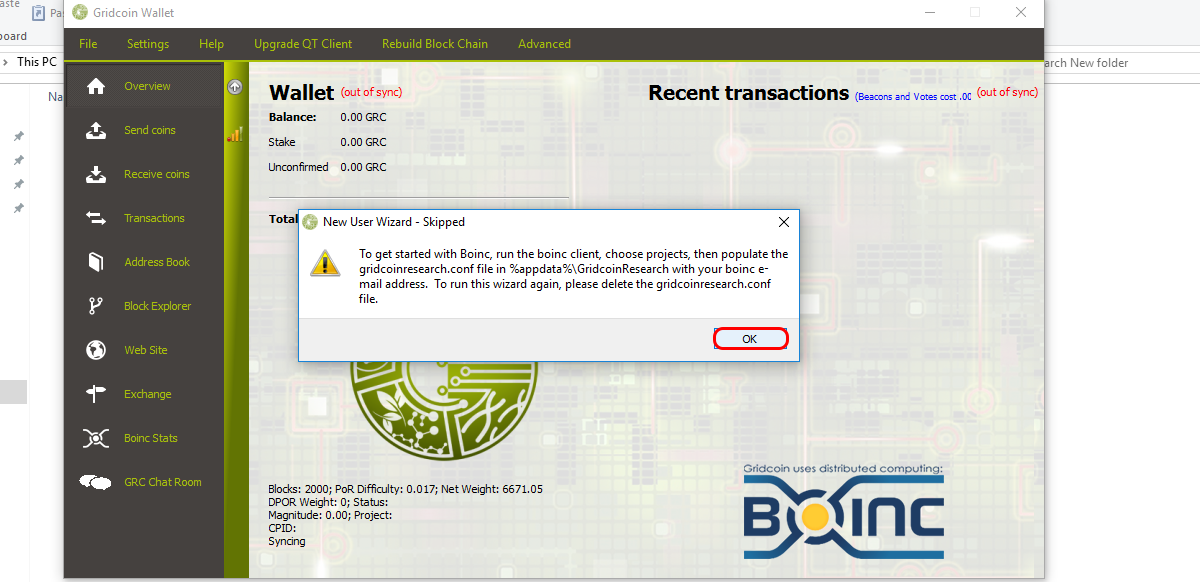 The blockchain is now syncing which could take a while. If you want to speed up the process, see the steps below:
Step 5: Click "Rebuild Blockchain"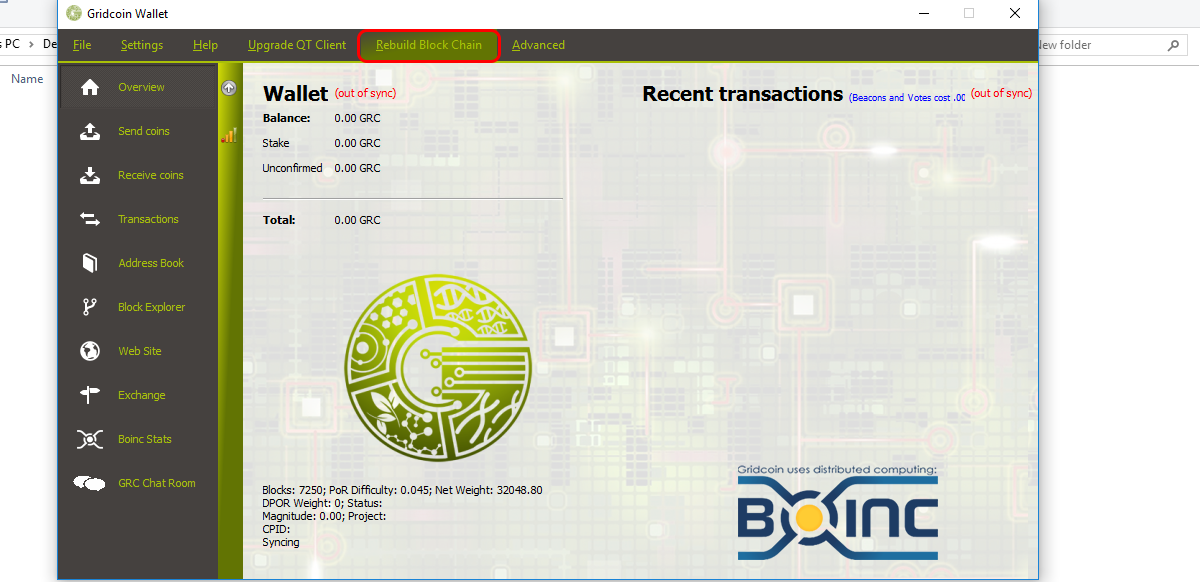 Step 6: Now, click "Download Blocks"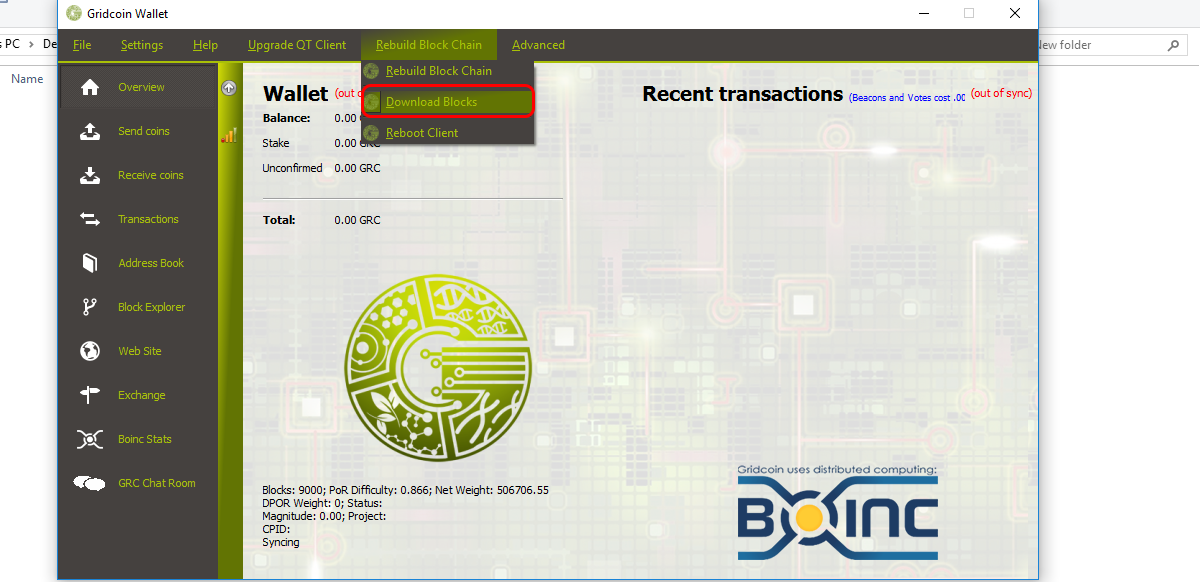 This step will not fully sync your client, but will rather bring you up to 80-90% sync. Allow your client to sync regularly after the snapshot has been implemented. Once that's done, follow the next part

Part 3 - Download and Install BOINC
Step 1: Click here to go to the BOINC download page
Step 2: Most of the projects you can contribute to on BOINC do not need the installation of VirtualBox, so the download link on the right side should be enough. Click "Download BOINC"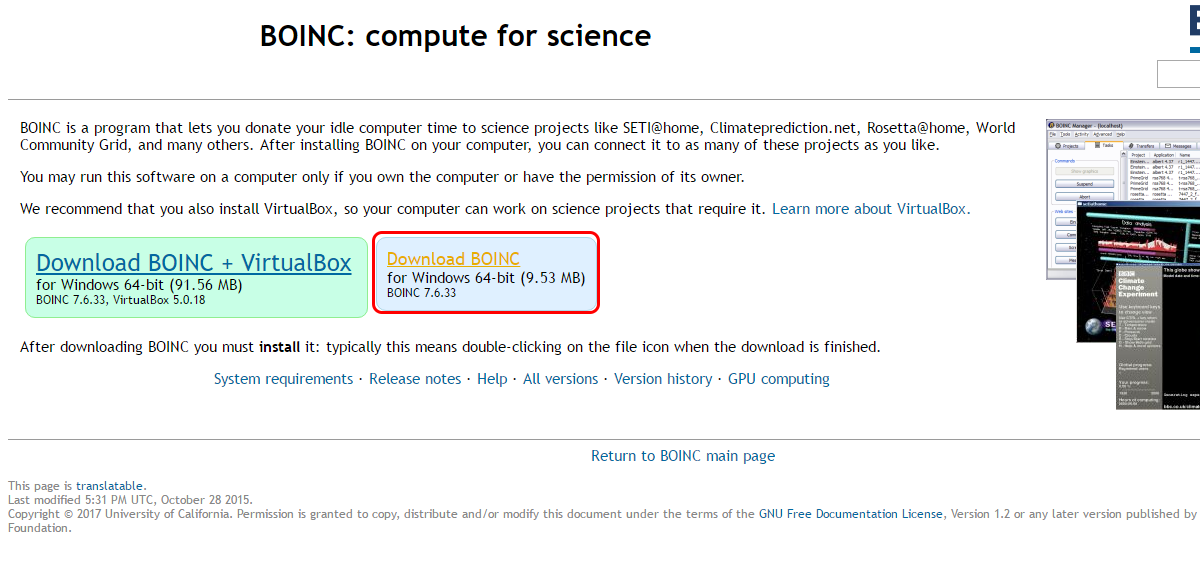 Step 3: Double-click the downloaded file to start the setup
Step 4: Click "Next"

Step 5: Accept the terms and click "Next"

Step 6: Choose where to install the BOINC project by clicking Advanced or use the default settings and click "Next"

Step 7: Now, click "Install" to start the installation process

Wait for the setup to finish

Step 8: Click "Finish" once the setup is done. You can leave the "Launch the BOINC manager" box ticked, as we will need to open BOINC soon and this will do it automatically

Part 4 - Configure the Mining Pool settings
Step 1: Now, it's time to choose and configure the pool you want to use. We're going to use grcpool in this example. So, click here to go to grcpool
Step 2: Click "Sign up" to create a new account

Step 3: Enter your personal details, solve the captcha and click "Register"

Step 4: To login, enter your researcher name and password, then click "Login"

Step 5: Once you're logged in, click "Settings"

Step 6: and select "GRC Payout Address"

Now, we'll need to fetch our GRC wallet address from the Gridcoin wallet.
Step 7: Go back to the Gridcoin wallet and click "Receive coins"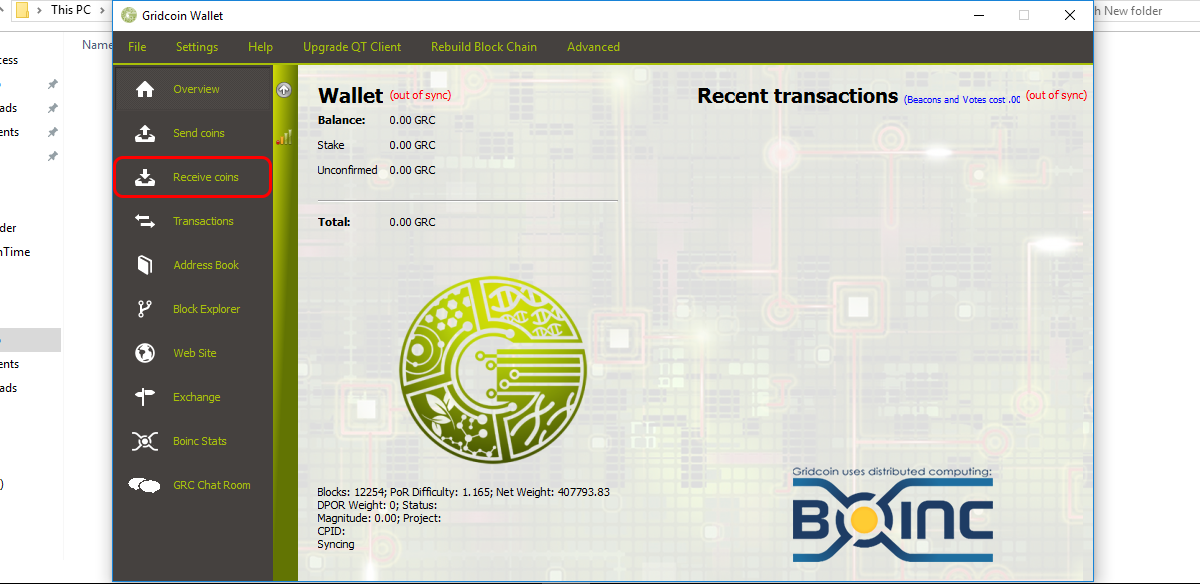 Step 8: Right-click the wallet address and click "Copy Address"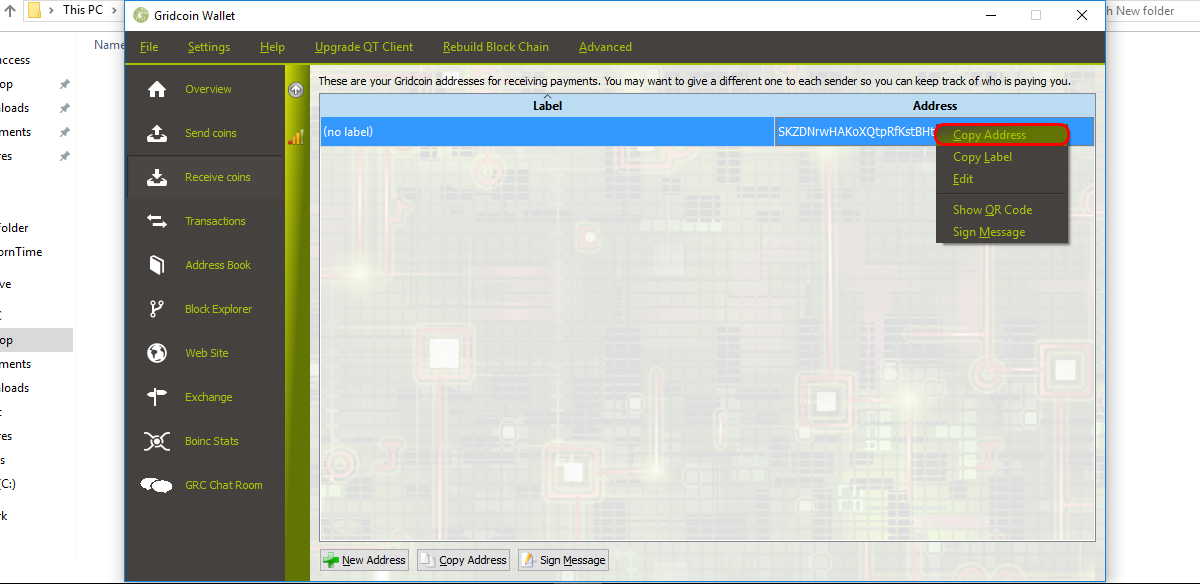 Step 9: Go back to the pool and paste your wallet address in the "GRC Address" field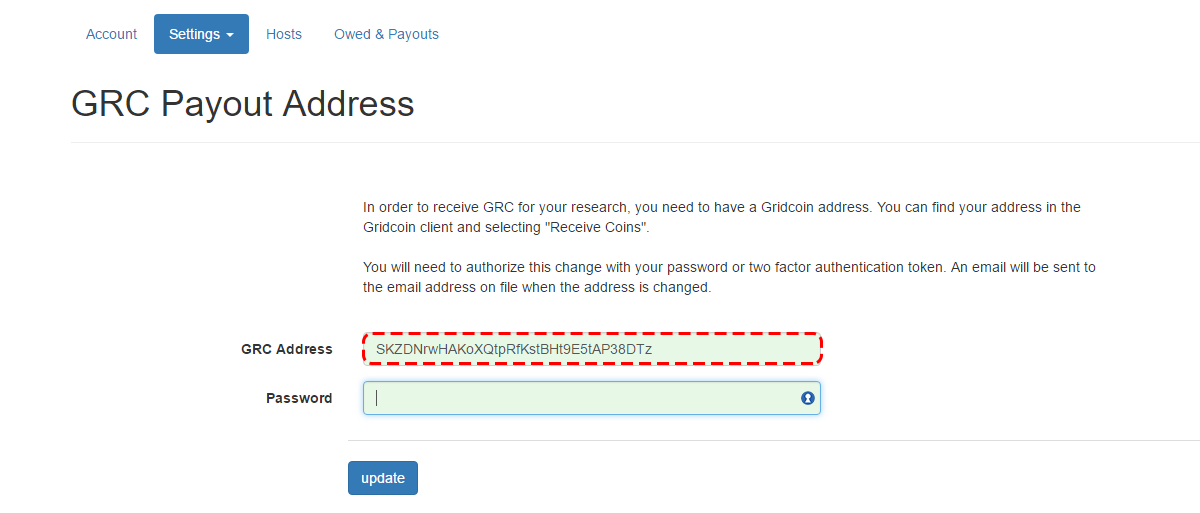 Step 10: Enter your password and click "Update"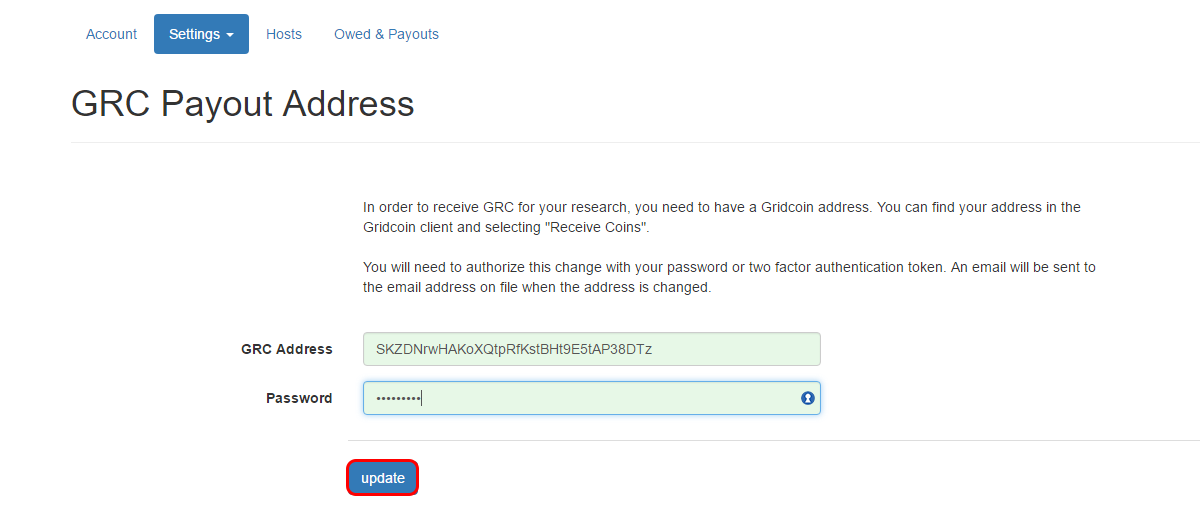 Part 5 - Choose a projecNow, we need to choose a project on which to work on with BOINC. Not all projects work with Gridcoin and the ones that do will vary in terms of hardware requirements. So, let's see which project fits us better:
Step 1: Click here to go to Gridcoin's page
Step 2: Scroll down and choose the option that best fits your hardware. We're going with CPU

Step 3: Choose one of the projects and lets move on to BOINC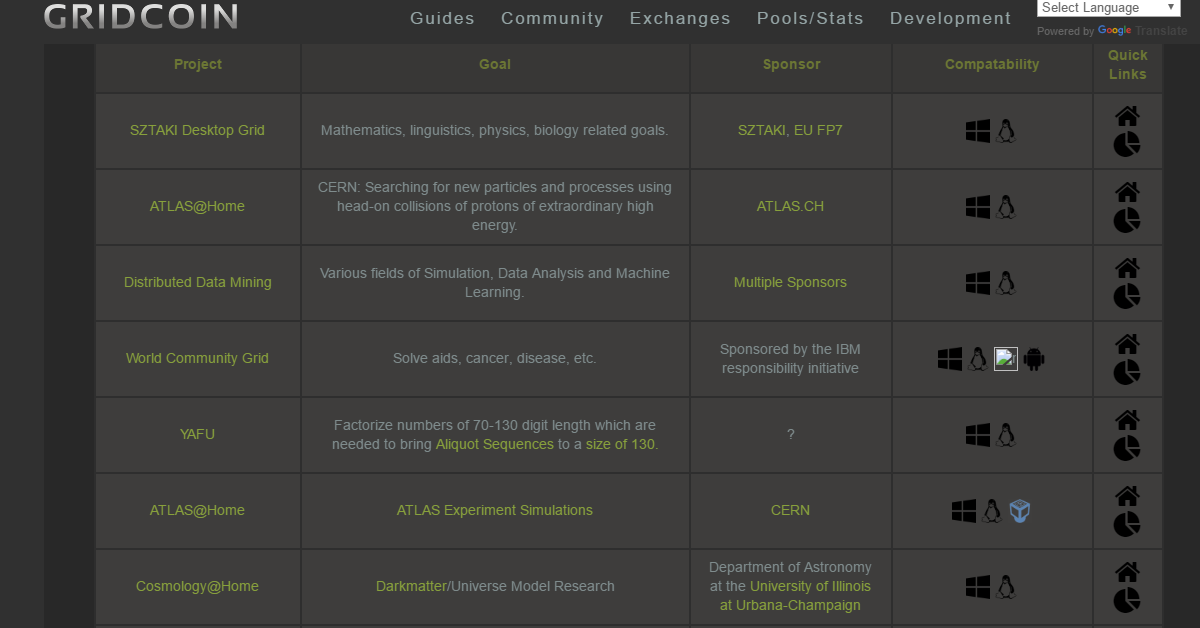 Part 6 - Configure BOINC and start miningNow that you've chosen your project, it's time to start mining
Step 1: Go to BOINC. It's possible that a windows has opened and is asking you to select a project. Click "cancel" to close this windows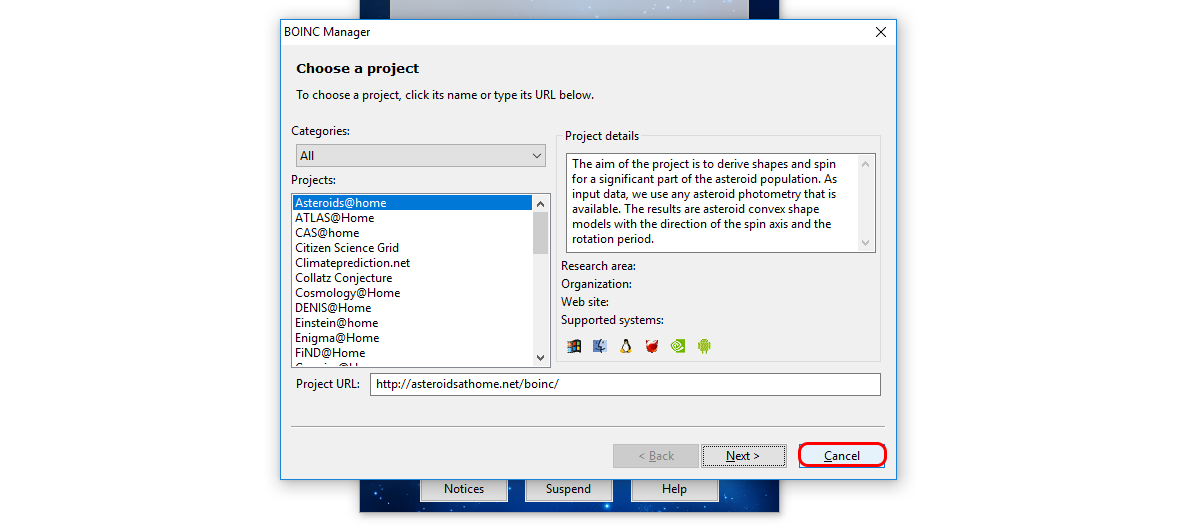 Step 2: Then click "Yes" to confirm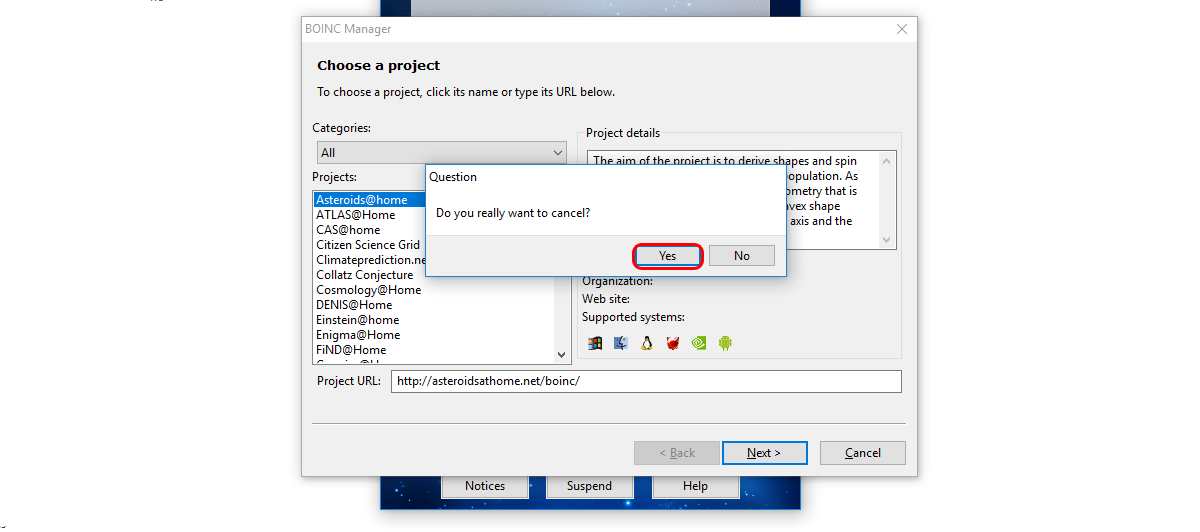 Step 3: Hover your mouse above "View" and click "Advanced View"

Step 4: Now go to "Tools" and click "Use account manager"

Step 5: Enter the "https://www.grcpool.com/" in the Account manager URL field (1), then click "Next" (2)

Step 6: Enter the username and password you chose for the pool and click "Next"

Step 7: Click "Finish"

Step 8: Now, go back to the pool and click "Hosts"

Step 9: Click on the host you just added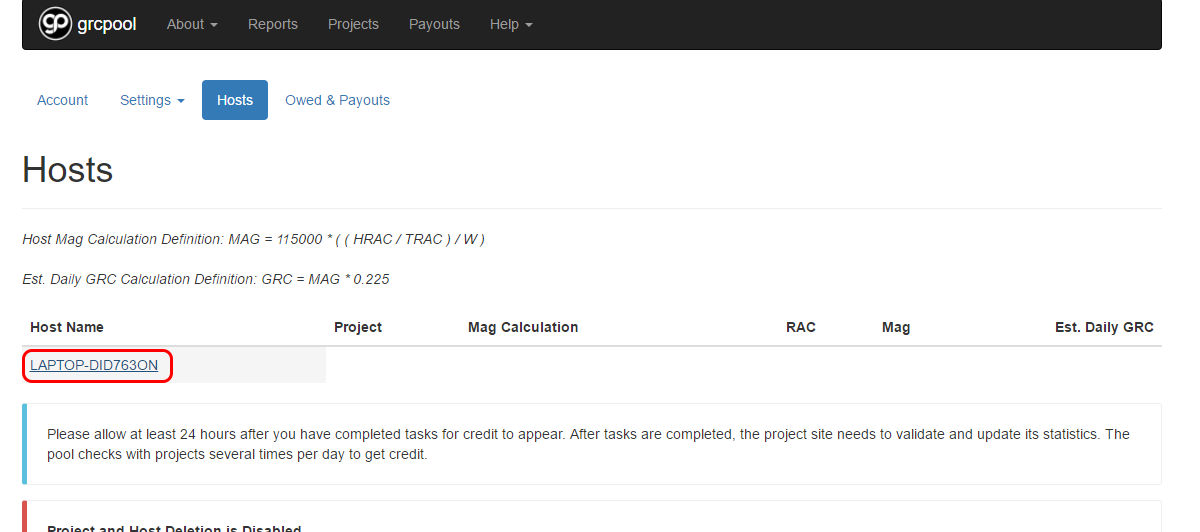 Step 10: Now, scroll down and choose a project. We're choosing the World Community Grid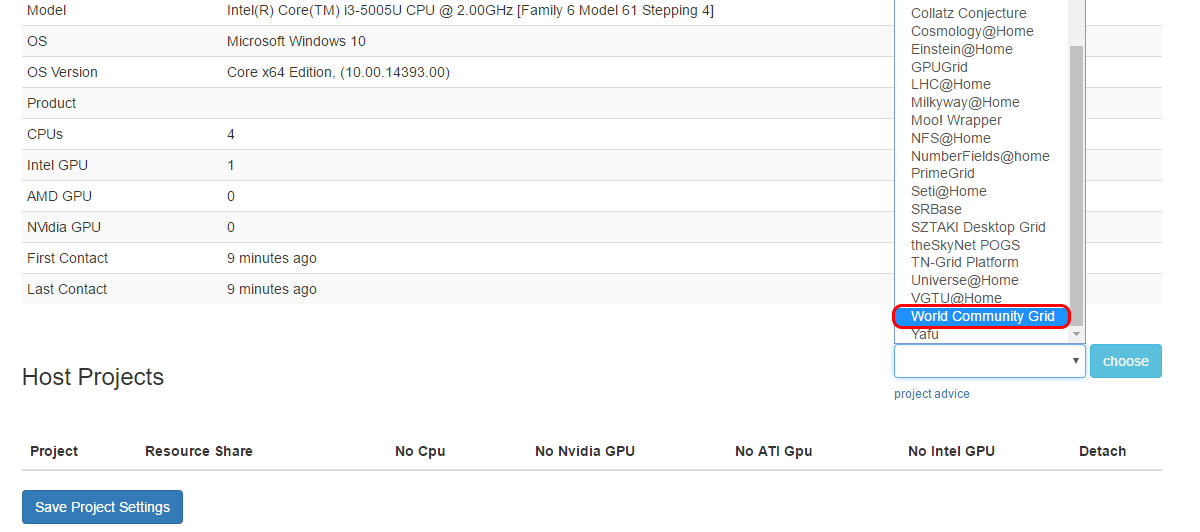 Step 11: Click "Choose"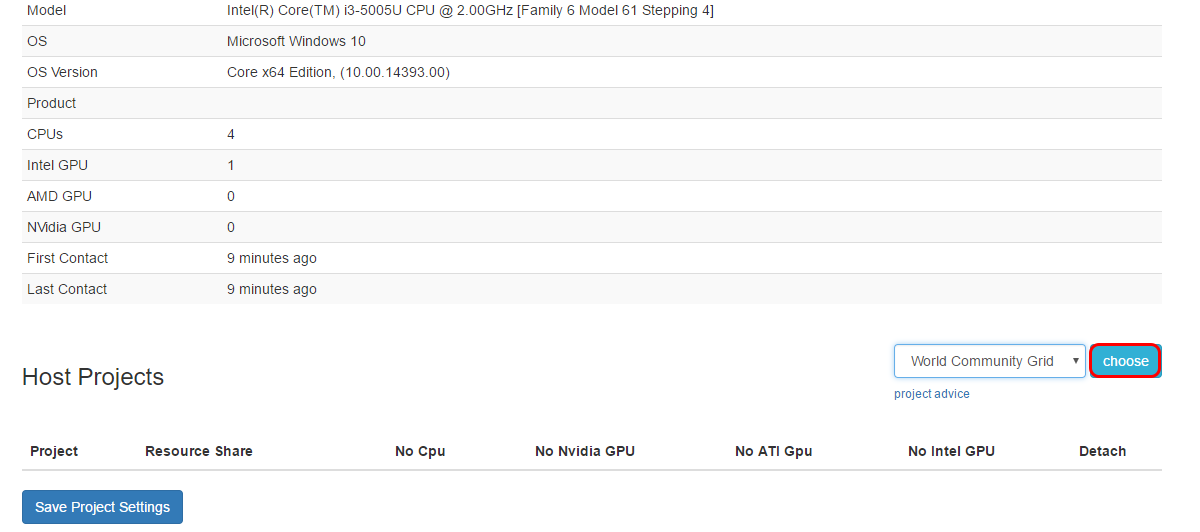 Step 12: Lastly click "Save Project Settings"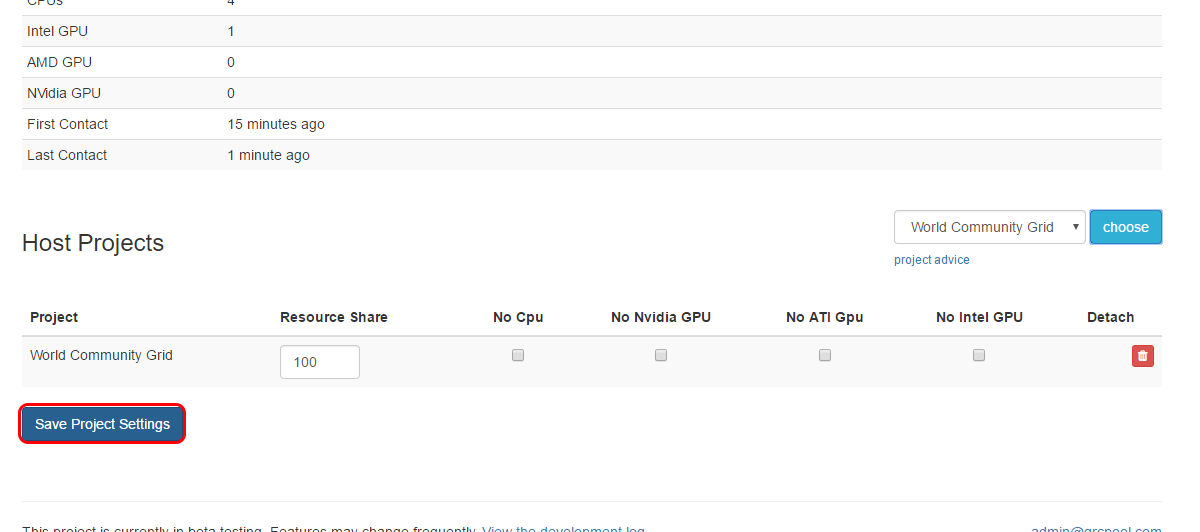 That's it! You are now mining Gridcoin.
To see the project being worked on, go back to BOINC and click "Projects"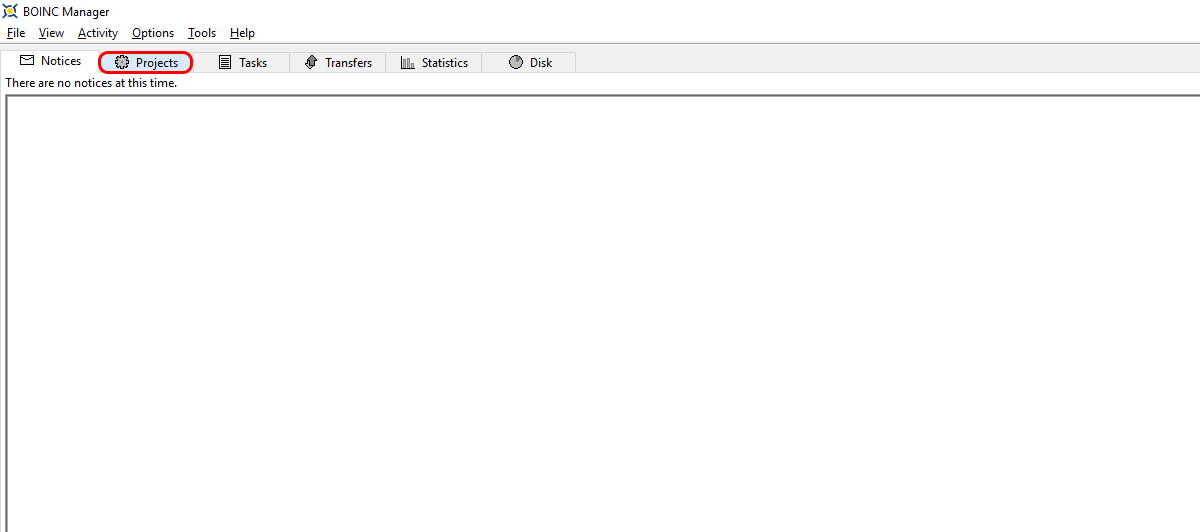 then click "Tools" and "Synchronize  with grcpool"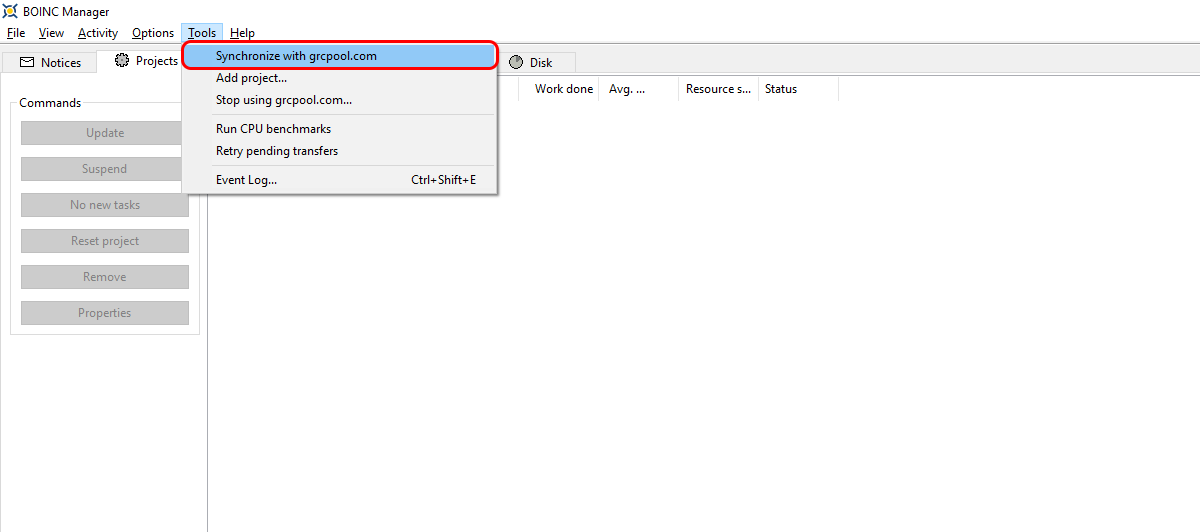 You should now see the project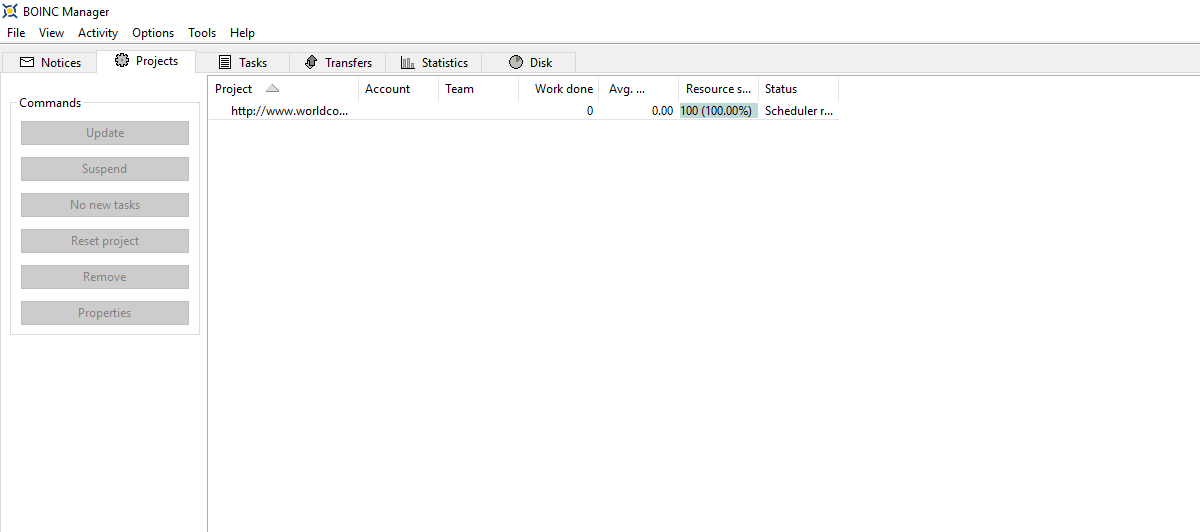 This website is only provided for your general information and is not intended to be relied upon by you in making any investment decisions. You should always combine multiple sources of information and analysis before making an investment and seek independent expert financial advice.
Where we list or describe different products and services, we try to give you the information you need to help you compare them and choose the right product or service for you. We may also have tips and more information to help you compare providers.
Some providers pay us for advertisements or promotions on our website or in emails we may send you. Any commercial agreement we have in place with a provider does not affect how we describe them or their products and services. Sponsored companies are clearly labelled.