The Sia Network aims to create a decentralized storage network by using the idle storage space of people from around the world, uniting them into a worldwide market for data storage.
Sia leverages blockchain technology as a transaction layer for its network, allowing hosting to be purchased and sold in a secure and trustless way. Cryptographically secure smart contracts ensure the encryption and transfer of data, leaving no room for a third party to interfere in any way.
Sia uses a cryptocurrency called the Siacoin (SC). The initial block reward was 300,000 siacoins. Each block reward after that is one siacoin smaller than the previous block reward (299,999, then 299,998, and so on). When the block reward reaches 30,000 (at block 270,000), all following blocks will give a 30,000 siacoin reward for eternity. The block time is 10 minutes.
Today, we are going to show you how you can be a part of this decentralized cloud storage network through mining. The coins mined can then be used to purchase storage space in the network or be sold for other coins or fiat. In this guide we are going to use a nVidia graphic card and the ccminer software. Let's get to it.
Part 1: Install a Siacoin miner
There are a few different Siacoin miners to choose from, but they all offer similar features and performance. This guide uses the ccminer because it is compatible with nvidia cards but if you want, check out other mining options here.
Step 1:

Click here

to go to github page about CCminer 8.00 from

KlausT

witch had added

Siacoin (

Note that other forks of CCMiner, such as tpruvot's, may not be compatible)

. Once in the page, choose your OS from the list

(in our case, we have a Windows 10 Home 64-bit).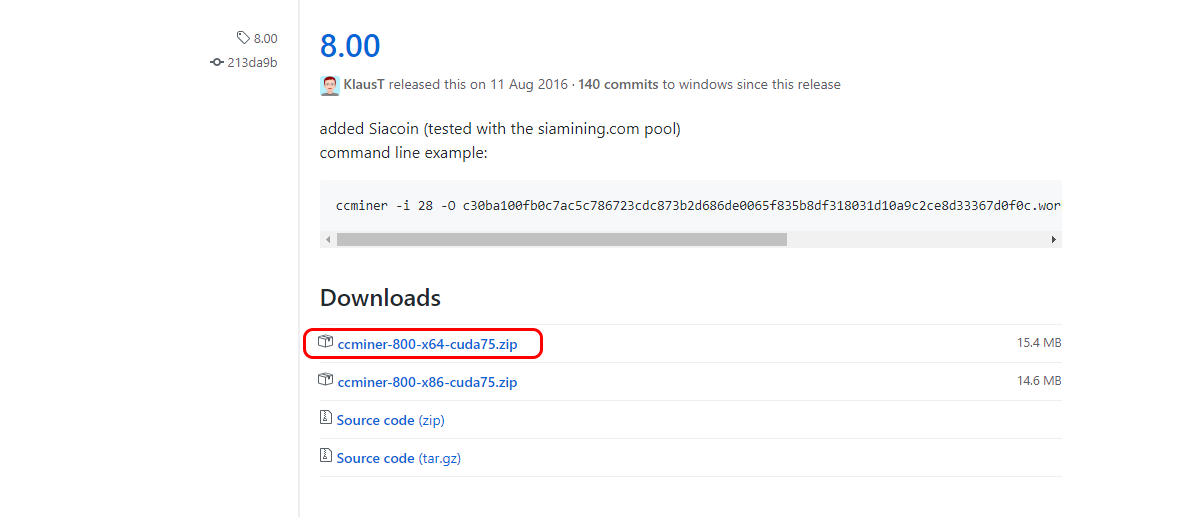 Step 2: When the download is complete, unzip it to a new folder, we create a folder called "siacoin miner"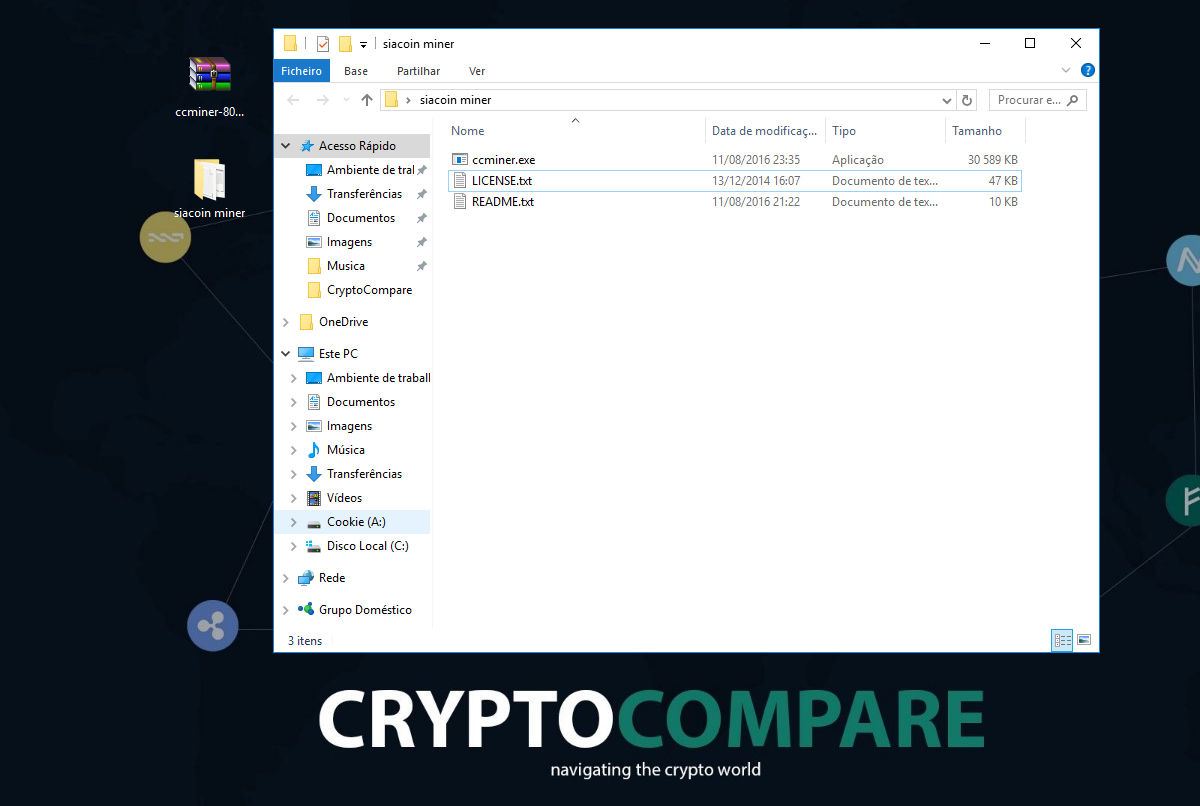 Step 3: Leave the folder for now and choose a pool, as you can see in siawiki (or

here

), there is 2 official pools available, we are going to use

Siamining.com

,

so choose yours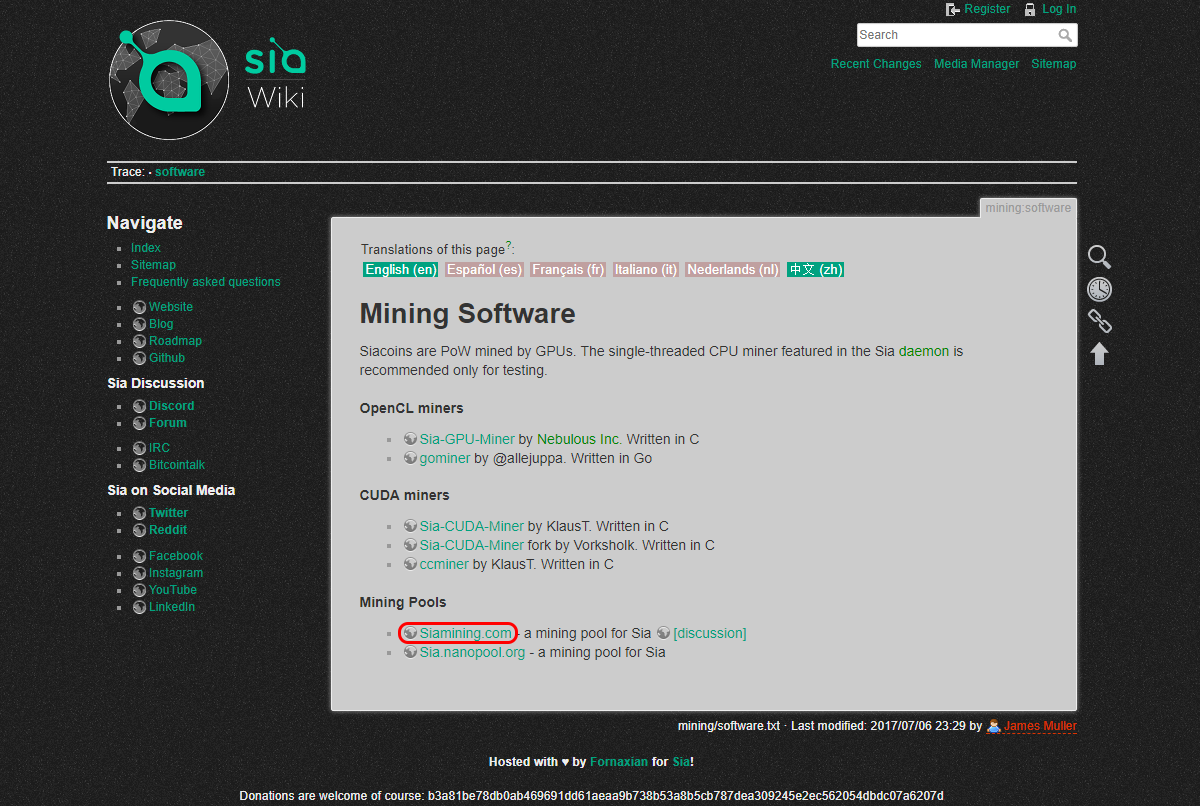 Step 4: You will need to create a batch file, so first open Notepad, (we are going to write the

connection to the pool, there are different commands for each miners, you can of course configure intensity and other parameters and can also add a worker name to help you keep track of your miners) copy the command below and past in your Notepad:
ccminer.exe -a sia -e --url=stratum+tcp://us-east.siamining.com:3333 -u YourSiacoinAddress.YourWorkerName -i 28
This is only an exemple, so we need to change our private information
First, your region:
if you are from Asia/Pacific trade the "

us-east.siamining.com

" for "

asia.siamining.com";

if you are from Europe trade the "

us-east.siamining.com

" for "

eu.siamining.com";

if you are from US West trade the "

us-east.siamining.com

" for "

us-west.siamining.com";

if you are from US East leave "

us-east.siamining.com

";
Now, change "YourSiacoinAddress" with your Siacoin address.
(In order to mine, you'll need a Siacoin wallet to store the coins you earn. The fastest way to create a Siacoin wallet is to use Bittrex, a cryptocurrency exchange. Bittrex provides a web wallet, so you can create an account and generate a Siacoin wallet instantly)
Change "YourWorkerName" to the name you want to give to your worker.
(leave the dot between your address and your worker name)
Now is time to save that text file as a batch file, so click on "file" tab and choose "save as", then choose the folder you created, for us is "siacoin miner", named as "Start.bat" (".bat" is the diminutive of batch file) and press "save" button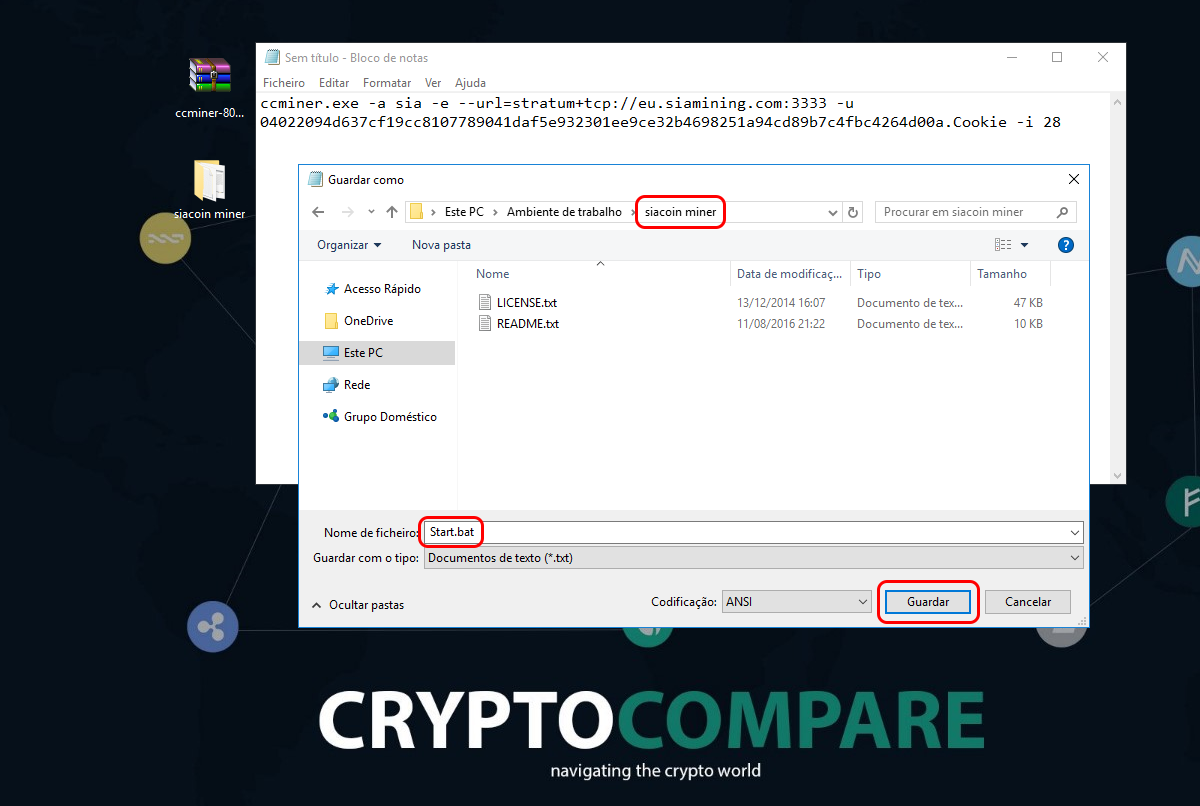 Part 2: You're ready to start mining!
Step 1: Open the folder (in our case "siacoin miner") and double click on "Start.bat" file
That's it,

Once you've started mining

you can see your progress visiting your pool website, as we choose

SiaMining.com

, we open the link and past our Siacoin address into the "address field" and press "go", as you see in the image below: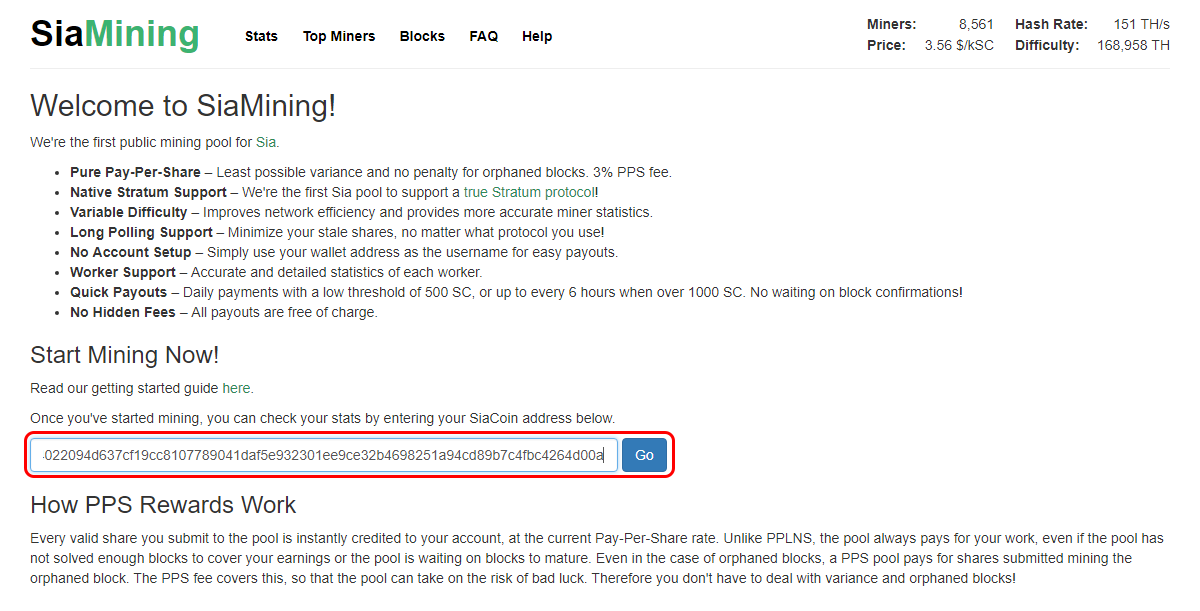 You will see all the statistics.
Now, you are able to mine SiaCoin! For more info, please visite the Sia website: https://sia.tech/
This website is only provided for your general information and is not intended to be relied upon by you in making any investment decisions. You should always combine multiple sources of information and analysis before making an investment and seek independent expert financial advice.
Where we list or describe different products and services, we try to give you the information you need to help you compare them and choose the right product or service for you. We may also have tips and more information to help you compare providers.
Some providers pay us for advertisements or promotions on our website or in emails we may send you. Any commercial agreement we have in place with a provider does not affect how we describe them or their products and services. Sponsored companies are clearly labelled.