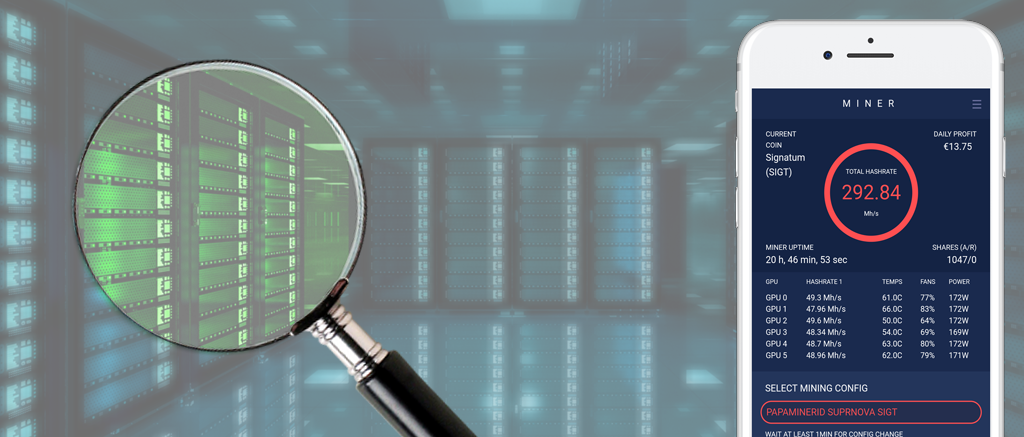 Mining yields, and thus financial returns depend on how efficiently mining rigs are utilized. The key challenge is to monitor all of them 24/7 to ensure the optimal performance under the key operating criteria. This is true regardless of whether you have just a couple of rigs working in the back of your garage or you have hundred or more of these working in a dedicated farm. With a larger number of rigs in a farm, the monitoring challenge is naturally more demanding and can have also larger impact not only on the mining yield but also on the lifespan of the equipment.
EthMonitoring and EthControlThere are two programs that can help you monitor your rigs efficiently. These are run by the same app:
EthMonitoring - offering extremely stable monitoring capacity high-performance mining rigs
EthControl - providing tools for active portfolio management in mining farms running a large number of computers
EthMonitoring is developed to provide superior reliability in monitoring performance of mining rigs. EthMonitoring is compatible with the most commonly used softwares like Claymore Dual miner, CCMiner, EthMiner and more. Instant notifications about your rigs health status and overviews are also available remotely.
Running and controlling multiple rigs can be tricky and without specialized monitoring tools, it can consume a lot of resources to change a simple wallet or pool address. EthControl enables to change and update all the rigs in only a few clicks. EthControl is currently available only for Windows miners. EthMonitoring is available for both Linux and Windows. EthControl for Linux will be released in the near term.
EthMonitoring provides data and visualizes in graph form the following key parameters:
Hashrate (mh/s, sol/s)
Temperature
Power consumption;
Revenue (per rig and total)
Profit (per rig and total)
The presentation of mining rigs information in a mobile app is focused and simple to follow for users at all levels. Also, switching between different pools is fast and easy, allowing to adjust portfolio allocations between coins, responding to changes on the market. Notifications are delivered instantly in real time. There are various sound alarm options available to customise different events' notifications for better recognition.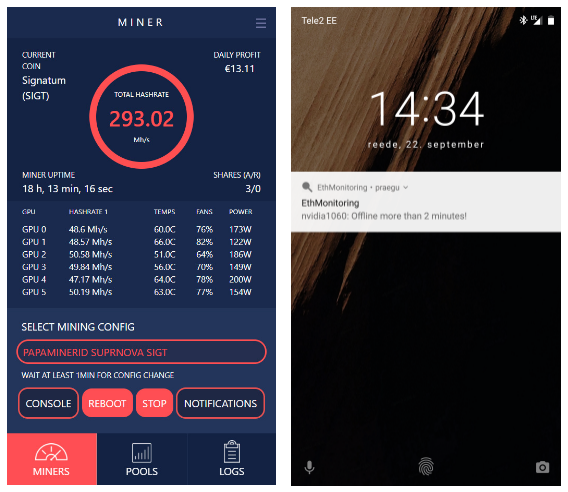 Pool revenue monitoring and viewing remotely or chaning config for miner from apps.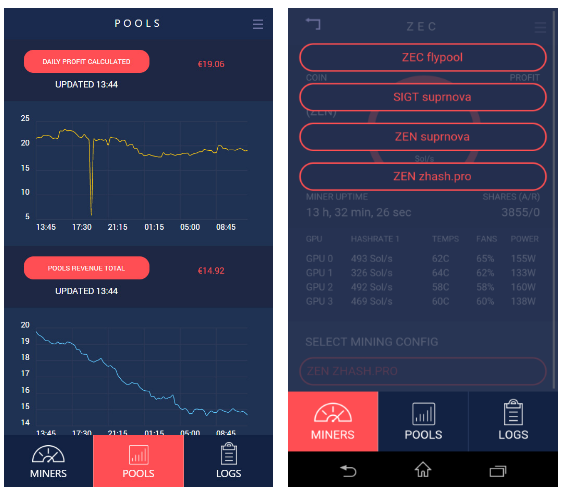 Part 1 - Registering user on EthMonitoring site
Registering
Registering on site is really easy, just open up EthMonitoring.com and follow up top right Register menu button.
After registration is done, you can follow up with Part 2 as setting up monitoring for mining rig.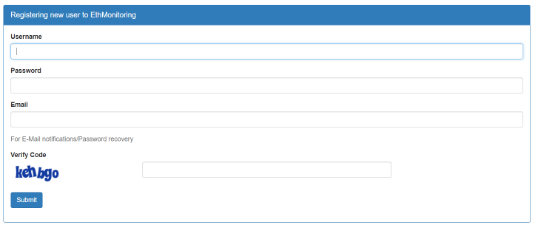 Part 2 - Setting up EthMonitoring for rigs
Step 1: Download
Download EthMonitoring tool: https://github.com/JamesSmith2/EthMonitoring/releases
Windows also requires installed: .NET Framework 4.6.1 (https://www.microsoft.com/en-us/download/details.aspx?id=49981)
Step 2: Unpack
Navigate to the and unpack the .ZIP file. Run EthMonitoring.exe. After unpacking you will see folder contents of EthMonitoring files

Step 3: When EthMonitoring starts up
When EthMonitoring starts up you will see boxes Access token, Host, Name, Type and Password.
For Access token field you need to insert you code from "Settings" page on site.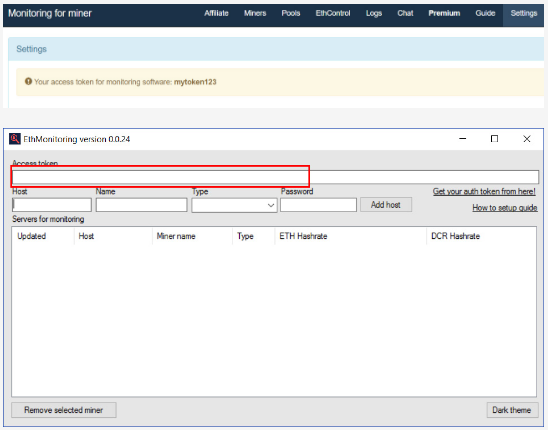 Step 4: Adding mining rigs
You can add different type of miners to EthMonitoring, they can be in local network or over internet (requires port forwarding).
Local network usually dosen't require port forwarding only to accept in local machine firewall.
If the EthMonitoring tool is in the same machine you can set host: "localhost". If you want to use custom port, you can set like "host:port"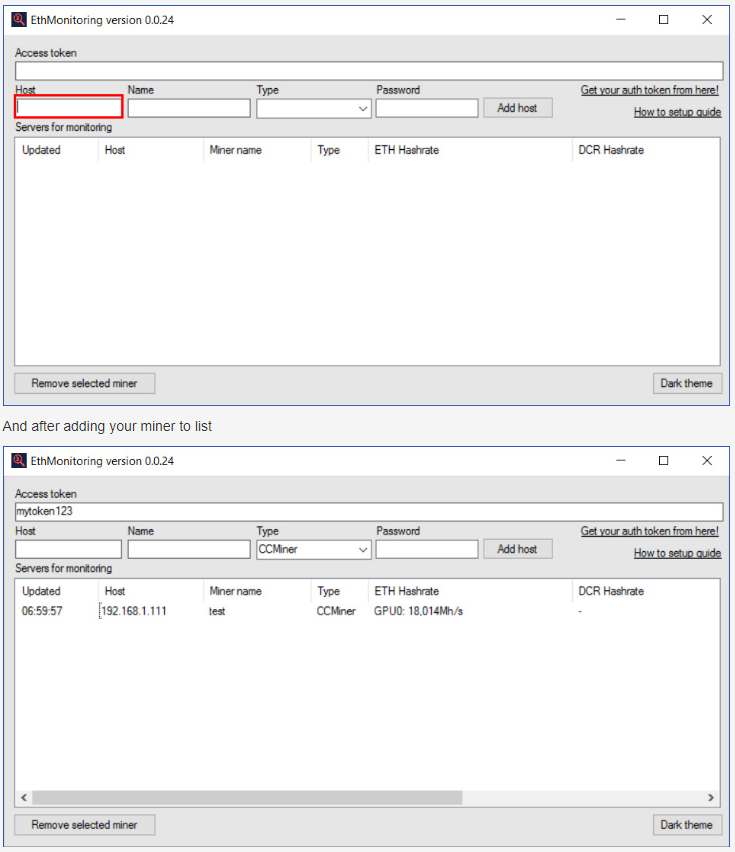 Step 5: After miner added
When miner has been added and everything went correctly, now you can see your mining rig listed in "Miners" page on menu.
FAQ

Claymore miners need to have added in startup "-mport 3333" in .bat file
EWBF needs to have --api 0.0.0.0:42000 command line parameter added to enable API access
CCMiner-Alexis 1.0 needs to have --api-bind=0.0.0.0:4068 parameter in the command line for API access
Part 3 - Setting up notifications for miners
Step 1: Select mining rig from miners list on site

Step 2: Create notification
You can create different notifications for rigs, example high temperature for GPU, hashrate below required and more.
Notifications will be delivered by Telegram, SMS or Push notification.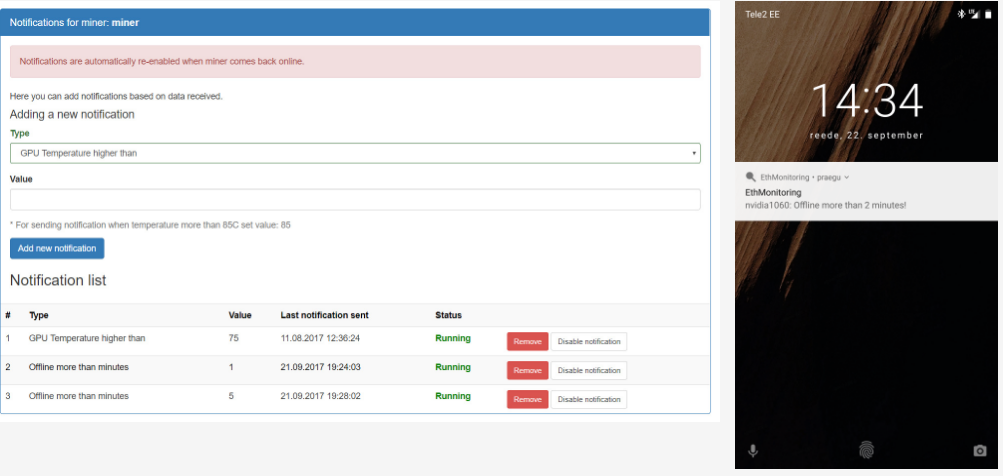 Part 4 - View mining rigs on mobile app

Step 1: Getting the right app
EthMonitoring app is available on both operating system Android and iOS.

Step 2: Logging in
After starting app you need to insert your same username and password when registering on EthMonitoring site.
Step 3: Miners overview page
When you have more than one rig listed for monitoring, your mobile app will display and overview of all your rigs.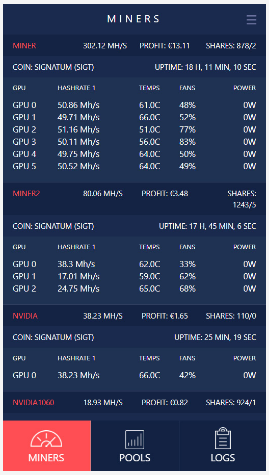 Step 4: Viewing miner info and modifying notifications


To view individual miner information, you can use top right menu button to select miner.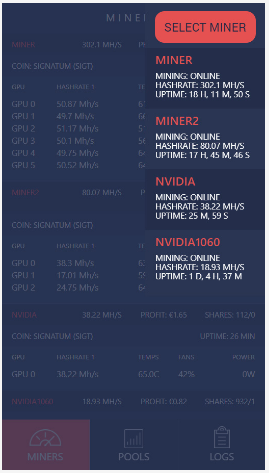 After selecting you well get personal miner view.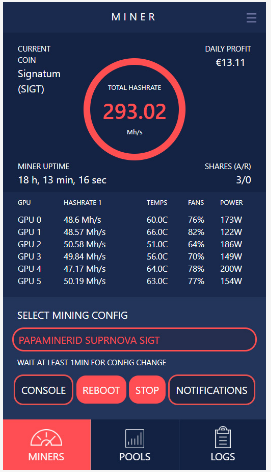 After pressing "Notifications" button bottom.




Then you have the availability to add, update and even remove notifications that are pushed to directly to your phone.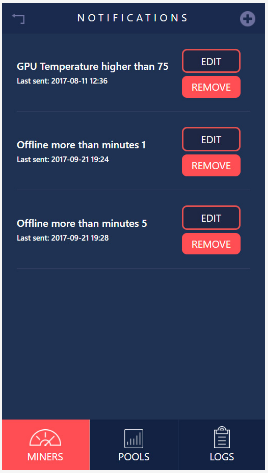 This website is only provided for your general information and is not intended to be relied upon by you in making any investment decisions. You should always combine multiple sources of information and analysis before making an investment and seek independent expert financial advice.
Where we list or describe different products and services, we try to give you the information you need to help you compare them and choose the right product or service for you. We may also have tips and more information to help you compare providers.
Some providers pay us for advertisements or promotions on our website or in emails we may send you. Any commercial agreement we have in place with a provider does not affect how we describe them or their products and services. Sponsored companies are clearly labelled.