If you are already familiar with the core principles behind Solana, then we recommend that you skip to the 'How Do I Stake My Solana?' section of this guide.
What Is Solana?
Solana (SOL) is a decentralized, web-scale blockchain that aims to become "an open, fair, censorship-resistant global marketplace." It has been dubbed an 'Ethereum killer' by various sources due to its scalability which allows it to process up to 50,000 TPS.
The Solana network uses a proof-of-stake consensus mechanism that relies on validators to secure the blockchain. A validator is similar to a Bitcoin or Ethereum miner as they are responsible for processing incoming transactions and can vote to decide on which blocks are appended to the blockchain. Validators play a key role in maintaining and securing the Solana network.
On the Solana blockchain, not all votes are weighted equally. The more Solana you have staked, the more valuable your vote is. Validators with less stake have less weight in determining a vote outcome, and validators with no stake cannot influence the outcome of a vote at all.
Why Stake Solana?
In decentralized networks like Solana, anyone can become a validator if they desire. Naturally, some bad actors will try to take advantage of this system by running a validator to manipulate the network for their own benefit - e.g. submitting fraudulent or incorrect transactions.
The Proof Of Stake consensus mechanism mentioned above ensures that a single entity acting in a malicious manner is unable to manipulate the system in this way, as they would need to 'attract some amount of stake before any of their proposed activities would be weighed in the consensus vote.'
As more and more people stake their Solana to different validators, not only does the total amount of staked Solana increase but so does network security. Per Solana's website:
As more token holders choose to stake their SOL tokens to different validators across the network, and the total amount of stake on the network increases, it becomes increasingly difficult for even a coordinated and well-funded attacker to amass enough stake to single-handedly alter the outcome of a consensus vote for their own benefit.
Therefore, the more Solana that is staked and delegated to validators, the more secure the network becomes. Those who choose to stake Solana and help secure the network also receive rewards to incentive the staking of their tokens. At the time of writing, the average user staking on Solana will earn ~7.5%APY on their staked tokens.
More on staking rewards can be found here.
How Do I Stake My Solana?
Staking Solana is as easy as 1, 2, 3 - you just need to know where to start!
To begin, you will need to have some Solana tokens - if you don't have any Solana already, then you can purchase them via popular services like Coinbase. You can also exchange tokens via popular exchanges like FTX, Binance, Bitfinex and more.
Warning - Solana is not a native ERC-20 token - this means you will not be able to store your tokens on the Ethereum blockchain. Any Solana that you send or withdraw to an Ethereum address will be lost.
Currently, Solana advises that you use one of four supported methods to stake your tokens. As of the date of writing, you can stake your Solana via:
Today, we're going to show you how to stake your Solana on SolFlare, Exodus and via Binance.
For those who are new to staking, Exodus makes the whole process extremely simple. The downside to this, however, is that they automatically assign you to their partner validator. See their FAQ for details.
SolFlare.com
SolFlare is a community-created web-wallet that supports the sending, receiving and staking of Solana tokens. You can also send and receive SPL tokens, which are native to the Solana blockchain.
For the sake of this guide, we're going to presume that you've already set up a SolFlare wallet.
How To Stake Solana With SolFlare.com
Head to your SolFlare wallet and click on the staking tab at the top.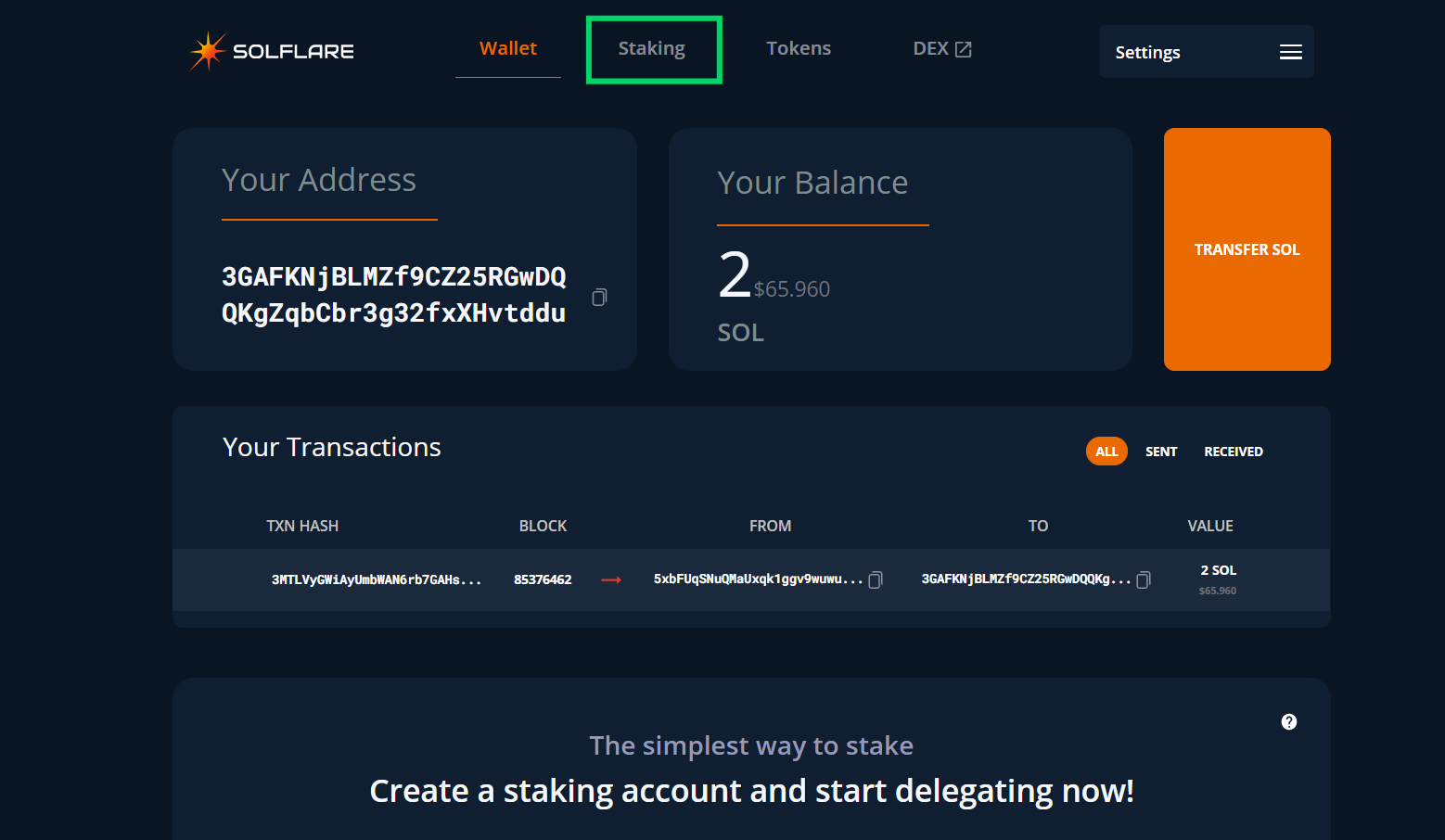 In the upper right-hand corner click the orange create account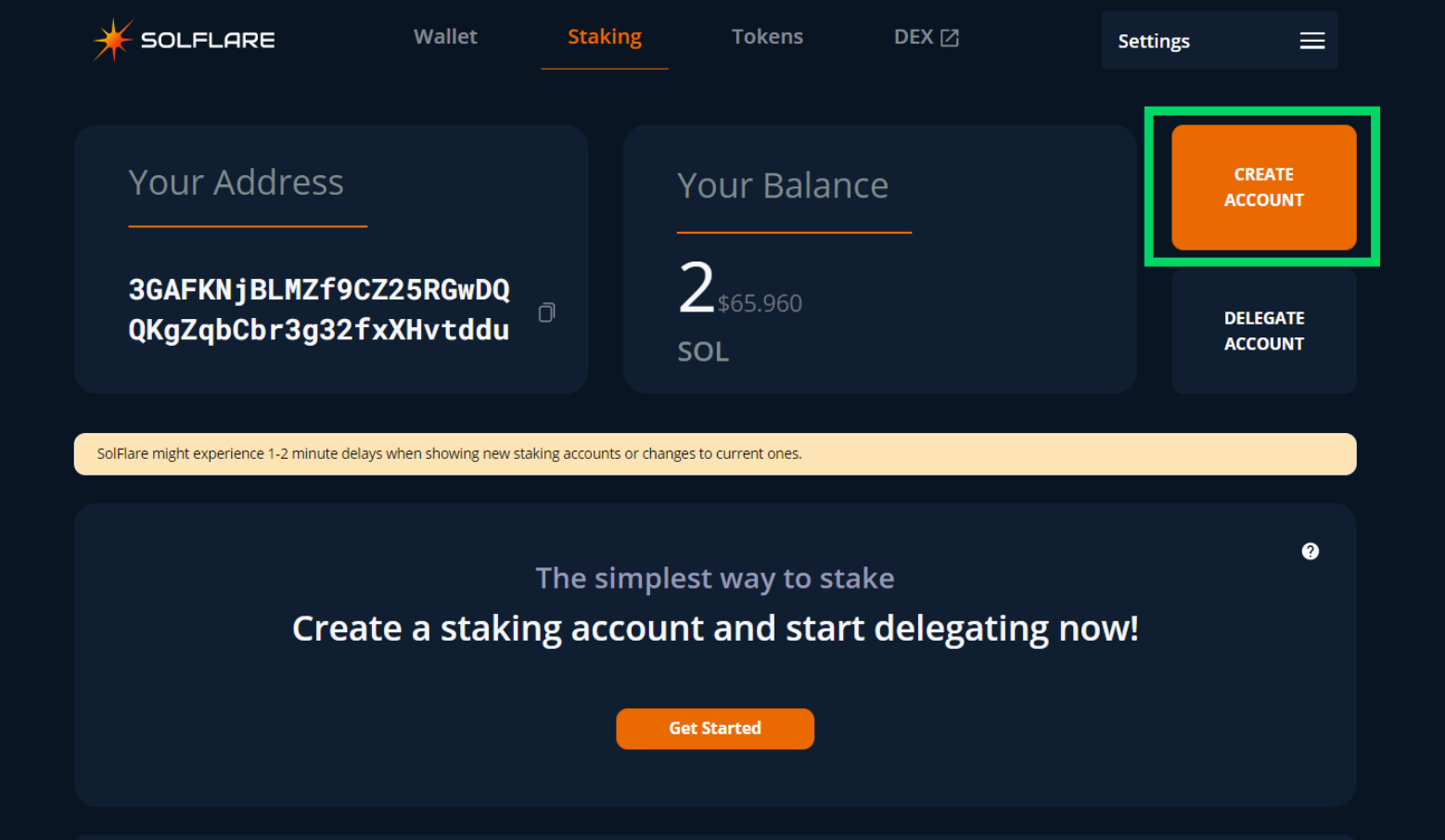 Simply enter the amount you would like to use to fund your new staking account and press next.

Note: do not transfer your whole wallet balance to your stake account as you will need a wallet balance to pay the transaction fees associated with your staking account.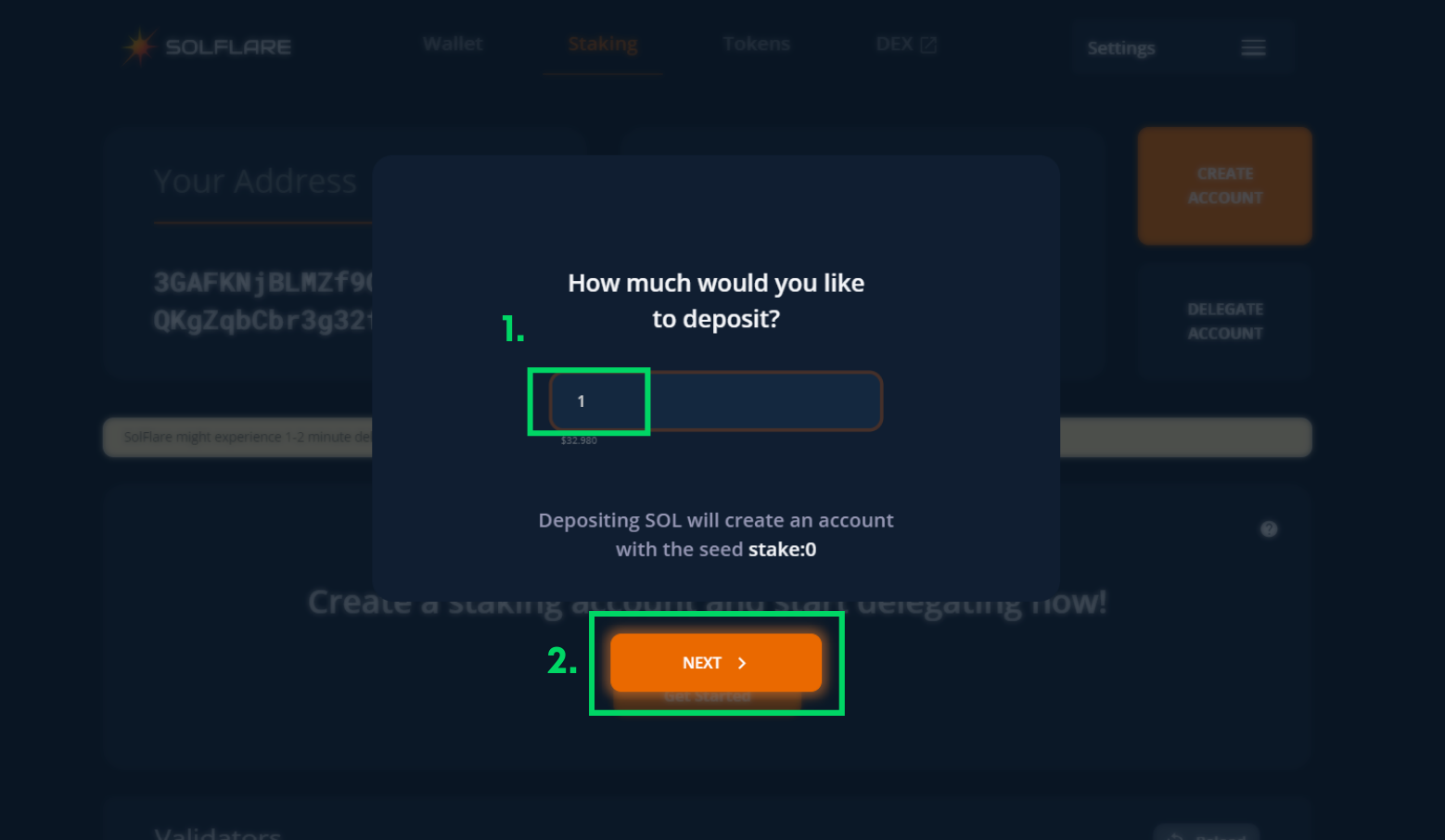 Enter your password, submit the transaction and wait till it has been confirmed.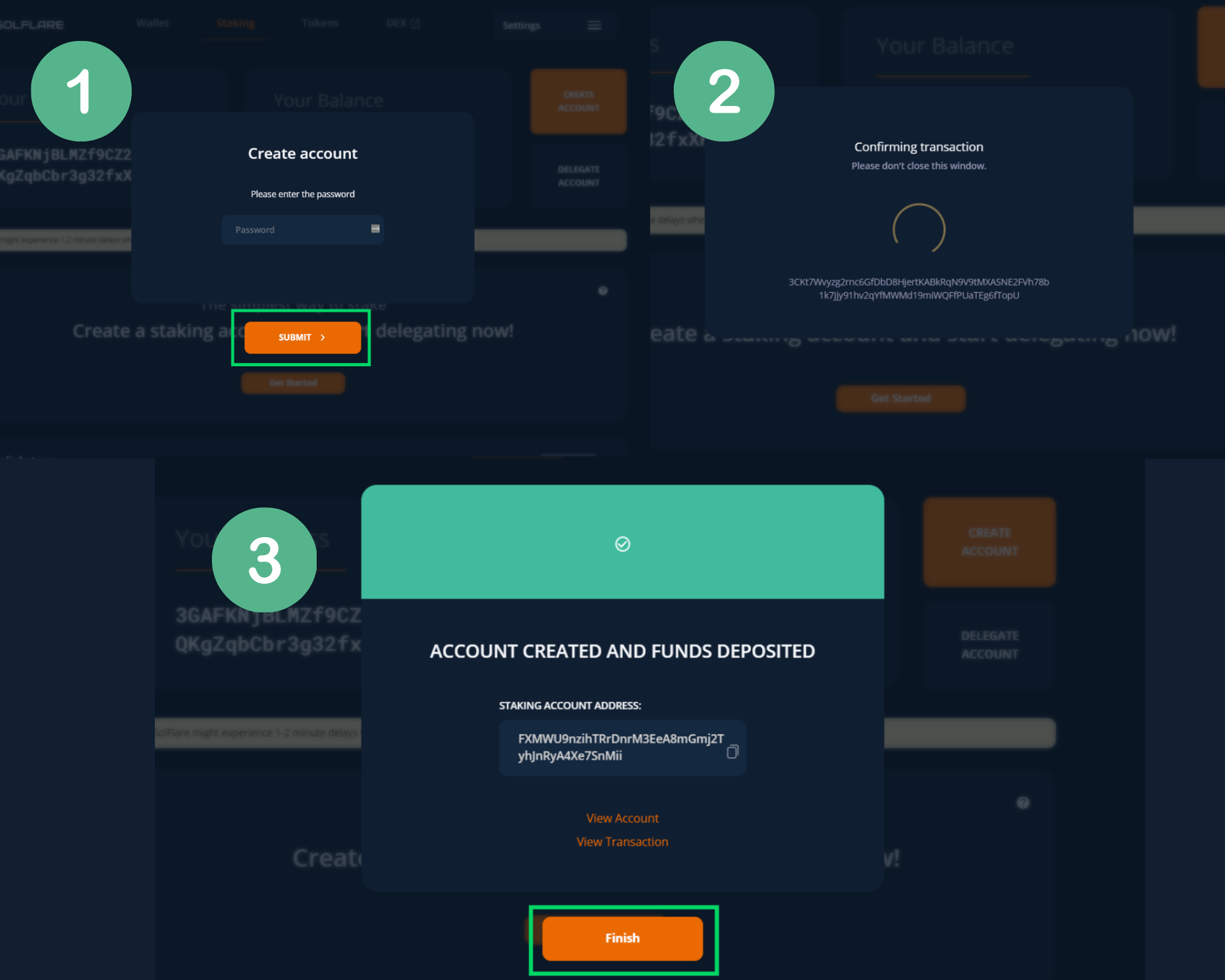 Voila, you have now created a staking account and deposited some tokens into it. Your new staking account will appear in the tab labelled Your Staking Accounts like our example below: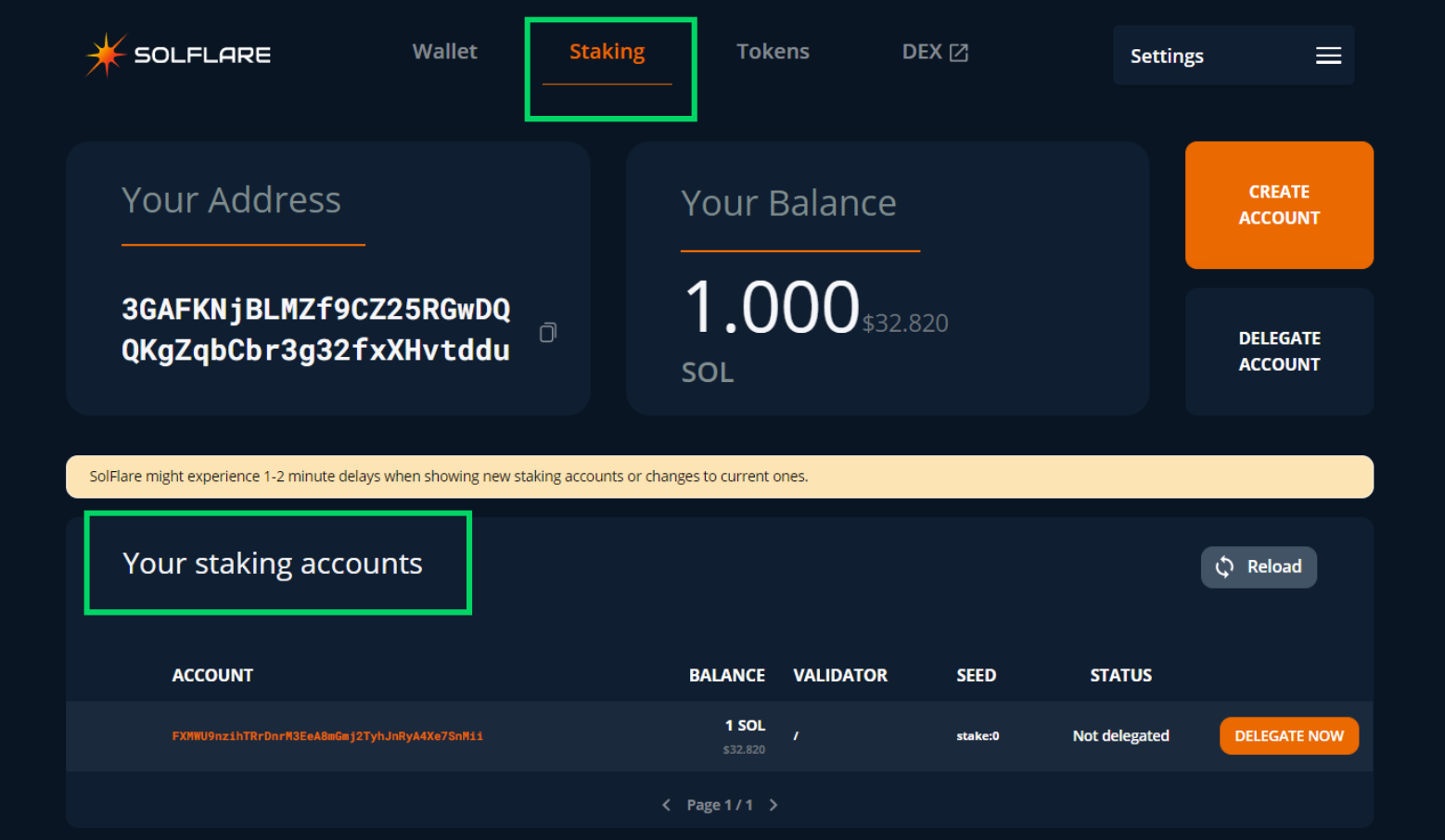 You should be able to see the address, balance and seed of your staking account - as you can see, ours has 1 Solana ready to go. To begin staking, press the Delegate Now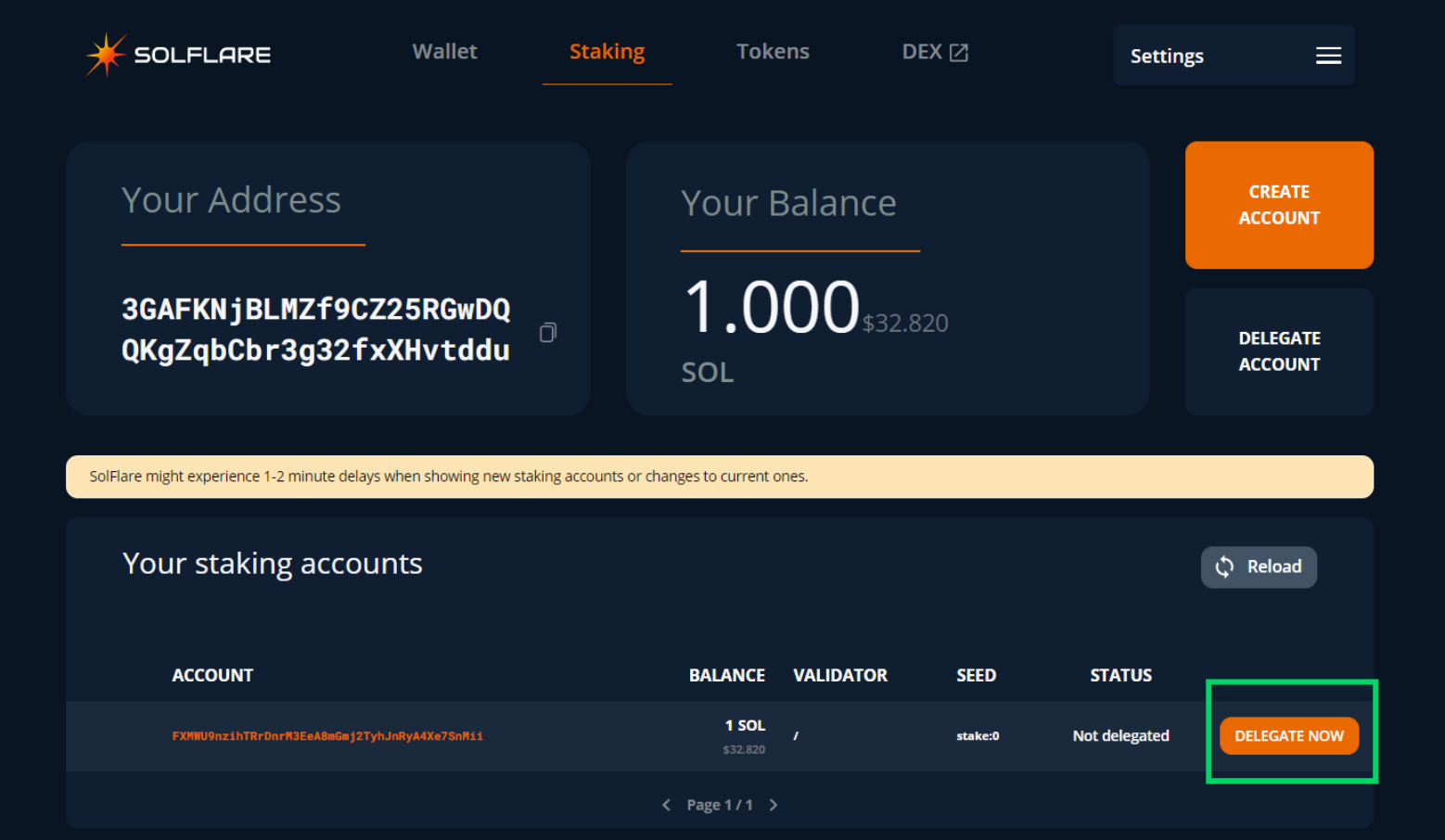 Select the account you would like to use to delegate - if this is your first time staking Solana via SolFlare then you should only have one option.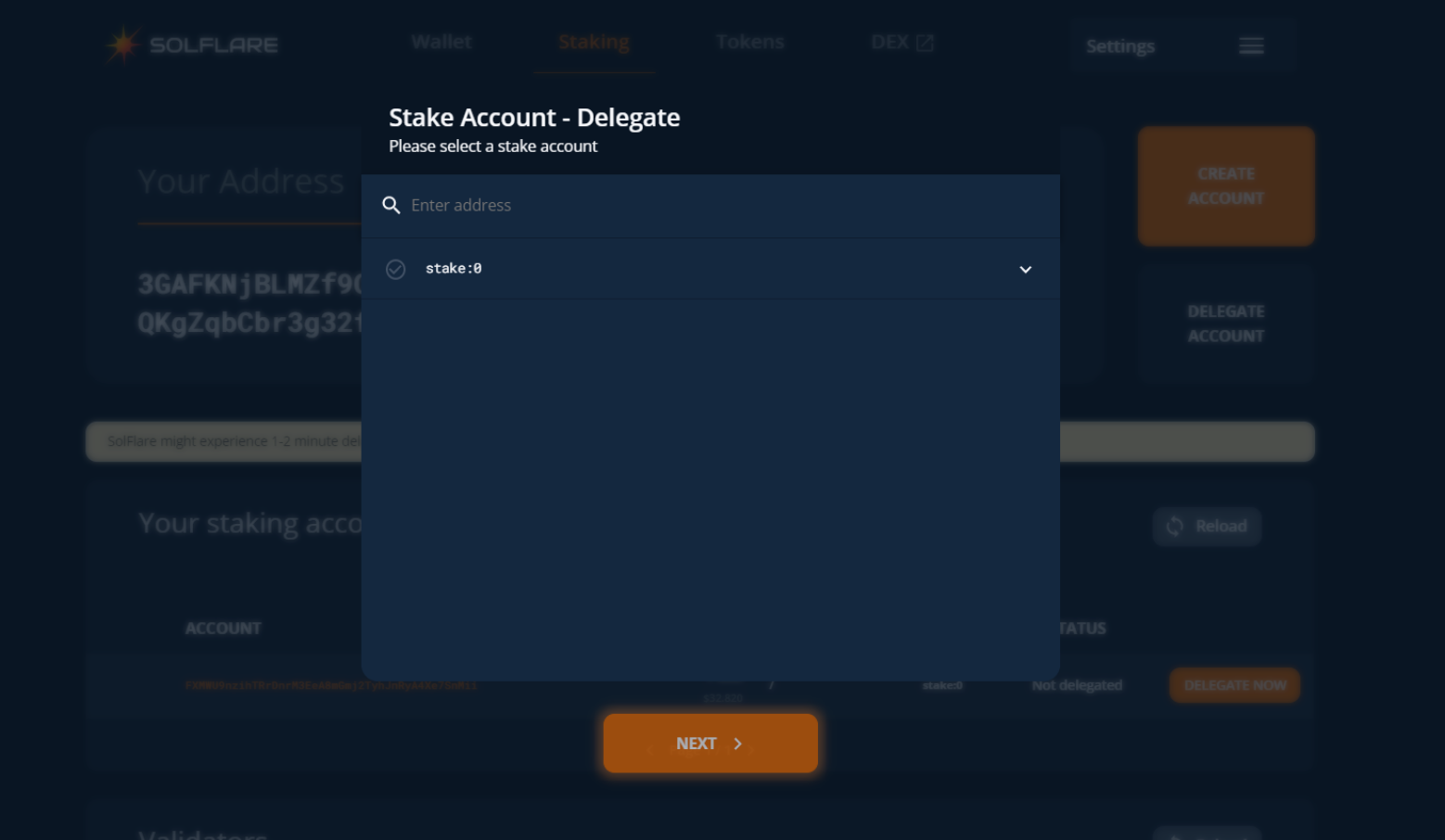 Select the validator of your choice in the drop-down menu and then click "Next"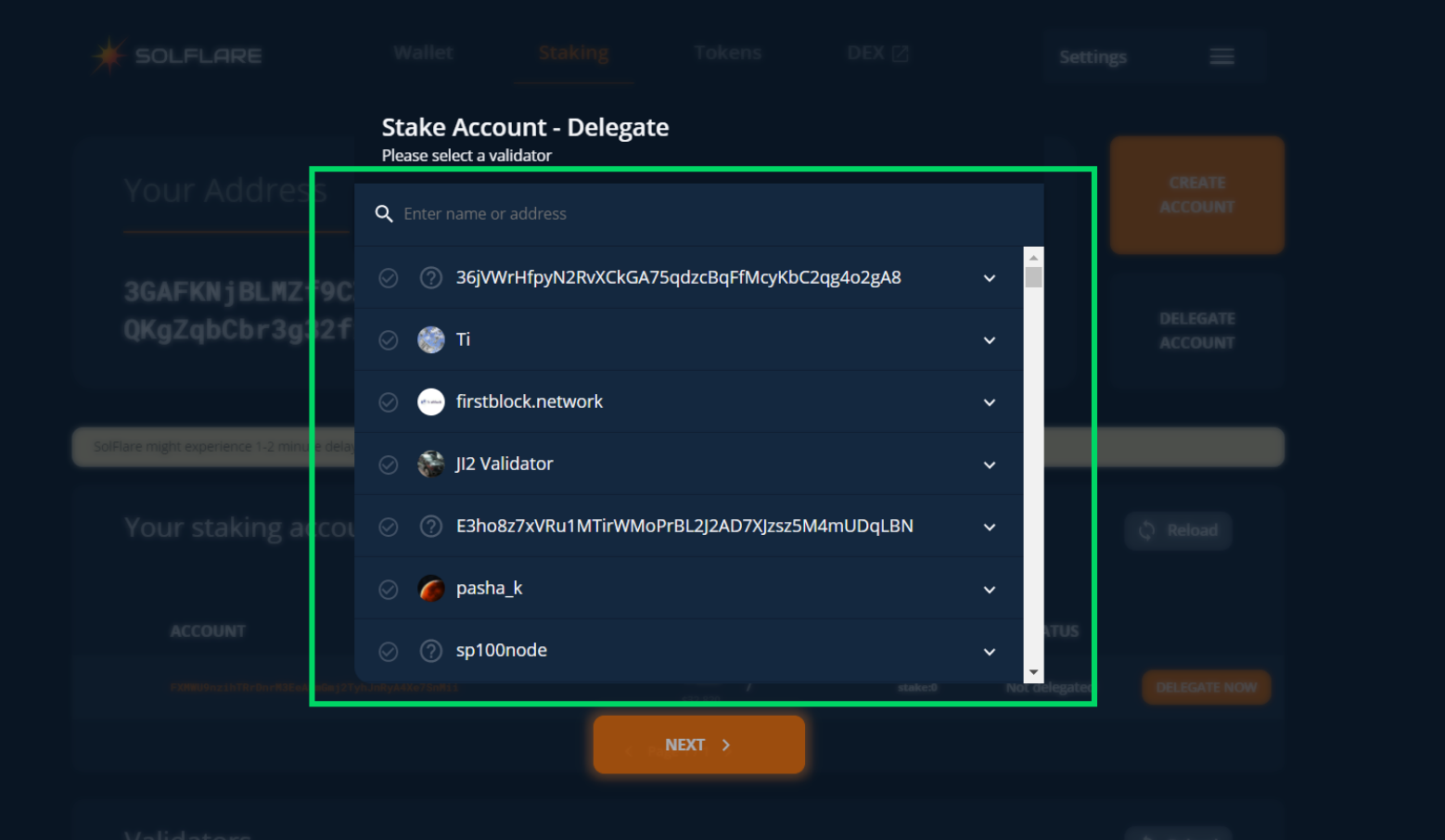 Enter your password, press delegate and...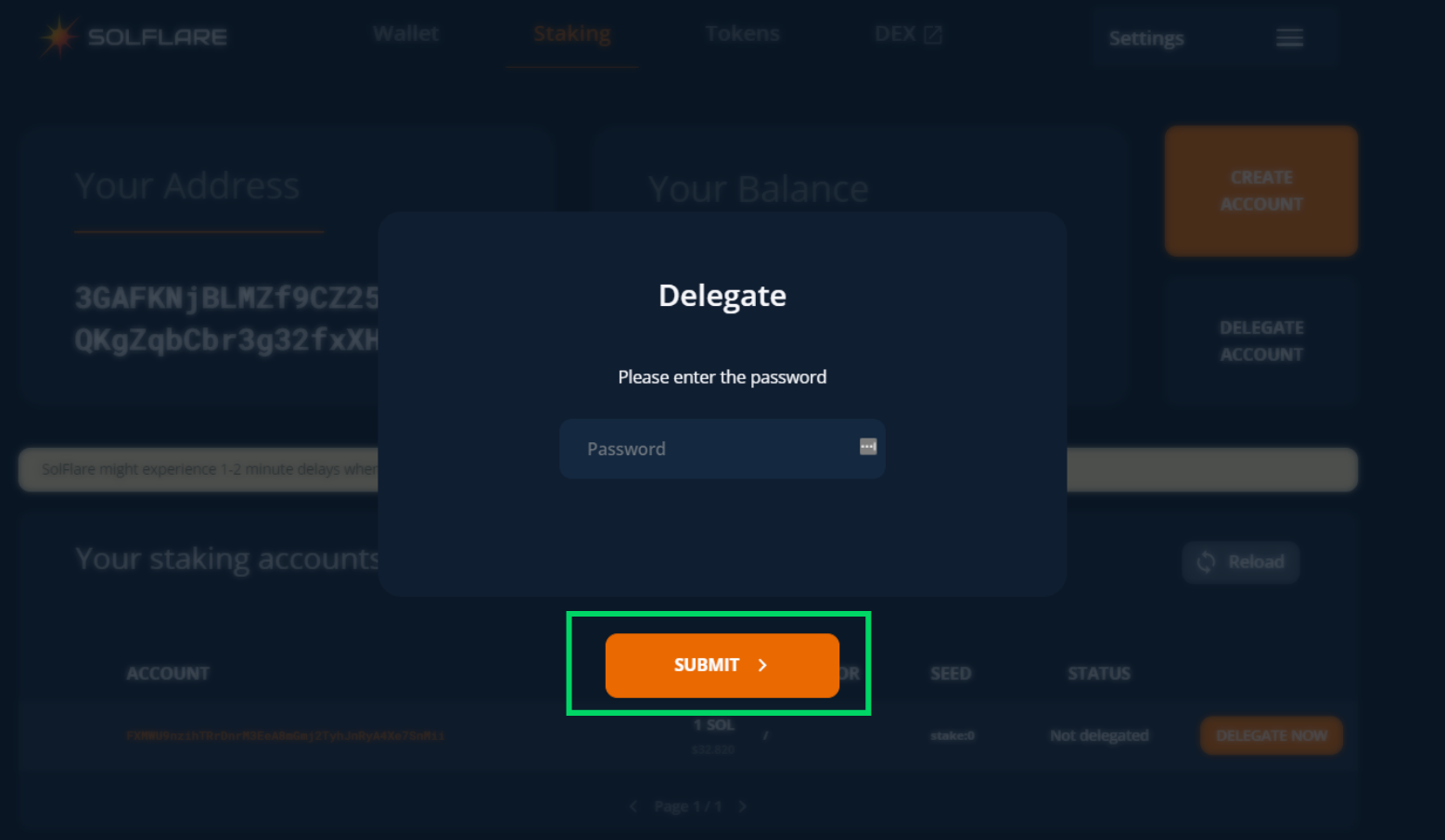 Congratulations, you have now officially delegated/staked tokens on the Solana blockchain!
 Exodus wallet
Exodus was built with beginning cryptocurrency users in mind but is also ideal for most mainstream cryptocurrency enthusiasts who are looking for a secure, easy way to manage their portfolio. Exodus is also a leading multi-currency wallet that allows you to store BTC, ETH, SOL and many other tokens.
You can access Exodus both on desktop and mobile. For the purpose of this guide, we're going to go through the process on both devices.
How To Stake Solana With Exodus Mobile
Open your Exodus wallet on your mobile device and click on the Solana tab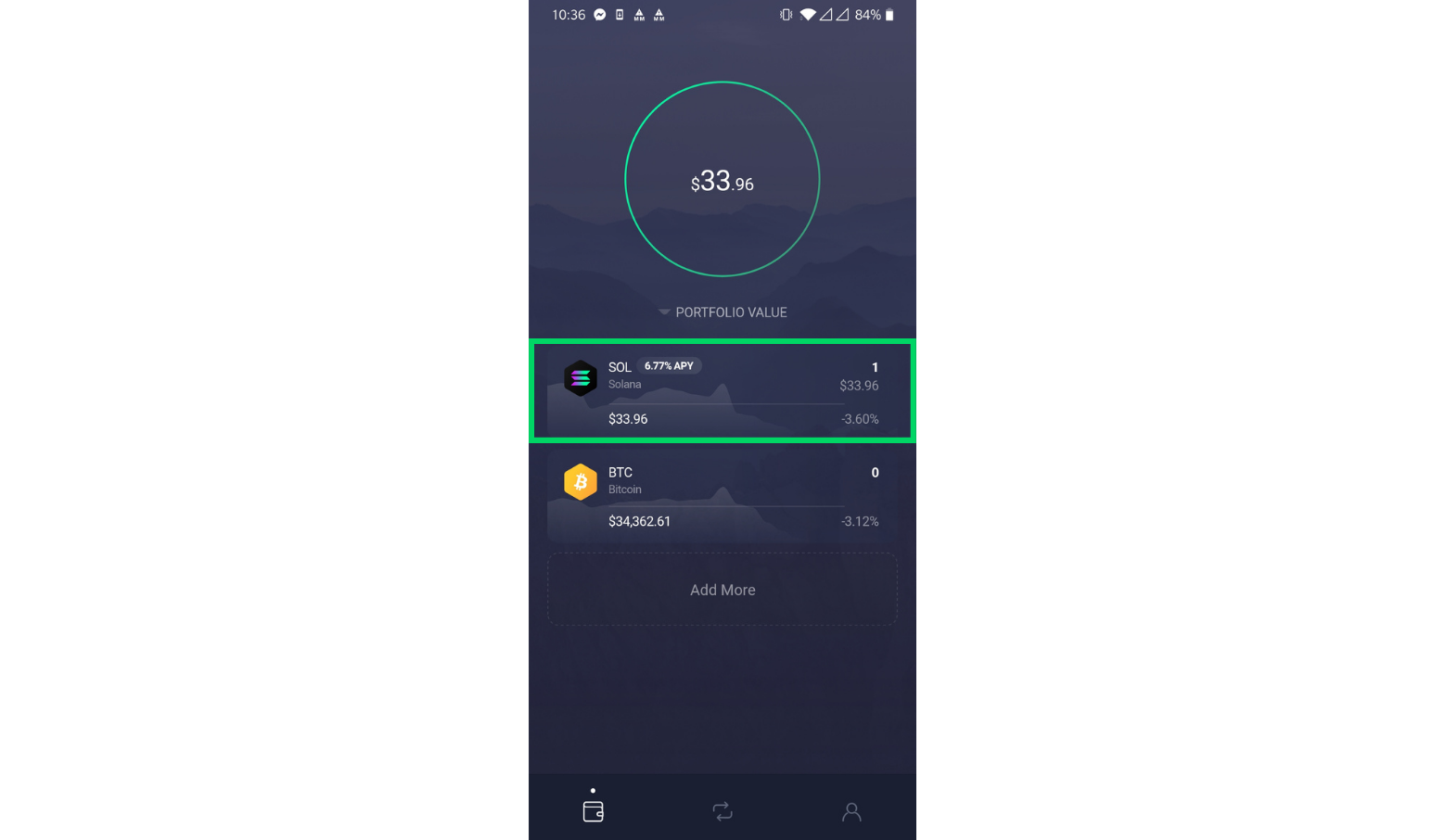 Click on the icon in the top right corner that looks like a medal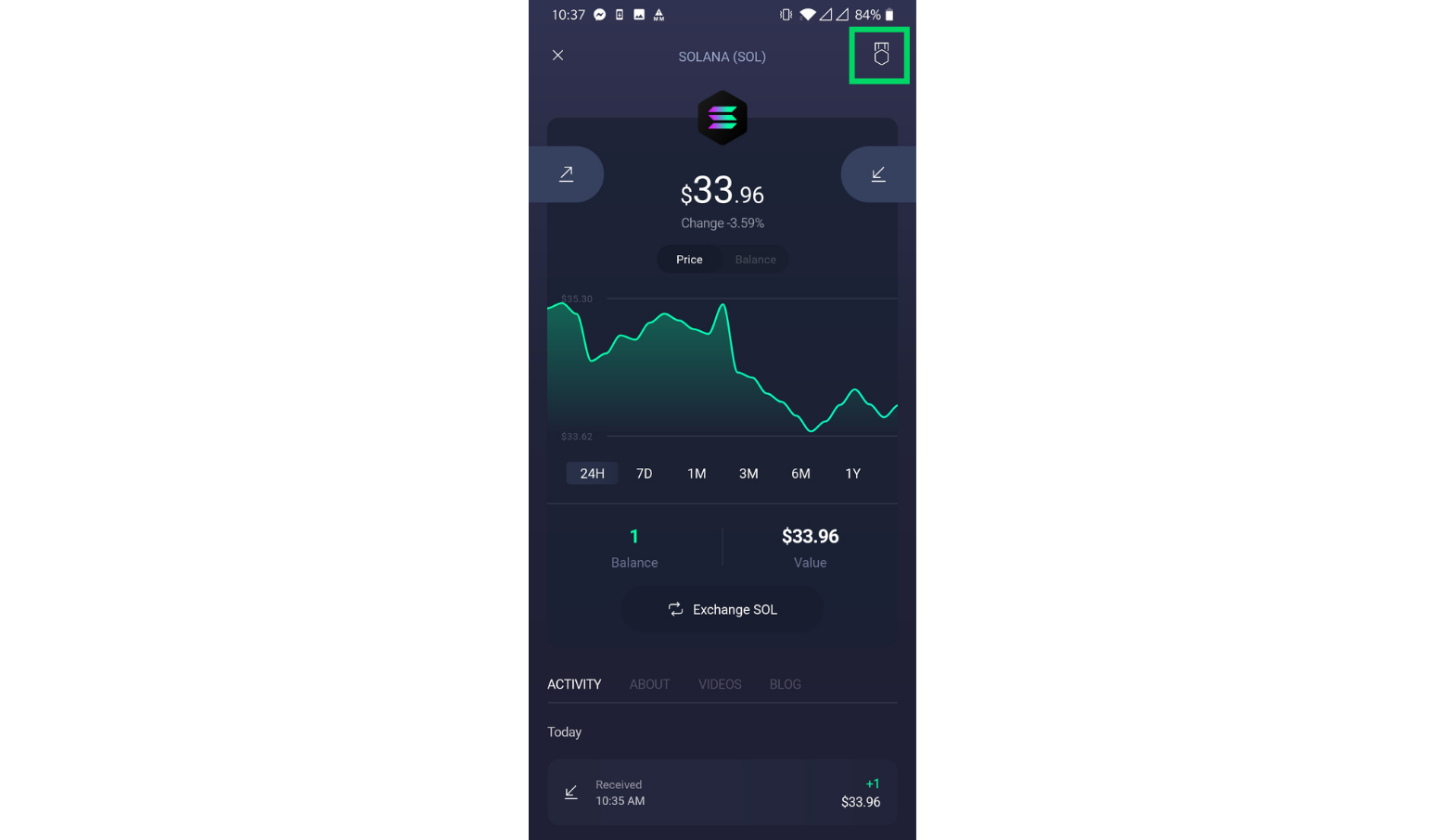 Click on the box that says Stake SOL and enter the amount you wish to stake.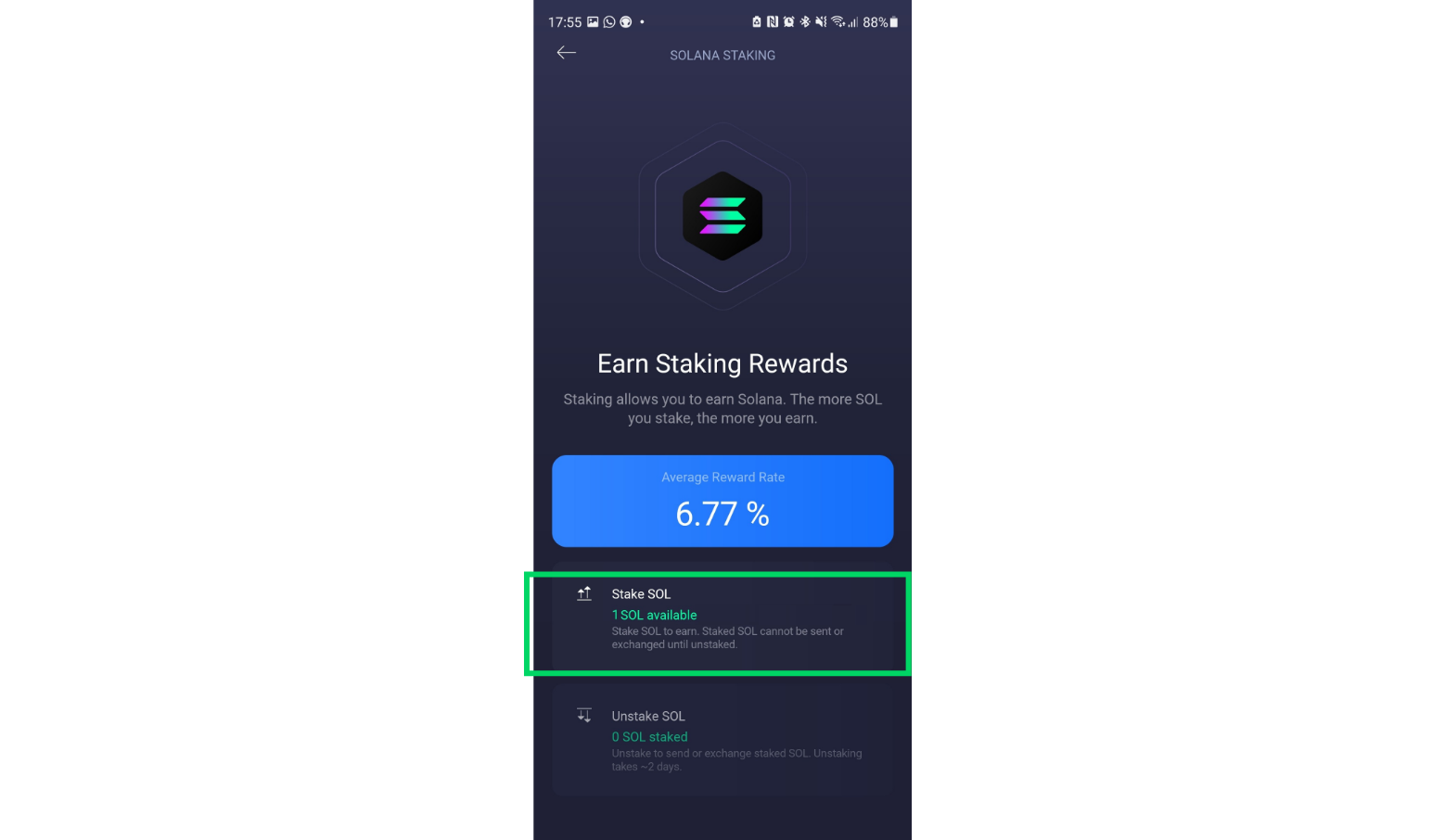 Wait for the staking transaction to confirm!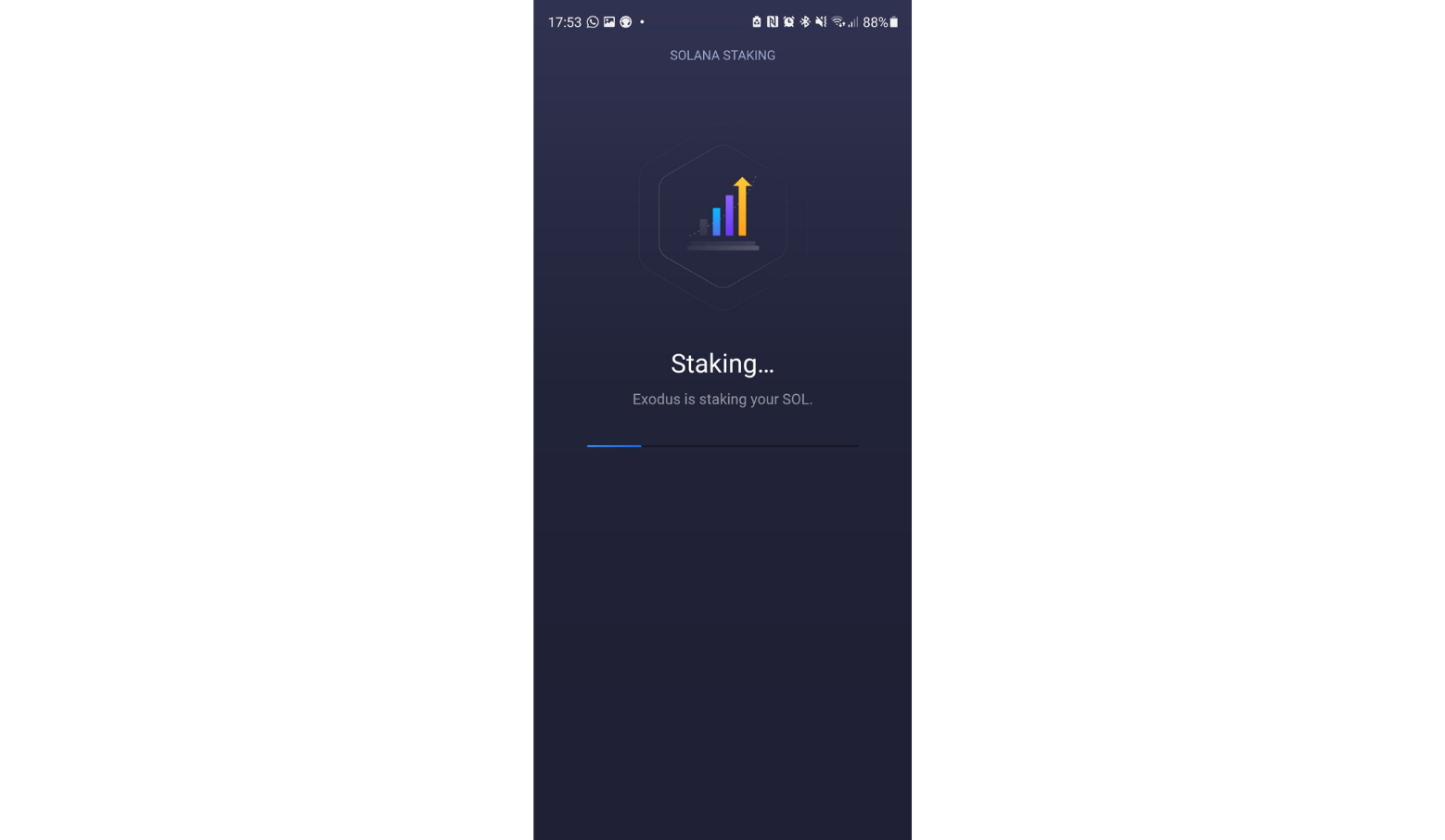 Fin! You have now successfully staked your Solana. If you would like to unstake, return to the same tab and click the Unstake SOL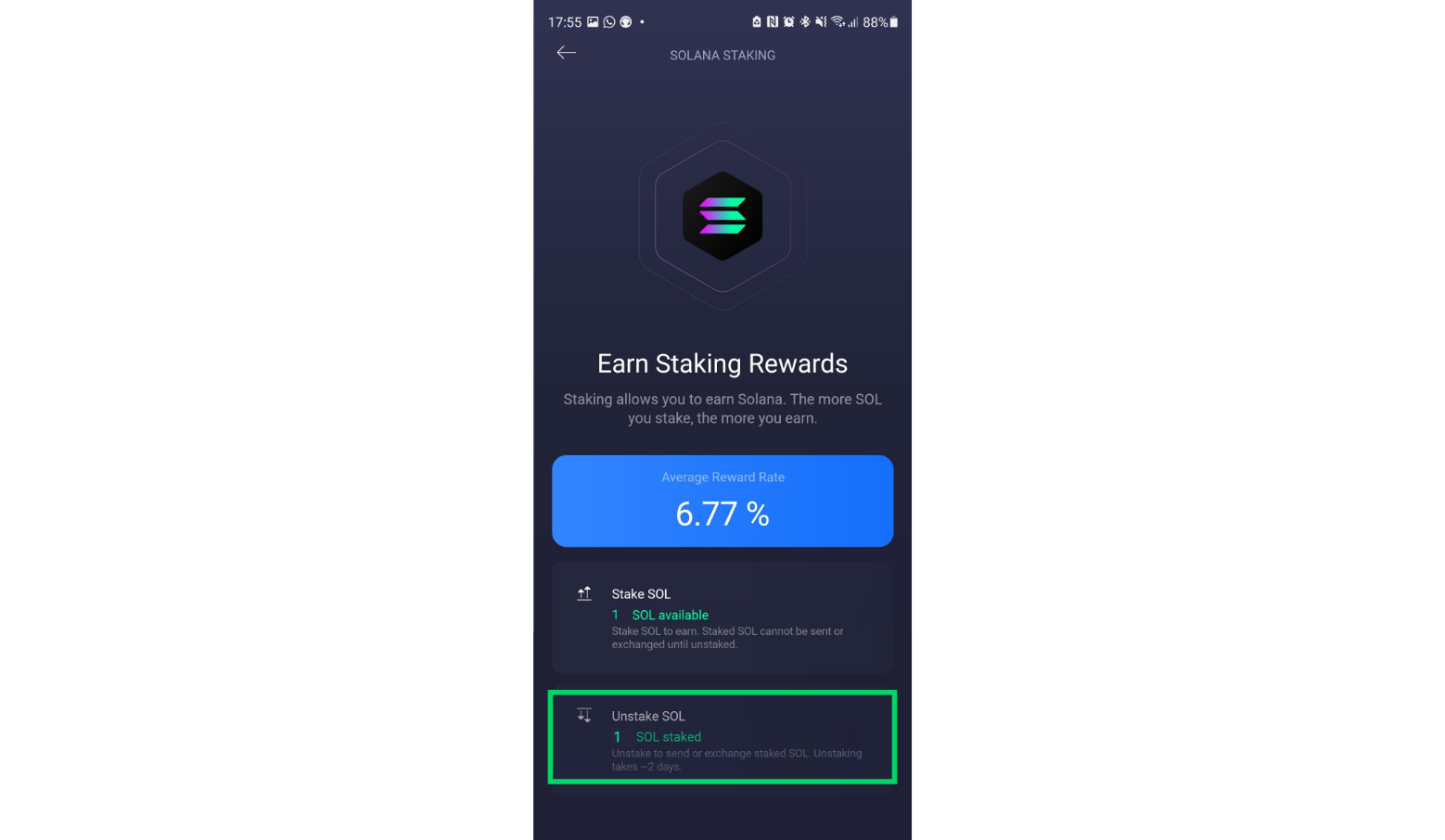 How To Stake Solana With Exodus Desktop
Desktop images have been sourced from Exodus.
Open your Solana wallet within Exodus.
Next, head to the right-hand side and click on the three dots (figure 3 in the below image)
Click on Advanced Options.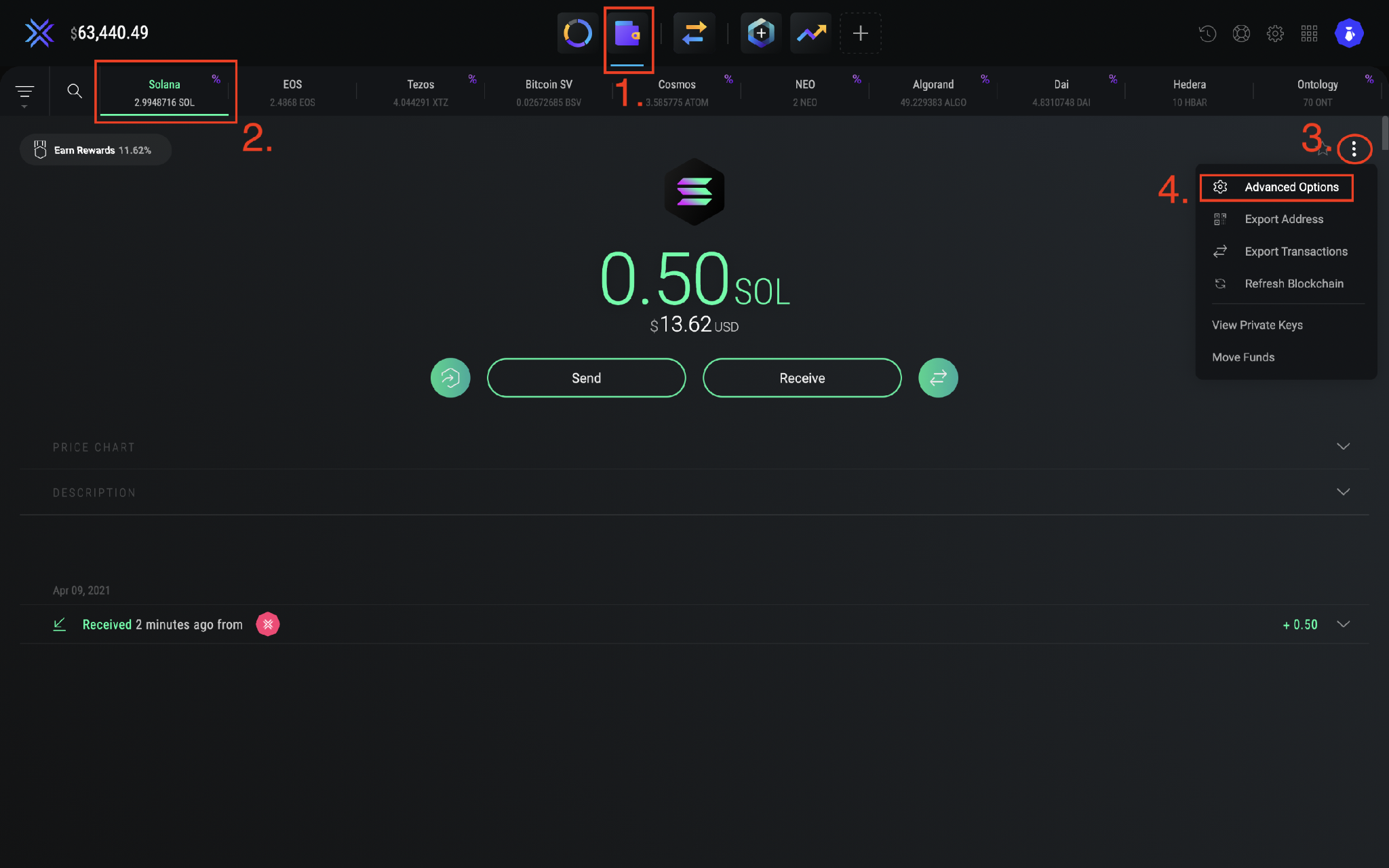 Then the Start Earning Solana
Head to the stake tab and enter the amount of Solana you would like to stake.
Hit the Stake Sol button!

If you would like to unstake your Solana, simply repeat the above steps but head to the unstake tab and click the unstake Sol button. Be warned, it can take ~2 days to unstake your Solana.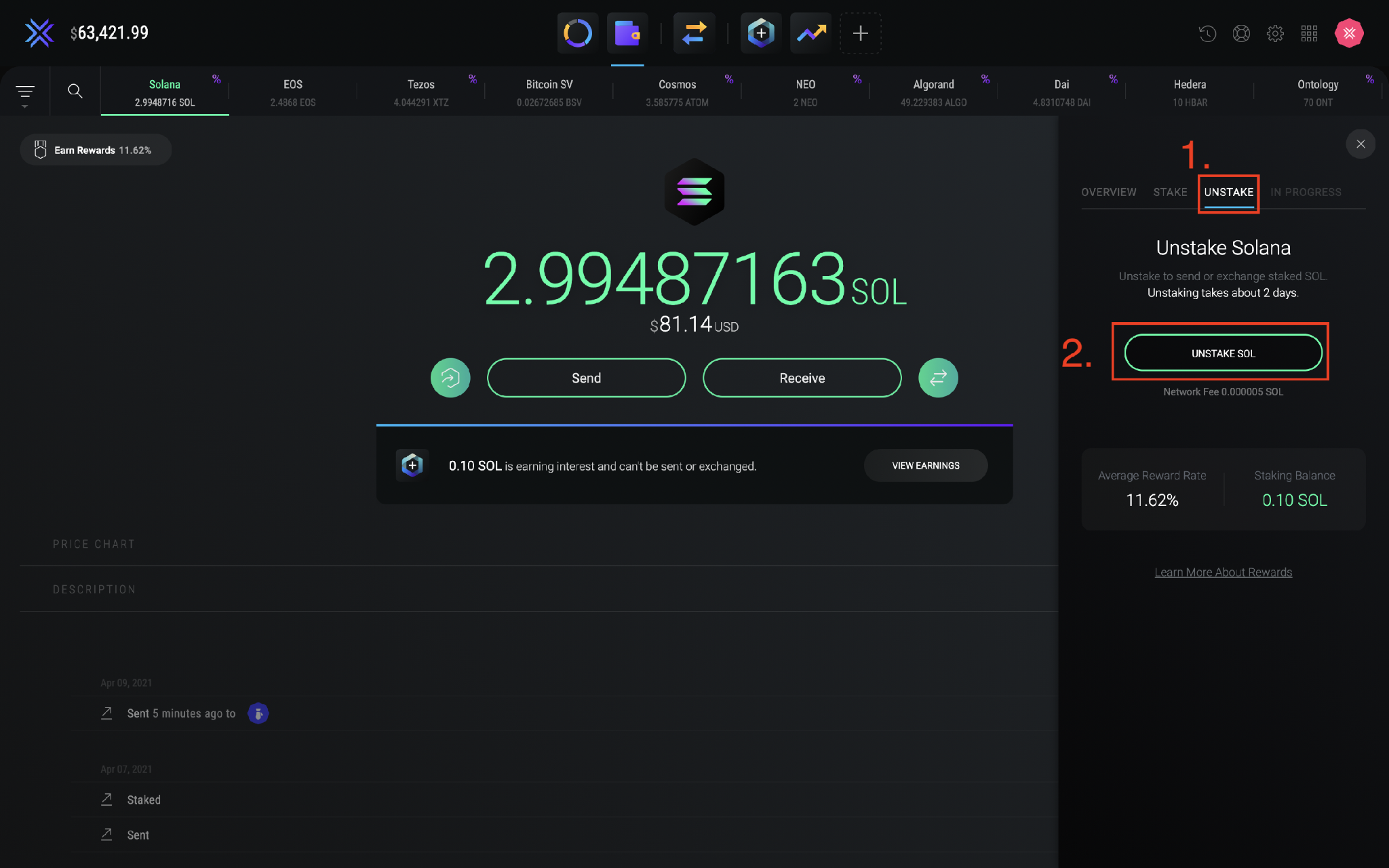 Exodus has also created a fantastic Youtube video going through the whole process which can be found here: https://www.youtube.com/watch?v=GRQLMMX_3QE
Binance
Often labelled the world's largest cryptocurrency exchange - Binance allows users to trade with an ever-growing number of digital assets. They also provide an NFT marketplace and staking services.
How To Stake Solana With Binance
Open Binance and click on the finance tab in the top navigation bar.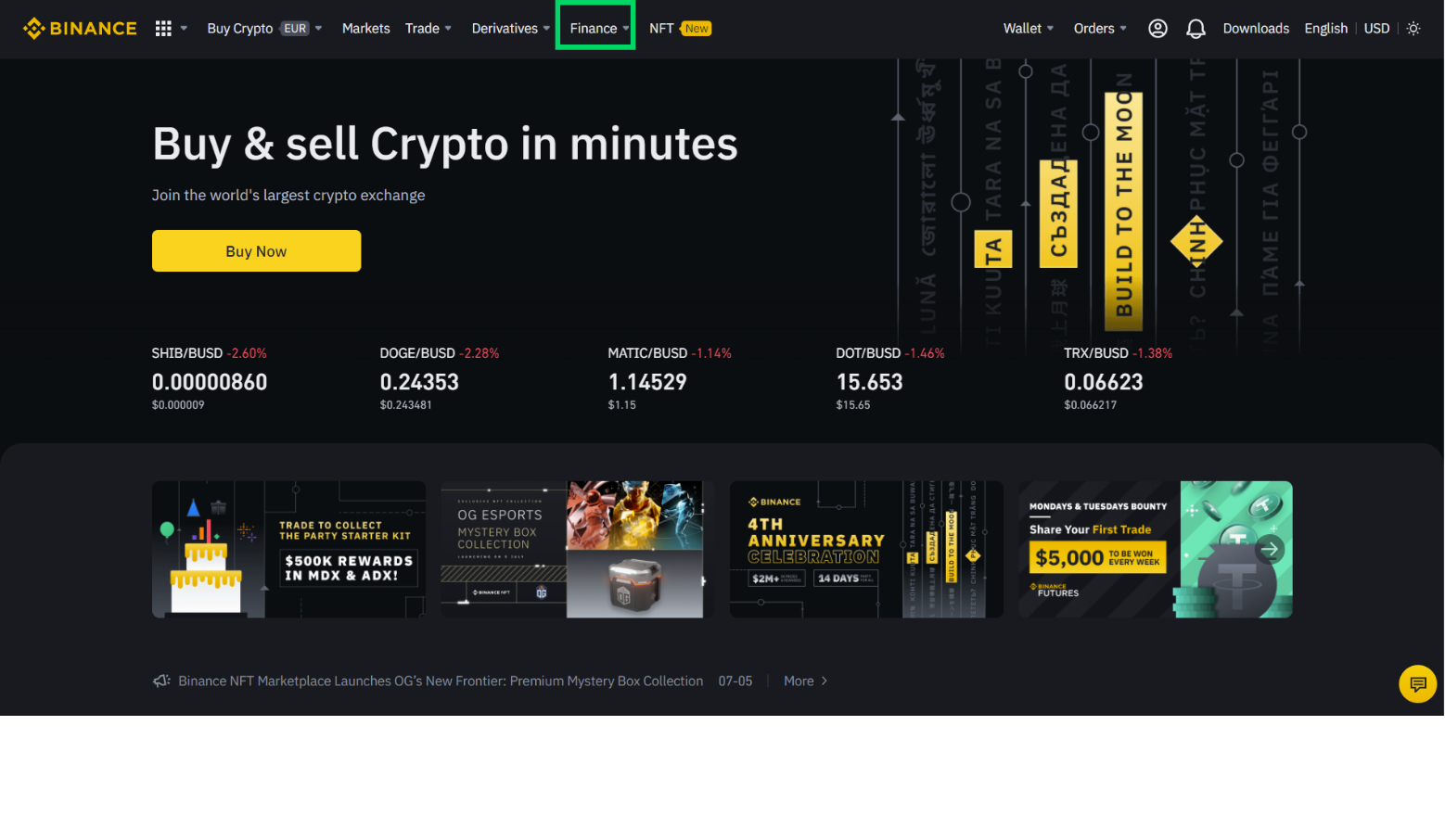 Click on the Binance Earn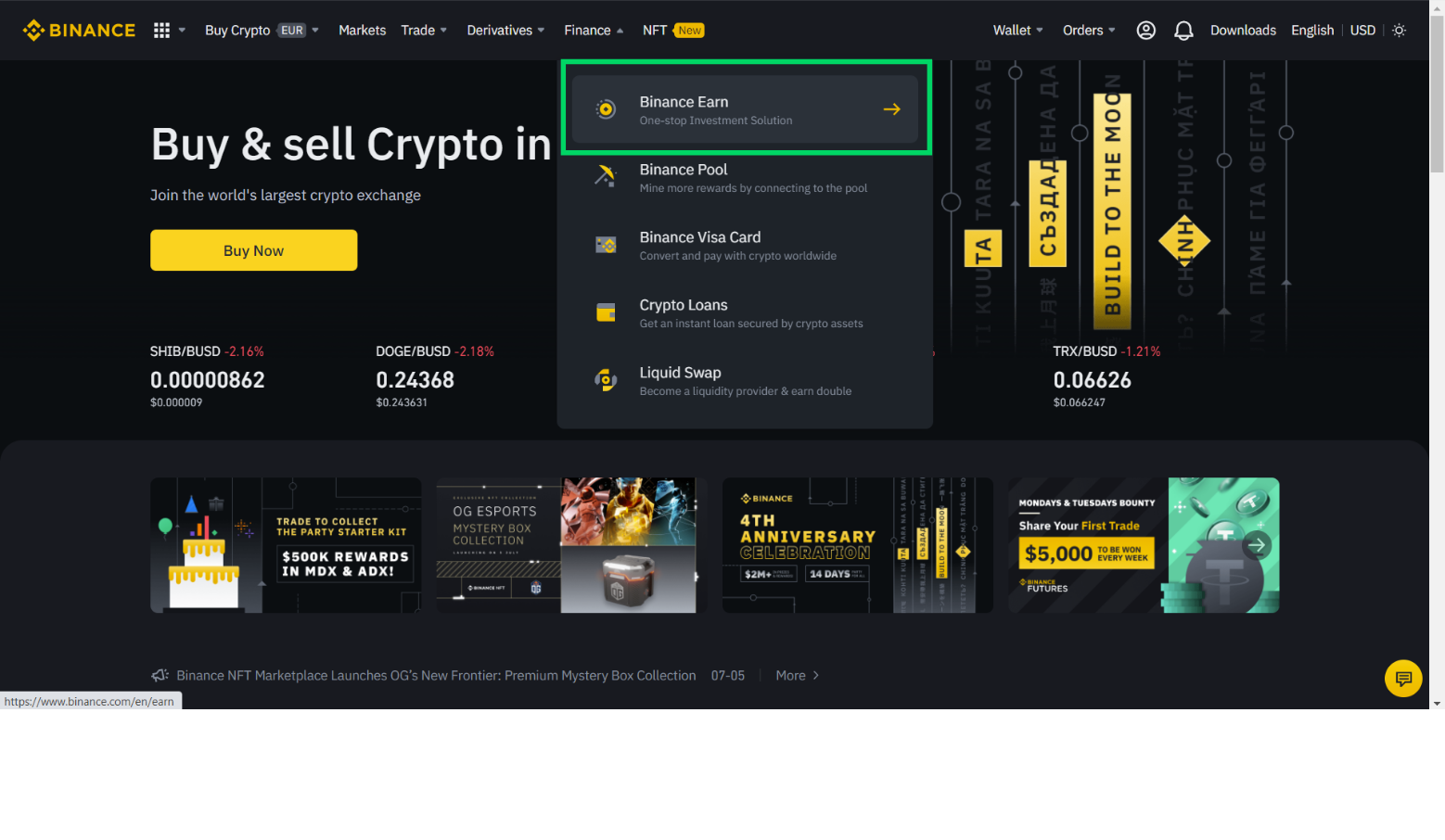 Click on the dropdown box that states Popular Coins and search for the coin you would like to stake. In this case, we are searching for Solana (SOL).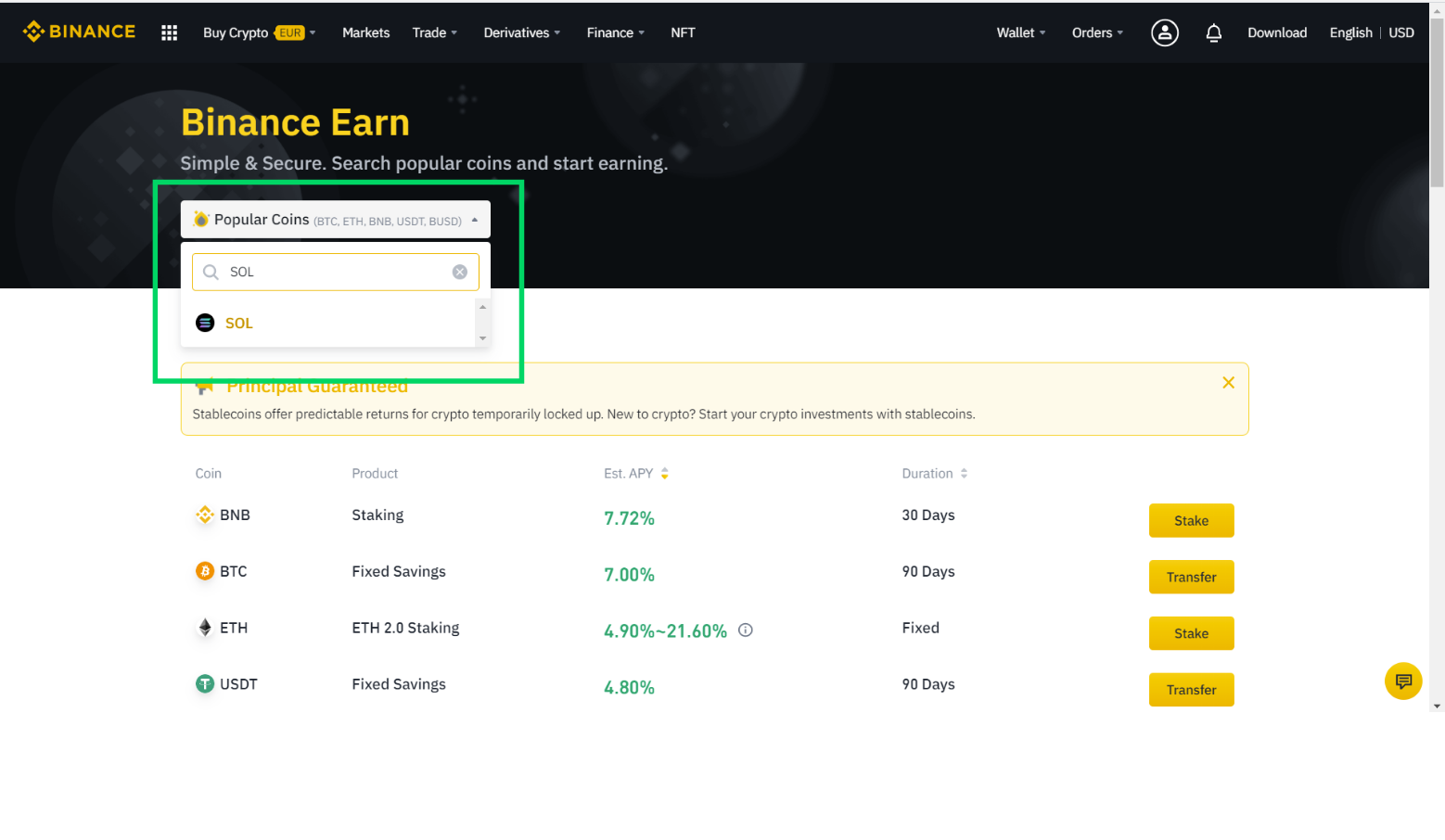 Confirm that you are looking at the right option, you are happy with the APY and period that your tokens will be locked for. Then press stake.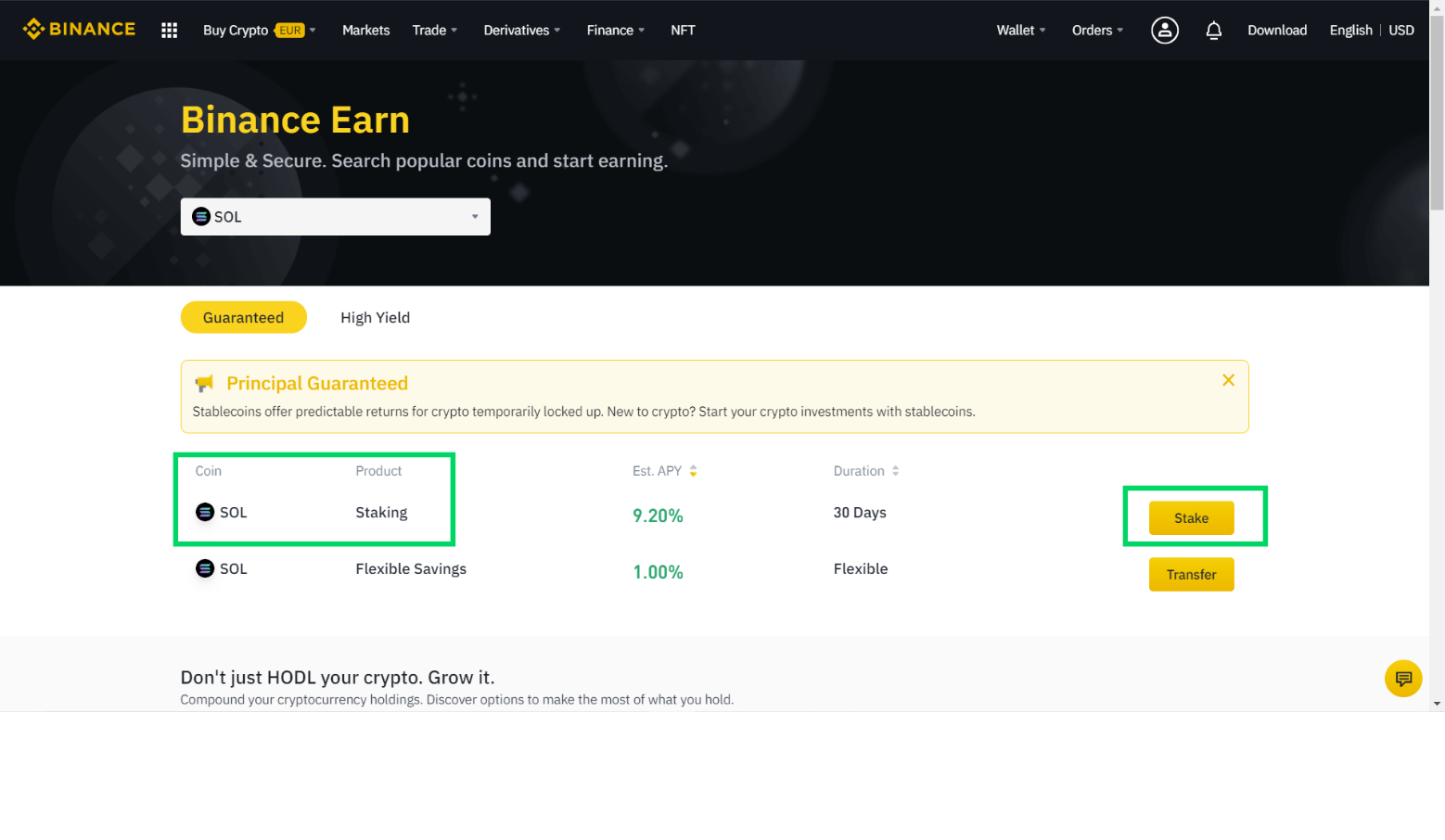 This will open the staking window which will look like the image below. Here you can look at the summary of your staking options, adjust the time period you are staking for, as well as the number of tokens you would like to stake.
Once you have adjusted the settings to your liking, it is time to stake - you can do this by pressing the Confirm Purchase button.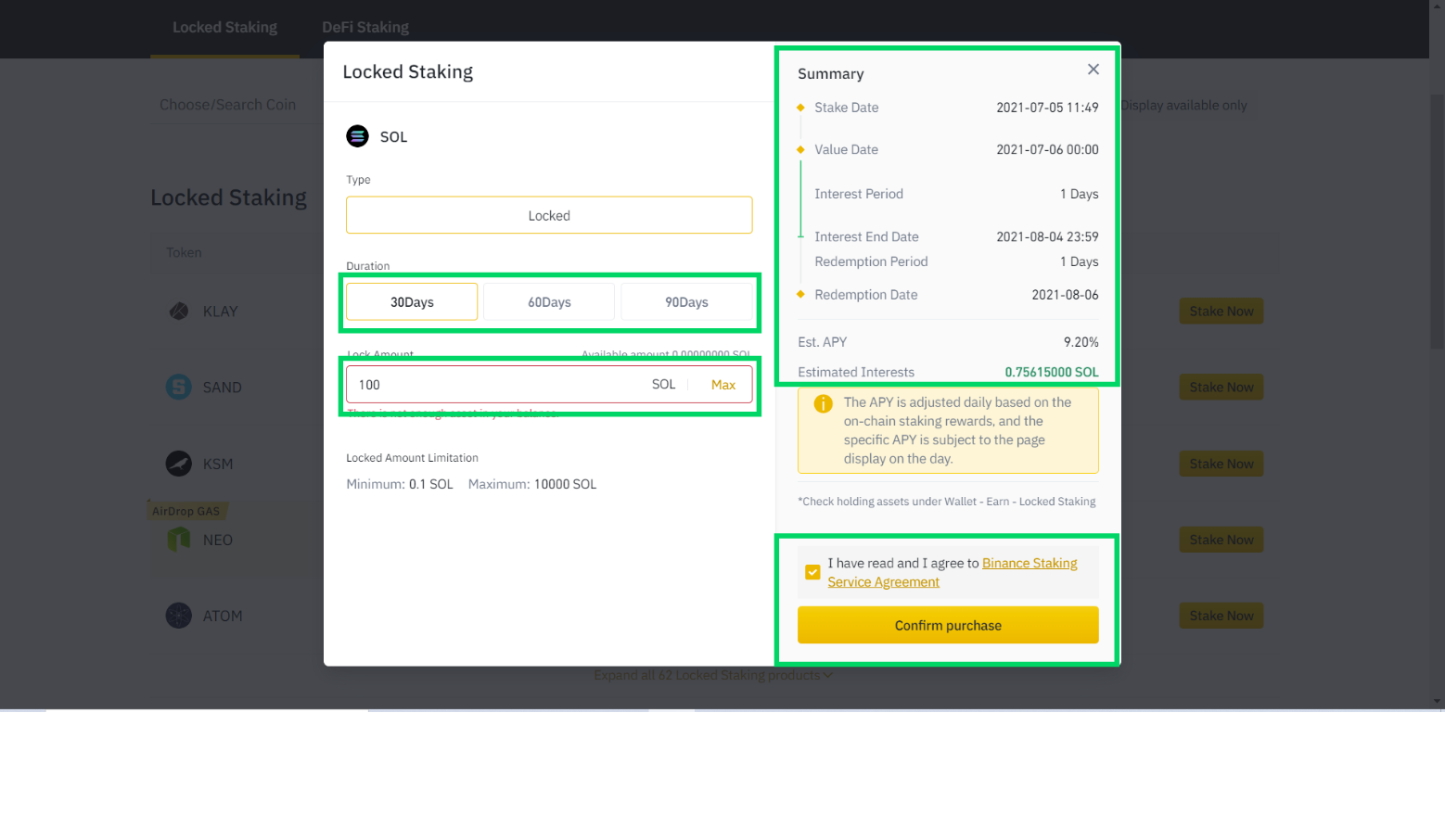 Congratulations! Your tokens are now staked. You can view your tokens by clicking on the Wallet tab in the navigation bar, heading to Overview and then finally clicking the Earn tab which you can find in the sidebar.
This will open up another section of your wallet where you can access your staking accounts.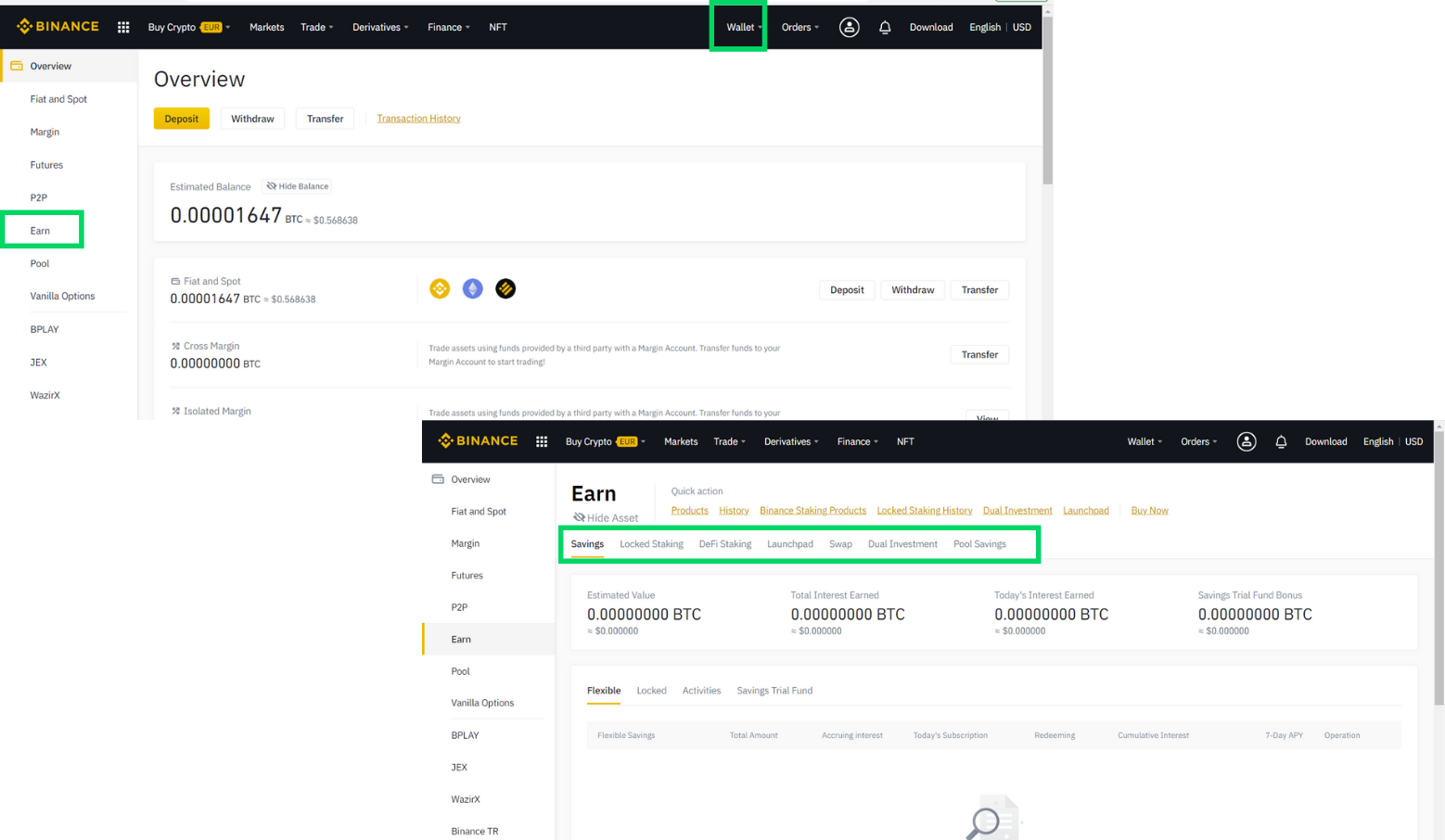 Happy Staking!
Thank you for taking the time to read our Solana staking guide. You should now understand what staking is, how it benefits the Solana ecosystems as well as know how to stake $SOL across three different platforms.
If you are having trouble with any parts of this guide, please do reach out to us or leave a comment below. Also, if you have any requests about any other guides, whether it be staking, DeFi, NFTs or anything else, please do let us know below.
This website is only provided for your general information and is not intended to be relied upon by you in making any investment decisions. You should always combine multiple sources of information and analysis before making an investment and seek independent expert financial advice.
Where we list or describe different products and services, we try to give you the information you need to help you compare them and choose the right product or service for you. We may also have tips and more information to help you compare providers.
Some providers pay us for advertisements or promotions on our website or in emails we may send you. Any commercial agreement we have in place with a provider does not affect how we describe them or their products and services. Sponsored companies are clearly labelled.