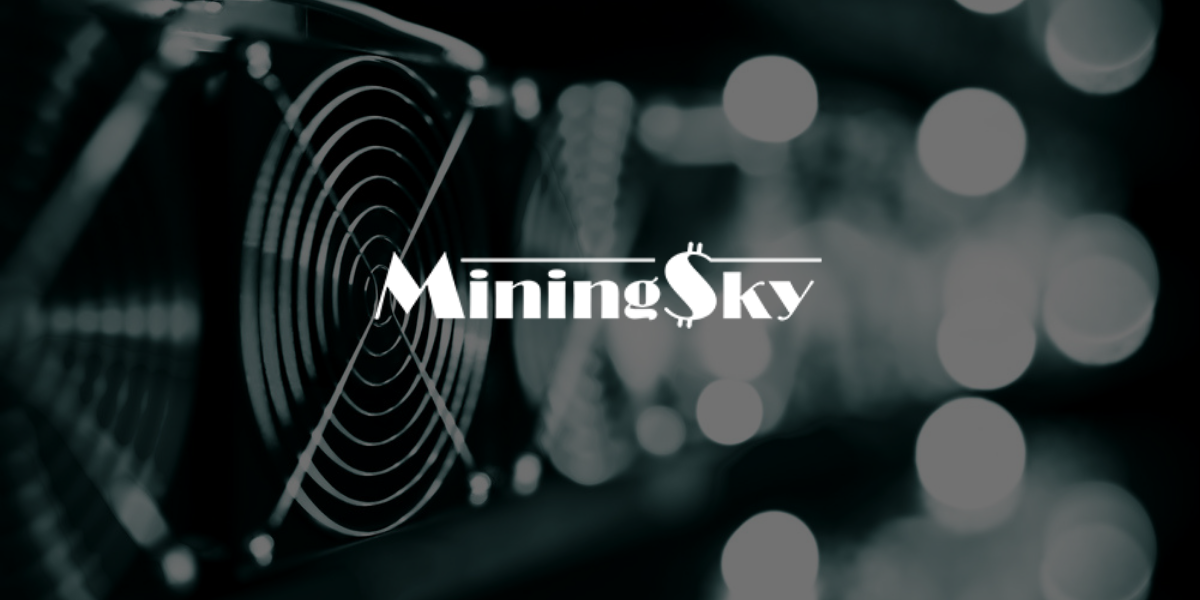 Since the inception of bitcoin back in 2009, many changes have taken place in the cryptocurrency mining landscape. Mining hardware has evolved drastically, accompanied by exponential increases in mining difficulty. You could say that cryptocurrency mining isn't what it used to be. Especially if we take into account the bear market lived throughout 2018, which has greatly diminished mining returns. However, MiningSky seems to have not been phased by the prolonged crypto winter.   
Part 1 - What is MiningSky?
Founded in 2016, MiningSky is an experienced company with several key partnerships in energy, mining, and cloud computing space. Composed by a team of experts and innovators, MiningSky offers a wholesome solution for crypto mining and provides a vast scope of mining products and services.
Customers can purchase two flagship products: the MiningSky 8-GPU Mining Rig, a simple and high-performance GPU-based mining rig, and the MiningSky Container, a customizable and portable 40ft container specifically designed for big mining operations.
MiningSky also offers cheap energy solutions for large-scale mining farms and is one of the few companies in the world to offer miner hosting. This service will have MiningSky set up a mining operation for customers, either in the U.S or Canada. The hosting will be highly energy efficient due to cool temperatures and MiningSky will take of any security, electricity, and maintenance operations.
And finally, MiningSky offers one of the most competitive cloud mining services in the market, offering 2% of the world's BTC Hash Rate. You can purchase cloud mining contracts of both bitcoin and ethereum. Below we will show you a guide on how to do it.
Part 2 - How to purchase a Mining Contract
Step 1: Access MiningSky homepage (here)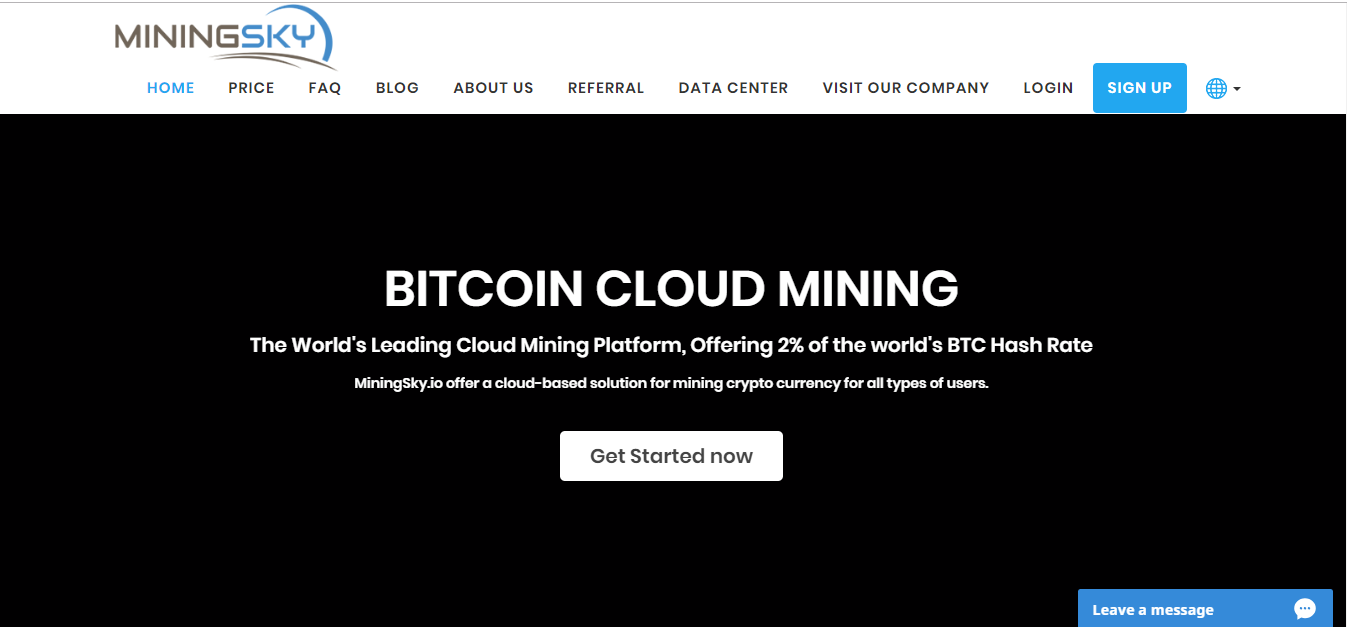 Step 2: Click on the blue "Sign Up" button in the top right corner of the page. A new page will open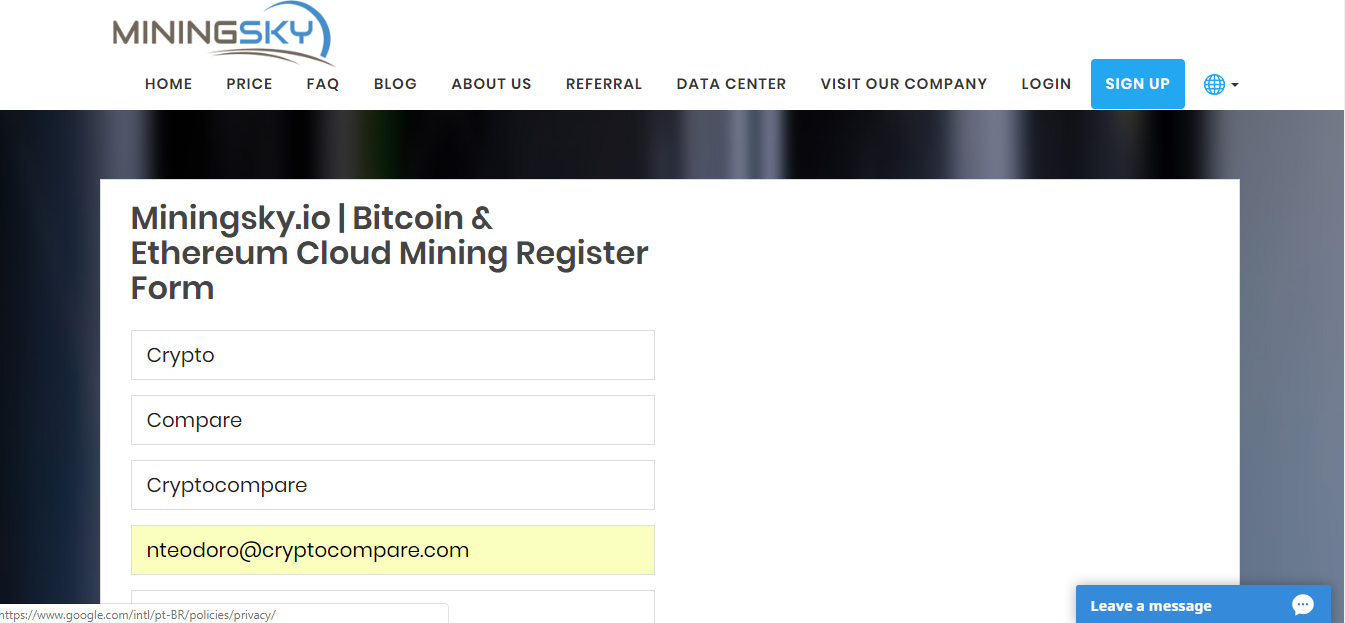 Step 3: Fill in your personal information (name, email, password). Make sure to check the Terms and Conditions and the "I'm not a robot" captcha. Once done, click on "Register"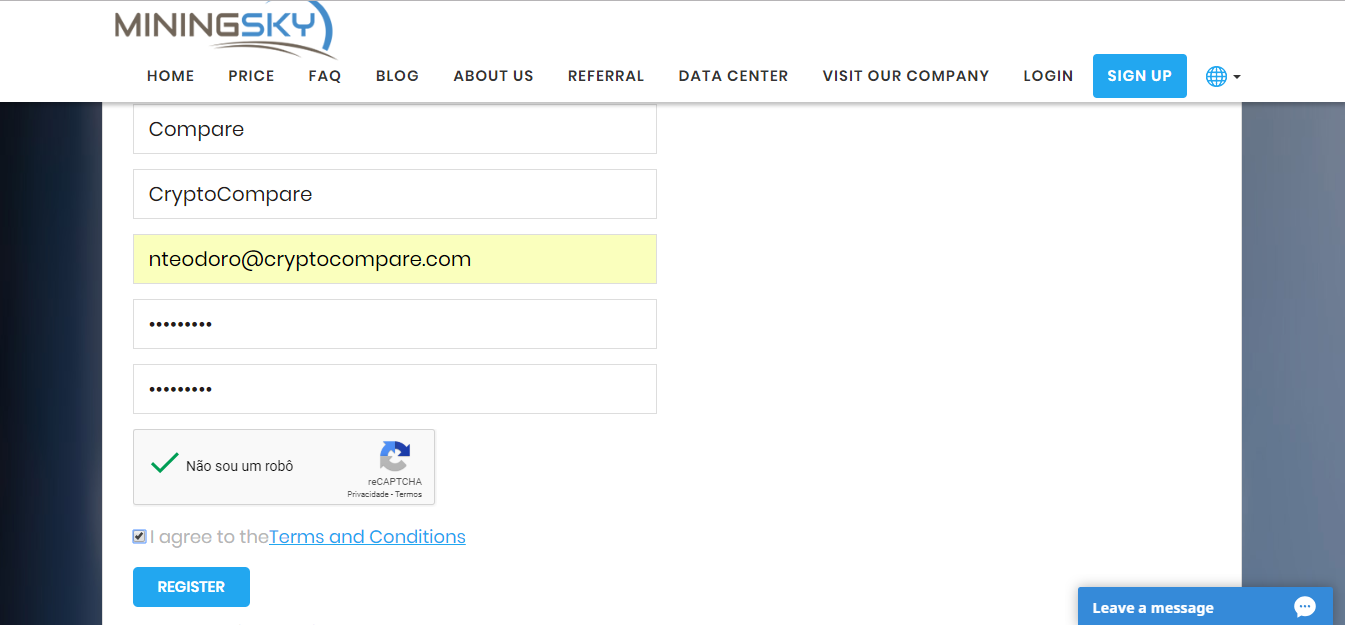 Step 4: If everything is done correctly, you'll be redirected to the dashboard and an account activation message will be shown.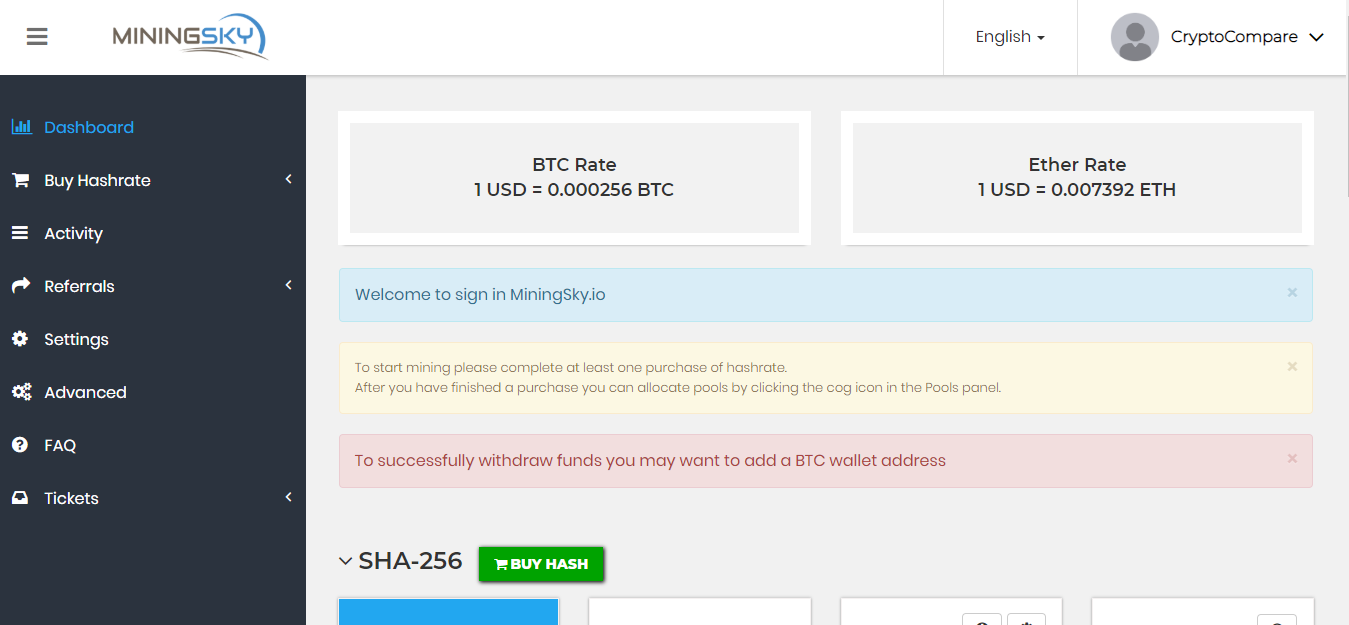 Step 5: Select Buy "Hashrate". Then select if you wish to mine bitcoin (BTC) or ether (ETH). Select the amount of hash rate you wish to buy and click on the blue button that reads "Proceed"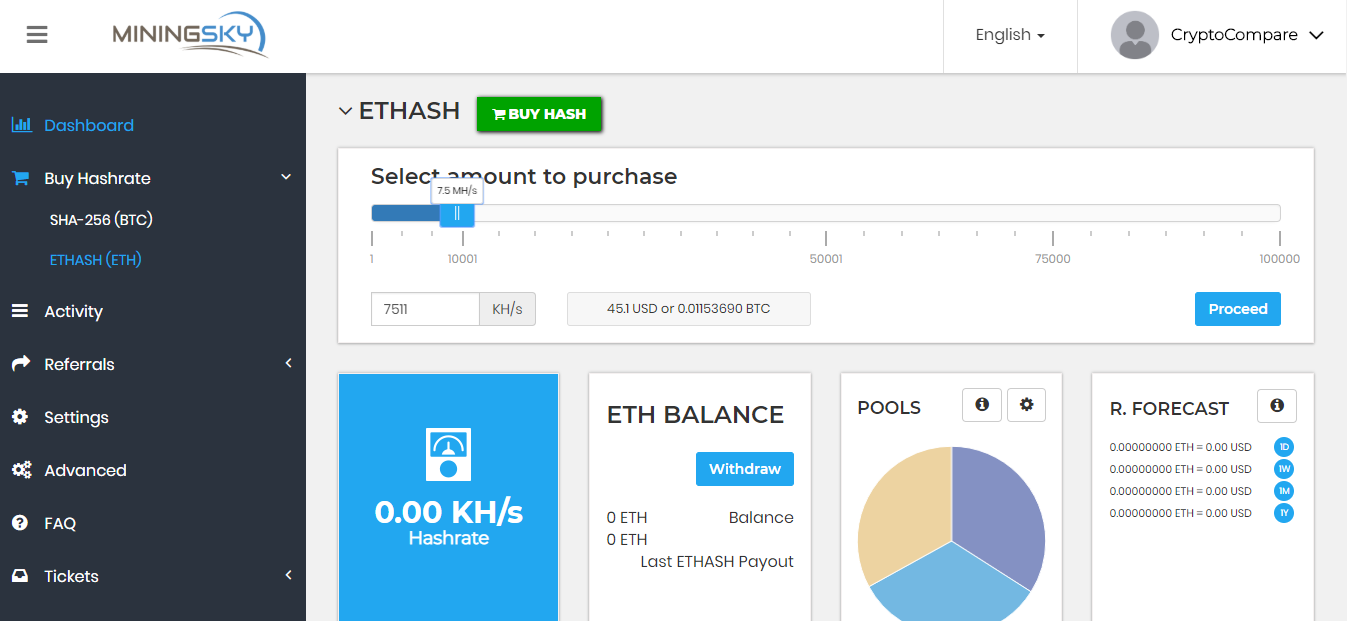 Step 6: You can choose to redeem an exclusive coupon code that gives you 10% off (Code: CRYPTOCOMPARE10). Then proceed by clicking on the "Select payment Method"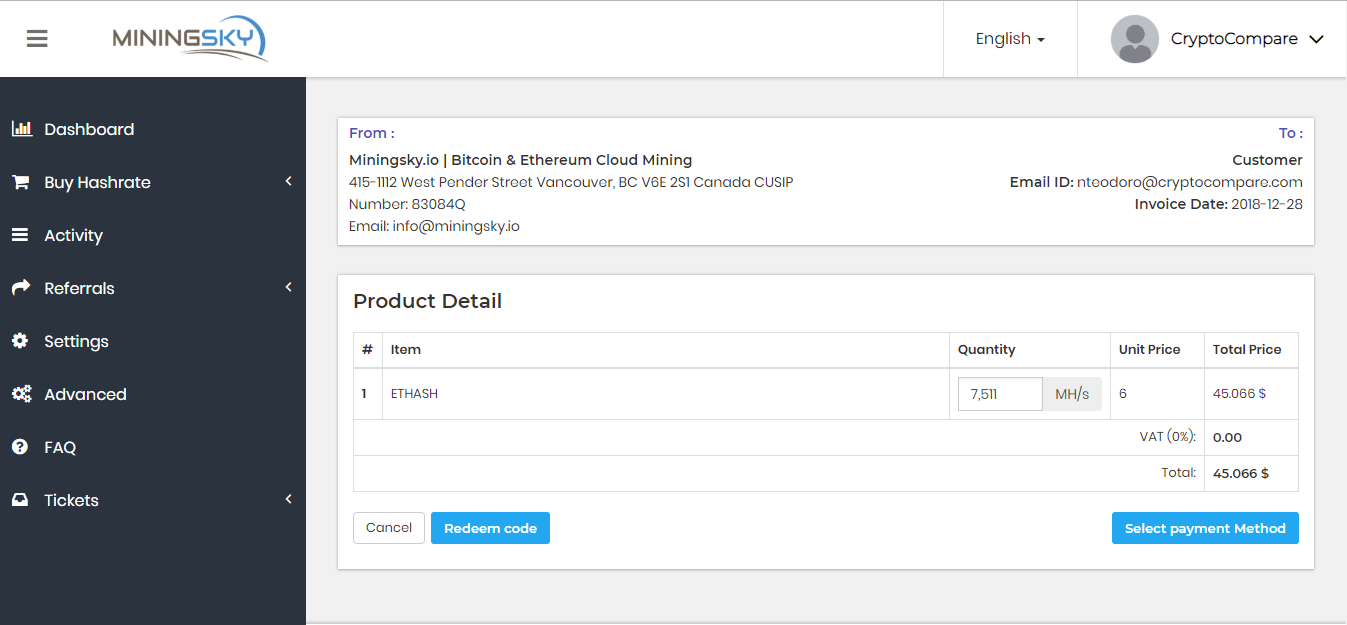 Step 7: A pop-up window will appear giving you two payment options. We choose to "Pay with BTC transfer"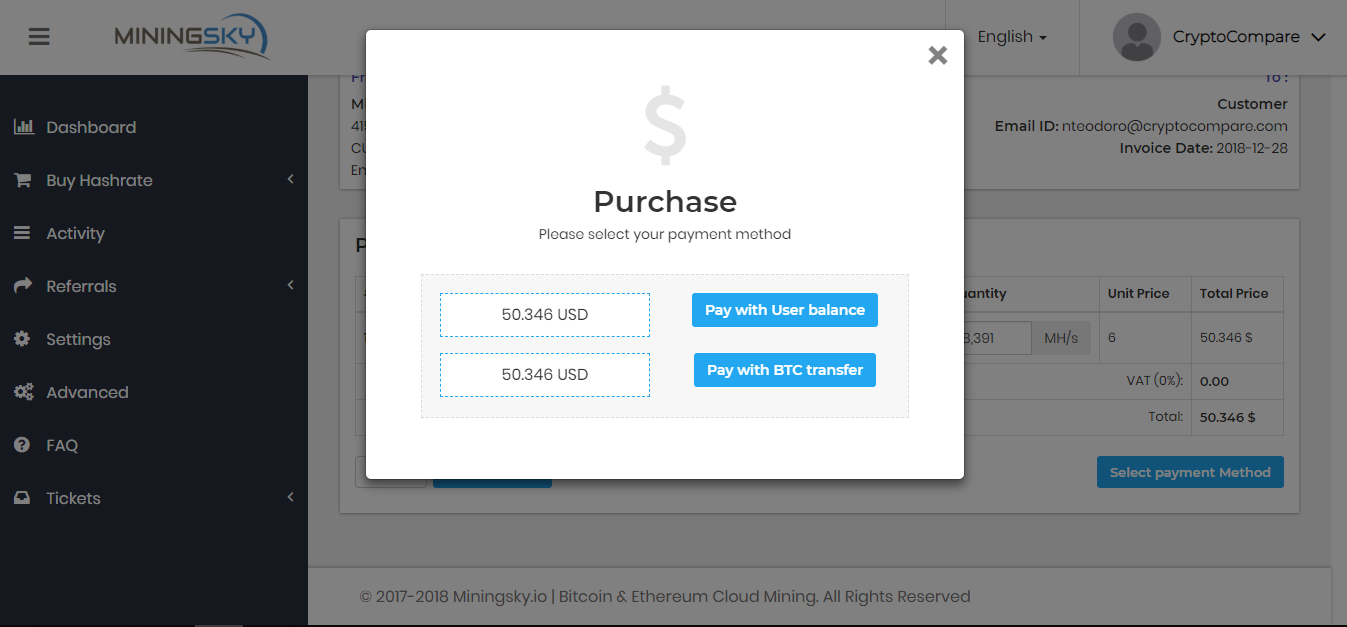 Step 8: Scroll slightly down. Check the terms and conditions box and click on the green button that reads "Confirm"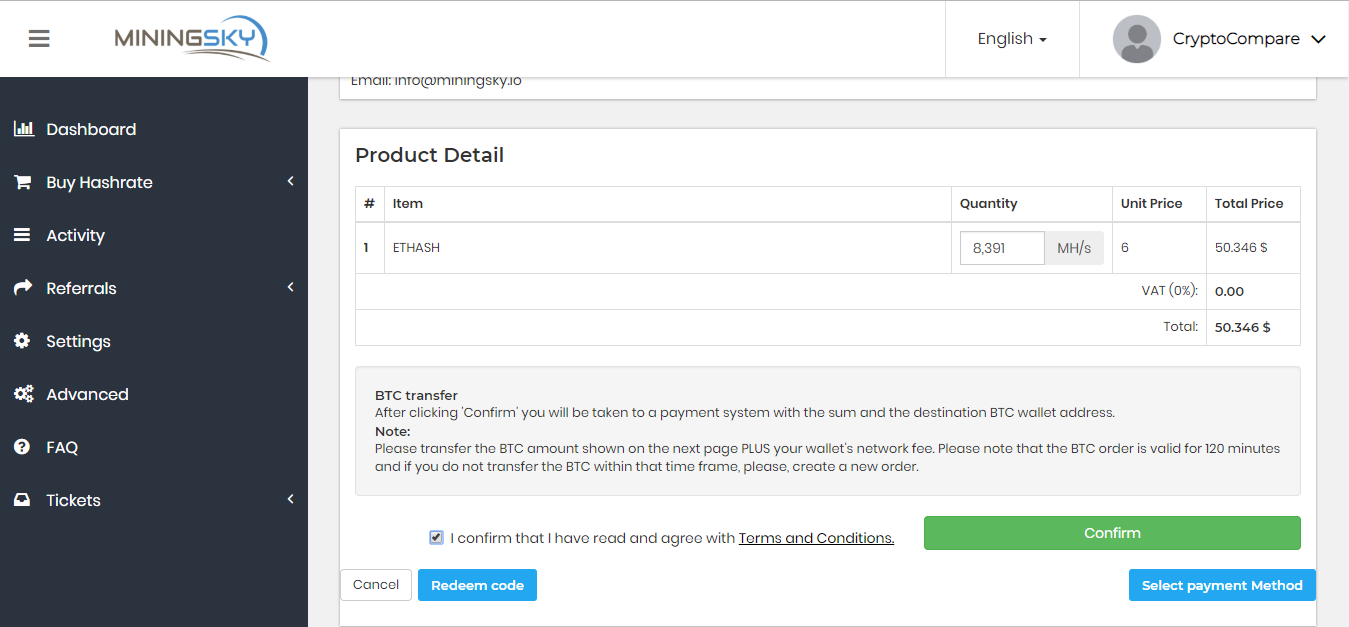 Step 9: You'll need to have an account on Coibase. Click "Deposit", redirecting you to another page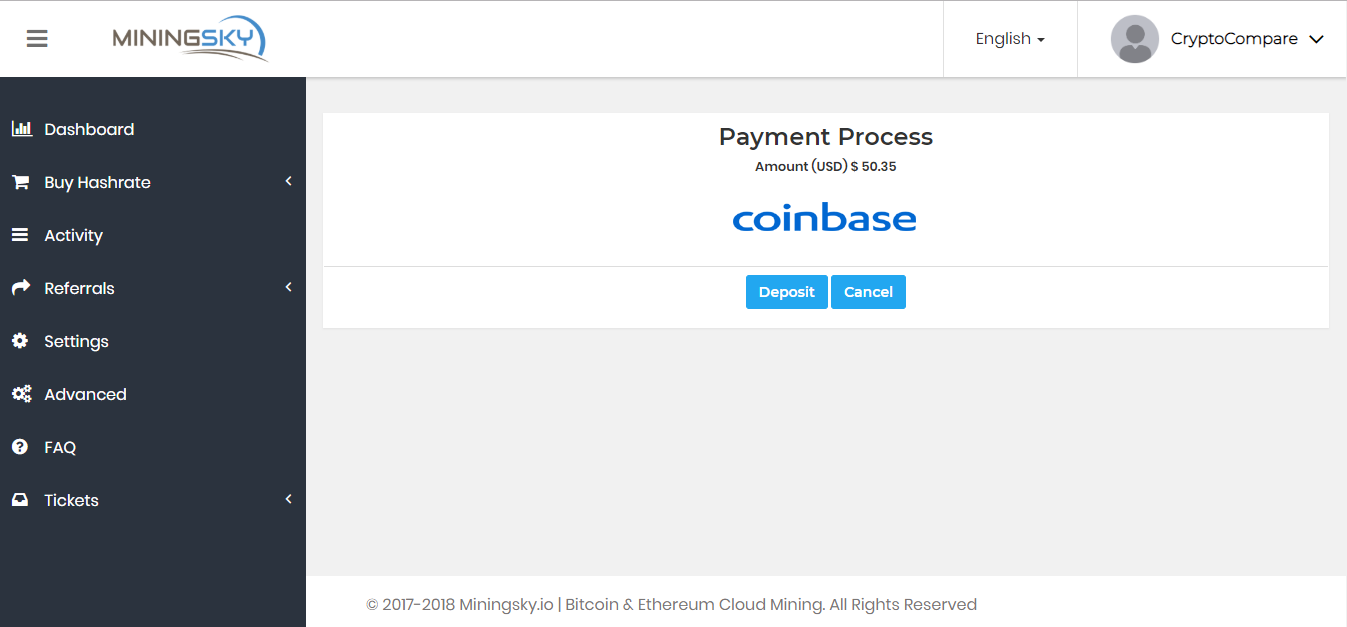 Step 10: Select the cryptocurrency you wish and proceed to make the transaction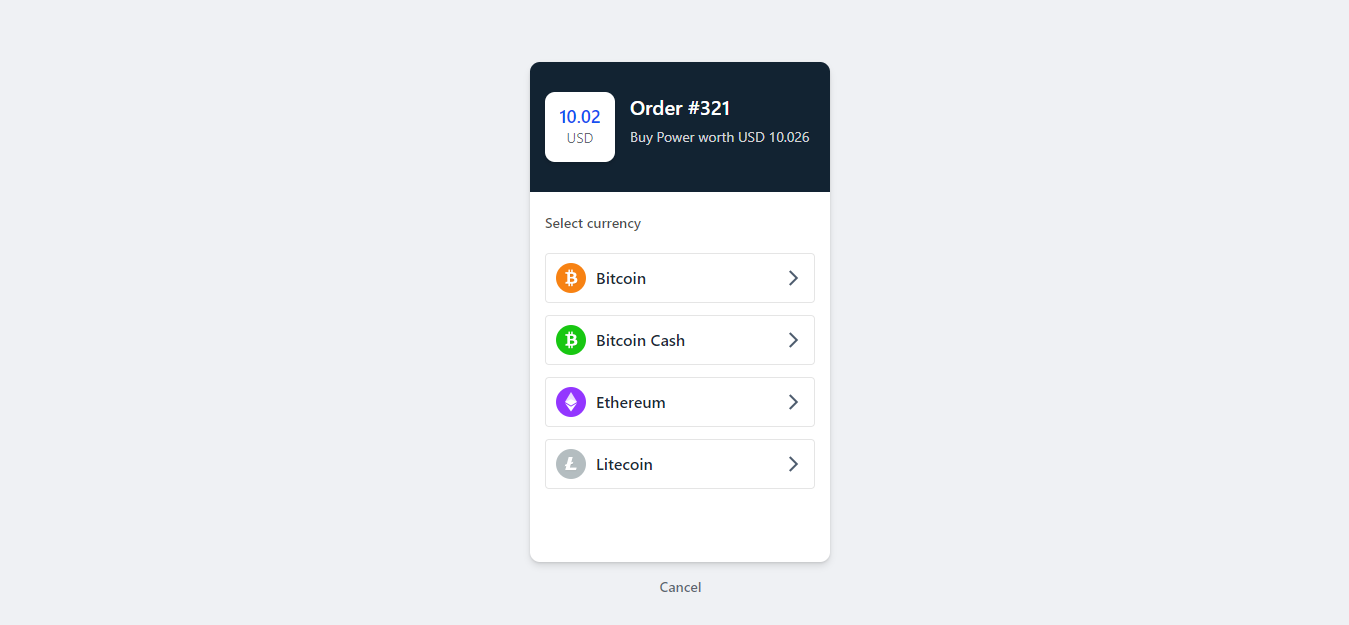 Step 11: Congratulations! Once the transaction is confirmed you will receive the hash power
Withdrawals are instant but have a 10$ minimum. If by any chance you are having problems with any of the step, please visit the MiningSky FAQ (https://miningsky.io/faq).