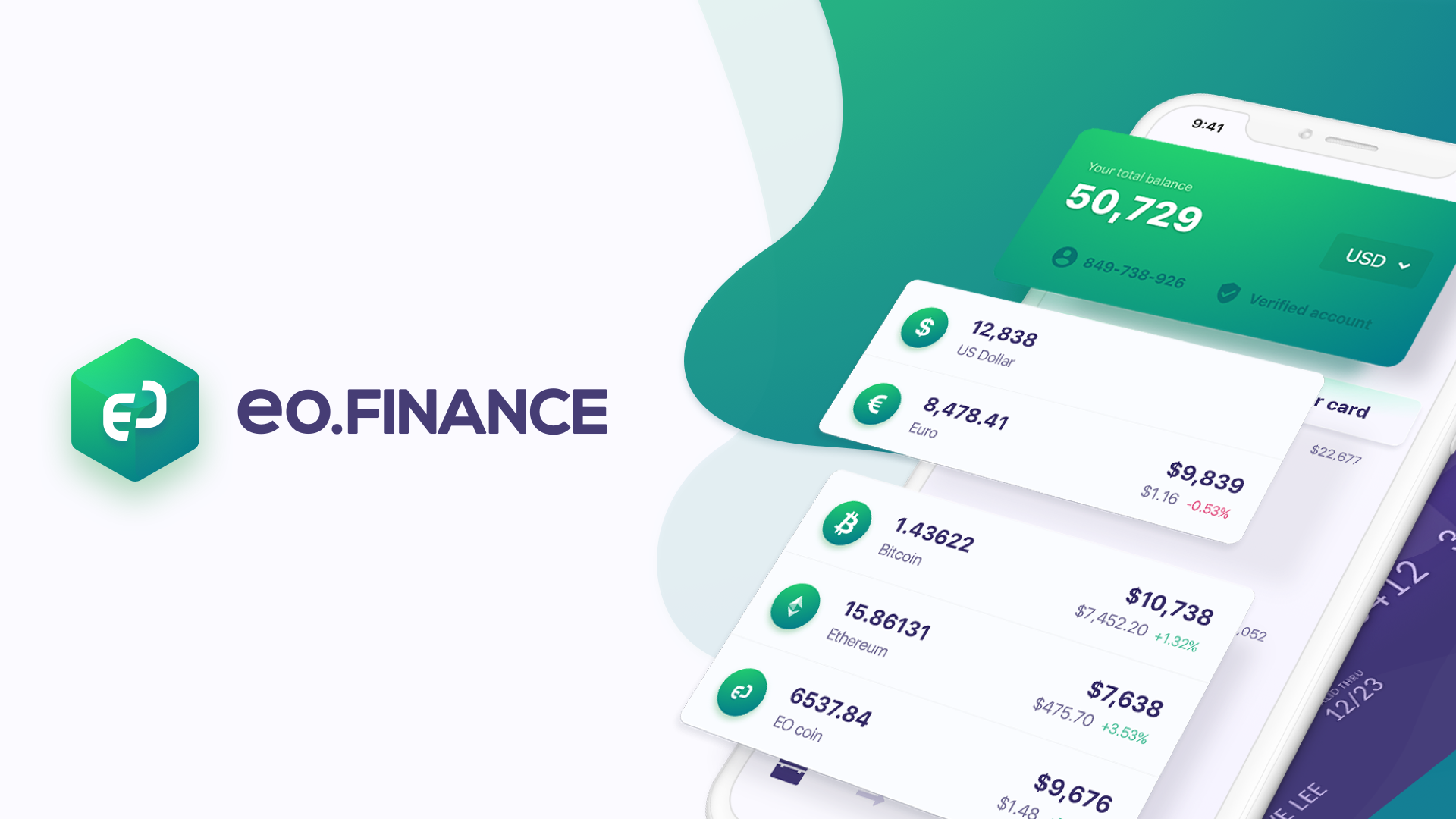 Whether you already own cryptocurrencies or are looking to buy them, keeping your crypto assets safe should be your top priority. The best way to do that is to keep your funds in a secure and trustworthy wallet. That is why Cryptocompare has decided to create a guide for EO.Finance.
Part 1 - What is EO.Finance?
EO.Finance is a licensed crypto and fiat wallet that supports more than 40 currencies and allows fast deposits and withdrawals through debit/credit card. EO.Finance was designed for all devices, including mobile (iOS and Android), desktop (PC and Mac), browser extensions (Firefox and Chrome), and a web version.
With so many features, EO.Finance is not just a mere wallet but rather an ecosystem of fintech services. The EO.Finance team is always looking to create value by constantly adding new products and services for its users. Their newest plan is to add a crypto debit card (EO Card), allowing customers to conveniently withdraw cash from ATMs around the world with low fees.
Another important addition to the ecosystem will be the EO referral program. Offering 30% of transaction fees for each referral, it is expected to be the highest paying crypto referral program of 2019. 
Putting customers first, EO.Finance has an excellent customer service that is available 24x7. The platform also includes its own cryptocurrency, the EO coin, which can be used to offer a 50% reduction on transfer fees.
With several partnerships and a great team, composed of more than 100 professionals in 6 different countries, EO.Finance has been a trustworthy company in the fintech space since 2014. On the guide below, we will show you how to use the EO.Finance platform to buy your bitcoin.
Part 2 - How to Buy Bitcoin
Step 1 - Access EO.Finance official website (

https://eo.finance/

). Click on the green button that reads "Register".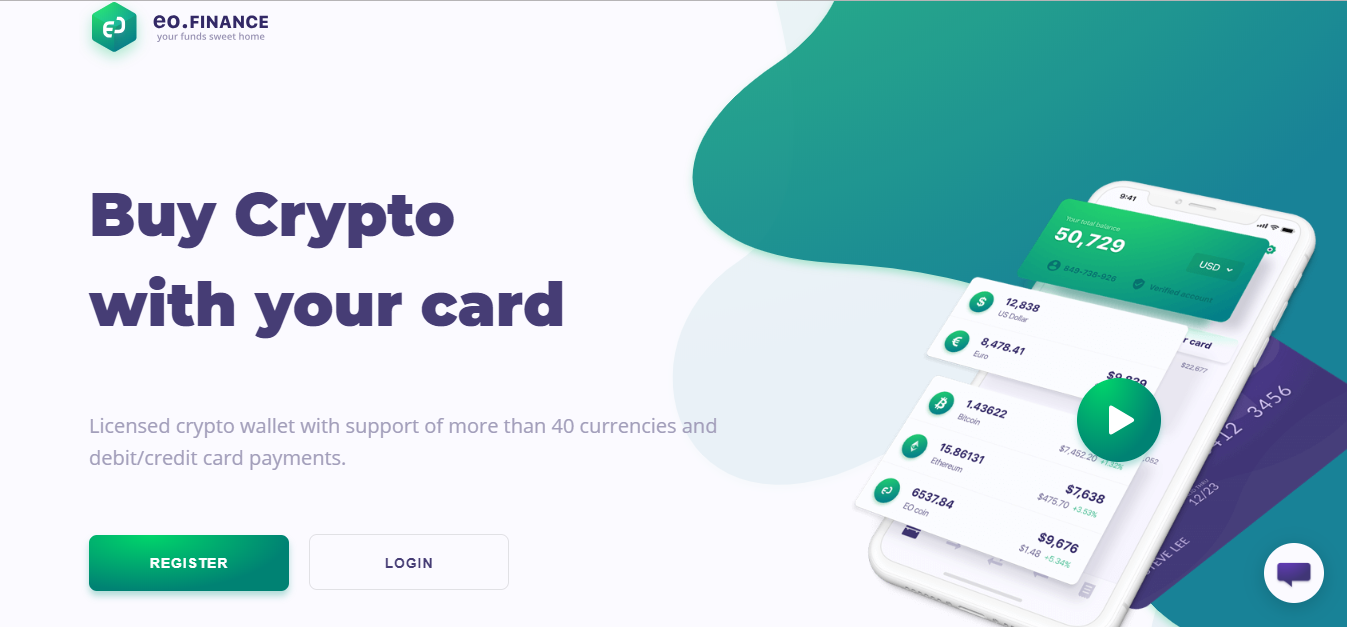 Step 2 - A pop-up window will appear. Fill in with your email address and password. Once done, check the terms and conditions box and click "Register".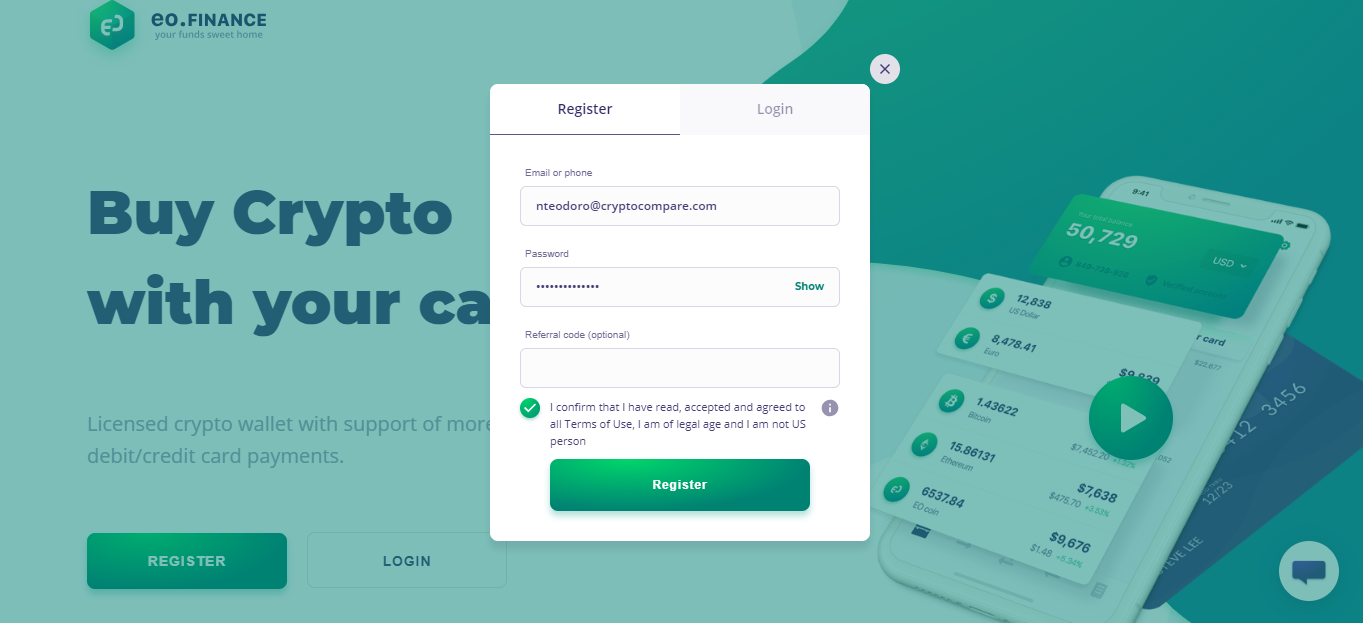 Step 3 - A new page will open. Fill in your phone number and click "Send SMS". Proceed to check your phone and enter the code given. Click "Verify Info" and a message saying "Phone was successfully confirmed" should appear next (you can choose to skip this step but it is not recommended for security reasons).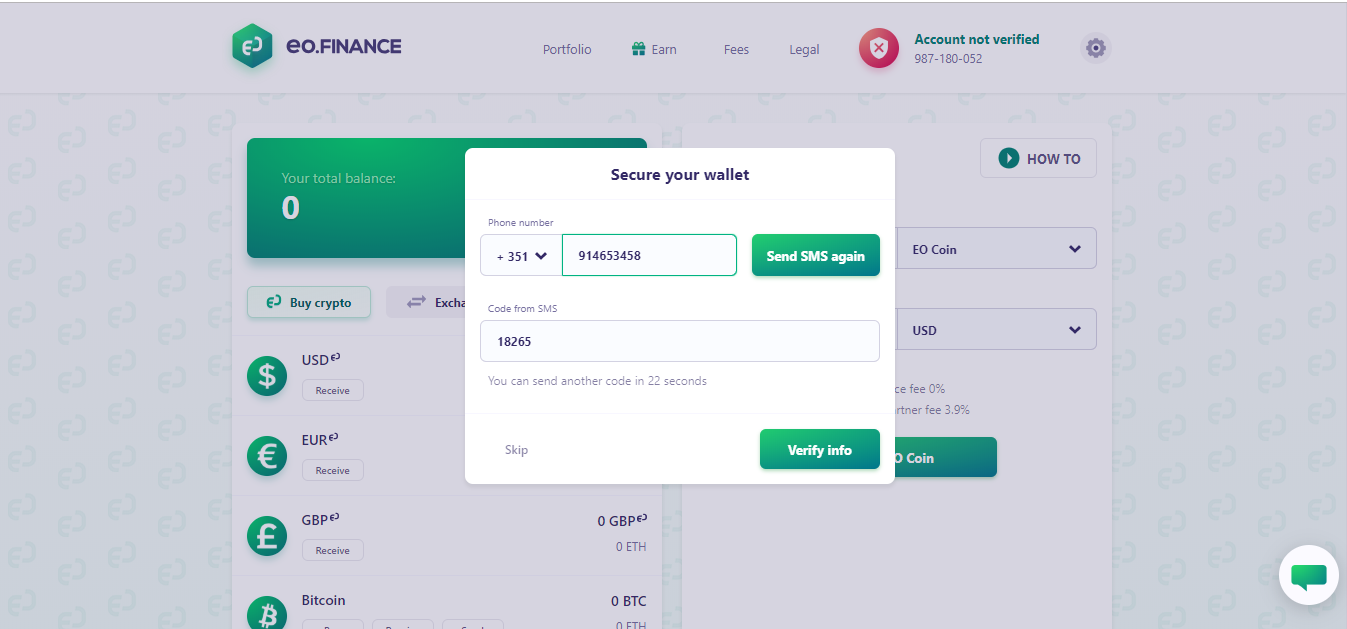 Step 4 - Now we need to verify our email address. Search for the confirmation email from EO.Finance on your inbox. Once open, click on the "Confirm" button. It will redirect you to EO.Finance website.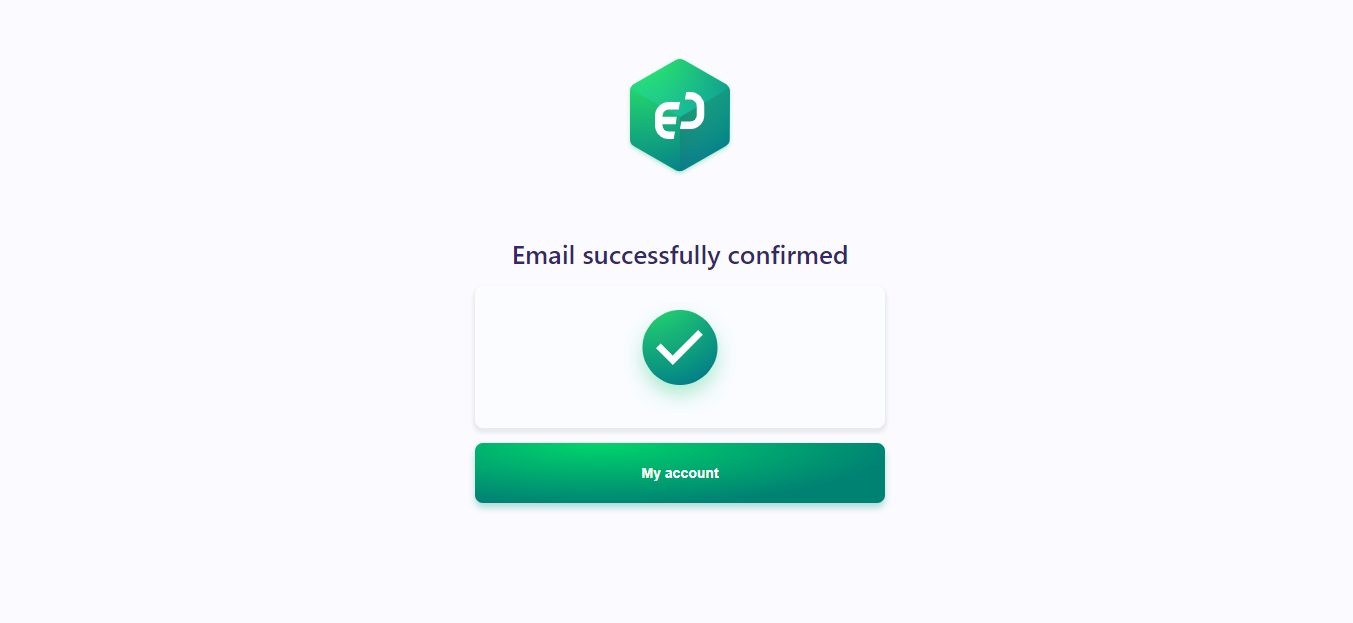 Step 5 - We will now select the "Portfolio" option on the top of the page. Click on "Buy crypto" button.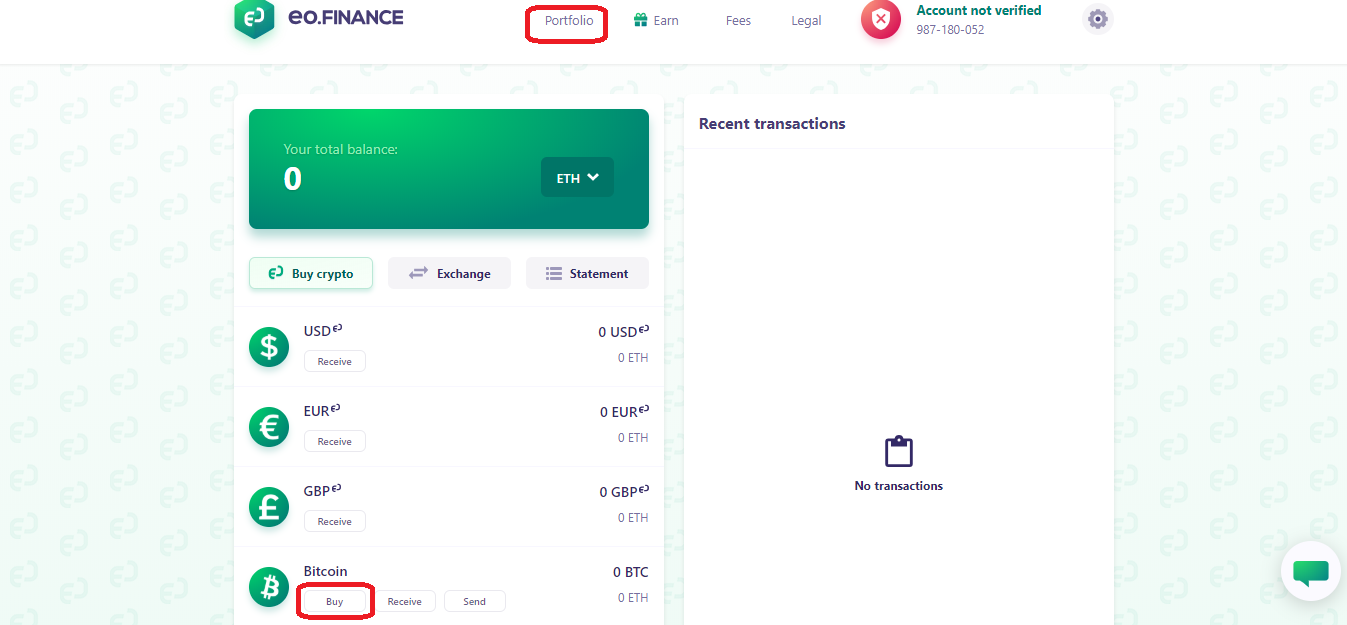 Step 6 - Select bitcoin on the left, or any other currency you wish, and then select the amount you wish to buy. When done, click on the green button "Buy Bitcoin".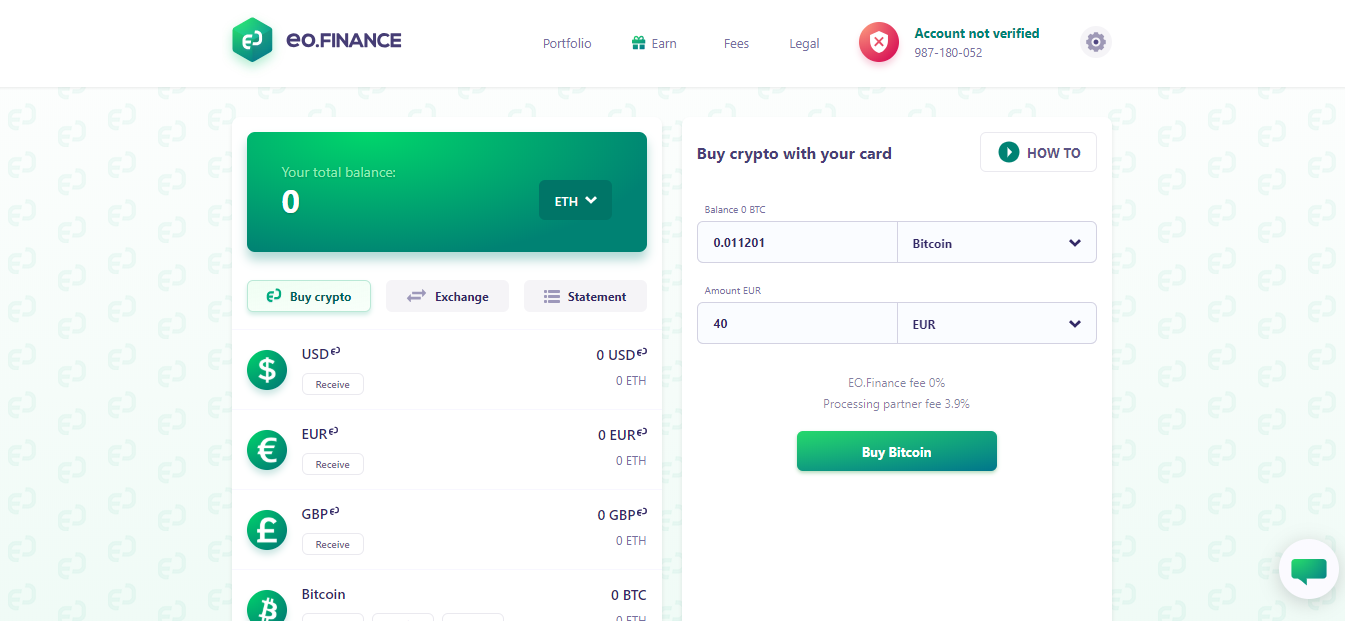 Step 7 - A pop-up window will appear. Fill in your credit/debit card information and click on "Pay". Once the transaction is processed, you will receive your bitcoins on your wallet.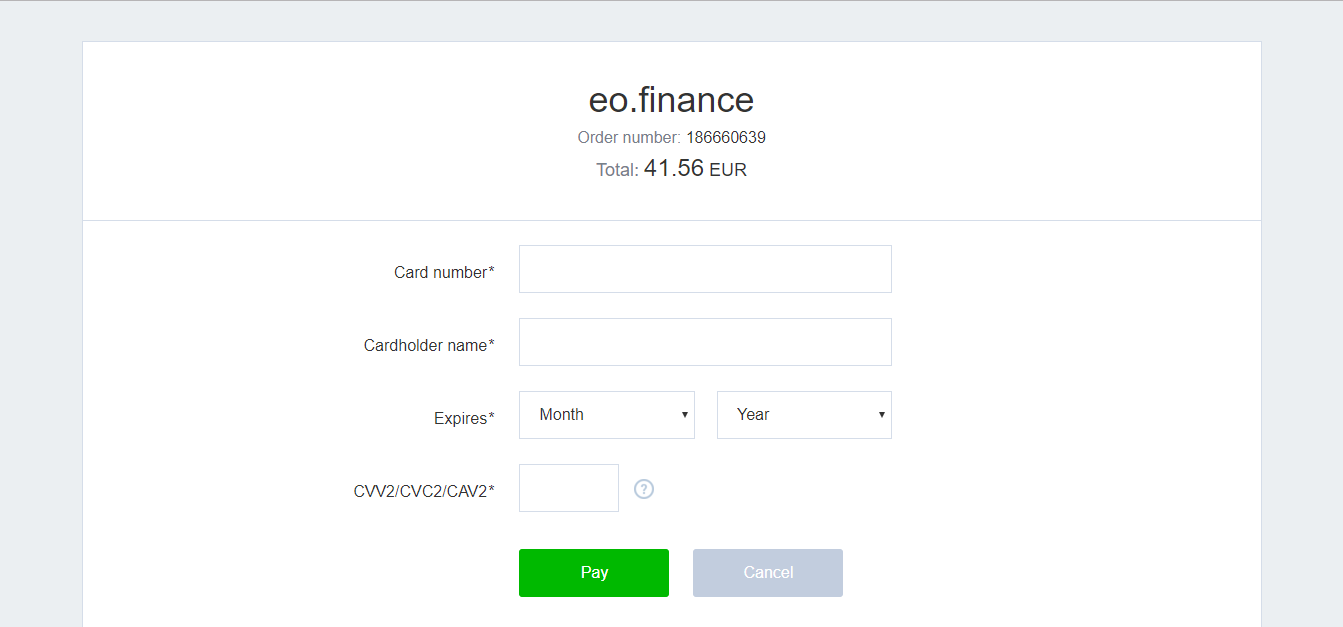 Part 3 - How to Exchange Currencies
Step 1 - Now we will show you how to exchange currencies. First click on "Exchange".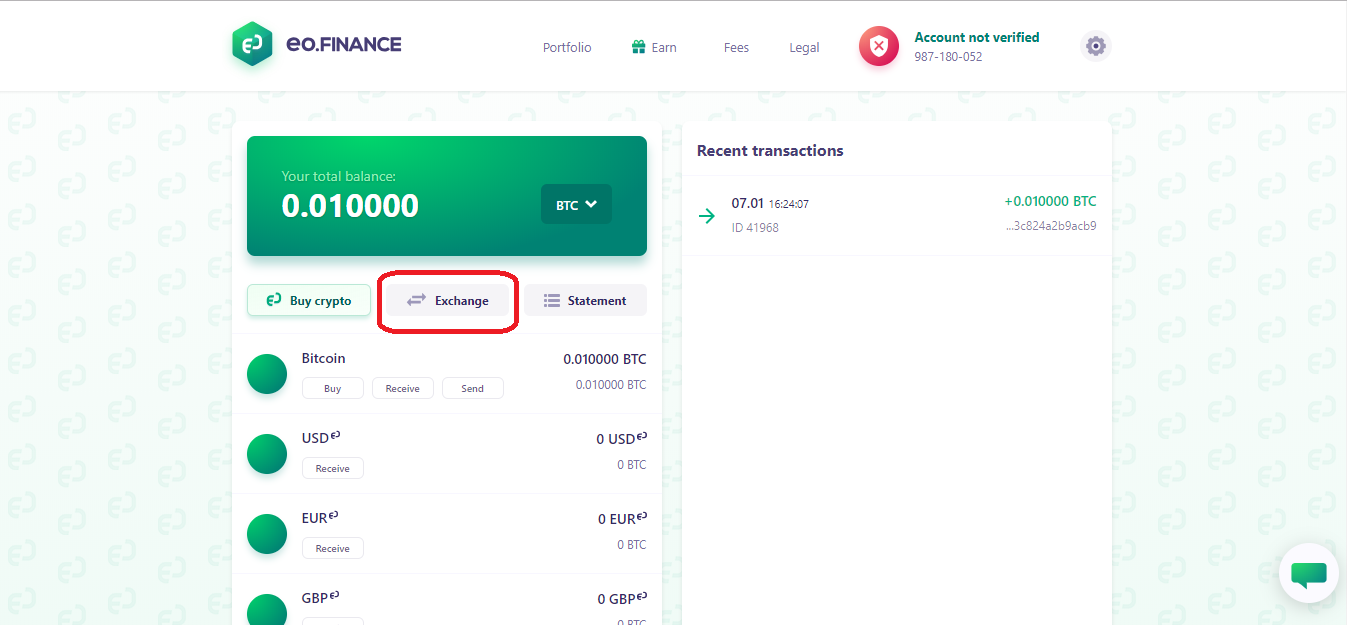 Step 2 - We will now exchange Bitcoin for EO coin, but you can choose to exchange any other currency you wish. Select the amount of Bitcoin you wish to exchange and click on the green "Exchange" button.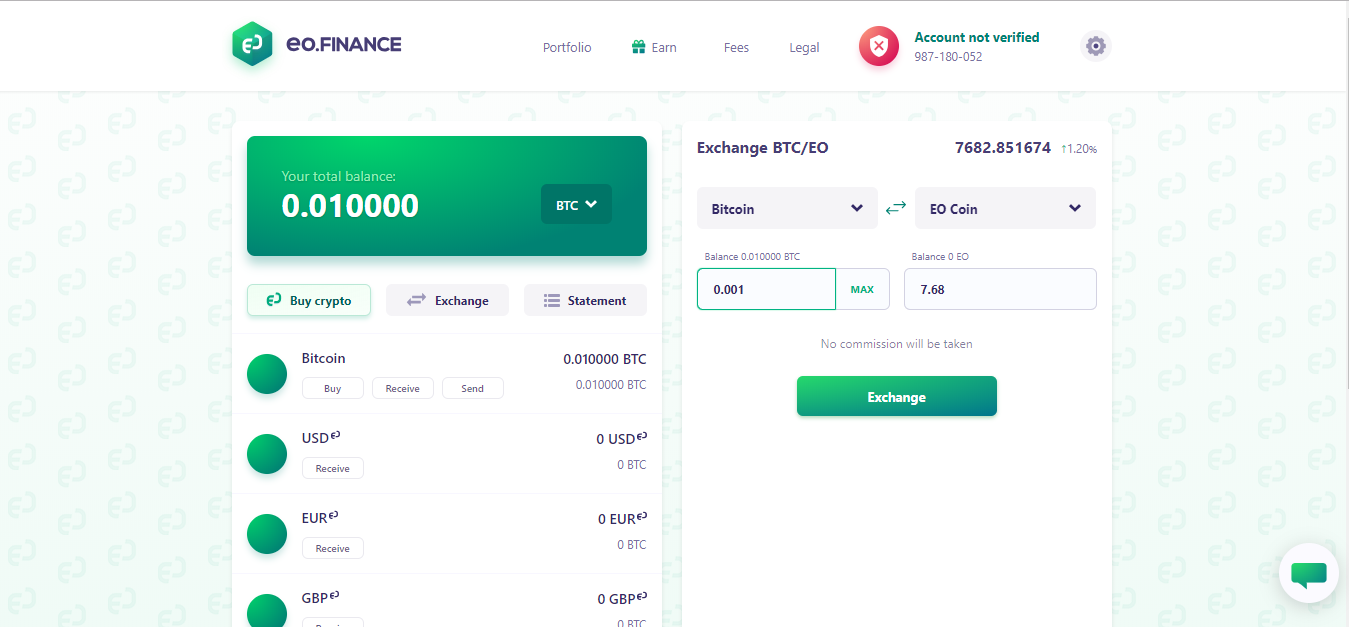 Step 3 - After some processing, a pop-up window will appear saying the exchange was successful. Congratulations, the exchange is now complete and the funds will be in their respective wallets.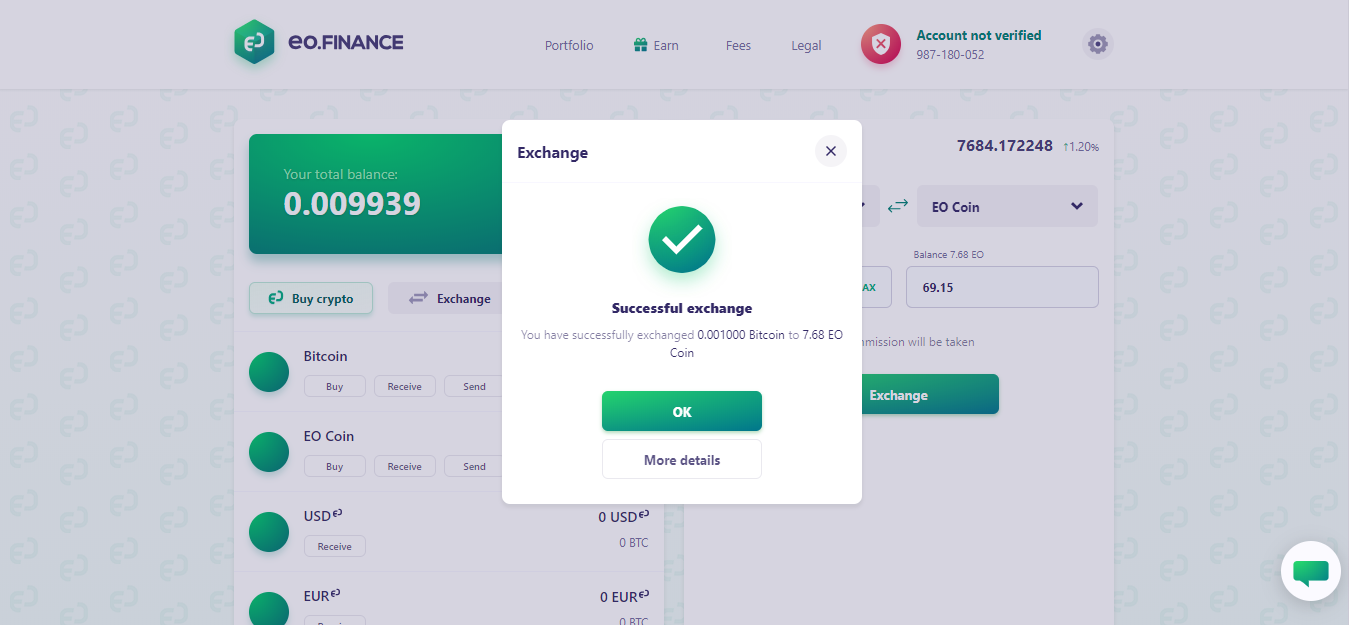 For further assistance, please check the video tutorial (https://www.youtube.com/watch?v=25oKGgAawn8)
This website is only provided for your general information and is not intended to be relied upon by you in making any investment decisions. You should always combine multiple sources of information and analysis before making an investment and seek independent expert financial advice.
Where we list or describe different products and services, we try to give you the information you need to help you compare them and choose the right product or service for you. We may also have tips and more information to help you compare providers.
Some providers pay us for advertisements or promotions on our website or in emails we may send you. Any commercial agreement we have in place with a provider does not affect how we describe them or their products and services. Sponsored companies are clearly labelled.