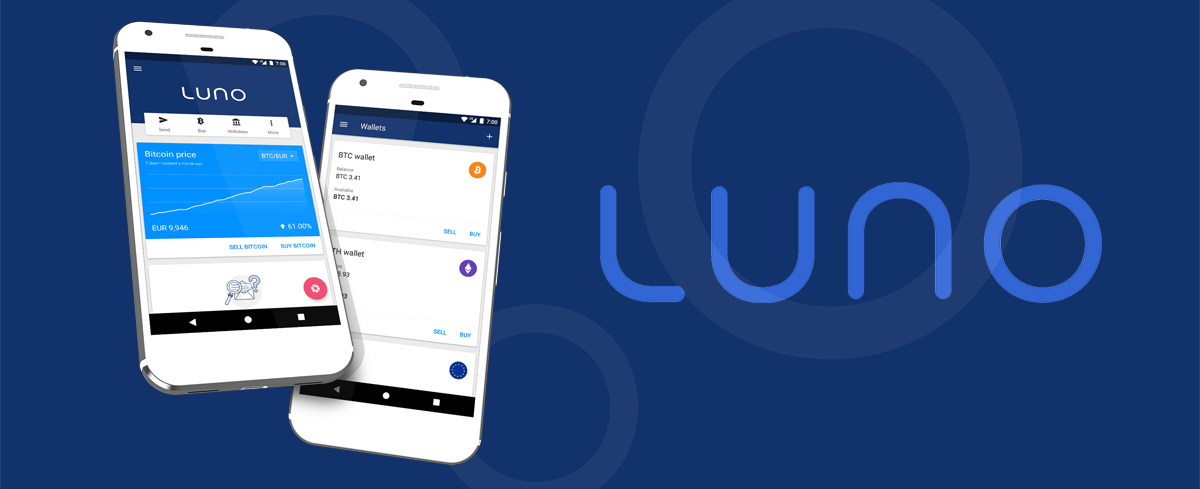 It's never too late to get started with crypto. Especially if you decide to use Luno, a well-established wallet that's been around since 2013. With headquarters in the United Kingdom, Luno is a secure exchange and wallet that allows users to buy, store and learn about Bitcoin and Ethereum.
With offices around the world, Luno provides services to more than 40 countries and operates in a number of emerging markets,  such as Nigeria, Indonesia, and Malaysia. The platform is intuitive to use and features an excellent and solid design. Mobile app versions of Luno are also available for iOS and Android.
Though the Luno Learning Portal, you can also learn more about blockchain and cryptocurrencies. Available in several languages, the articles featured are always well-written and researched, providing an excellent source of crypto knowledge. The same can be said about the articles featured in the Luno blog.
In the guide below, we'll show you how to buy Bitcoin using the Luno Wallet.
Part 1: How to Buy Bitcoin
Step 1: Access the Luno homepage (https://www.luno.com/). Click on the pink "Get Started" button.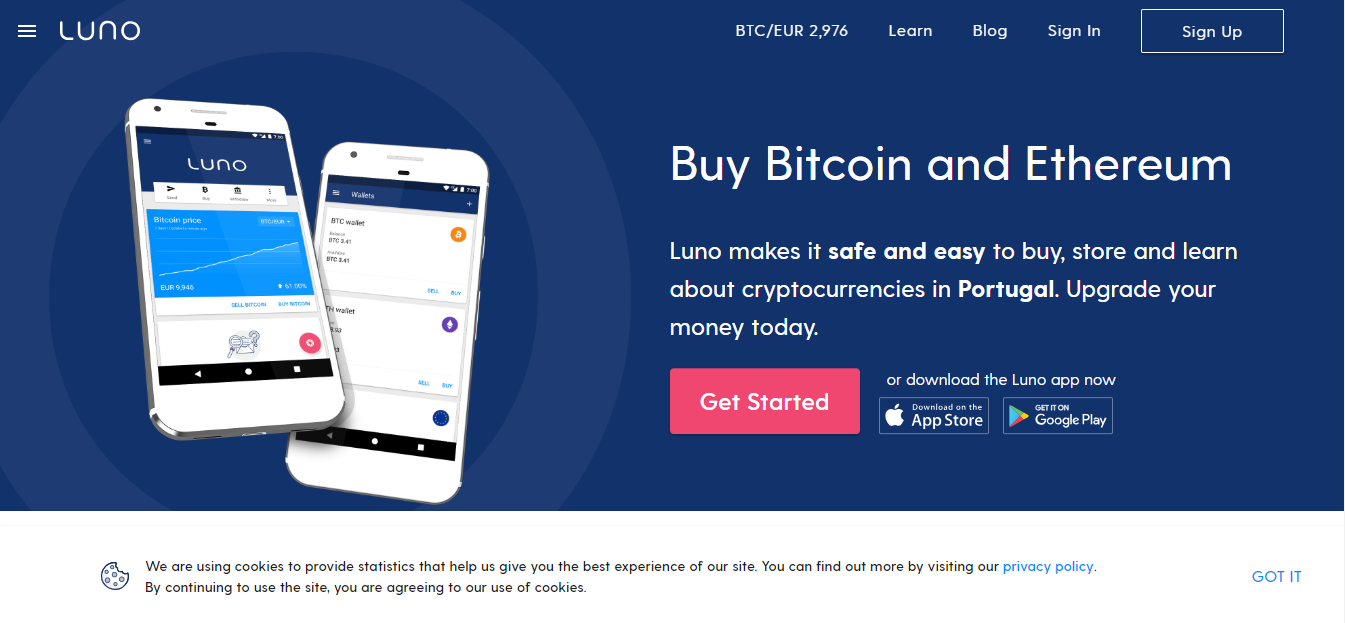 Step 2: On the sign up page, fill in your email address and password. Also, make sure to select your country,check the Terms of Use and "I'm not a robot" captcha. When done, click on the "Sign Up" button.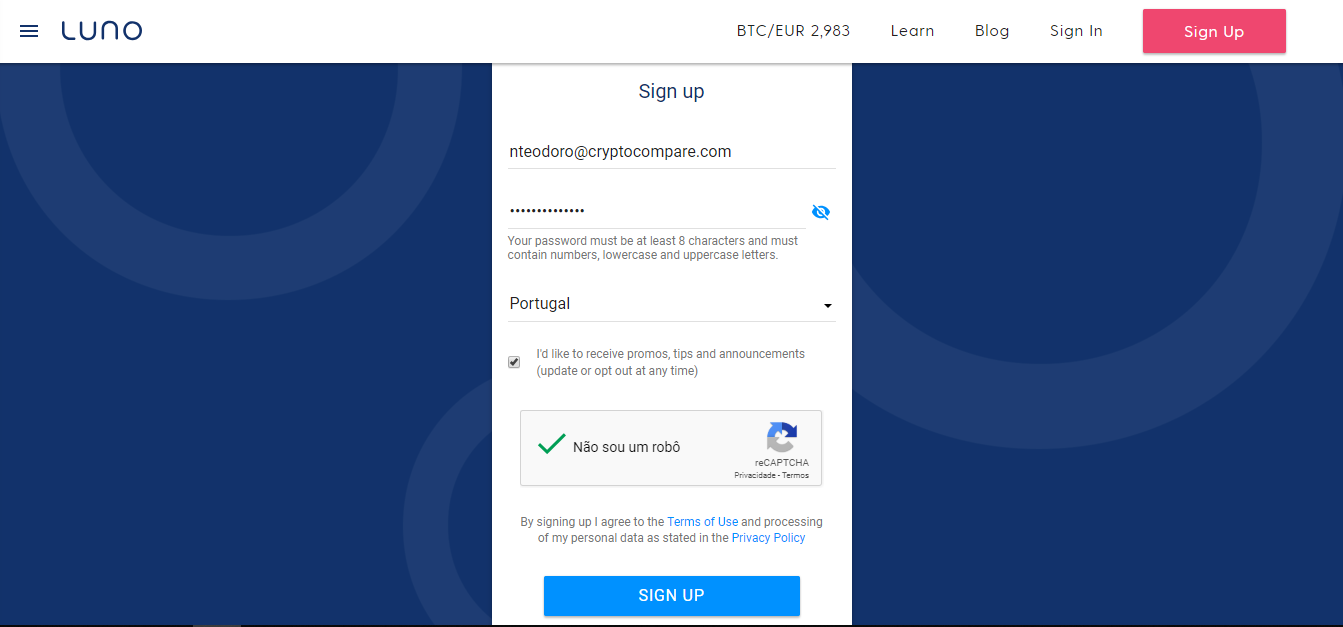 Step 3: Access your email and open the confirmation email from Luno. Click on the blue button that reads "Confirm Email Address". It'll redirect you to the page shown below. Simply press "Continue".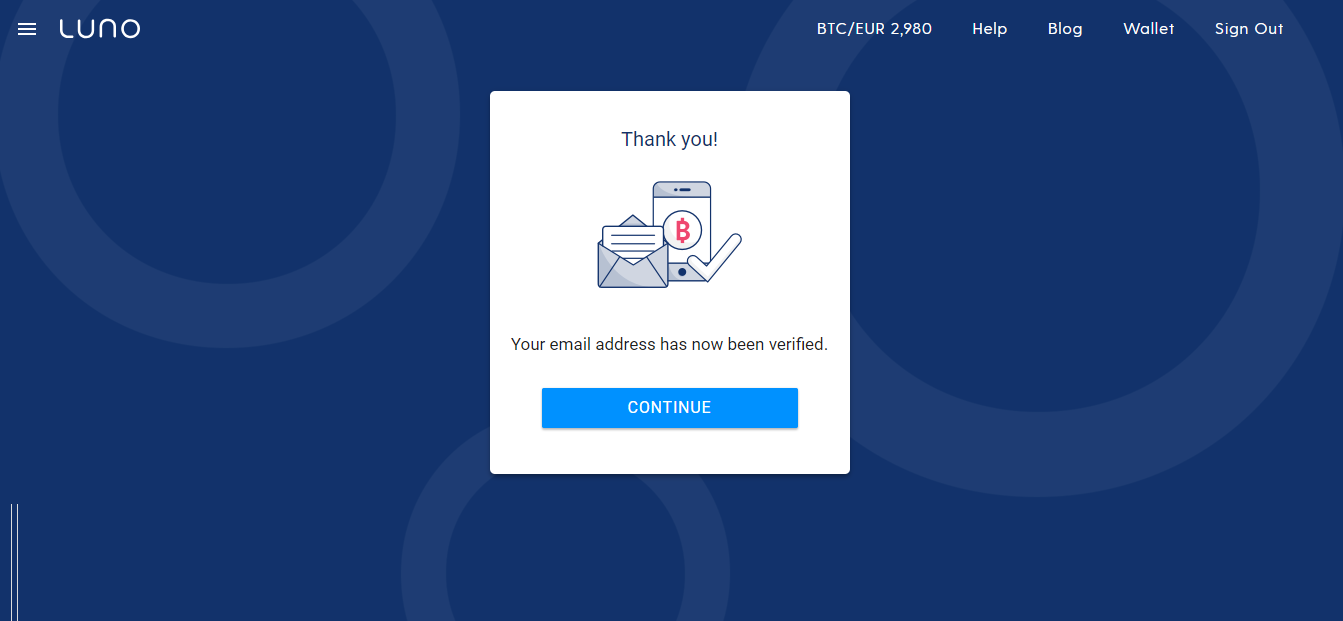 Step 4: You'll be redirected to the log in page. Fill in your email address and click "Next". On the next page fill in your password and click "Next". For the final sign up step, you'll have to access your email again to retrieve the sign in confirmation code. Once you've entered your unique confirmation code, press "Next" to log in.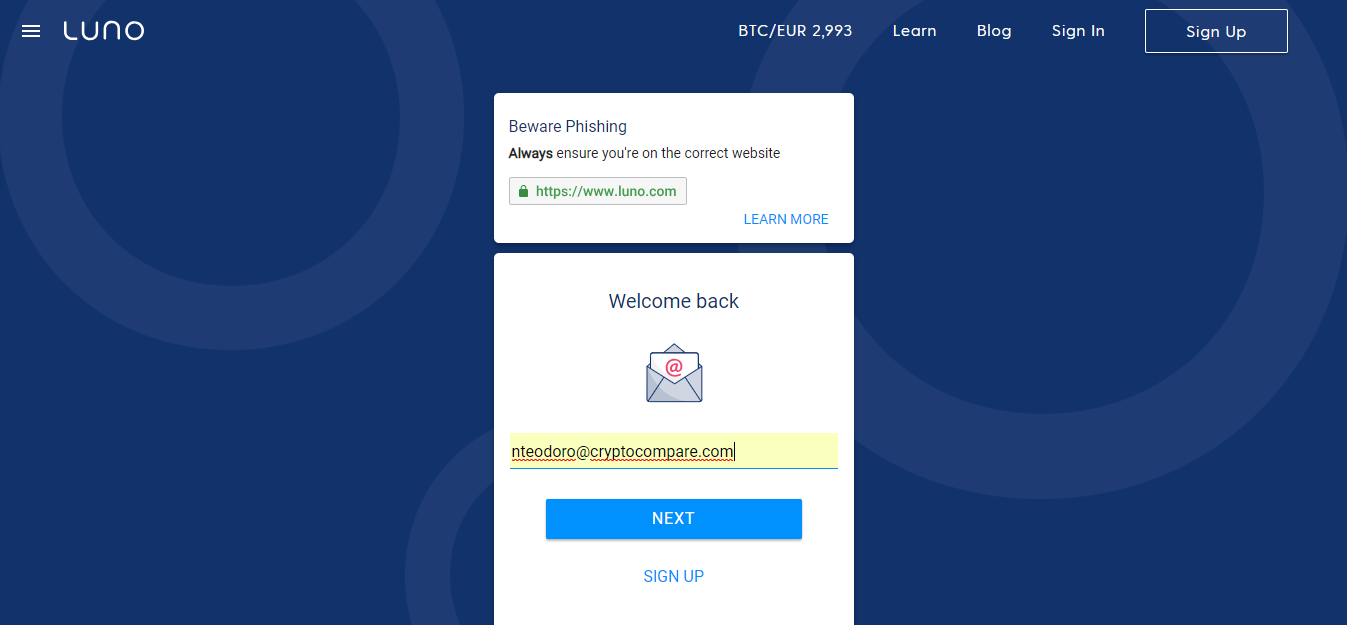 Step 5: Once you've successfully logged in, click on the BTC price highlighted in red (e.g. "BTC/EUR 3,000")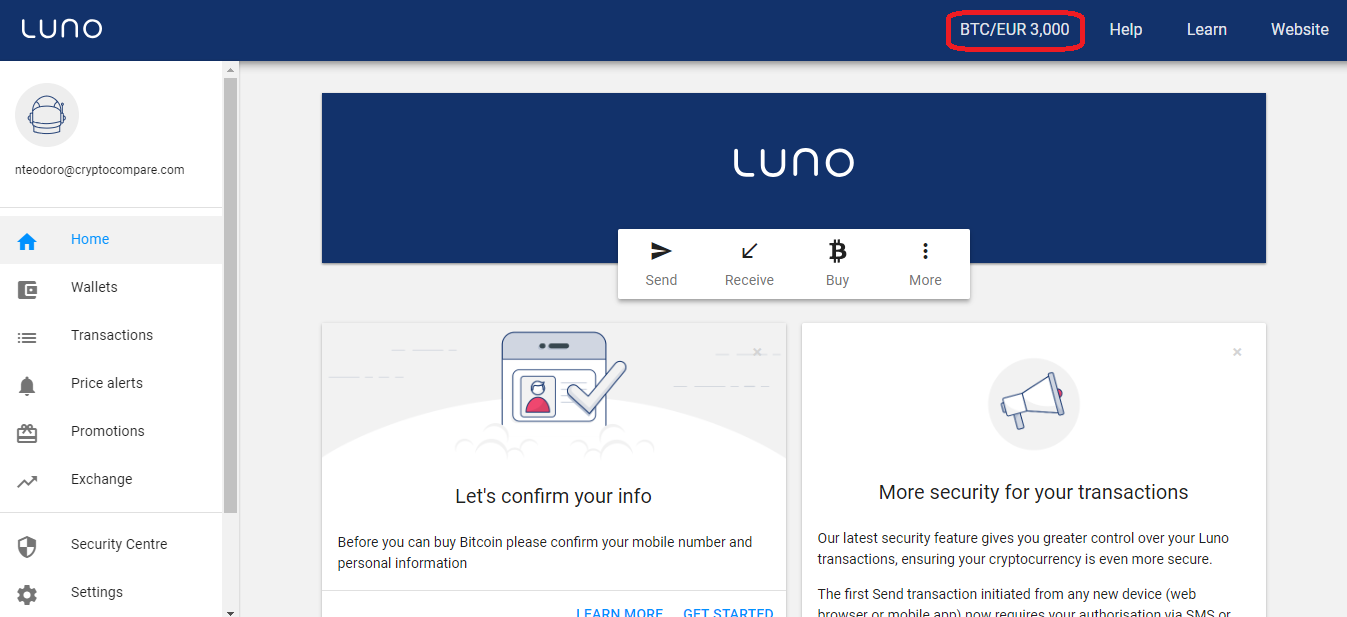 Step 6: Before you're are able to buy Bitcoin, you'll have to confirm your identity. By clicking on "Verify Identity", a new page will open explaining why Luno needs some personal information in order to continue with a purchase. Read the information and proceed to click on "Next".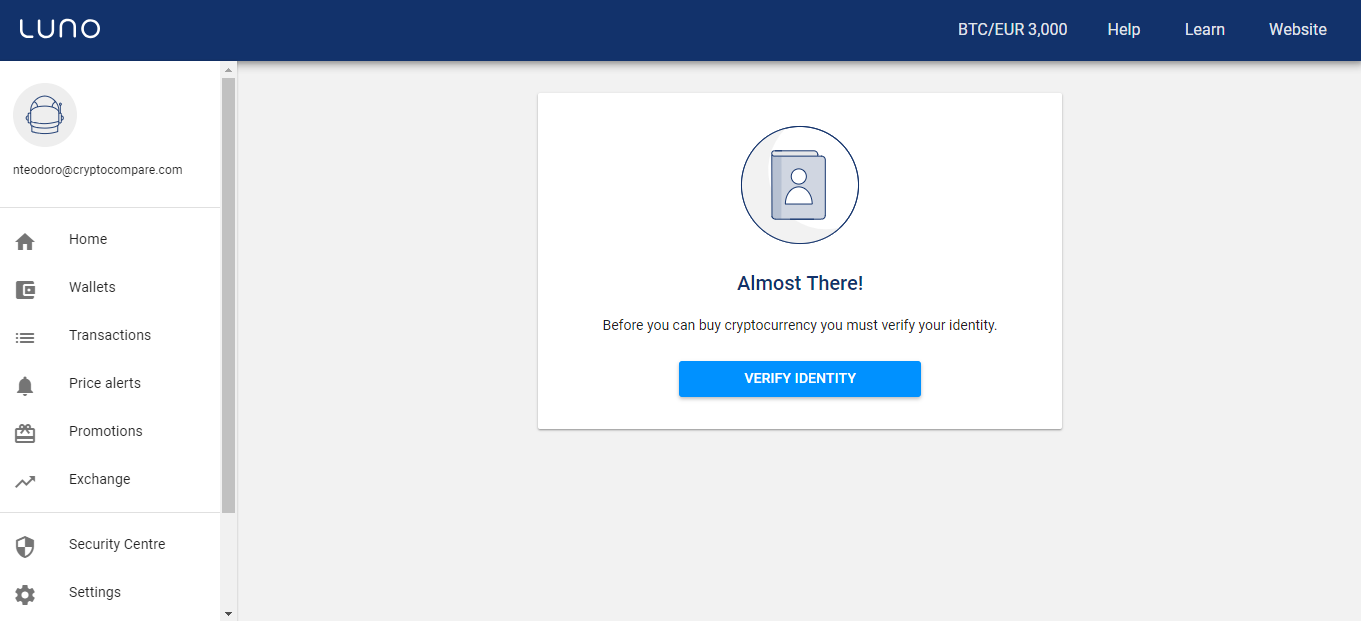 Step 7: You'll now have to submit your mobile number. When done click "Next". A confirmation code will be sent to your mobile phone via SMS. Enter the unique code and click "Next". You'll receive a success message. Click "Next Step" to proceed.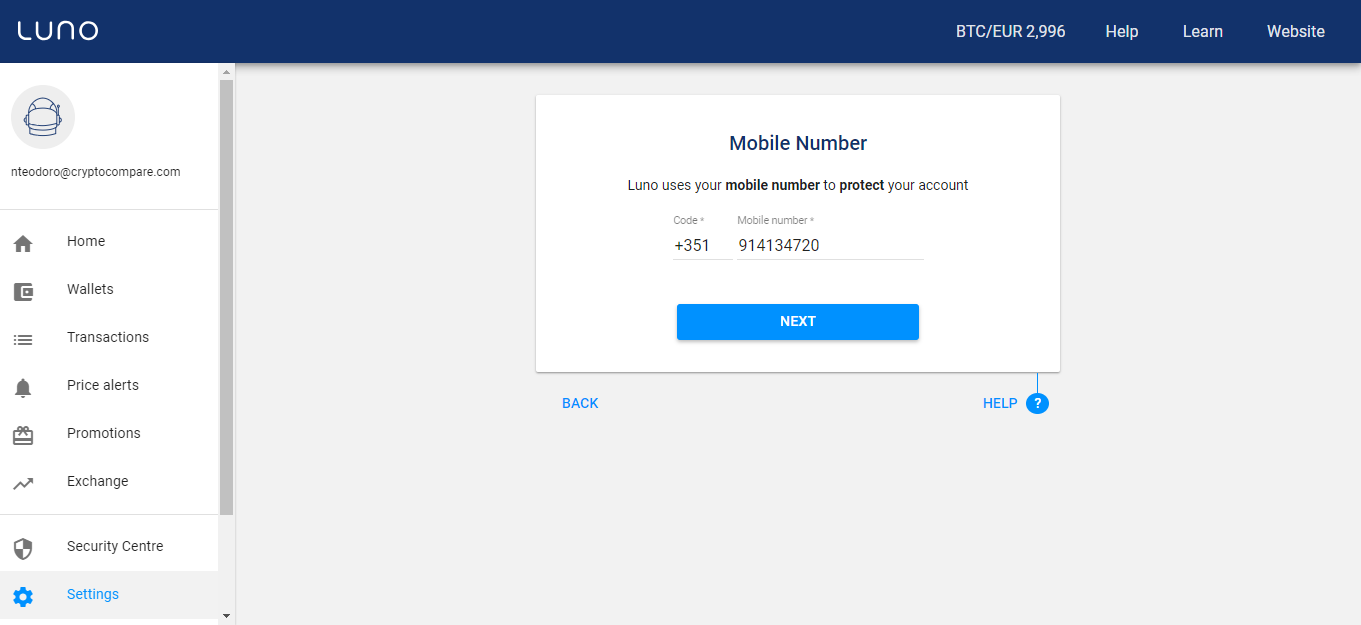 Step 8: Fill in your personal details, including your name, date of birth, citizenship, and ID number. When complete, click "Next". A pop-up window will appear, click on the "All my details are correct" box and then on "Confirm". If everything was done correctly, another success message will appear.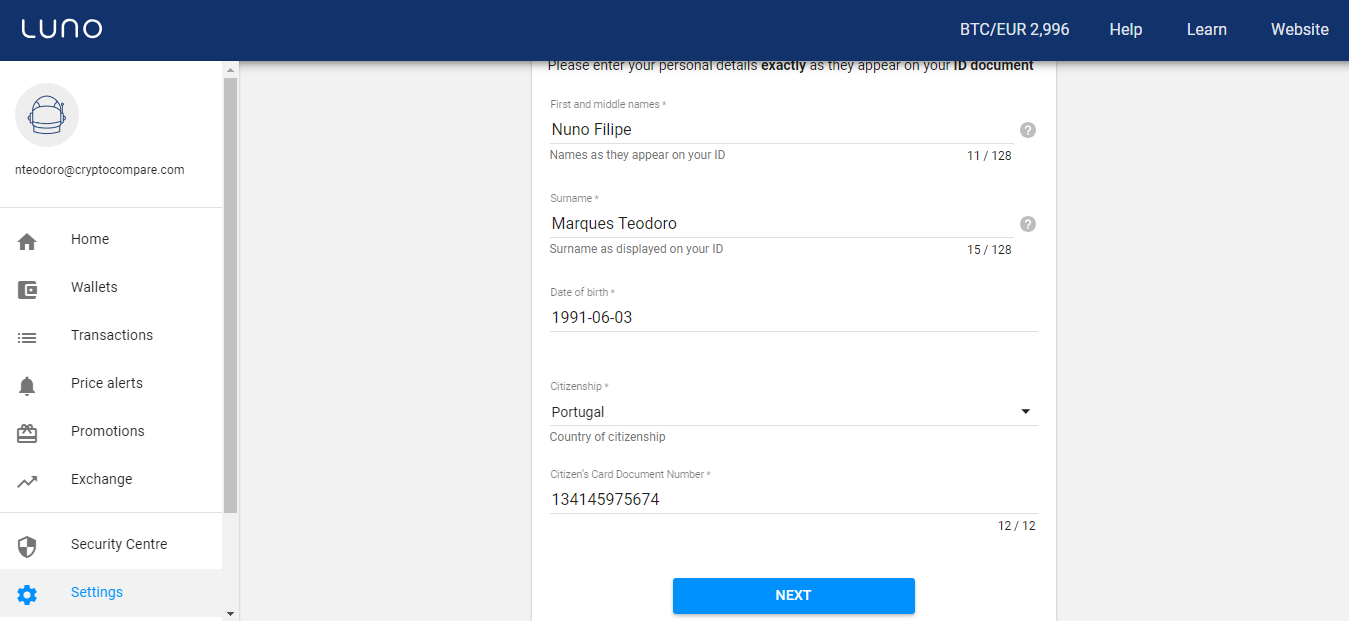 Step 9: Now that you've verified your identity you can finally purchase Bitcoin. Click again on the BTC price on the top right corner "BTC/EUR 2,991". Select "Deposit Money" and then choose the deposit method and the amount you wish to deposit.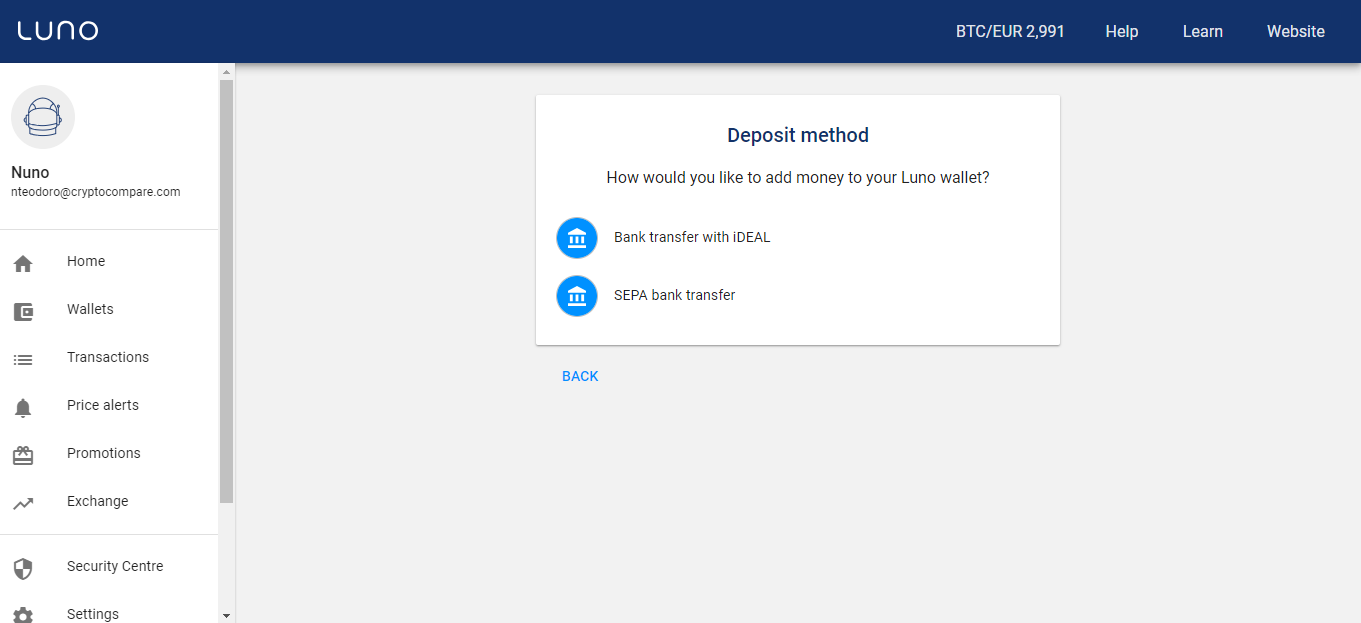 Step 10: For this example, we've chosen a SEPA bank transfer. In order to make the transaction, you'll need to either use home banking or visit your nearest branch. Once the transaction is complete, the Bitcoin will be credited to your Luno wallet.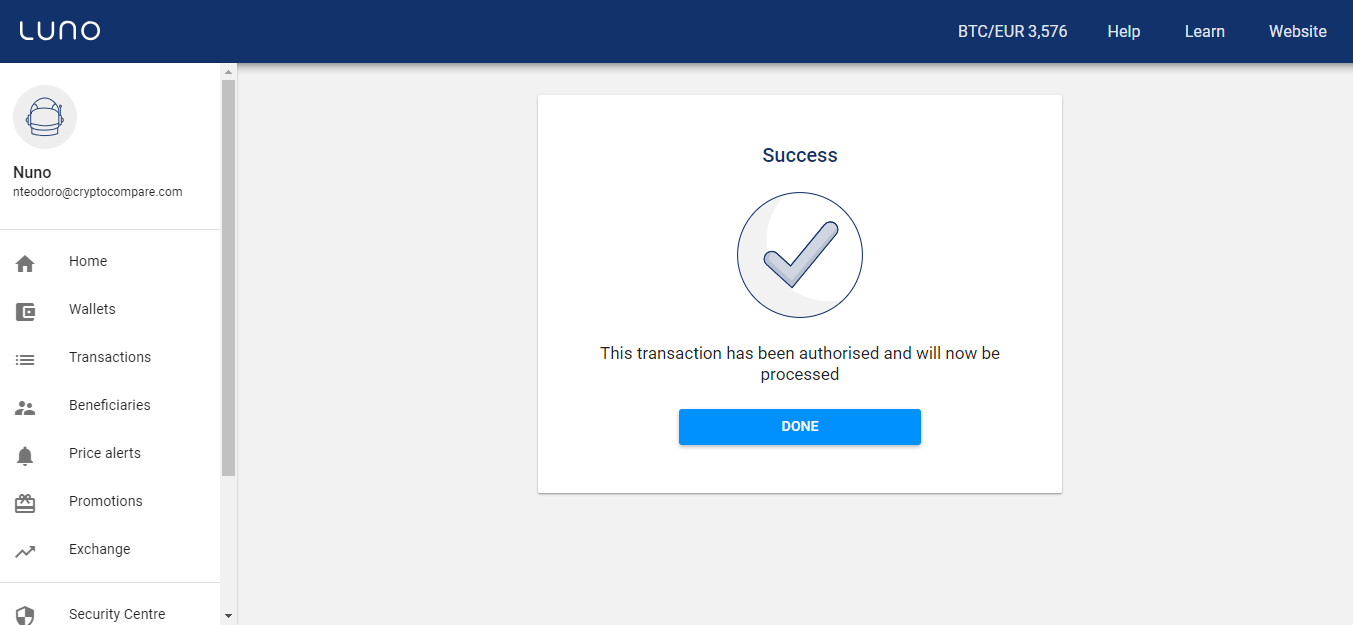 Step 11 - Now that we have money in our wallet, we can use it to buy Bitcoin. Click on "Wallets", and under "BTC Wallet", click "Buy".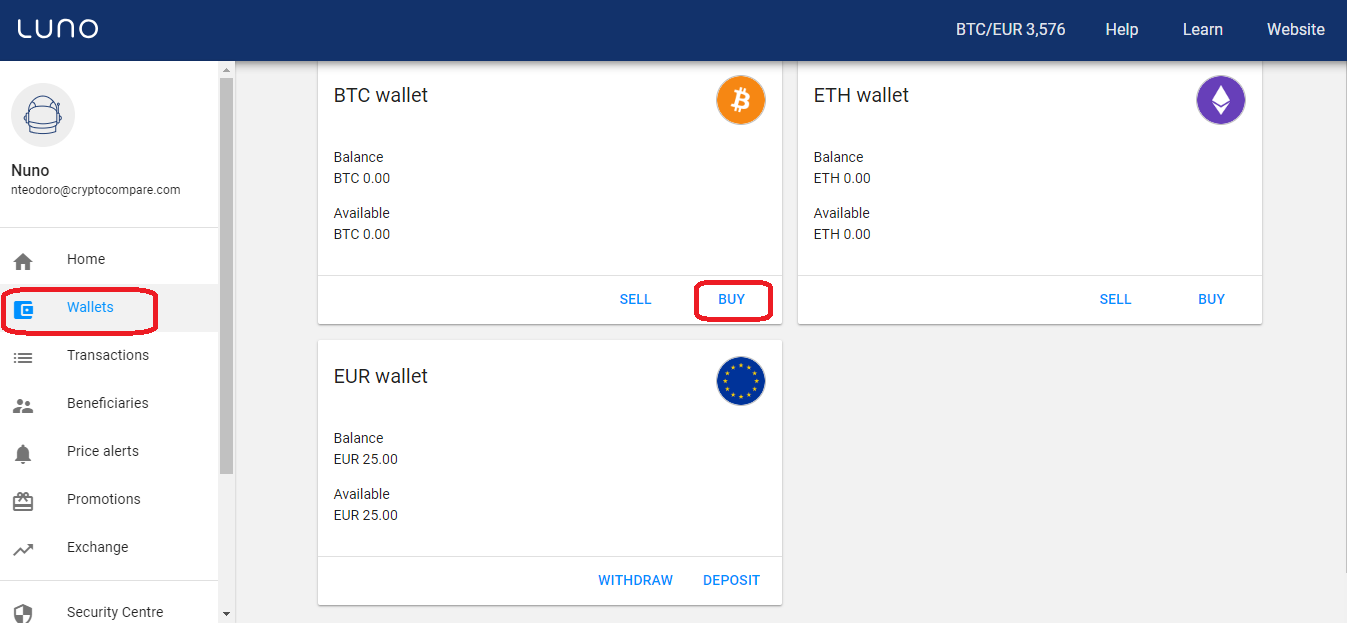 Step 12 - Choose the currency you wish to purchase Bitcoin with. For this example, we'll choose Euro.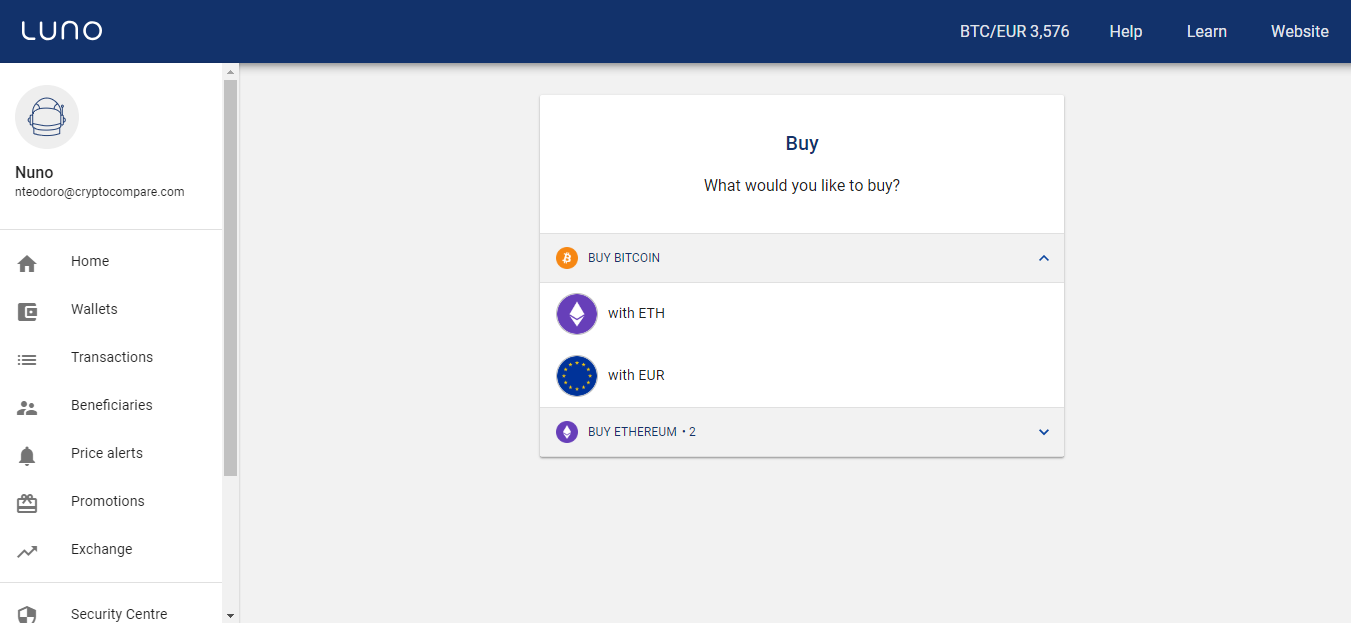 Step 13: Select the amount you wish to buy and click "Next".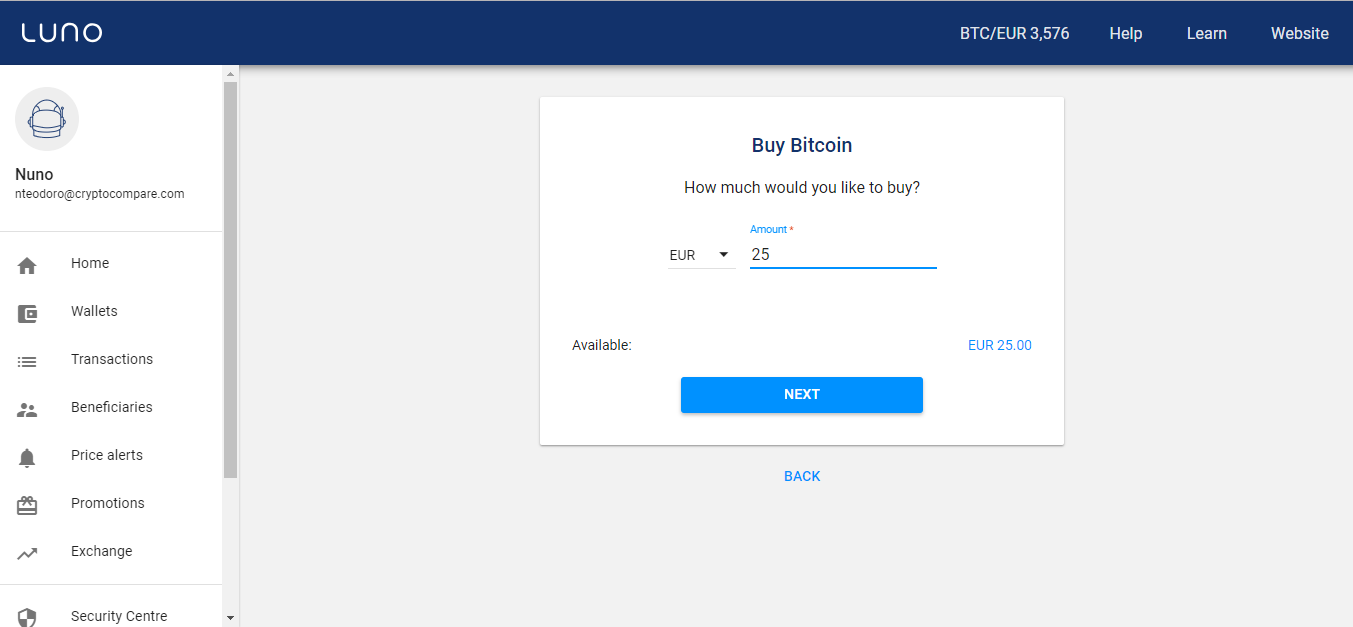 Step 14: Click "Confirm". Congratulations, you will now have Bitcoin waiting for you on your Luno wallet.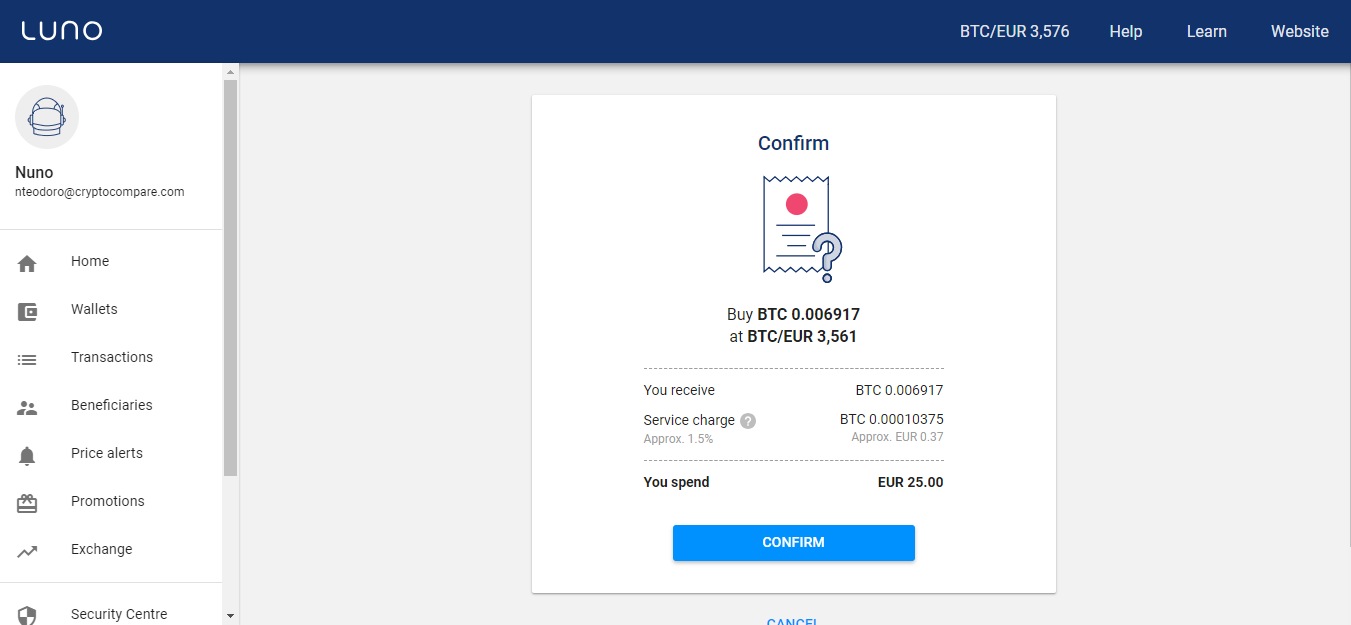 This website is only provided for your general information and is not intended to be relied upon by you in making any investment decisions. You should always combine multiple sources of information and analysis before making an investment and seek independent expert financial advice.
Where we list or describe different products and services, we try to give you the information you need to help you compare them and choose the right product or service for you. We may also have tips and more information to help you compare providers.
Some providers pay us for advertisements or promotions on our website or in emails we may send you. Any commercial agreement we have in place with a provider does not affect how we describe them or their products and services. Sponsored companies are clearly labelled.