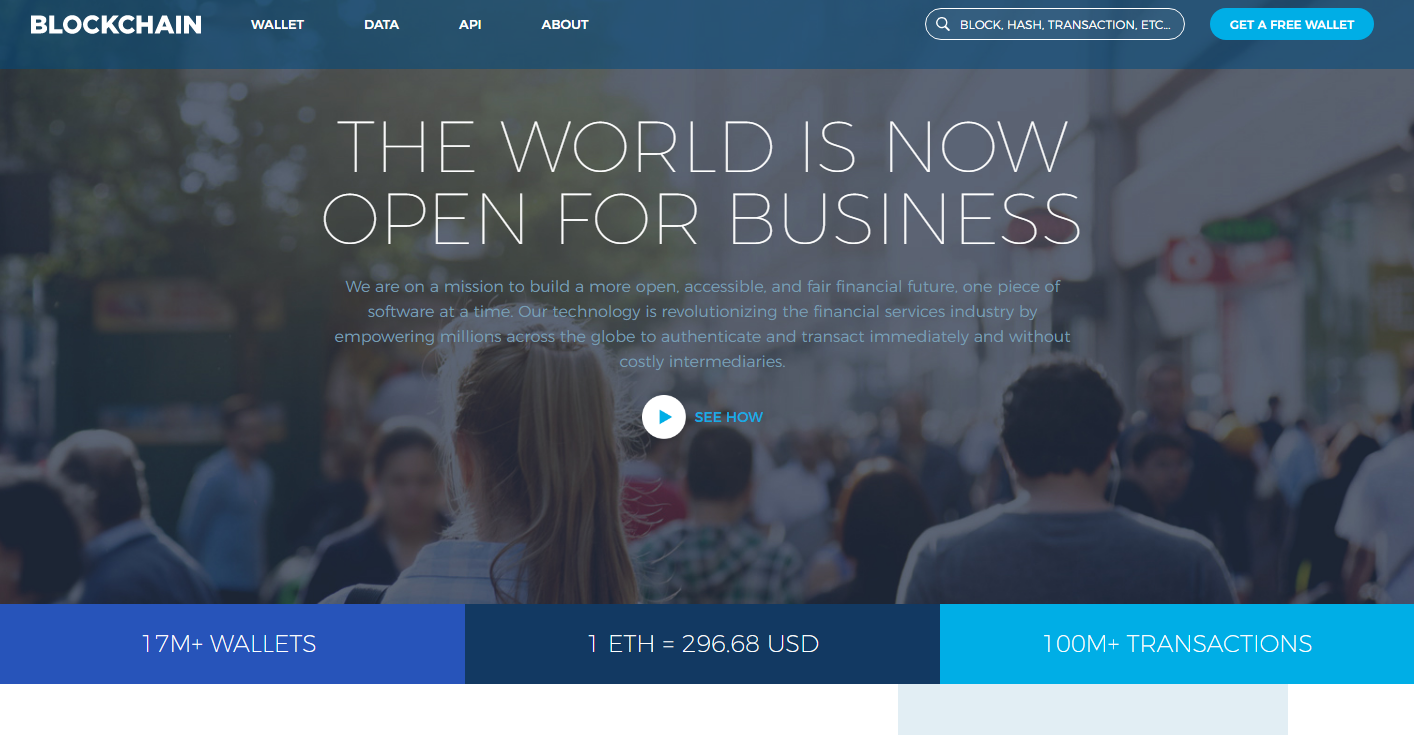 When dealing with Bitcoin, you need to choose the best Bitcoin wallet in order to keep your coins safe. Depending on what you are looking to do with your coins, you should select the most appropriate Wallet. If you are looking to hold your coins for a long time, Blockchain.info is probably not the best option as it is an online-based wallet and even though you are the only one holding the secret keys, it is not the most suited option for those wanting to store Bitcoin for a long-term hold.
In this Walkthrough, we are going to introduce the Blockchain.info web-based wallet, give you a walkthrough its options and explain what the best possible uses for this web-based wallet are.
What is Blockchain.info?
Blockchain.info is the world's leading software platform for digital assets offering the largest production blockchain platform in the world. Apart from a web-based Bitcoin and Ethereum wallet it also offers tools for developers and real-time transaction data for users to analyze the burgeoning digital economy. The company's software has powered over 100M transactions and empowered users in 140 countries across the globe to transact quickly and without costly intermediaries.
How to create a Blockchain.info wallet
Creating a wallet using Blockchain.info is extremely easy. Bellow, you will find a series of steps that will help you create an online Blockchain.info Bitcoin wallet.
Step 1:  Click here access the Blockchain.info site
Step 2: Once you reach the site, click on the "Get a Free Wallet" option on your top right corner.

You will be taken to the Create your Wallet page
Step 3: Fill out your details, namely: email and password – be sure to use an email that only you have access to.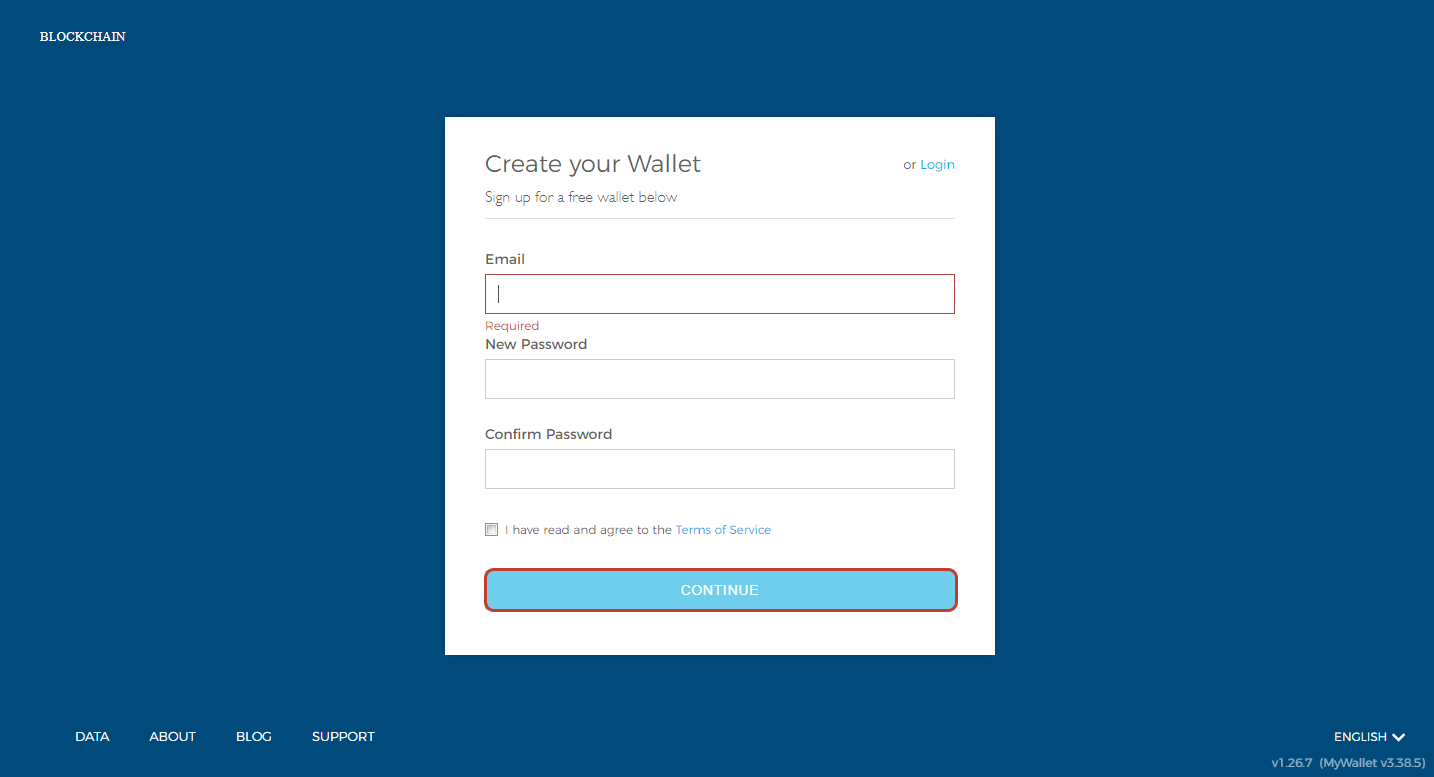 to and use a strong password. Once you create your wallet you will be given a Wallet ID. You will need to keep this ID stored because it is the only way for you to access your wallet. To stay safe you should use a password phrase and write it down on a paper and put it somewhere safe.
How to manage your Wallet?
Managing your wallet is quite simple. Basically, the security settings are the longest and dullest part of the wallet management. Nevertheless, we will present you a guide focusing on the wallet interface.
The Dashboard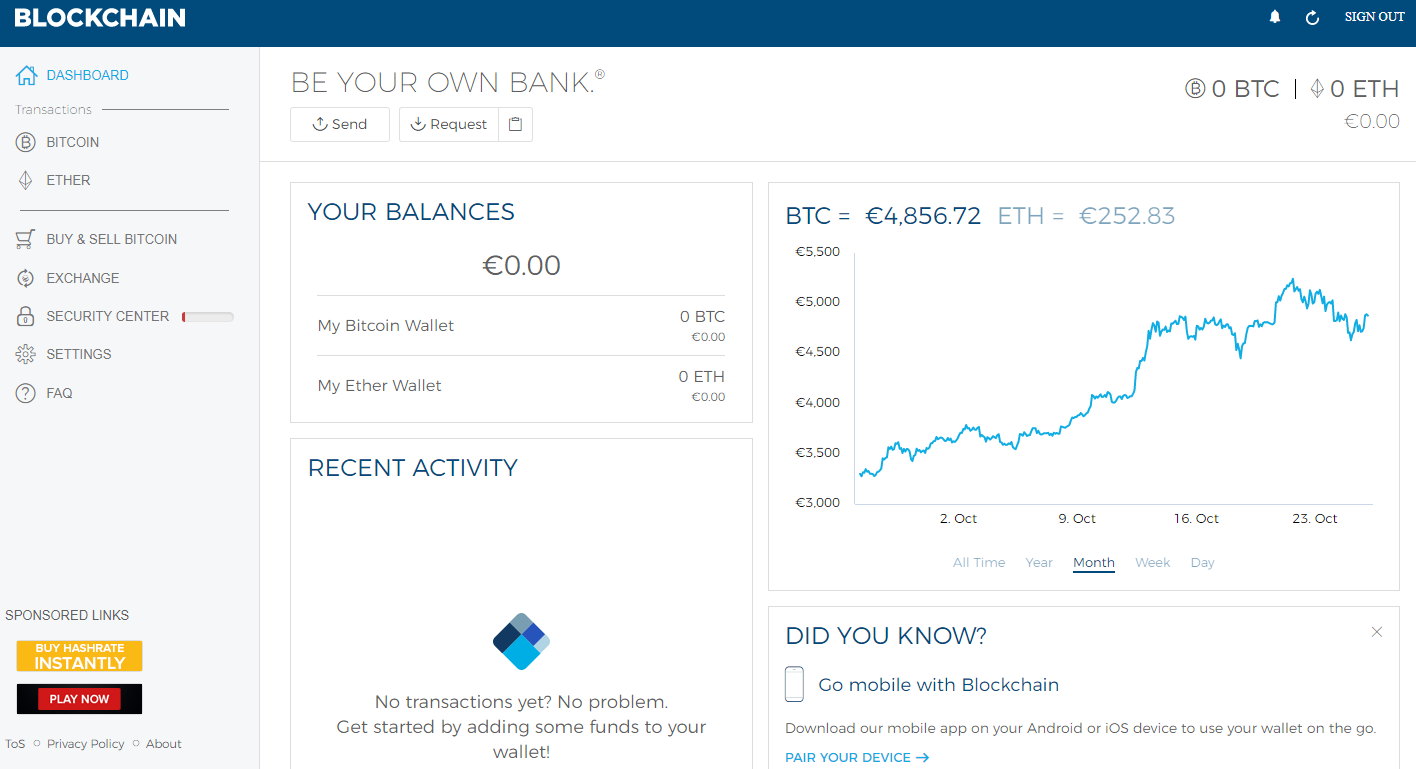 When you log into your wallet you arrive at the Dashboard. The Dashboard is more like the control room from where you will access all the wallet features. On the right of your screen, you will find the general menu. On the menu, you can find several options such as changing from your Bitcoin wallet onto your Ether wallet. From top to bottom you can find the Buy & Sell Bitcoin, Exchange, Security Center, Settings, and FAQ (which is pretty helpful).
Buy & Sell Bitcoin: Using this option you will access a new menu where you can buy and sell Bitcoin and track your order history.
Exchange: This will allow you to exchange Bitcoin for Ether and vice-versa.
Security Center: The security center enables you to easily access the security settings
Settings: The settings will let you manage and access general information related to your wallet and transactions. You can also use this option to check and manage your addresses and security. In the settings user also have the option to pair their Blockchain.info wallet with their mobile phone.
On the Dashboard you also find the FAQ and the option Send and Request Bitcoin.
How to secure your Wallet/Wallet Security
Security is the most important aspect on which you will need to focus the most, so once you create your Blockchain.info wallet, be sure to add your mobile phone number and activate the Second Factor Authentication (2FA) feature. You can either use the SMS message option to set up the 2FA up or you can use the Google Authenticator app which we strongly advise you to use. Note that you should always pay attention to your secret keys as they are the only thing that will grant you access to your coins.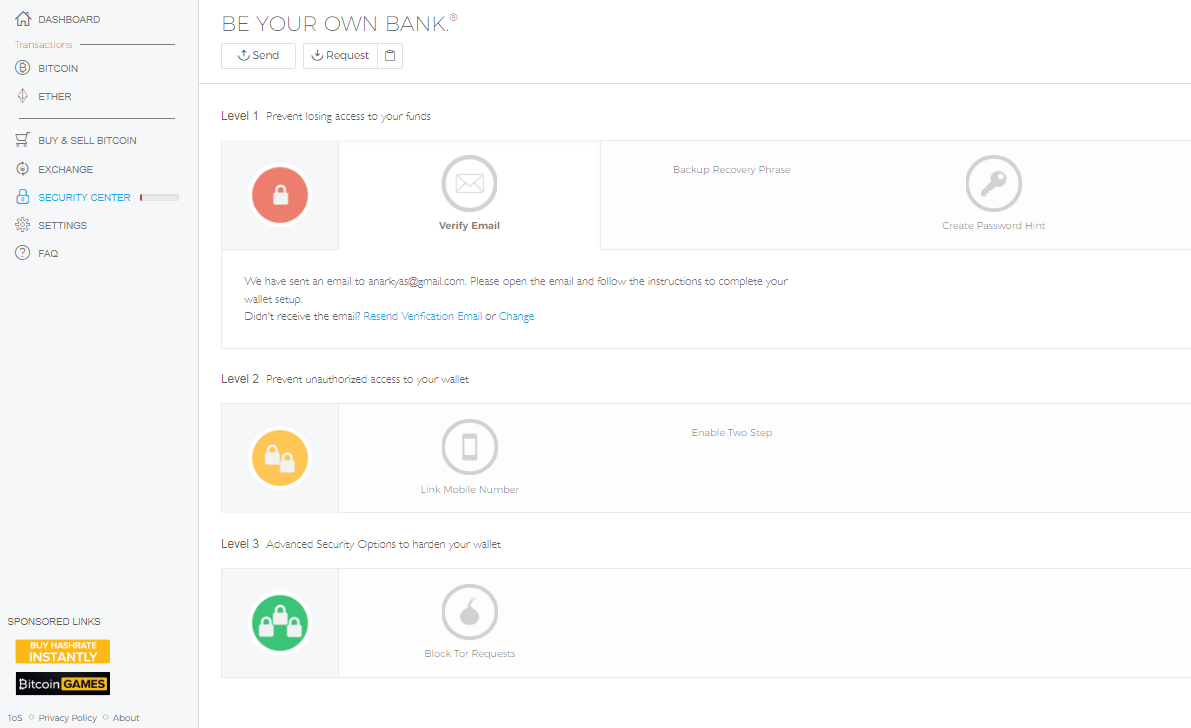 To manage all the security features, you will need to go to the settings on your Dashboard menu. All the security options are very straightforward to use. The security features settings include:
Recovery phrase: Users can set up a recovery phrase which can be used to restore all funds in case of a lost password or a loss of service at Blockchain.info.
Password Hint: Blockchain.info never stores your password on its servers. This option allows a user to create a memorable password hint that can be sent to the verified email address in case of a forgotten password.
Second Password: For increased security, you can choose a second password to protect your funds. This password will be asked every time you want to spend your funds.
2-step Verification: This is the most important feature to protect your account. 2FA protects your wallet from unwanted access. You can decide to use your mobile phone number or a free app to secure your wallet. We recommend Google Authenticator.
Remember 2-step Verification: If you activate this feature, every time you log out for a short period of time, the browser will allow you to log in without re-authenticating using the 2FA again. Note that this will only happen for a certain amount of time.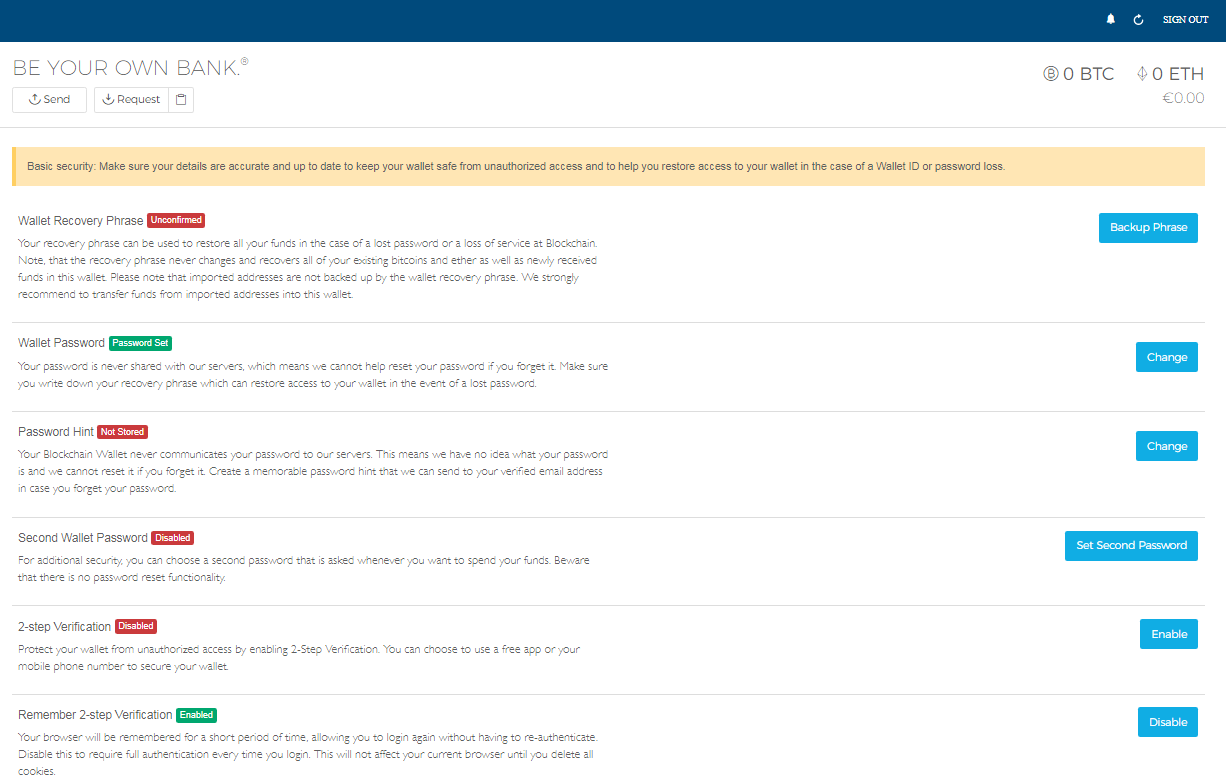 Blockchain.info also offers an advanced set of security settings for advanced users. Here are some of these advanced features: Activity Logging, Login IP Restriction, IP Whitelist, Wallet Access via Tor, Password Stretching (PBHDF2), API Access.
How to send and receive Bitcoin?
Sending and requesting Bitcoin through the Blockchain.info wallet is also super easy. When you access your wallet and get to the Dashboard you will certainly see the two options almost in the middle of the screen.
The option to the left is the Send option and the one to the right is the Request option.
When you select the Send option, it will bring up a popup menu where you will need to fill with the correct information. On the top of the menu, you can choose which currency to send. Below, you will need to paste the Address to which you want to send funds to as well as the amount. You can also add a Description for the specific transaction (this helps you track your spending) and you can choose the transactions fee, which you can choose between regular and priority.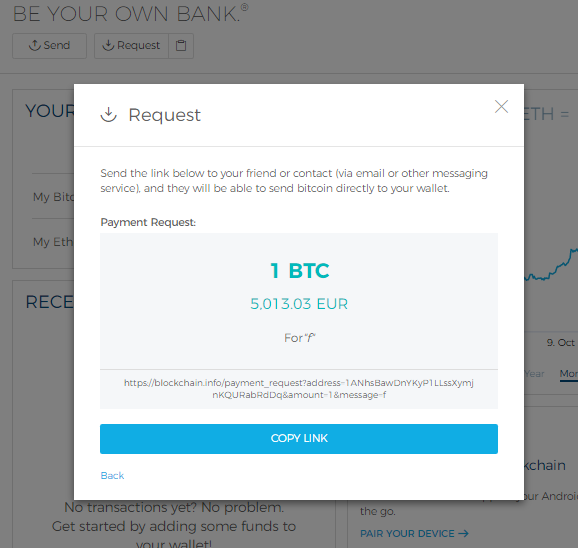 To request funds, the process is exactly the same, but in this case, all you need to do is to select the amount you want to be sent to you and select next. A link will be then generated. You can use this link to send a Payment link to the person or company that will send you the funds.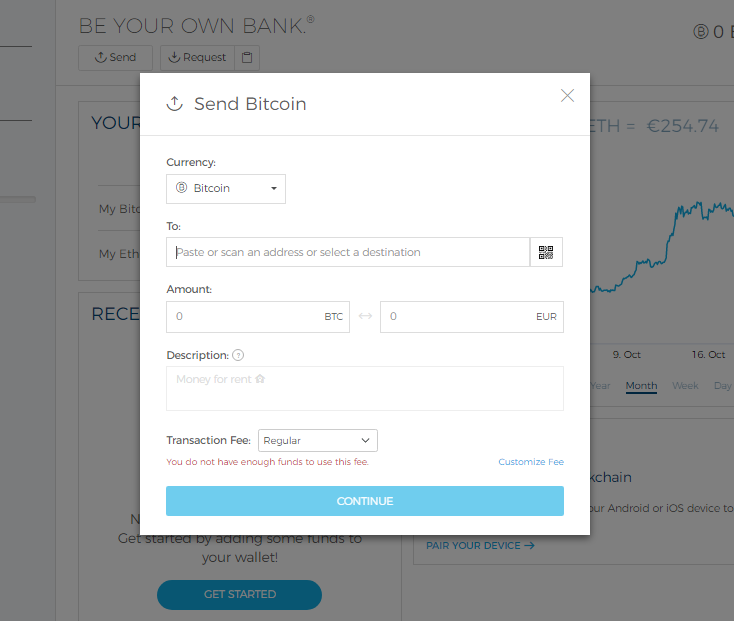 Why should you use Blockchain.info?
As stated in the beginning of this guide, blockchain.info is a web-based wallet and as so it is not the best option for those Bitcoin enthusiasts looking for long-term cold storage. The blockchain.info wallet is perfectly suitable for users who normally use their coins on a regular basis. This is the ideal wallet for traders and all those who every day or normally use their coins to go shopping or to do online purchases. Blockchain.info wallet is also a perfect suit for small to medium companies who have many of their financial transactions using Bitcoin as well as small retailers and other small businesses.
Pros and Cons
Pros: It is very simple and intuitive to use making it perfect for new users; great security features; allows trading Bitcoin for Ether; allow buying and selling Bitcoin directly over the wallet and on the go.
Cons: It's a centralized service. Even though it does not store the user's secret keys, the system can eventually shut down (only users with the secret keys would be able to recover their Keys)
If you are those who are looking to start with Bitcoin and are trying to find the best wallet to use on a regular basis, the blockchain.info wallet is probably what you are looking for!
This website is only provided for your general information and is not intended to be relied upon by you in making any investment decisions. You should always combine multiple sources of information and analysis before making an investment and seek independent expert financial advice.
Where we list or describe different products and services, we try to give you the information you need to help you compare them and choose the right product or service for you. We may also have tips and more information to help you compare providers.
Some providers pay us for advertisements or promotions on our website or in emails we may send you. Any commercial agreement we have in place with a provider does not affect how we describe them or their products and services. Sponsored companies are clearly labelled.