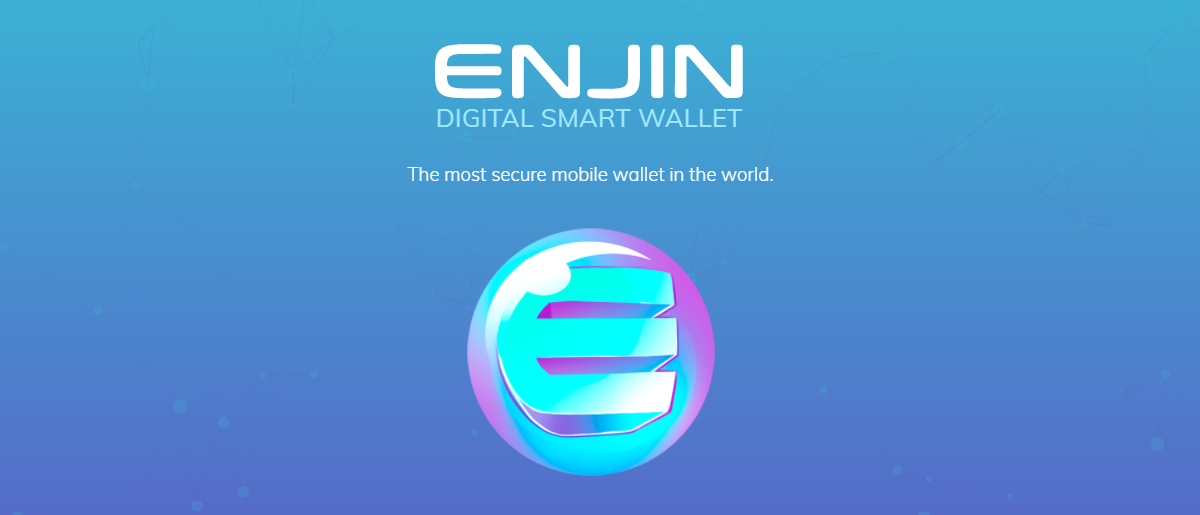 The Enjin Smart Wallet is a Bitcoin, Ethereum, Litecoin & ERC20 token wallet designed for fast, secure and simple coin management. Since its release, the Enjin wallet has garnered over 30,000 downloads and more than 550 overwhelmingly positive reviews on Google Play and is quickly climbing up in numbers, rankings and exposure. The Enjin wallet focuses heavily on security, as described on the website:
"The Enjin Smart Wallet foundation rests on our top-of-the-line security architecture. It employs innovative security techniques such as the Enjin Secure Keyboard, rule of two encryption and other measures to turn your smartphone into a hardware-like secure wallet."
Moreover, the Enjin wallet is the official wallet of Enjin Coin, a blockchain game development ecosystem and today we are going to show you how to install and use the Enjin wallet so you can interact with the Enjin Coin project or simply store your BTC, ETH or ERC20 tokens.
Part 1: Install Enjin Smart Wallet
Step 1: Go to your play store and search for Enjin Wallet (or click

here

)
Step 2: Click on the "Install" button
Step 3: Once the installation is done click "Open"
For now, the Enjin Wallet is only available for Android, the apple version is coming soon, so stay tuned!

Part 2: Create a wallet
Step 1: Now you have 2 options: Create a new wallet or importe an old one. For this guide, we are going to create a new one, so choose the "create wallet" button (and agree to the terms shown)
Step 2: Choose a password and click "Next Step"
Step 3: Confirm your chosen password and click "Next Step"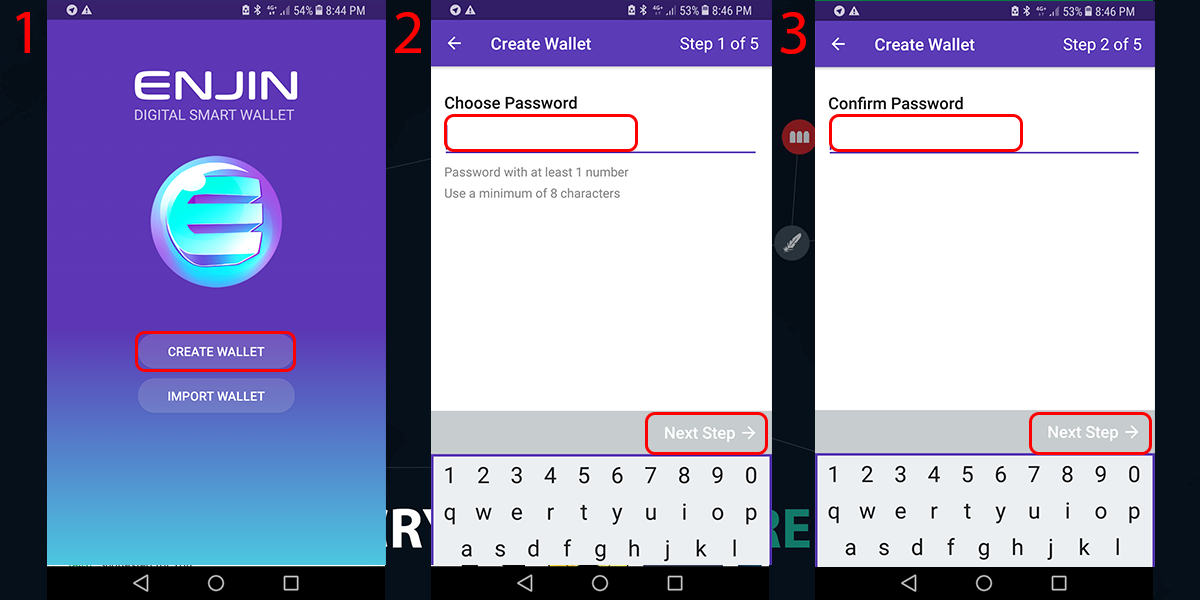 Step 4: You'll be shown a 12-word recovery phrase, write them down on paper and keep it safe, use the bottom right corner button to see all the words. The recovery phrase is used to restore your wallet or funds in case you lose your phone or forget your password, so keep the recovery phrase safe!
Step 5: Once you pass all the 12 words, the app will ask you to verify two random words from your phrase
Step 6: Choose at least one currency, and click on "Create wallet"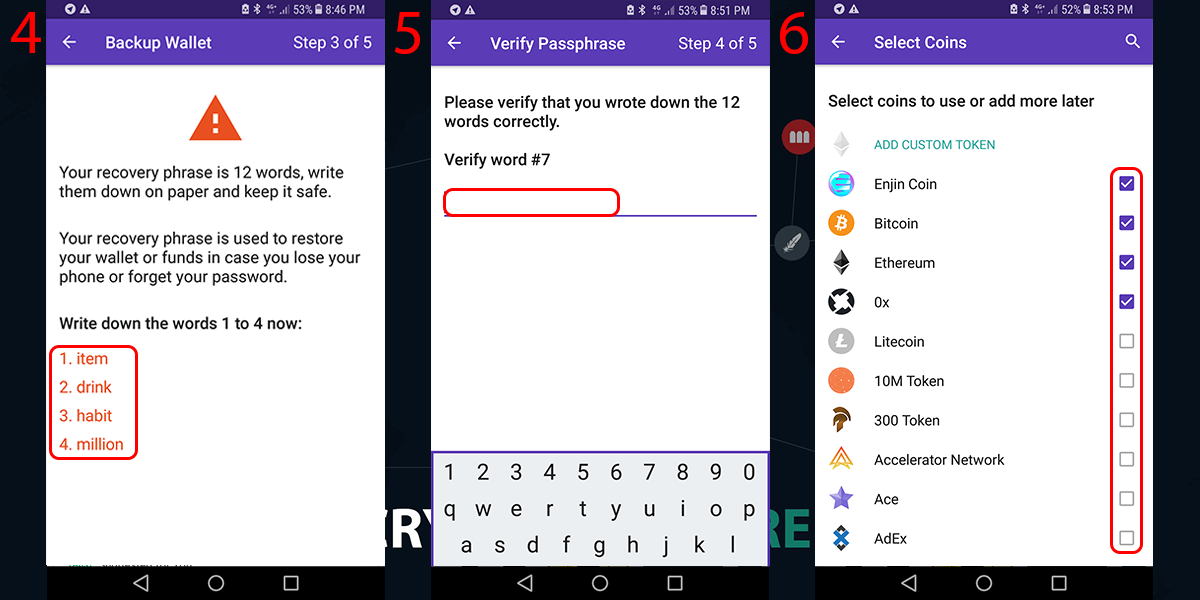 Part 3: Use the wallet (Send and Receive)
Step 1: Now you are inside your wallet and, as you can see, the coins you chose are ready to be used. To receive any cryptocurrency, choose the currency that you want to receive by clicking on it
Step 2: You'll be taken to a page where you can see all your transactions in that specific currency. To see the wallet address, click the "Receive" button on the top right corner.
Step 3: Now, simply copy that address and use it to receive funds.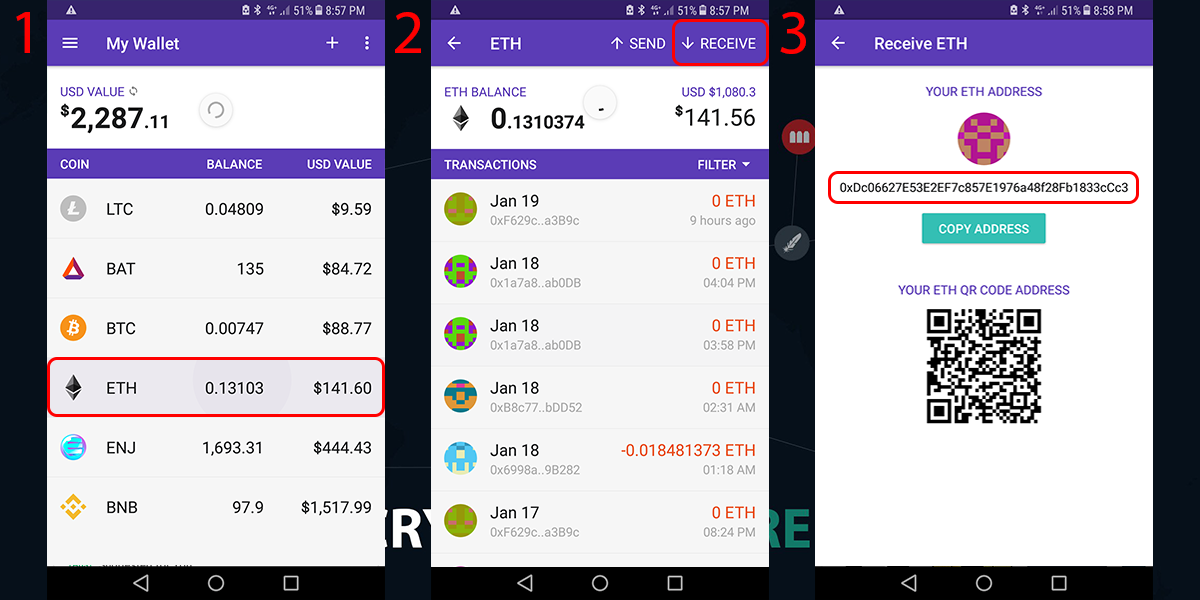 Step 4: To send funds, return to your main wallet by clicking the back button on the top left corner. Once there, choose the currency that you want to send by clicking on it
Step 5: Now click the "Send"
Step 6: Fill in the gaps with the receiver's address and the aumont to be sent. Click "Next" to confirm the transaction.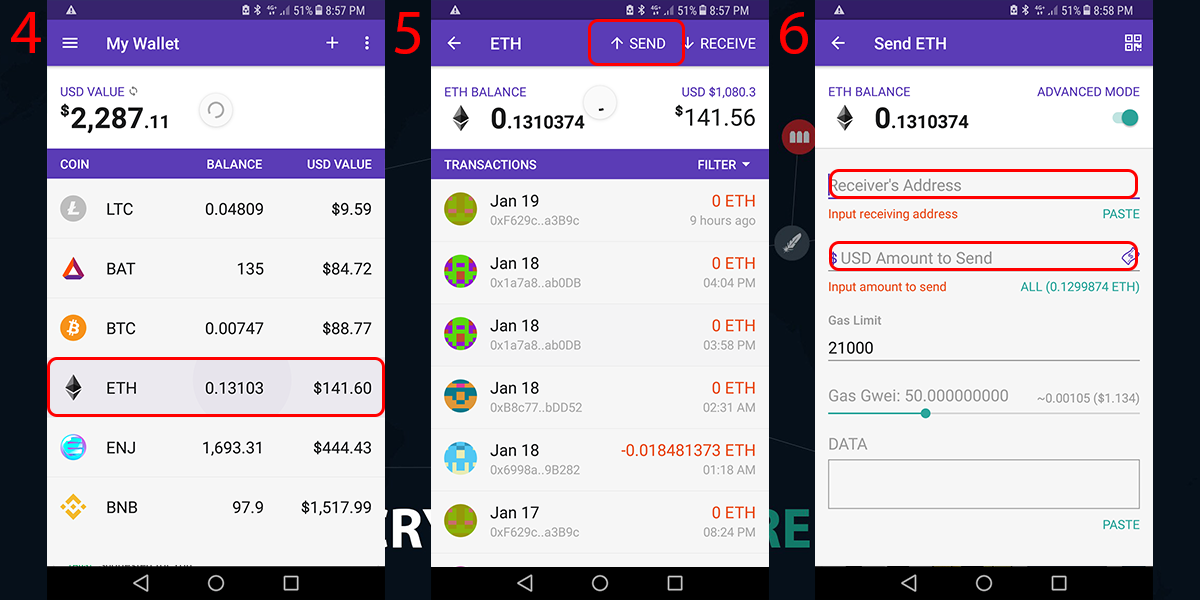 As you saw, the Enjin Wallet is designed for simple & fast coin management - It combines a mobile-first approach with a seamless and blazing-fast interface. Don't let that fool you, though, as the Enjin Wallet is equiped with top notch protection. Just remember to keep your recovery phrase safe. For more information please visit the official website (here)
This website is only provided for your general information and is not intended to be relied upon by you in making any investment decisions. You should always combine multiple sources of information and analysis before making an investment and seek independent expert financial advice.
Where we list or describe different products and services, we try to give you the information you need to help you compare them and choose the right product or service for you. We may also have tips and more information to help you compare providers.
Some providers pay us for advertisements or promotions on our website or in emails we may send you. Any commercial agreement we have in place with a provider does not affect how we describe them or their products and services. Sponsored companies are clearly labelled.