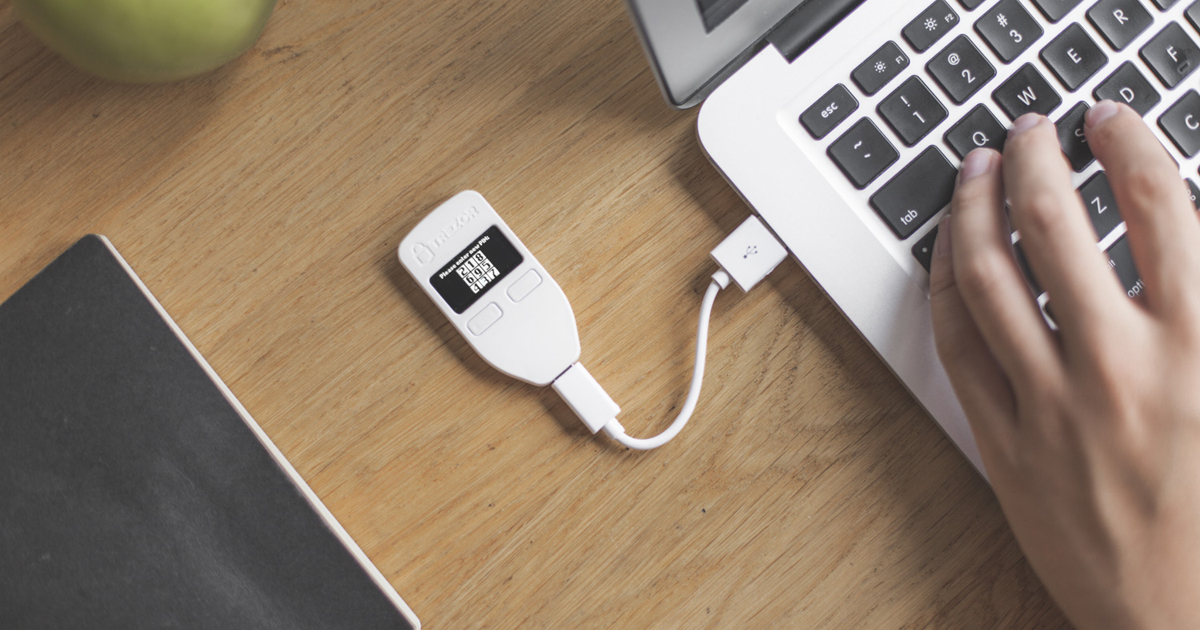 In this article, we are going to review the TREZOR Model T cryptocurrency hardware wallet provided by trezor.io. The product is called "Model T" and it will be available for purchase on their website in the second quarter of 2018. Before releasing this Model T, they have been selling TREZOR Black and TREZOR White. You can still buy these models on their website (currently only TREZOR Black as of writing this article).
The packaging of the product is really nice (like you can see on the images below). In a small paper box, you will find the following:
1x TREZOR device
1x USB-A to USB-B cable
2x Recovery seed cards
4x Stickers
1x Getting started guide
You can see some photos of the package contents in the photos below. Or, some more high-quality photos will be also available on this blog about investing in cryptocurrencies.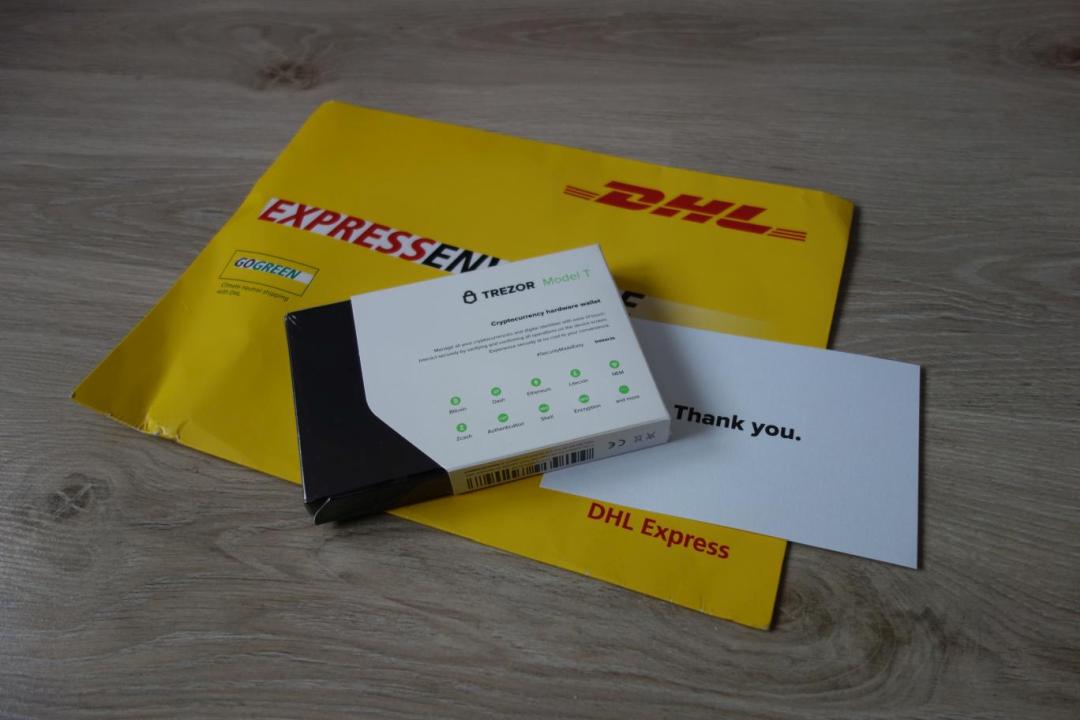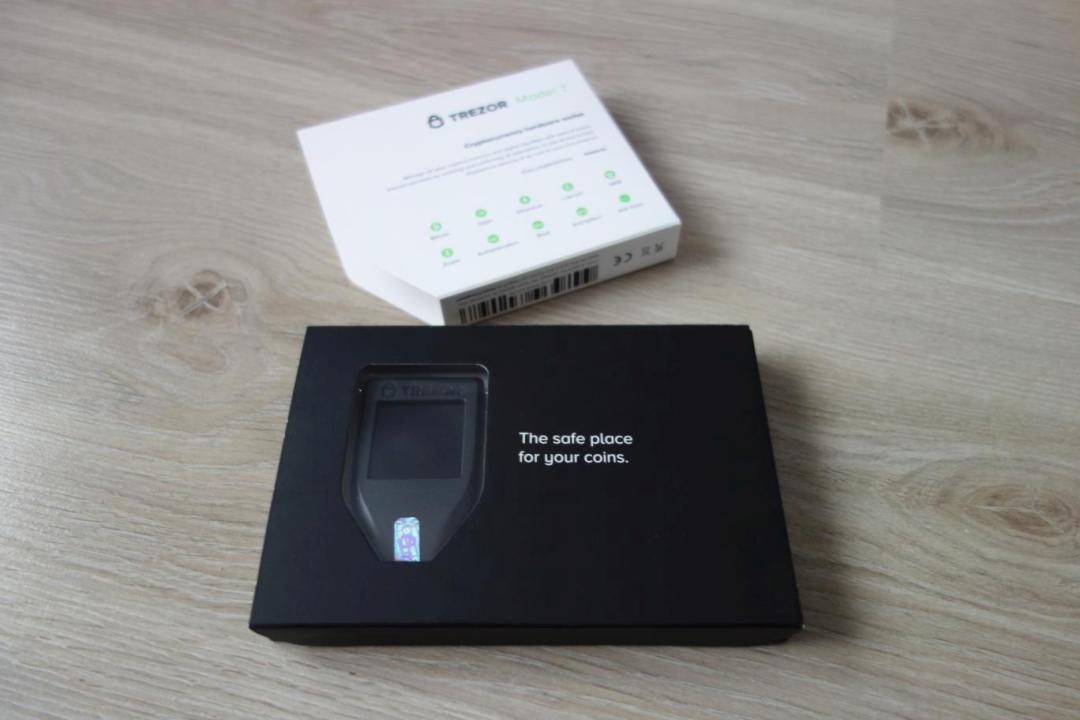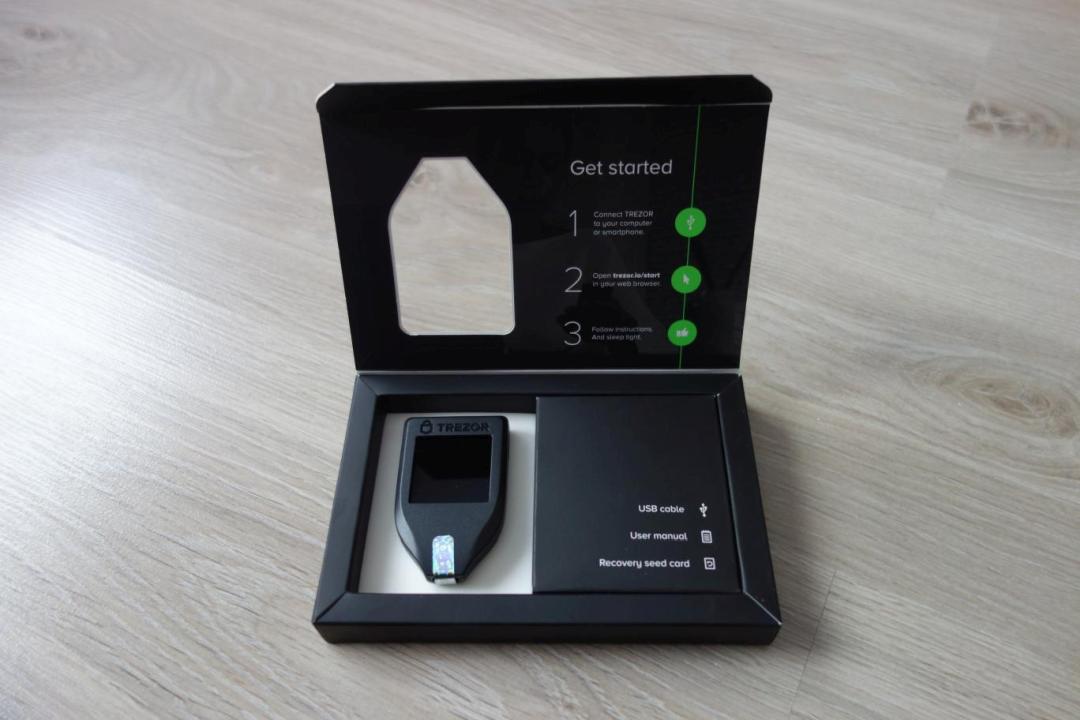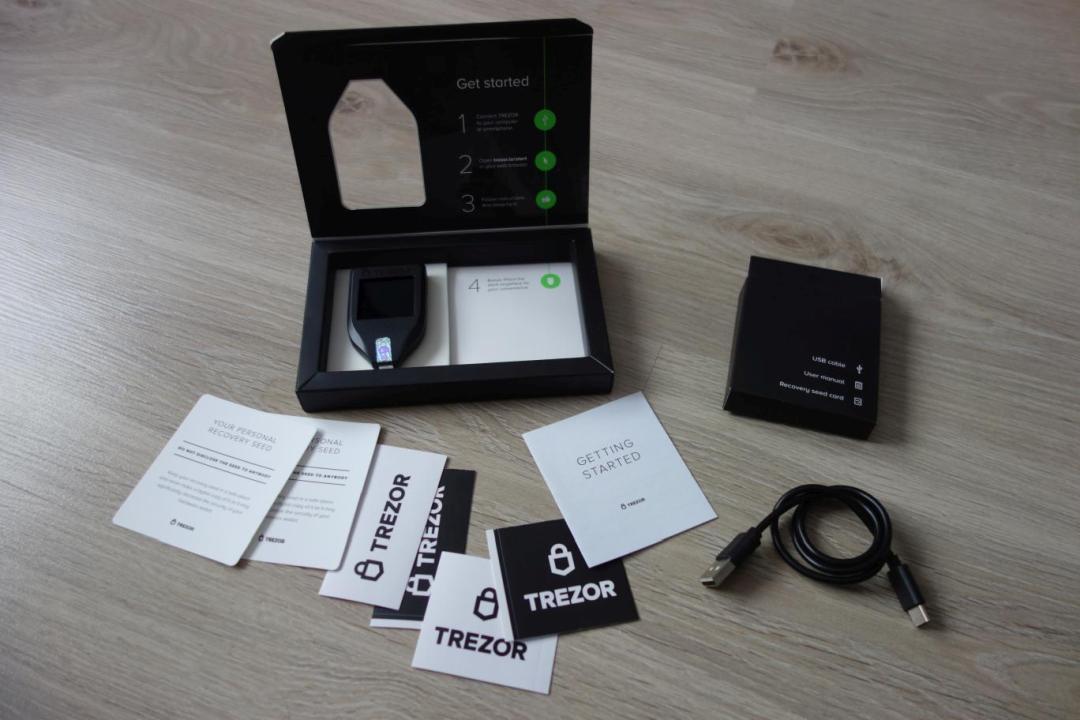 Below we explain how it actually works and will provide you with a walkthrough on how to use it.
Part 1: Connect the TREZOR device to your PC
Step 1: So to start, you need to connect the TREZOR device to your PC with the supplied USB cable.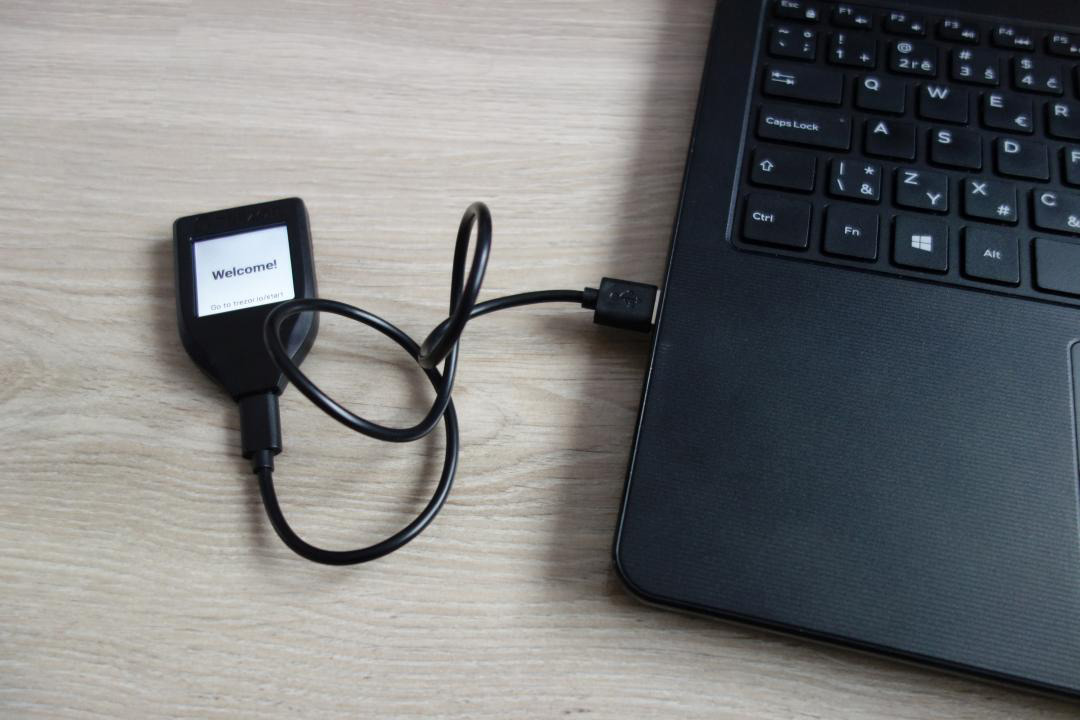 Step 2: Visit trezor.io/start in your browser. Then select the device. In this case, it is the Model T.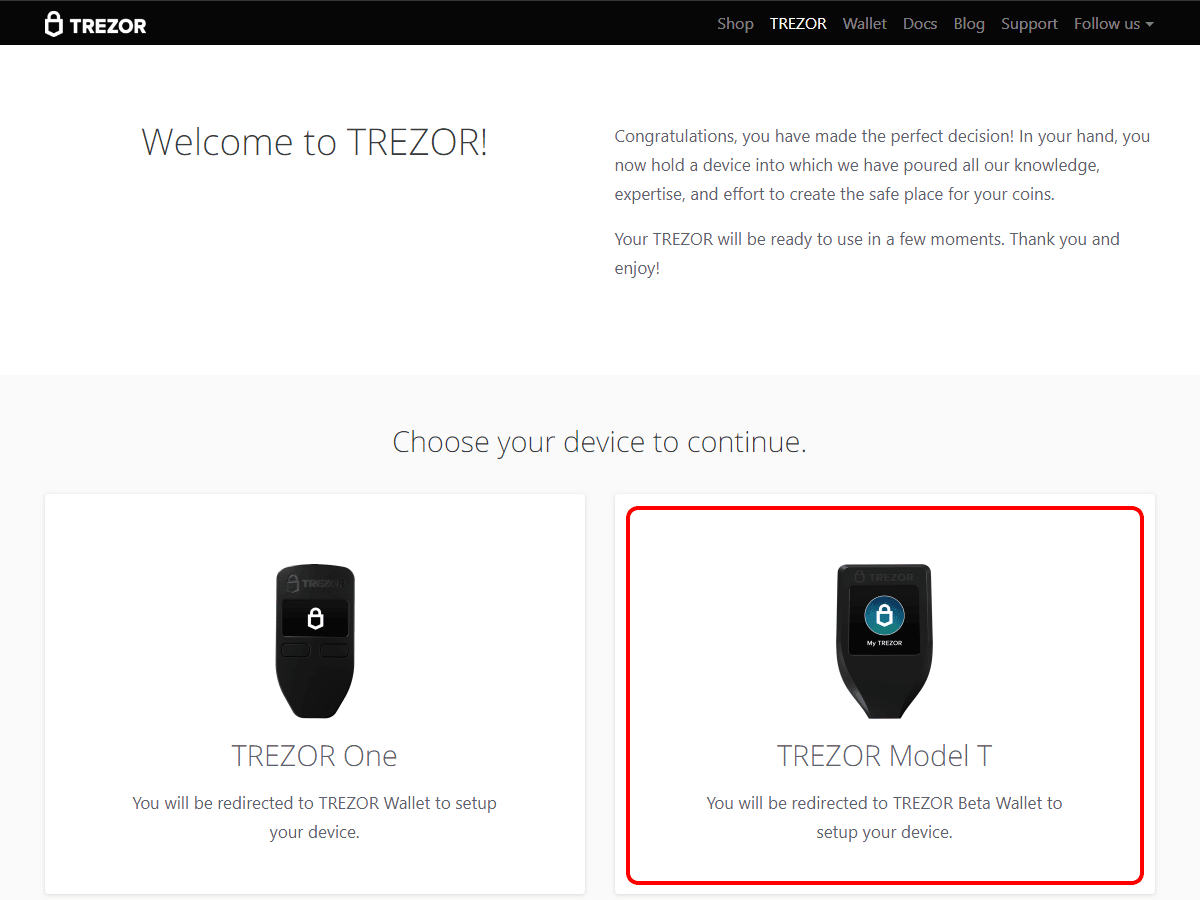 Step 3: Click the green button "OK, I understand".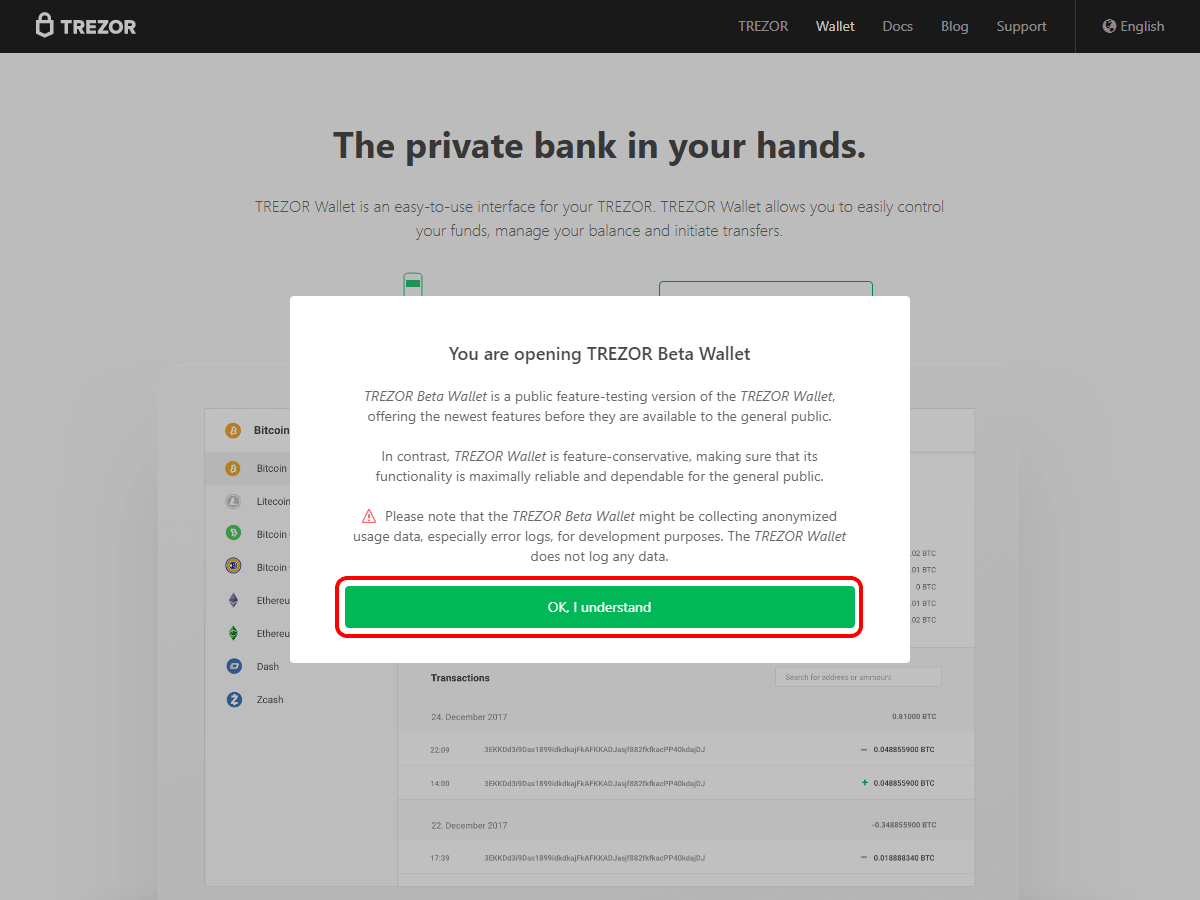 Step 4: Then download Trezor Bridge software to your PC and install it, to do so, click "TREZOR Bridge" at the buttom of the page.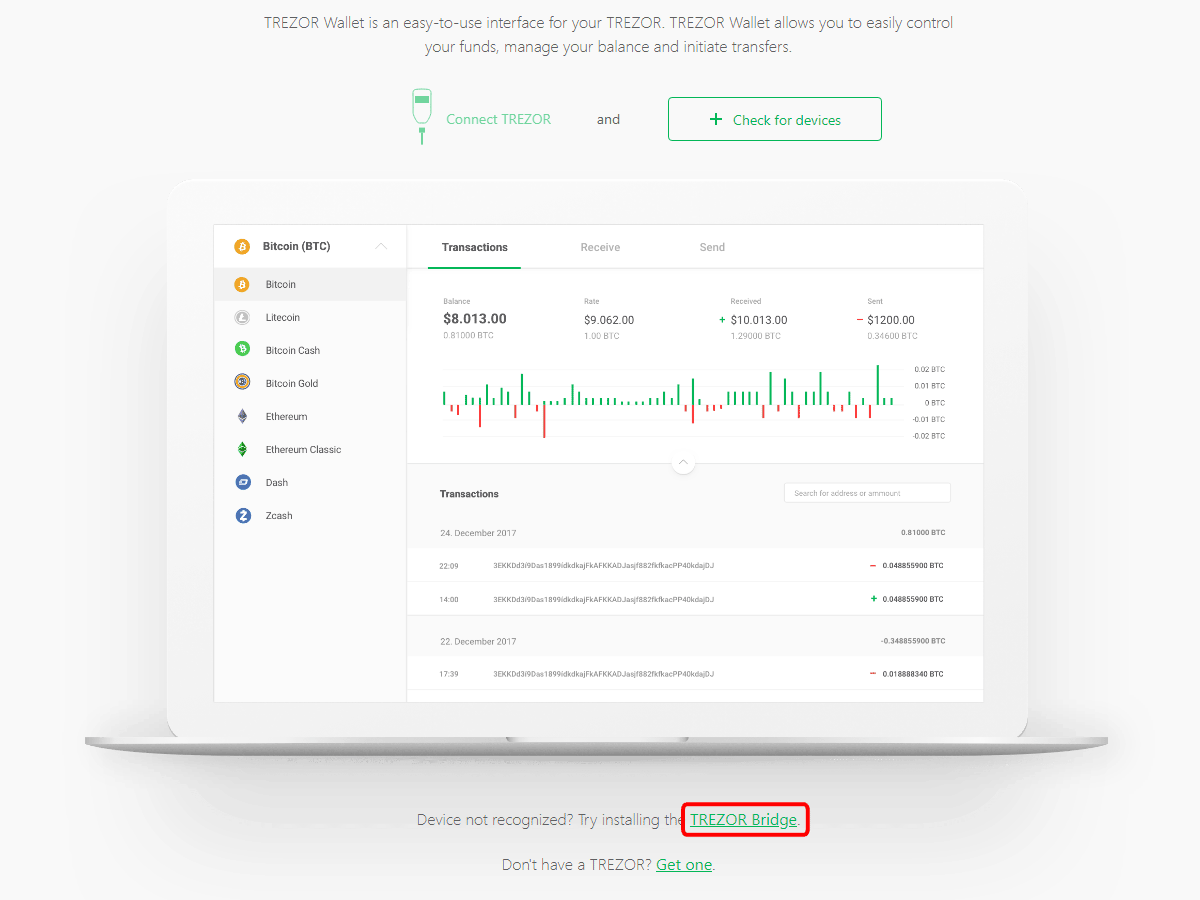 Once that's done, install firmware into the device. The device is shipped without any firmware to ensure that you always get started with the latest features.

Step 5: Click the green button "Refresh page".

Part 2: Use the wallet
After the installation, you will be able to create a new wallet. Then you can create a backup of your Trezor and create your recovery seed (the recovery words will be displayed on your device). The device has a touch display as well (you will need to confirm some queries on it). Finally, choose the name for this device.
Now you will be able to send & receive cryptocurrencies to your Trezor wallet. Trezor team has done a few tests: they have sent some Bitcoins, Bitcoin Cash and Litecoin to their Trezor device. So now they have their coins safely stored on their hardware wallet (although we currently have only 0.00174527 of Bitcoin, like you can see in the screenshot below).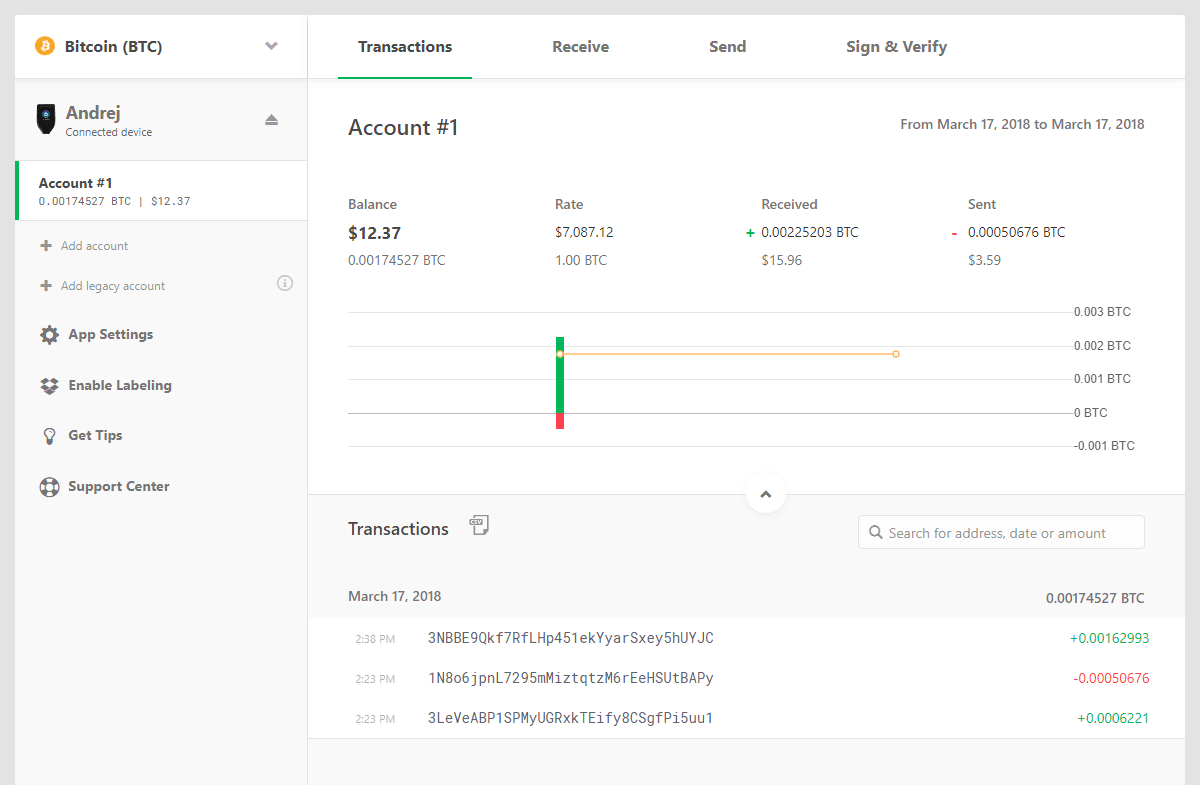 Step 1: To receive Bitcoins to your Trezor wallet just click on the "Receive" link at the top. Then click on the green button "Show full address" and copy the address. Now you can send Bitcoin from e.g. Coinbase or Bitstamp to this Bitcoin address and the coins will be safely stored in your Trezor wallet.

Step 2: To send Bitcoins from your Trezor wallet to someone else, to a different wallet or to a cryptocurrencies exchange service, just click on the "Send" link at the top and enter all the details: Address, Amount and Fee. You can leave the Fee set to "Normal" (2 sat/B) or choose "Ecomomic" (1 sat/B) if you can wait for the transaction to take some time to save some money. Then just click the green "Send" button at the bottom.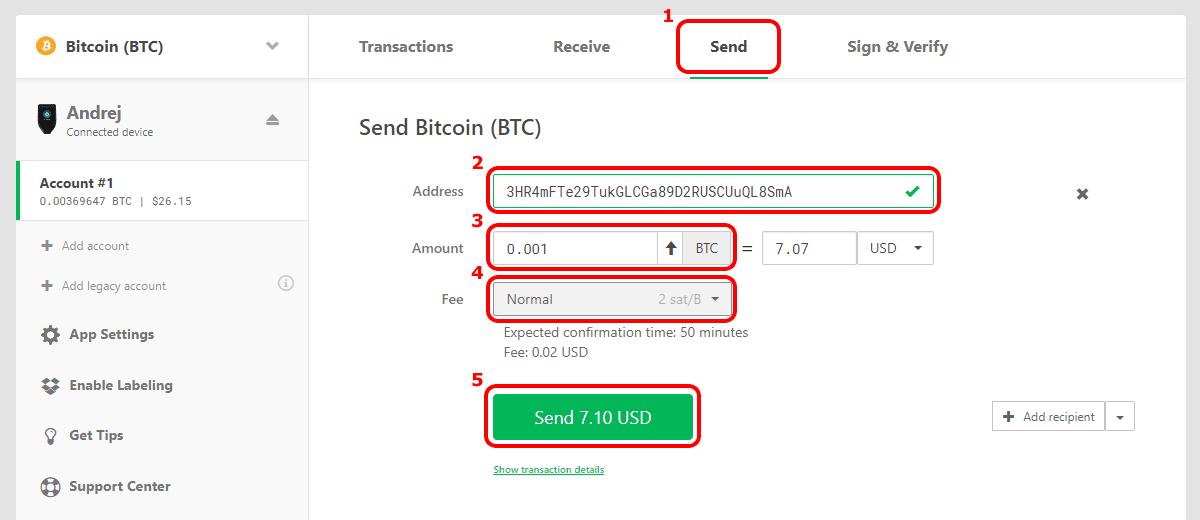 Step 3: To use a different cryptocurrency than Bitcoin, just click on the Bitcoin link at the top on the left and choose the currency, for example, we chose Litecoin.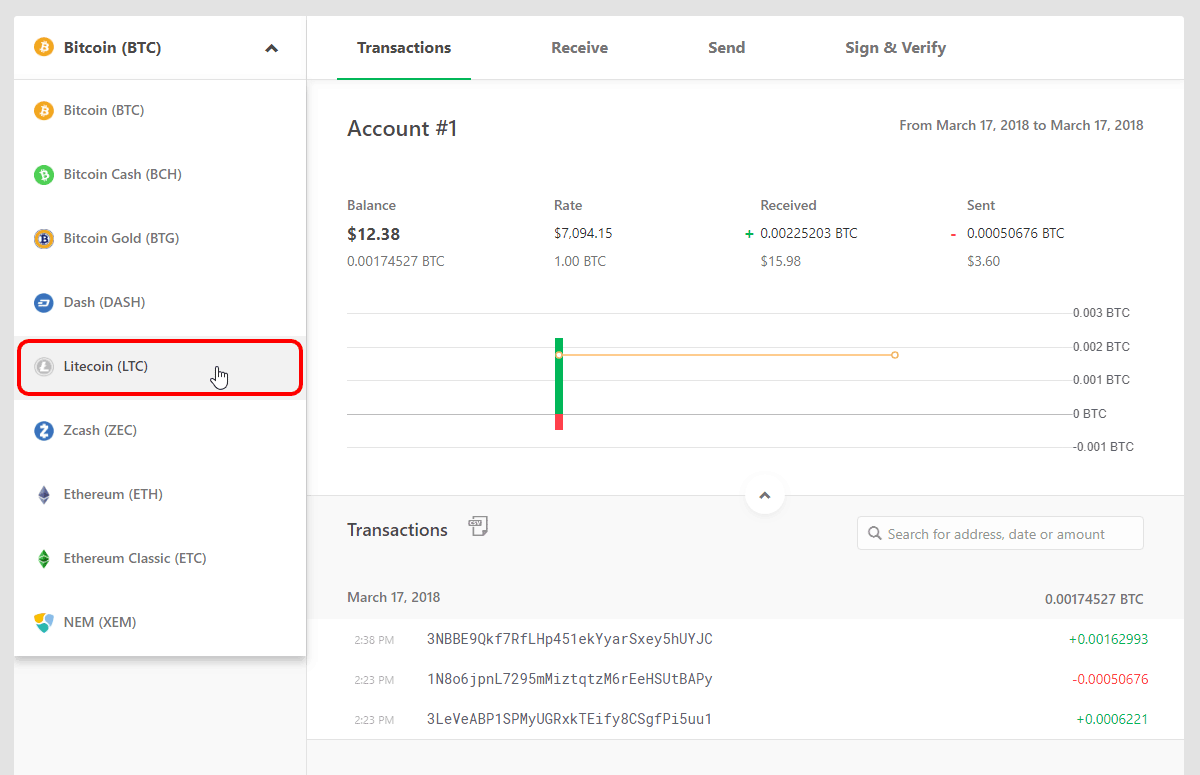 We hope you will find this review helpful. The Trezor hardware wallet is a smart, user-friendly and safe option to store your cryptocurrency investments.
For more information, please visit the official website: https://wallet.trezor.io/
This website is only provided for your general information and is not intended to be relied upon by you in making any investment decisions. You should always combine multiple sources of information and analysis before making an investment and seek independent expert financial advice.
Where we list or describe different products and services, we try to give you the information you need to help you compare them and choose the right product or service for you. We may also have tips and more information to help you compare providers.
Some providers pay us for advertisements or promotions on our website or in emails we may send you. Any commercial agreement we have in place with a provider does not affect how we describe them or their products and services. Sponsored companies are clearly labelled.