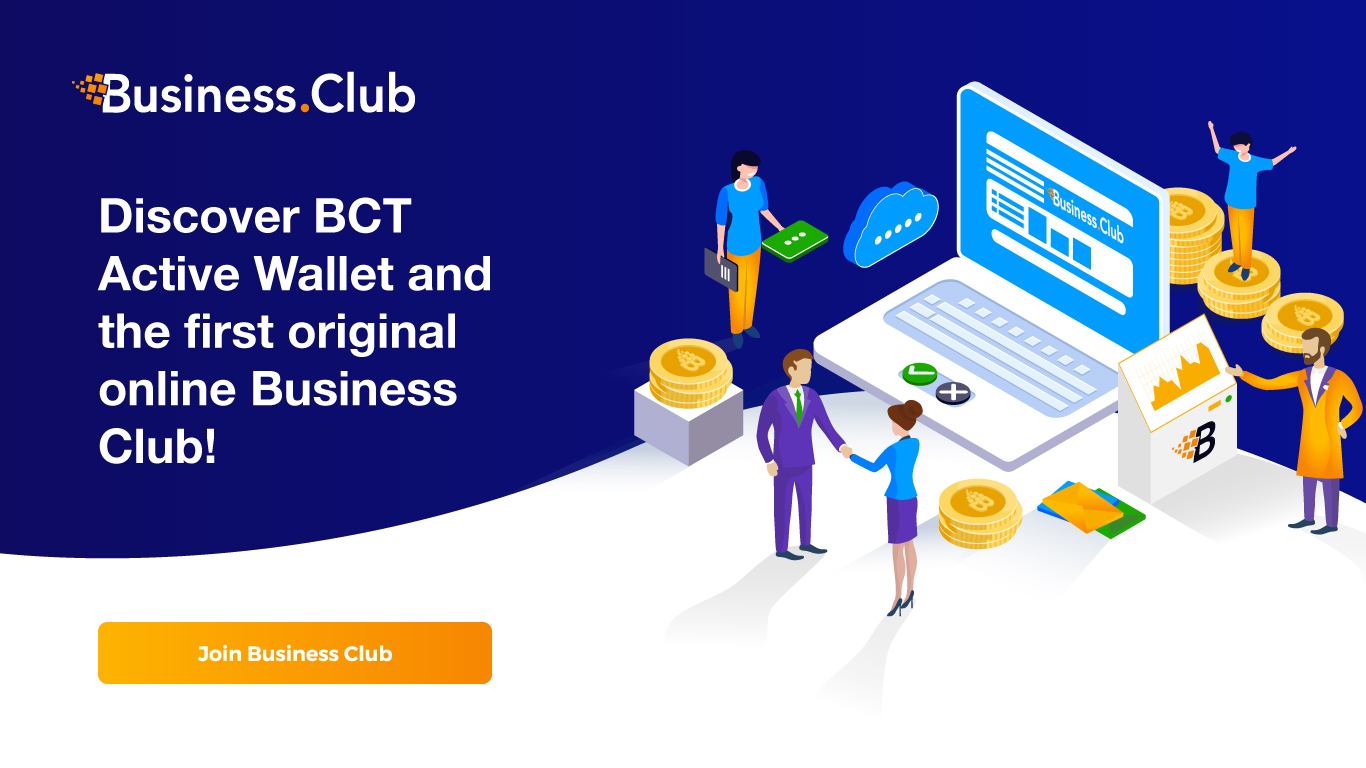 Despite their boom in popularity in the past years, cryptocurrencies are still a sector that is accessed only by a limited group of individuals. This is because there are many impediments that put off people from using cryptos, such as insecure wallets, high exchange rates, and limited options of spending digital funds.
Blockchain is the technology facilitating the use of cryptocurrencies and instant transactions between individuals. With the many advantages offered by blockchain, many financial institutions and payment processors have started to integrate this technology to improve transaction speed.
In order to make cryptos more accessible to the general public and to further their adoption, Business.Club has developed a crypto wallet that combines security with profit.
The Active Wallet also has an integrated social network that lets users benefit from a number of useful features, such as cloud storage, video streaming, and advertisement space.
The platform allows clients to use both crypto and fiat through their Visa debit cards. Card owners can spend and transact with their crypto funds with ease at any location. This ensures that they are not limited to using cryptocurrency on just a few platforms. Business.Club gives crypto owners the freedom of spending digital assets globally and provides profit and business development opportunities through its staking and social media system.
The BCT Token
The Business.Club Token is an asset that was developed specially for Active Wallet. This token gives its owners the possibility of transferring and trading, as well as buying or accessing certain features in the Business.Club ecosystem, such as file storage space, ad space, and many others.
The most notable feature of the BCT token is its staking mechanism in which Active Wallet users are able to unlock daily profits and become eligible to claim Visa debit cards that give them various advantages, including cashback on purchases.
One Business.Club Token is currently valued at 1 USD. The token will maintain its valuation until the circulating supply reaches 720,000,000 BCT. After the token has reached its maximum supply, Business.Club will no longer issue new tokens, and in two weeks after BCT's supply is capped, the token will be supported on both internal and external crypto exchanges.
Within that period, users are able to sell their BCT to Business.Club for 1 USD each. Exposure on other platforms and exchanges is expected to increase the general value of the native token and increase trading liquidity.
New BCTs are generated each time an Active Wallet user makes a buy order for BCT.
How to Use Active Wallet
In order to get an Active Wallet, users will have to sign up with their personal information and pass a verification process. As the platform is still in its pre-launch phase, sign-ups can only be made by those that have a referral code or username. After the platform's launch, all users will be able to sign up on Business.Club to get the Active Wallet.
Active is the native wallet of the BCT token, and it supports the staking feature which generates daily rewards based on a percentage of the holder's funds.
The wallet is not limited to BCT's functionalities, as users can also store, buy, sell and convert Bitcoin, Ethereum, Litecoin, Monero, Ripple, Tether, Bitcoin Cash and Dash.
The platform generates profits from the fees applied on all BCT transactions, with the universal fee being set at 0.25%. A part of this profit is given back to BCT holders as new tokens through the staking process, with the funds being credited to their Active Wallets.
The profits that can be made through Active Wallet vary according to the amount of BCT staked and the number of transactions using the token that have been performed. Other factors that influence the staking reward are the number of BCTs returned to Business.Club via the platform's services, products, as well as referral commissions.
Daily profits can range between 0.3-0.4%, with a calculated 10% monthly average from the deposited funds.
Signing up for Active Wallet automatically creates an individual account on the Business.Club Social Network. The network serves as a platform where users can congregate to seek business advice and solutions, as well as access other features that might help their business succeed.
Such features include ad space, sponsored content, cloud storage, an encrypted chat, and video streaming. Users can securely communicate with each other through their instant encrypted text messaging application, transfer their funds to and from other Business.Club users, and interact freely to find the best business tips or get exposure to other clients.
The staking of BCT tokens also makes its users eligible to Business.Club's Visa debit cards. The five cards that will be issued have crypto and fiat storage and transfer features. Active Wallet is a crypto storage solution that is also able to issue Visa debit cards, thus making things easier for crypto owners looking to spend their funds freely.
The selection of cards consists of five different options: Space Black Metal, Pearl White Metal, Pure Gold Metal, Royal Blue Plastic, and Leaf Green Plastic.
The cards come with different cashback sums, POS and ATM withdrawal limits, and required staking amount. Active Wallet users are eligible to receive the Leaf Green Card without having to buy or stake any BCT.  For the other four cards there is a minimum BCT requirement that has to be hold for at least six months. 
Final Thoughts
Business.Club has focused its attention on providing accessible and profitable features and opportunities to crypto users.
The company has applied for two licenses, the Electronic Money Institution License for card-issuing in Lithuania, and the Malta Financial Services Authority License to issue debit cards to all users globally.
The staking profits you can make can be enhanced by taking part in the Active Wallet referral program and receive even more commissions. The referral system of Business.Club links the referral leader to all other accounts created through his referral link or username.
With a social environment that promotes growth, a profit-making crypto wallet, and VISA debit cards, crypto users can find all they need in Business.Club.
This website is only provided for your general information and is not intended to be relied upon by you in making any investment decisions. You should always combine multiple sources of information and analysis before making an investment and seek independent expert financial advice.
Where we list or describe different products and services, we try to give you the information you need to help you compare them and choose the right product or service for you. We may also have tips and more information to help you compare providers.
Some providers pay us for advertisements or promotions on our website or in emails we may send you. Any commercial agreement we have in place with a provider does not affect how we describe them or their products and services. Sponsored companies are clearly labelled.