Keeping track of your coins can get messy. That's why we built our portfolio to help you keep track of all the coins you own, how much they are worh, how much profit/loss you are making, where you are storing them, and much more!
One of the coolest things about our portfolio is that it allows you not only to track the profit and losses of the coins you currently hold, it also allows you to track the realized profit/loss of the coins you have already sold, allowing you to look back on the assets you have previously bought and sold in order to improve your overall strategy.
In order to register a sold coin, you need to create a portfolio and add a coins (you can have multiple portfolios and coins). Click here to learn how to create a portfolio and add a coin to it.
In this guide, we're going to teach you how to sell a coin on our portfolio.
Selling a coin
Step 1: Once in your portfolio, select the coin you want to sell and click the edit button. We're going to sell Litecoin in this case.

Step 2: Click the "Sell" tab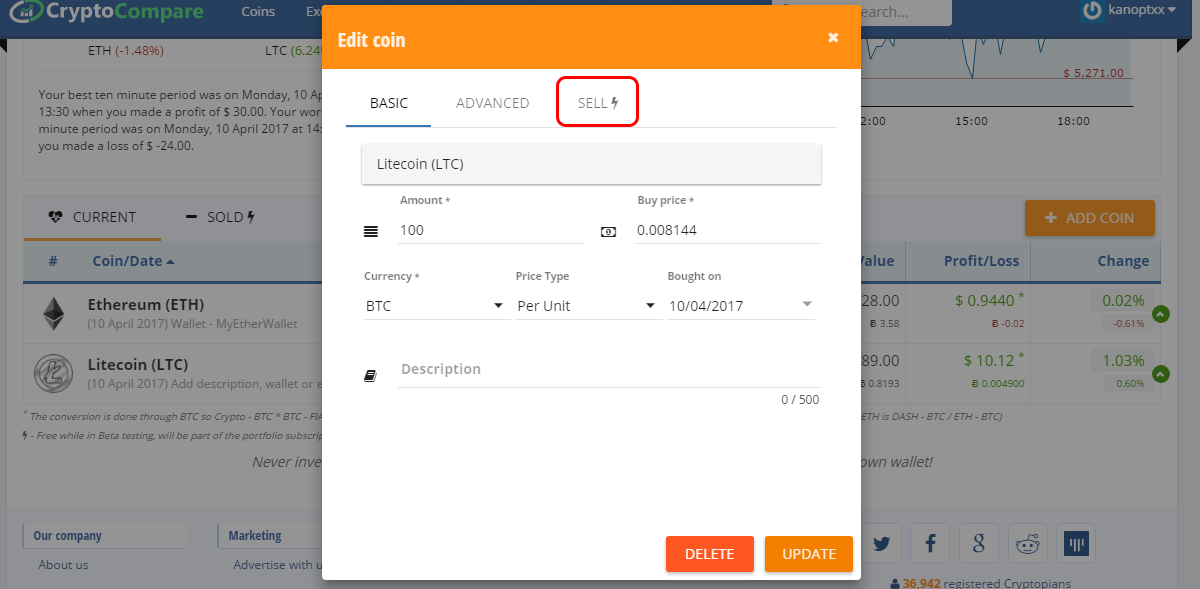 This next part may seem familiar. It's the same process for adding a coin (see part 2) but you'll be inputting the details from the sale. CryptoCompare will give you the default sell price according to the current price in the Cryptocompare price index.
Step 3: Enter the details of the sale and click "Sell". Remember: You can change the currency according to the currency you've sold for. In our case, we're changing to BTC although our display currency is USD.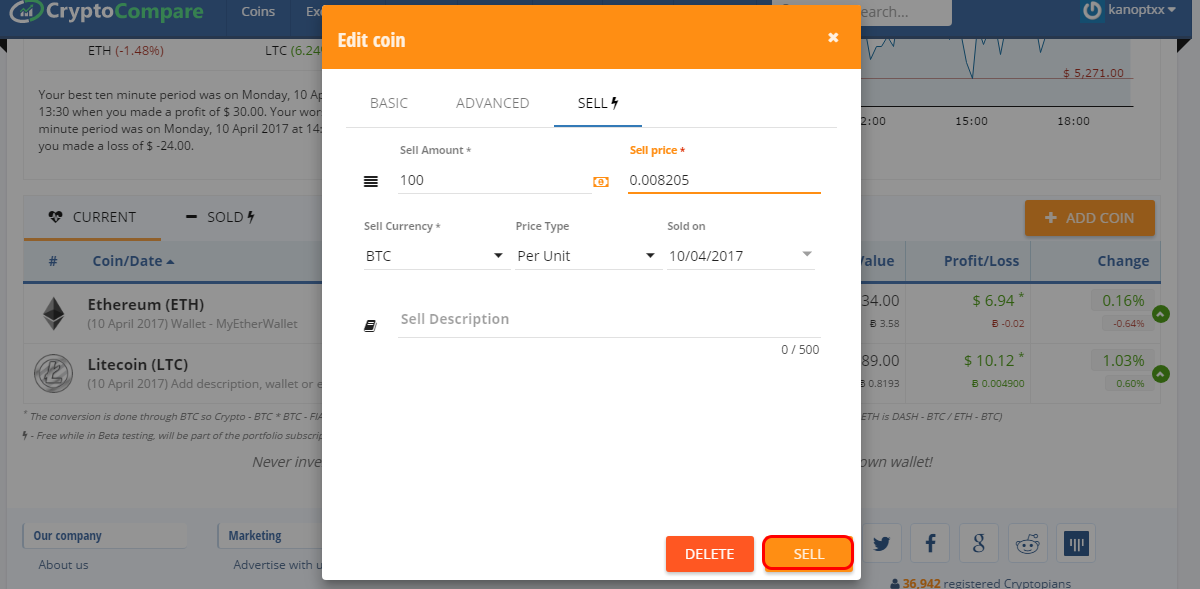 You have sold your first coin on the Cryptocompare portfolio! You can see all your sold coins by clicking the "Sold" tab.

Here, you can track the winnings and losses of the coins you held and sold

This website is only provided for your general information and is not intended to be relied upon by you in making any investment decisions. You should always combine multiple sources of information and analysis before making an investment and seek independent expert financial advice.
Where we list or describe different products and services, we try to give you the information you need to help you compare them and choose the right product or service for you. We may also have tips and more information to help you compare providers.
Some providers pay us for advertisements or promotions on our website or in emails we may send you. Any commercial agreement we have in place with a provider does not affect how we describe them or their products and services. Sponsored companies are clearly labelled.