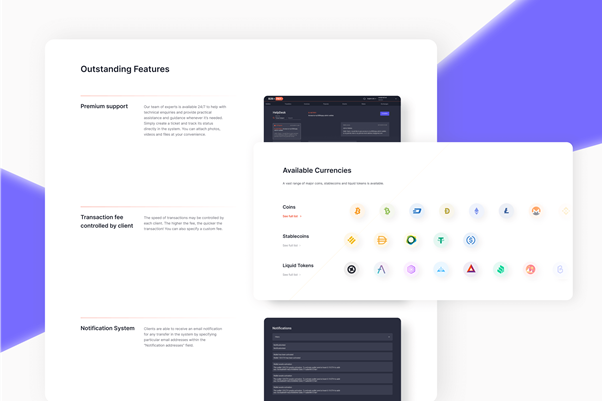 Important information: This is a sponsored story. Please remember that the value of investments, and any income from them, can fall as well as rise so you could get back less than you invest. If you are unsure of the suitability of your investment please seek advice. Tax rules can change and the value of any benefits depends on individual circumstances.
Lower payment fees, a newly updated website with a modern design, the updated Enterprise and Merchant Models, and the platform itself have all been updated by B2BinPay, a top-quality crypto payment processing provider.To make it more affordable for businesses of all sizes try out B2BinPay's services, the company has decided to edit its price structure and lower the entry criteria! All improvements and add-ons are described in more detail in this article!
What Are The Changes To The New Fee Structure?
The price plans have been updated to provide considerably more benefits to customers by the B2BinPay team. The Merchant Models' categories and capacity limits are as described below: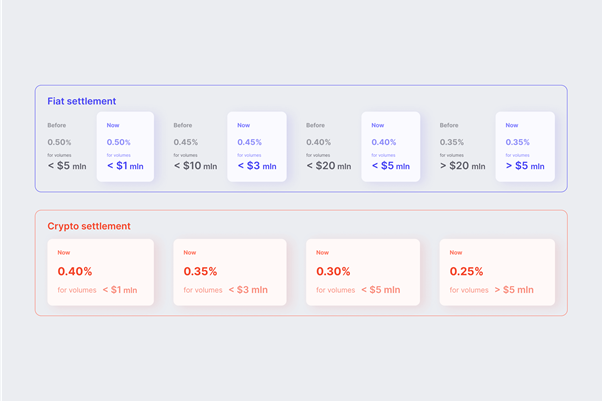 The B2BinPay onboarding charge for Enterprise clients has been reduced from $1,500 to only $1,000. The company has also lowered the percentage tier level for Enterprise users, which has led to substantial cost reductions. Below are illustrated all the modifications: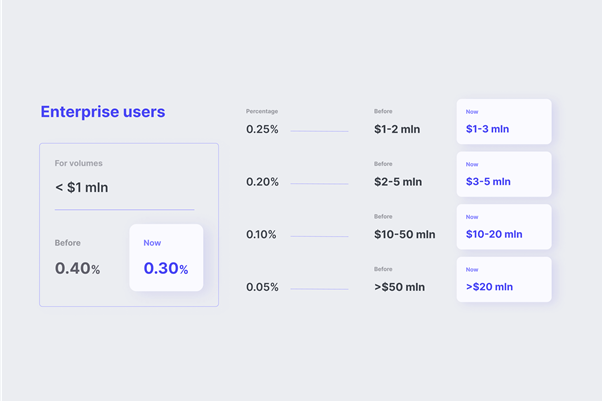 All outgoing transactions are free of charge! Clients of B2BinPay are getting an incredible deal because their costs offer one of the lowest in the business, among other benefits.
B2BinPay Introduces New Website Design, Improved UI, and more!
There is now a rebranded main website to present all participants with useful content in an intuitive layout. New and improved sections have been added to the site to provide information on all of B2BinPay's offerings. The newly redesigned pages are easier to browse and provide instantaneous access to the most important content.
What's more, the company has made available a detailed explanation of both On-Chain and Off-Chain transactions. Transactions that take place "on-chain" are those that take place on the blockchain and therefore require a confirmation from other users on the network. The user must still pay the blockchain commission even though B2BinPay does not impose a fee for an On-chain transaction. B2BinPay's internally developed technology allows for Off-Chain transactions to be processed. Note that these transactions occur off-chain between B2BinPay customers. They don't cost anything and happen instantly, so you won't waste time or money on the blockchain. You may now get a comprehensive breakdown of all On- and Off-Chain transactions that can take place between users directly on the site.
Customers may now browse the increasing list of supported currencies at their own pleasure thanks to the "Available Currencies" tab, which now lists over 80 particular crypto coins.
Moreover, the B2BinPay team also included a frequently asked questions (FAQ) page to facilitate the prompt, comprehensive, and proper solution to any inquiries. There is a broad variety of topics covered in the FAQ section, including questions about services, features, and security.
Thanks to the Application Programming Interface (API) provided by B2BinPay, businesses can integrate blockchain technology into their payment systems in a flash, resulting in faster, more secure transactions. With only a few taps, you may get all the required documentation. Additionally, B2BinPay's functionality was enhanced with the addition of Merchant Invoice Limits, Delta Amount, and support for Cardano (ADA), as well as other improvements for simplified operations.
Additional Tokens Are Now Ready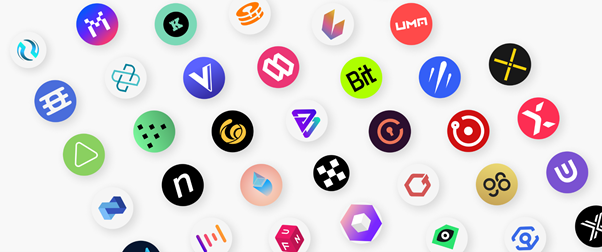 B2BinPay's Merchant and Enterprise versions now support a wider variety of unique cryptocurrencies as well as tokens. WBTC, ANKR, GALA, IMX, and dozens of more tokens have been added.
Improved Merchant Models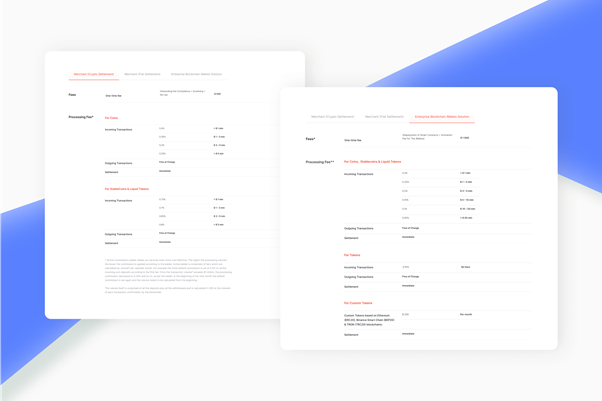 B2BinPay has taken a significant step to better serve its clientele by updating its operations. The previous two model types (Enterprise and Merchant with Fiat Settlement) have been accompanied by another model, using crypto settlement. Merchant (Crypto Settlement) users have the option of creating BTC, USDT, or USDC wallets.
Bottom Line
In the last several years, B2BinPay's development team has made significant progress in making the solution much more transparent and reasonably priced for companies. B2BinPay is a great option for businesses accepting crypto payments because of its updated platform and user-friendly interface. Users will be able to pick the perfect plan for their requirements thanks to flexible payment options and low prices.
This website is only provided for your general information and is not intended to be relied upon by you in making any investment decisions. You should always combine multiple sources of information and analysis before making an investment and seek independent expert financial advice.
Where we list or describe different products and services, we try to give you the information you need to help you compare them and choose the right product or service for you. We may also have tips and more information to help you compare providers.
Some providers pay us for advertisements or promotions on our website or in emails we may send you. Any commercial agreement we have in place with a provider does not affect how we describe them or their products and services. Sponsored companies are clearly labelled.