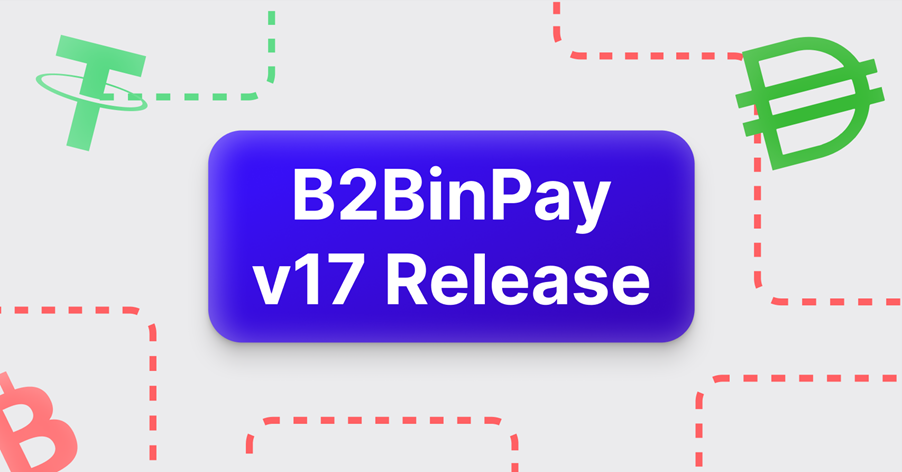 Disclaimer: This article is for informational purposes only and should not be considered financial advice. Cryptocurrency investments, including Bitcoin, are highly volatile and risky. Investors should conduct their own due diligence and consult with a financial advisor before making any investment decisions. The views, thoughts, and opinions expressed in this article belong solely to the author, and not necessarily to CrytoCompare.
The B2BinPay firm is excited to announce the launch of B2BinPay v17, a substantial update to improve your cryptocurrency payment experience. B2BinPay, a reputable platform in the market, enables cross-border cryptocurrency transactions for businesses and merchants. B2BinPay is renowned for its simplicity of integration, making it easy for companies to interact with the developing cryptocurrency market.
In addition to enhancing the company's current capabilities, the most recent version adds a number of new features, enhancements, and bug fixes to cater to the various needs of both merchant and enterprise customers.
New Way to Settlement with EUROC and TUSD
Stablecoins provide some consistency and stability in a market known for its volatility. Prior to version 17, B2BinPay offered merchant clients settlements in the following five major currencies: BTC, USDT, USDC, USD, and EUR.
With the addition of TrueUSD and Euro Coin to the Merchant Wallets in the v17 upgrade, this scope has been expanded in response to the need for more varied and reliable transaction choices. With 14 coins, 14 stablecoins, and 25 tokens that may be automatically settled into these seven currencies, merchants now have a more extensive range of payment alternatives. Thanks to the new currencies' compatibility with several token standards, especially ERC20, BEP20, and TRC20, businesses now have more options for controlling client payments and settlements.
It is particularly exciting for the company to introduce Euro Coin. The business behind USDC, the second-largest stablecoin after USDT (market cap over $25B), Circle, has launched EUROC, a stablecoin backed by the euro. For businesses operating in the eurozone, EUROC, one of the top 18 stablecoins, is especially helpful. 
A New Range of Currencies for Enterprise Clients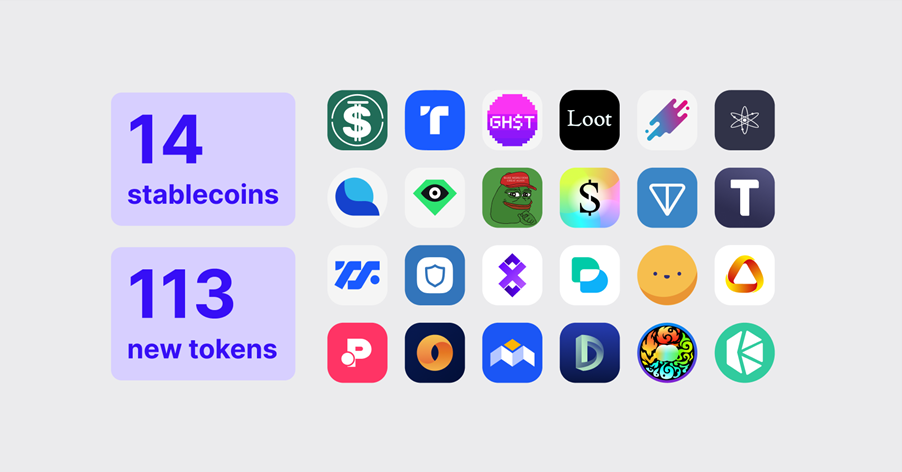 Businesses that wish to operate only with cryptocurrencies and preserve their holdings in the same coin they receive might benefit from the B2BinPay Enterprise blockchain wallet solution, which offers an extensive ecosystem for corporate organisations.
Building on this solid base, the v17 version offers 14 stablecoins and 113 new tokens across 14 distinct blockchain networks, including Ethereum, TRON, Binance Smart Chain, and others. This greatly increases token compatibility for commercial clients.
A Brand-New Price Model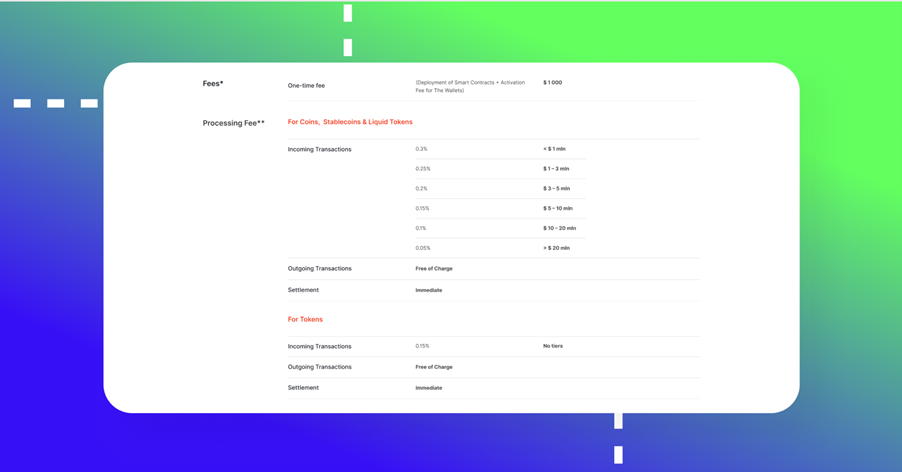 The version 17 update also offers users of the company a refreshed and more affordable pricing module.
The startup price for merchants has dropped to $500, with the commission fees also being decreased from 0.5% to 0.4%. Additionally, new commission tiers with starting points as low as 0.25% have been added, providing more affordable options for bigger transaction volumes.
Enterprise blockchain wallet setup costs have dropped from $1,500 to $1000. Activating wallets for Ripple, Stellar, and Binance Coin, as well as smart contracts for Ethereum, Binance Smart Chain, and TRON, are now included in this fee. In essence, the setup charge does not include any hidden activation expenses. Additionally, to further boost the competitiveness of its enterprise goods, the company established new commission levels with starting rates of 0.4% and going as low as 0.05%.
New Features in User Interface and Experience

The Rates Tab now offers new currency-based filtering options, an alphabetical search function, and a favourites area. These changes are designed to make it simpler for you to navigate and make decisions. In-depth onboarding notes with tours and explanations were also prepared by the business to make it easier for both new and experienced users to use the platform.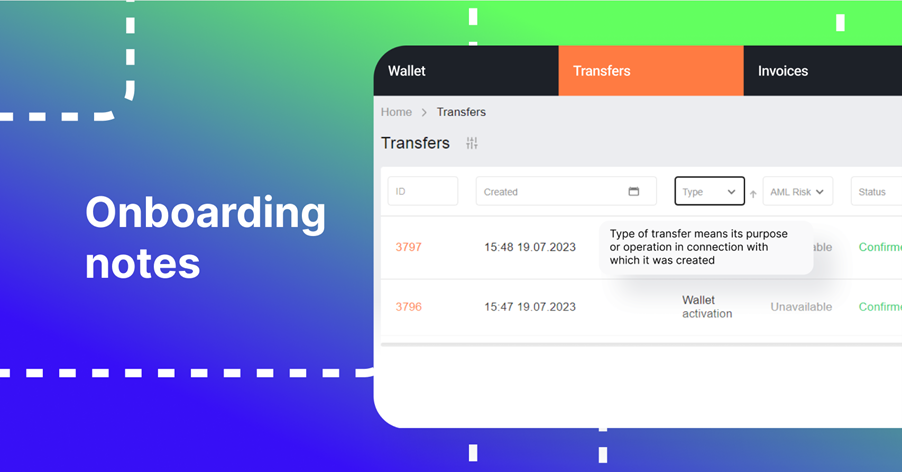 Payout fees now have the option of being presented in your chosen currency, which increases the transparency of transaction costs. Moreover, you have the option of adding custom charge amounts.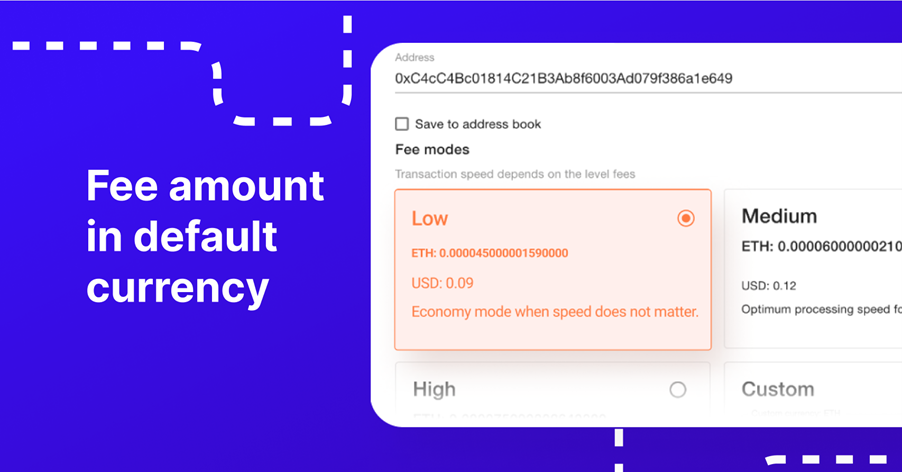 Functional and Usability Improvements
To enhance the usability and functioning of the platform, the firm performed several modifications. These include search capabilities as well as improvements to dropdown menus, like the addition of grouping by currency type and active status. The merchant invoice's 7-day expiration limit was also abolished, and a report email notification option was added. A new "Delete Wallet" button makes it possible to delete wallets with no balance or deposits for individuals who want to manage their wallets more effectively.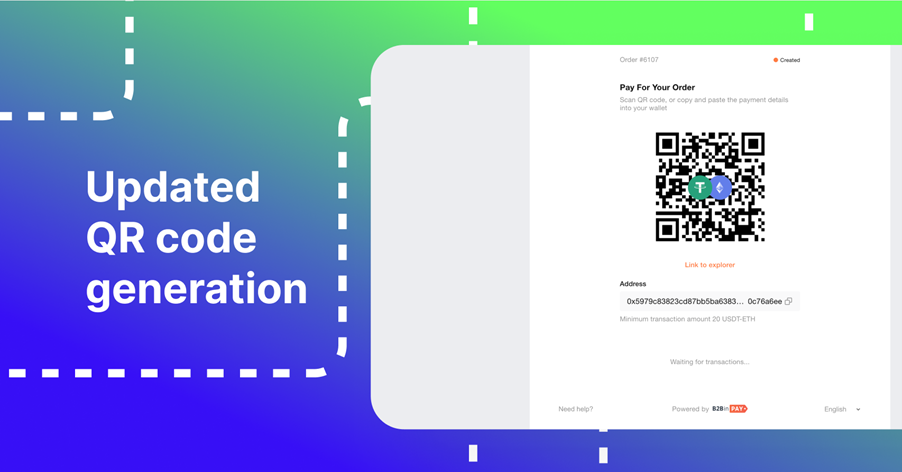 Wallet tables can now be sorted by currency and ID for enterprise users. Further, token icons have been added to QR code generation as a layer above the QR code, and IPs in the IP-whitelist can now be added or removed individually, with a modal window appearing to confirm the password.
Complete Client Service in All Devices
With Helpdesk's real-time notifications system, you will be notified when new support tickets are created, as well as an unread counter which displays how many new support tickets there are.

The Bottom Line
B2BinPay v17 is a comprehensive update aimed at improving the user experience for both individual and enterprise users. Versions 18 and 19 of the platform are already in the works, promising to deliver new enhancements and functionality to fulfil the increasing needs of the broad user base.
To demonstrate its commitment to innovation, B2BinPay recently collaborated with Ledger, providing limited-edition, custom-branded Ledger Nano X wallets for existing and new clients. Furthermore, for the 2023/2024 La Liga season, B2BinPay is an official sponsor of the Athletic Club, increasing the company's exposure and growing awareness of crypto payment options.
These collaborations, as well as the release of v17, demonstrate the company's unwavering commitment to excellence and client satisfaction.
This website is only provided for your general information and is not intended to be relied upon by you in making any investment decisions. You should always combine multiple sources of information and analysis before making an investment and seek independent expert financial advice.
Where we list or describe different products and services, we try to give you the information you need to help you compare them and choose the right product or service for you. We may also have tips and more information to help you compare providers.
Some providers pay us for advertisements or promotions on our website or in emails we may send you. Any commercial agreement we have in place with a provider does not affect how we describe them or their products and services. Sponsored companies are clearly labelled.