The price of bitcoin has remained above search interest for the cryptocurrency after BTC started dropping from its all-time high near $20,000 in December 2017. Bitcoin's search volume hit a low in December 2018, when its price was at $3,200.
The year-long bear market seen in 2018, which saw the price of the flagship cryptocurrency drop over 80% from its all-time high, was accompanied by waning interest. Searches for bitcoin on Google, the dominant search engine, in fact, plummeted rather quickly.
According to data from leading search engine marketing agency SEMrush shared with CryptoCompare, in January 2017, ahead of Bitcoin's major bull run when it was trading at around $1,000, on average users searched 3.3 million times on Google for it, per month.
As the cryptocurrency's price rose, so did searches for it, hitting 7.4 million searches in May of that year, rising to 9 million by August. In October, the term "bitcoin" was searched 11 million times on the search engine, a figure that nearly doubled to 20.4 million in November. In December, the month that saw BTC hit its all-time high, searches for it hit 45.5 million.
According to Insider, in September 2017 a study conducted by SEMrush found that the price of bitcoin had a 91% correlation with the volume of Google search requests for bitcoin-related terms. The study drew from a database of 120 million search queries in the United States linked to cryptocurrencies.
At the time, over a period of one year, bitcoin-related searches were estimated to be at 51.4 million. To some extent, the study just confirmed that as bitcoin's price moved up, the more exciting it became and the more interest it drew.
Things seem to have changed when bitcoin's price started dropping in early 2018 as search interest dropped astronomically while the cryptocurrency's price needed the whole year to go down little over 80%, to a low of $3,200.
From the chart, we can see that search interest for bitcoin fell rather quickly. From the 45.5 million searches for "bitcoin" in December 2017, there were 11.1 million in March, and 6.1 million in May. A low was seen in October 2018, with only 5 million searches for the cryptocurrency that month.
Notably, BTC's price bottomed in December, when 7.48 million people searched for it. It wasn't until May 2019 that the number of search queries went up again, to 11 million. SEMrush data shows that the number of searches then dropped again, but moved back up to 13.6 million in March of this year.
While data from April and May are not yet available – only Google itself has the figures for those months for now - it's worth noting that the rise in March could be related to the halving, and to the so-called Black Thursday.
Search Queries Grew Amid Market Crash
As revealed in CryptoCompare's March 2020 Exchange Review, March saw daily trading volumes in the cryptocurrency space hit a new all-time high, as $75.9 billion were traded across cryptoasset exchanges in a single day.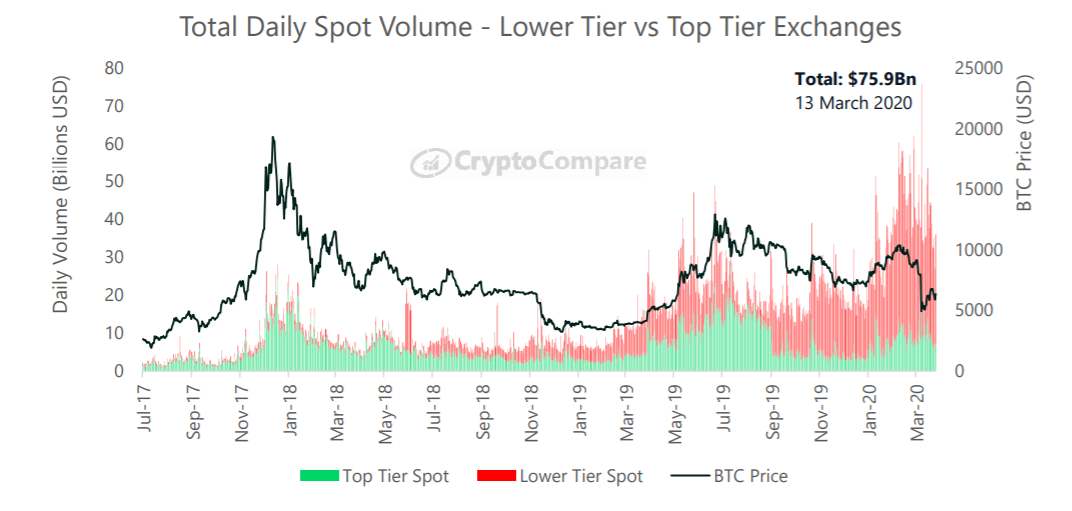 That day was March 13 and its trading volume came amid a market crash that saw the value of bitcoin drop 50% over a two-day period. Over that period, the crypto space shed over $60 billion in total, before recovering.
The sell-off is believed to have been induced by COVID-19, as it occurred shortly after the World Health Organization (WHO) declared it a pandemic. It also affected equity markets, as the S&P 500, the Dow, and Nasdaq all entered bear market territory for the first time in a decade over that period.
As both crypto and equity markets crashed, investors seemingly started paying attention to bitcoin once again. Since the price of BTC dropped to $3,800 it has recovered quickly, testing $10,000 numerous times over the last few weeks. The S&P 500, on the other hand, hasn't yet gotten back to pre-crash levels.
HODLing Was the Answer
CryptoCompare data appears to show that the correlation between searches for bitcoin-related terms and the price of bitcoin weakened because of the 'HODL' mentality. HODLing is a play on words describing buying BTC and holding onto the position regardless of price fluctuations.
It dates back to December 2013, when an admittedly inebriated forum user misspelled "holding" while describing he was holding onto his BTC instead of take advantage of price fluctuations at the time because, per his own admission, he was not a good trader.
At the time bitcoin was trading at $800 a coin, after dropping from a high of $1,200. In the bear market that followed, BTC would hit a low of $220 before recovering. HODLing proved to be a good strategy, as four years later it hit a new all-time high close to $20,000.
CryptoCompare data shows that after said all-time high users adopted the same strategy and started holding onto their funds, so much so that the average number of transactions confirmed per day – much like search interest for bitcoin – plummeted far below the price.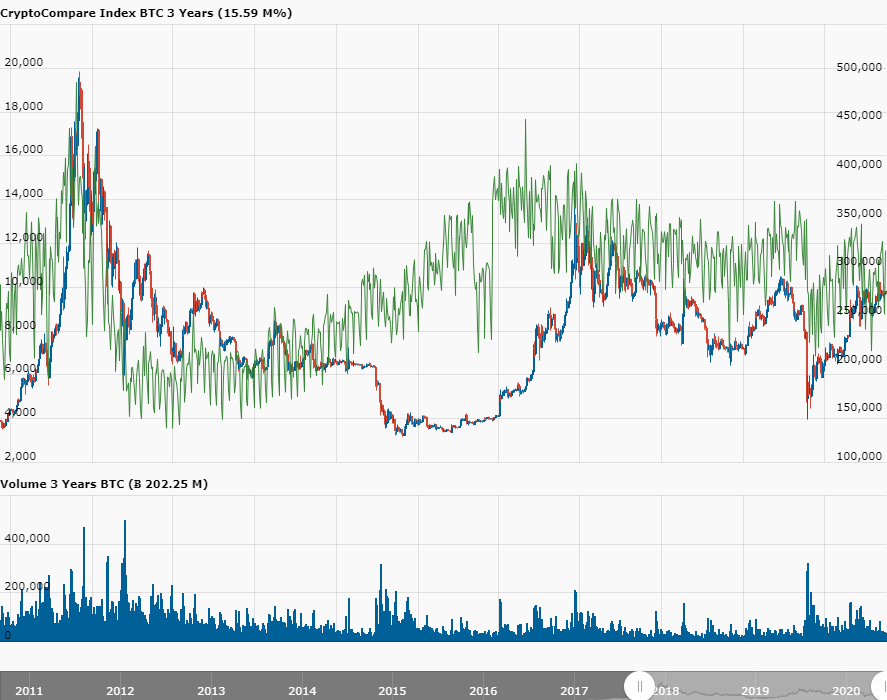 Well over 450,000 transactions were confirmed per day when BTC was at its all-time high. Only three months later, that number was below 150,000. Interestingly, the number of confirmed transactions started moving up before the bear market was over.
This website is only provided for your general information and is not intended to be relied upon by you in making any investment decisions. You should always combine multiple sources of information and analysis before making an investment and seek independent expert financial advice.
Where we list or describe different products and services, we try to give you the information you need to help you compare them and choose the right product or service for you. We may also have tips and more information to help you compare providers.
Some providers pay us for advertisements or promotions on our website or in emails we may send you. Any commercial agreement we have in place with a provider does not affect how we describe them or their products and services. Sponsored companies are clearly labelled.