We have all heard the old saying, "the house always wins". This isn't just a saying, it's true. Casinos are profitable business because they always win, statistically speaking. There is something called the house edge, which is the advantage the house has over the player. For example, roulette has the presence of the green squares on the roulette wheel and on the table, giving the house an edge of 5.26% in American roulette or 2.70% in the European version.
On online casinos, this edge is factored into the game scripts themselves, giving the house an advantage over the user, which is usually 1%. The popular 999 Dice got his name because of it's edge of 0.1%, which leaves the user with a fairness of 99.9% - 999.
However, these low house edges require the house to play many rounds in order to ensure their profitability. Bitcoin casinos often acquire funding from users and give a cut of the profits to the user. This means that you can fund the bankroll to become the house and always win! This is called the Kelly criterion.
There are of course some risks in this system. The house can simply disappear with your coins since you're entrusting them to a third party. This system also assumes that you can make a large numbers of bets and that over time the positive expected gains will give you a profit. But the house can't choose when to play; it just waits for players to place bets. If players stop betting, a house profit may never occur. Large backers may also dilute your bankroll bet, meaning that if you're at a loss and new backers join, it may take a long time to recover the loss.
As so, it is important to only back trustworthy, popular and long-running websites. As so, we've chosen SatoshiDice, which is one of the oldest and most successful dice games on the Bitcoin universe. SatoshiDice has a 1.90% edge, you will receive half of the profits = 0.95% edge
So, let's get to it
Part 1 - Create an account with Satoshi Dice
Step 1: Click here to go to SatoshiDice
Step 2: Click "Join Now" to open an account

Step 3: Enter your personal data and click "Register"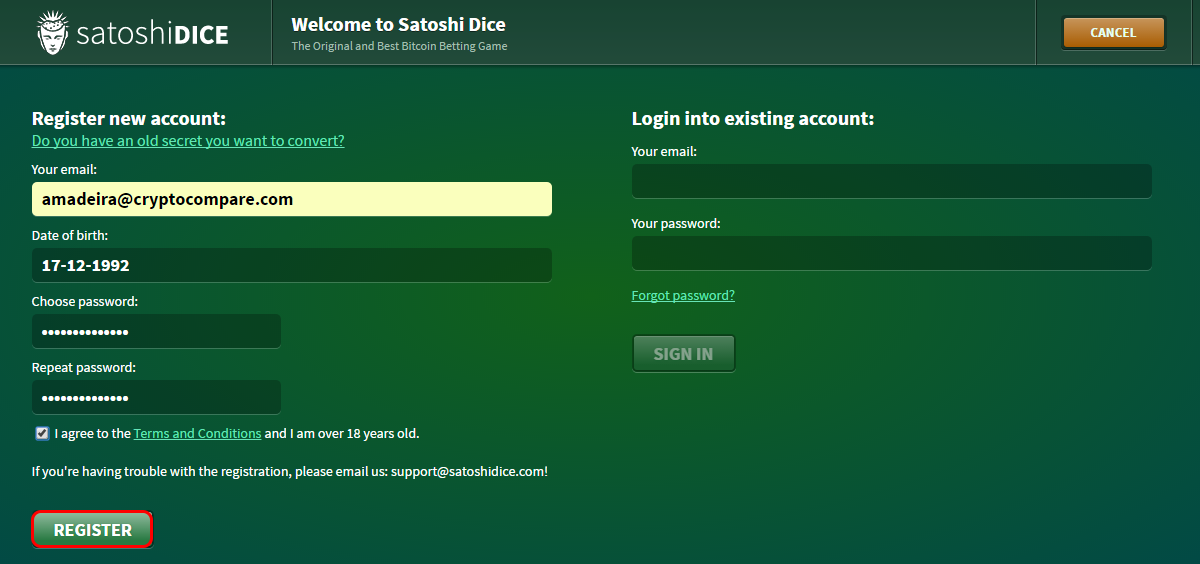 Your account will be created

Part 2 - Fund your account
Step 1: Login into your newly created account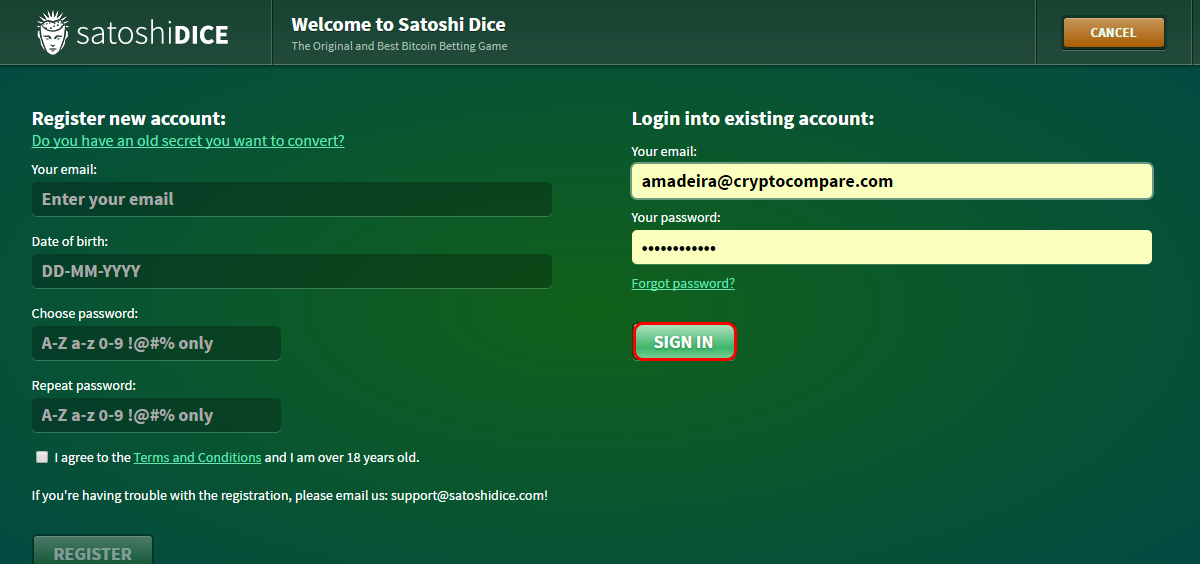 Step 2: Click "Deposit"

Step 3: Send funds to the address shown

Your funds will show up as unconfirmed after you send them

Wait for them to confirm then move to the next part

Part 3 - Fund the Bankroll
Now it's time to bet on the house!
Step 1: Click "Bet on the House"

Step 2: Read the text on this page carefully to attain a better understanding of the Kelly criterion.

Step 3: Now, enter the amount of the bankroll you want to invest in the bankroll (1) and click "Add to Bankroll bet" (2)

That's it. You will be shown your % part on te bankroll. This means that if your cut is 1% and the house profits 100BTC, you will recieve 100 / 2 = 50 and then 1% of 50 = 0.5 btc.
You will see that your bankroll bet will be updated on the right upper corner


You will be able to withdraw your bankroll bet any time, by entering the amount you want to move out of the bankroll and into your account balance.
This website is only provided for your general information and is not intended to be relied upon by you in making any investment decisions. You should always combine multiple sources of information and analysis before making an investment and seek independent expert financial advice.
Where we list or describe different products and services, we try to give you the information you need to help you compare them and choose the right product or service for you. We may also have tips and more information to help you compare providers.
Some providers pay us for advertisements or promotions on our website or in emails we may send you. Any commercial agreement we have in place with a provider does not affect how we describe them or their products and services. Sponsored companies are clearly labelled.