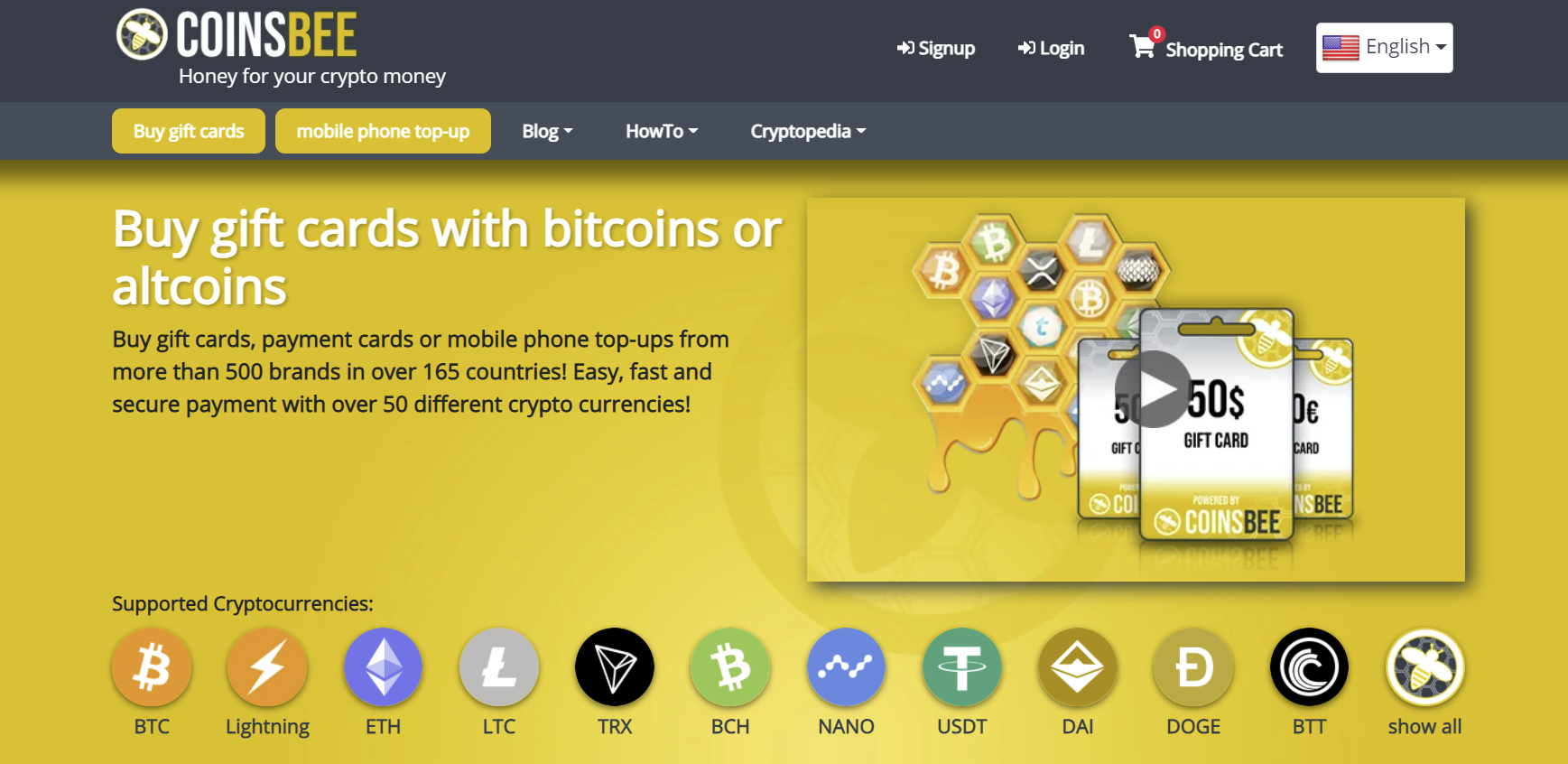 While several cryptocurrency critics claim that the main use of bitcoin and other cryptos is for speculation, there are hundreds or even thousands of other use cases for cryptoassets. These also involve everyday purchases, which are possible in a number of ways.
Businesses accepting direct cryptocurrency payments for their goods and services are a way of using cryptos for everyday purchases, but most businesses currently only accept fiat currency payments. A solution is using bitcoin, for example, to buy prepaid debit cards or gift cards with a balance usable on most stores throughout the world.
A company offering such a service to users is Coinsbee. The firm has a multilingual platform with a user-friendly interface that supports more than 50 cryptocurrencies, and lets its users throughout the world use them to buy gift cards, prepaid debit cards, mobile top-ups, and more.
The platform was launched back in September 2019 and has been steadily growing since. Its about us page details that within a few months of being launched, over 20,000 products had been sold through the platform.
Registering for Coinsbee
Registering on the platform is as straightforward as it gets: all users need is their name, email address, date of birth, postal address, and a secure password. Registering on the platform has a few advantages, such as being able to manage orders and access purchase history.
It is, however, not necessary to register to buy gift cards, prepaid debit cards, or anything else on Coinsbee as all you need is an email address and some cryptocurrency to spare. Accounts are limited to €1,000 in daily transaction volume, with the overall limit per address being capped at €15,000.
To go over these limits, users will need to go through know-your-customer (KYC) checks. The data collected will be used to comply with local regulations and lift users' limits.
How to buy gift cards on Coinbsee
As mentioned, it's possible to buy gift cards for several companies, including e-commerce platforms and gaming platforms, as well as mobile top-ups and prepaid debit cards. In this guide, we'll be using the platform to buy an Amazon gift card.
After heading over to Coinsbee, all we have to do is choose "Amazon" to go to a page allowing us to pay for an Amazon gift card using cryptocurrency. We have three options on this page: the desired region the desired value, and the currency the price should be shown in.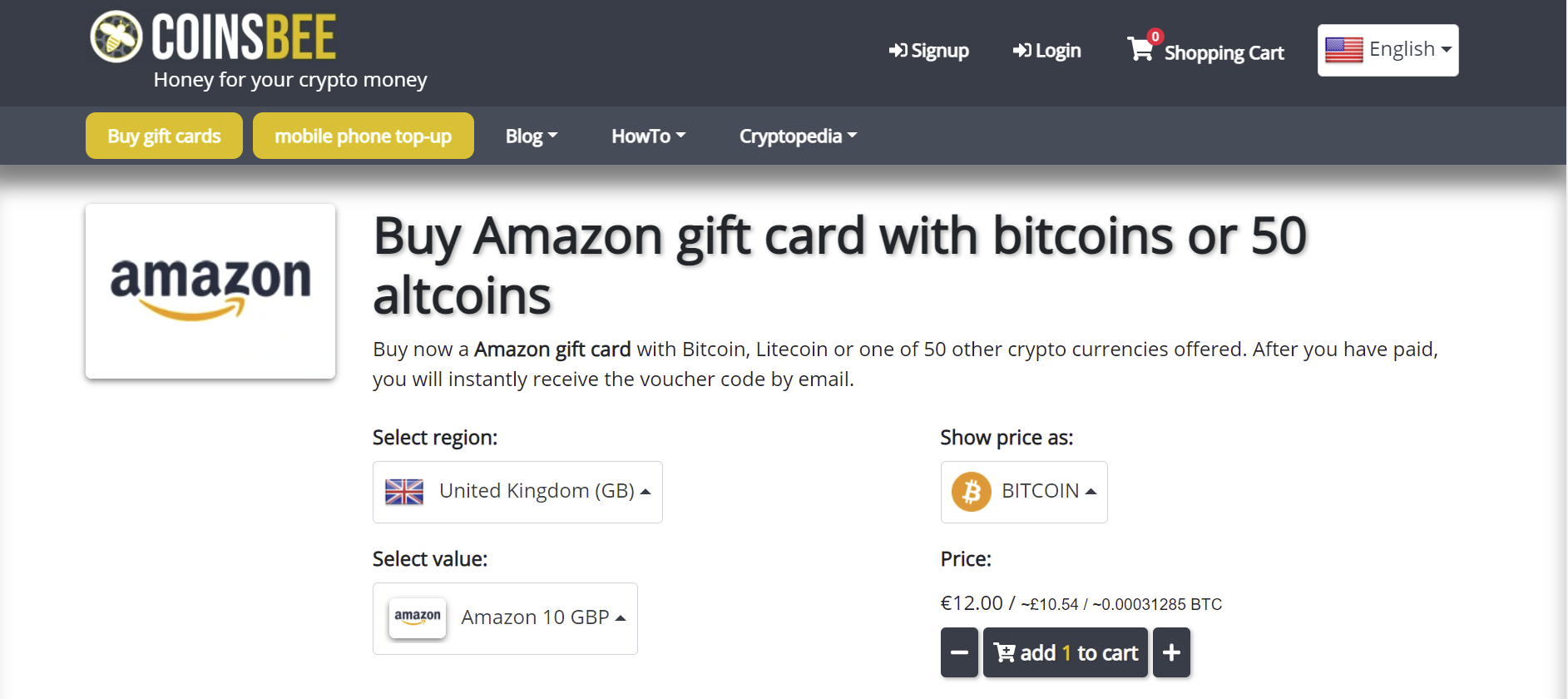 Keep in mind the currency the price is shown in is not the cryptoasset we'll be using to pay. After choosing our desired region and value, we just need to click "add to cart." We could keep shopping here, but we're satisfied with our Amazon gift card.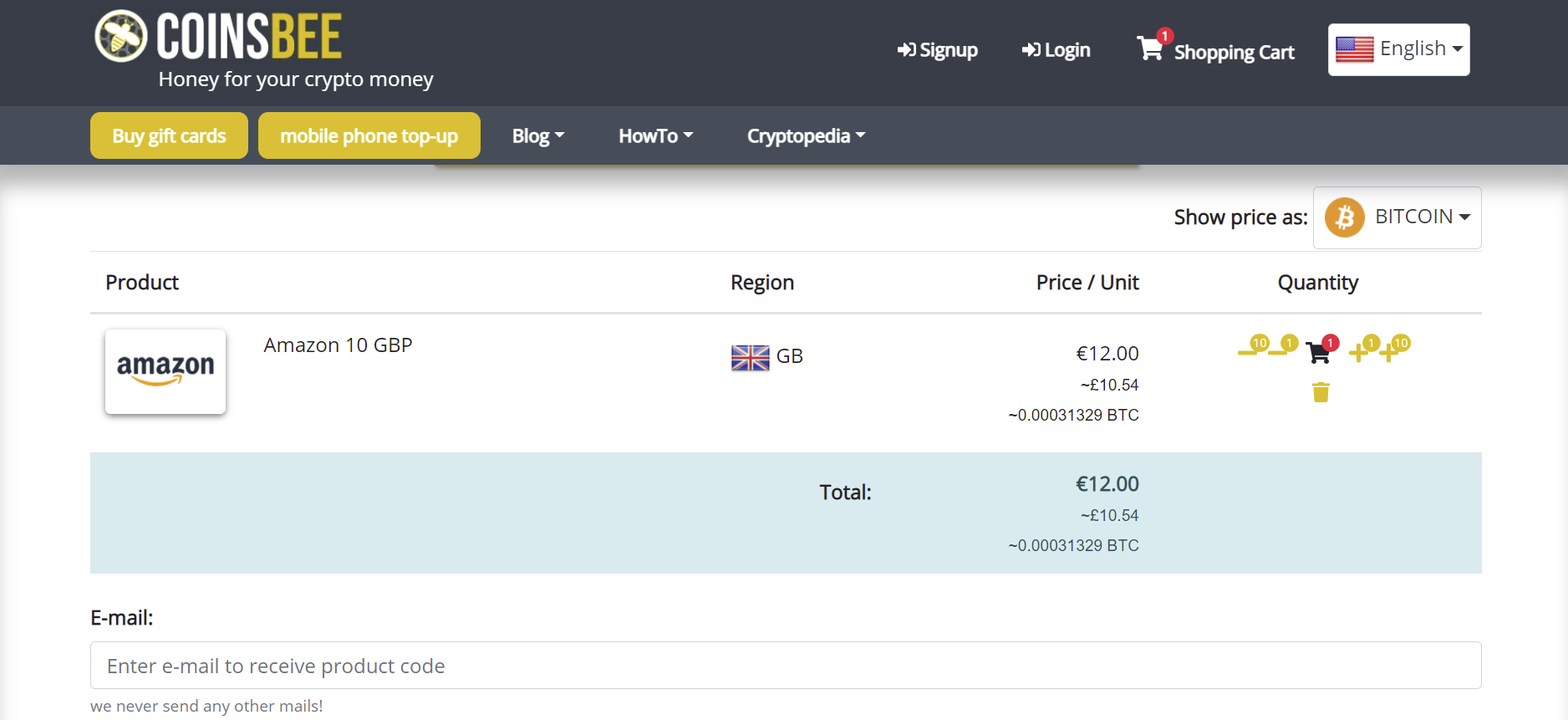 As such, we'll go to our shopping cart to review our order. Here we need to enter an email address, to which the gift card will be sent to. After entering our email address, we're asked to agree to the platform's terms. After agreeing, the next step is to pay.
We're redirected to a page where we can choose which cryptocurrency we want to pay with. There are over 50 cryptoassets available for payment on Coinsbee, and we can use both BTC and LTC over the lightning network.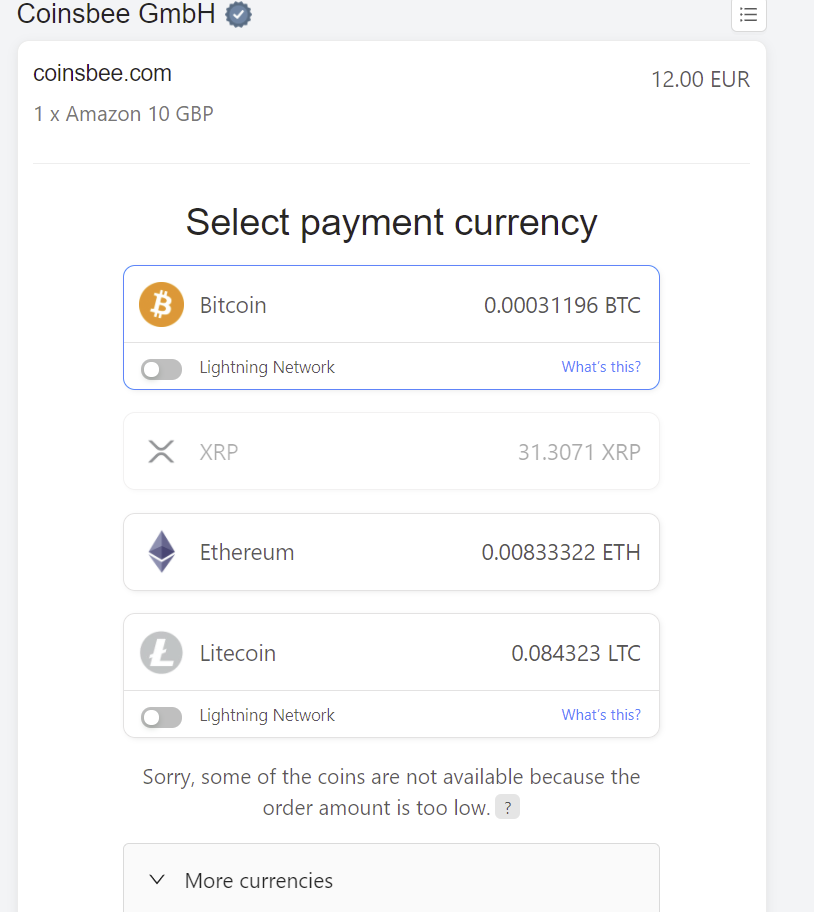 After paying, all we have to do is wait a few minutes for our gift card to arrive on the entered email address. If things go awry, it's also possible to contact Coinsbee's support team to find out what happened and get things sorted.
This is a sponsored story. Its content does not constitute financial advice. Please remember that the value of investments, and any income from them, can fall as well as rise so you could get back less than you invest. If you are unsure of the suitability of your investment please seek advice.
This website is only provided for your general information and is not intended to be relied upon by you in making any investment decisions. You should always combine multiple sources of information and analysis before making an investment and seek independent expert financial advice.
Where we list or describe different products and services, we try to give you the information you need to help you compare them and choose the right product or service for you. We may also have tips and more information to help you compare providers.
Some providers pay us for advertisements or promotions on our website or in emails we may send you. Any commercial agreement we have in place with a provider does not affect how we describe them or their products and services. Sponsored companies are clearly labelled.