How to gamble with cryptocurrencies
If your into Bitcoin and Crypto Currencies you are probably into gambling too with the amounts of volatility involved! Bitcoin, ethereum and all other altcoins are your global casino chips where you can move from table to table or gambling den to gambling den. This guide will show you the ins and outs of gambling with your cryptos, where to do it and why!
Using bitcoin or any other cryptocurrency to gamble online becomes an obvious choice when you consider the benefits it offers over the traditional methods:
Cheap: International transfers are expensive, Sending bitcoin is virtually free.
Anonymous: You don't need to send your documents or expose your identity to any party involved in this process.
Fast: Bank transfers can take days! Transferring Ether takes around 23 seconds.
Legal: Online Poker is illegal in some countries, most notably in the United States of America, but you can gamble with Bitcoin since it's not a government issued currency. Now that's what we call a Life-Hack!
But you don't have to take your word for it, because we're going to teach you how to gamble with cryptocurrencies so you can experience this features first hand.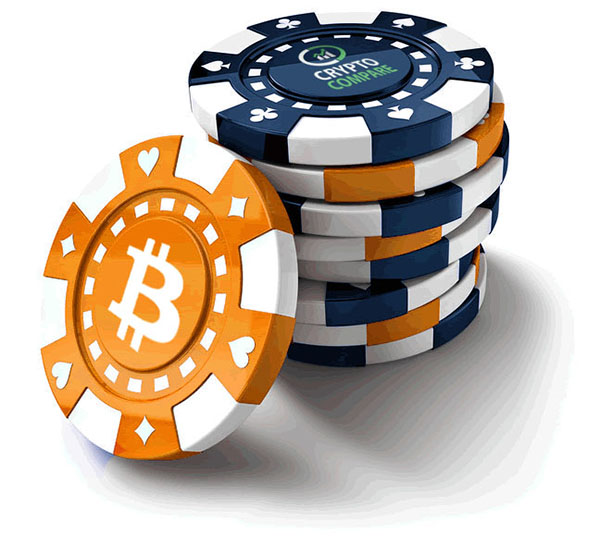 How to gamble with Bitcoin!

First thing you're going to need is an account on mBit Casino, which is the lead bitcoin gambling platform and the website we'll use in this guide.
mBit Casino offers an incredibly diverse game selection:
Video Poker, so you can tell bluffs and have some extra fun while playing; Roulette;Card Games like Blackjack, Baccarat, Slot games, Dice games, Lotteries and if you're feeling lucky Table Games such as Craps
You can even choose to play certain games in live and in HD. And if you get through the hundreds of games and themes mBit provide, don't worry, they add fresh Games every week.
Head over to mBit and click "New Account". Enter your email and password, then confirm your account clicking the link sent to your email address. After you confirm your account you need to deposit Bitcoin. Click the "Deposit" button. Select the "I would like to top up my balance in BTC" option. A Bitcoin address will be shown in the lower section of the website. Head over to your preferred wallet or Exchange and transfer the amount of bitcoin you want to the address shown on mBit Casino:

After you send the desired amount of BTC, it may take some minutes for the transaction to be confirmed, so feel free to spend some time on CryptoCompare while you wait. You can even create a new Portfolio to track your gambling gains and losses!
Now that you have BTC on your mBit account, you can start gambling. Just choose your game and have fun. mBit has hundreds of fun games!
How to gamble with Altcoins!
Alternative Cryptocurrencies can be even faster, cheaper and provide better privacy than Bitcoin. Most of these, however, have higher volatility which means you can end up with less or more winnings than you planned. So choosing a solid crypto currency to gamble with is very important. You can check our Recommended Coins if you're unsure.
We'll use FortuneJack for this guide. FortuneJack allows you to deposit 10 different cryptocurrencies and more are probably coming:
Bitcoin; Litecoin; Dogecoin; Dash; Monero Clam; Novacoin: Peercoin; Namecoin; Reddcoin.
And their Games are as diverse as their accepted cryptos list. You can play Lottery Games like Keno and Bingo, Live Roulette and other live games, Video Games; Card Games like Blackjack and Poker; Dice; Slots; Betting games for traders and gamblers alike.
Go to FortuneJack, register an account and click the deposit button, choose your crypto currency and transfer the funds from your wallet/exchange. It may be even faster than Bitcoin, depending on the cryptocurrency you choose.

Now all you need to do is choose your game and start playing!
As you can see, it's not that hard to gamble with bitcoin or altcoins. Anyone can do it as long as you have some coins. And even if you don't, you can always mine some!
We may not be able to teach you how to play poker like Phil Ivey or how to count cards at the Black Jack table, but we have showed you how to save yourself some money and time when gambling! Use this information wisely, gamble with caution and never bet more than you what can afford to lose.
This website is only provided for your general information and is not intended to be relied upon by you in making any investment decisions. You should always combine multiple sources of information and analysis before making an investment and seek independent expert financial advice.
Where we list or describe different products and services, we try to give you the information you need to help you compare them and choose the right product or service for you. We may also have tips and more information to help you compare providers.
Some providers pay us for advertisements or promotions on our website or in emails we may send you. Any commercial agreement we have in place with a provider does not affect how we describe them or their products and services. Sponsored companies are clearly labelled.