Peer-to-peer lending
Today's Banking system plays important roles in any economy. One of these is to provide companies and individuals with access to capital through loans. However, their current structure faces multiple problems which result in certain individuals not having access to financial services.
Savings and loans are a fundamental building block of modern society, providing capital to those in need and acting as the fuel that drives economic growth. However, an estimated 2 to 3 billion adults throughout the world have little or no access to these services typically provided by traditional financial institutions. This is usually due to a lack of access to these institutions or the lack of credit scores.
Financial exclusion remains a pressing problem in the world economy as more than half of the adults in the poorest 40% of households in developing countries lack a bank account. In extreme cases, like Sub-Saharan Africa, only 24% of adults have a bank account.
There are, however, some alternatives like Microfinance institutions and community-based ROSCAs (rotating savings credit association). One of the most popular alternatives to the traditional banking system is peer-to-peer lending, where individuals and companies can apply for a loan in order to access capital or they can fund loans in order to earn interest.
These p2p lending platforms still face one major problem. They are not globally accessible due to geopolitical restrictions and the need to interact with the banking system. The same unbanked people that would benefit from these platforms, often have no method of transferring funds to or from the platform.
However, this problem can and has been fixed through the use of a truly global currency that does not rely on any banking institution. Yes, we are talking about Bitcoin. Anyone with a mobile device and internet connection can use it and can, as so, use Bitcoin-based p2p lending platforms.
A prime example of such a platform is Bitbond, a web platform that enables users to lend and borrow Bitcoin to each other, typically to be used in financing small to medium-sized businesses. It is also worth noting, that Bitbond now offers instant funding of up to $25,000 to small business owners
What is Bitbond
Bibond is a peer-to-peer lending website that allows users to lend and borrow Bitcoin. When lending or borrowing, the platform creates a risk score for the loan and provides an adequate interest rate. All the operations within the platform take place with Bitcoin, although users can choose to borrow coins based on a Bitcoin or USD peg.
Borrowers are required to reveal their personal information and to back it up with the ownership of social media and e-commerce accounts. Loans are then ranked from A to F according to risk which is accessed from the accounts linked and previous history on the platform.
In the case of an unpaid loan, Bibond will provide you with all the necessary information to take legal action against the borrower or you can also sell the claim for the loan to a debt collection agency. The latter is usually best for lenders but it requires the amount to be above a certain threshold which varies according to the location of the borrower (usually 1.0 BTC or more in the developed world and 0.5 BTC or more in emerging markets).
Recently, Bitbond has raised $1.2 million in equity capital to expand their business globally. With this new investment, the Berlin-based startup has raised $2.3 million in capital to date.
How to use Bitbond
Today, we're going to teach you how to use Bitbond. This guide covers how to borrow money and how to lend money, so whether you're looking for capital to start a business (or something else) or you're looking for a way to invest your Bitcoins, this guide is for you!
Part 1 - Create an account
When creating a profile with Bitbond, you need to choose between a lender account or a borrower account. If you choose lender, you can always convert to a borrower (and vice-versa) but you can not switch back.
Step 1: Click here to go to Bitbond
Step 2: Click "Sign Up" to open an account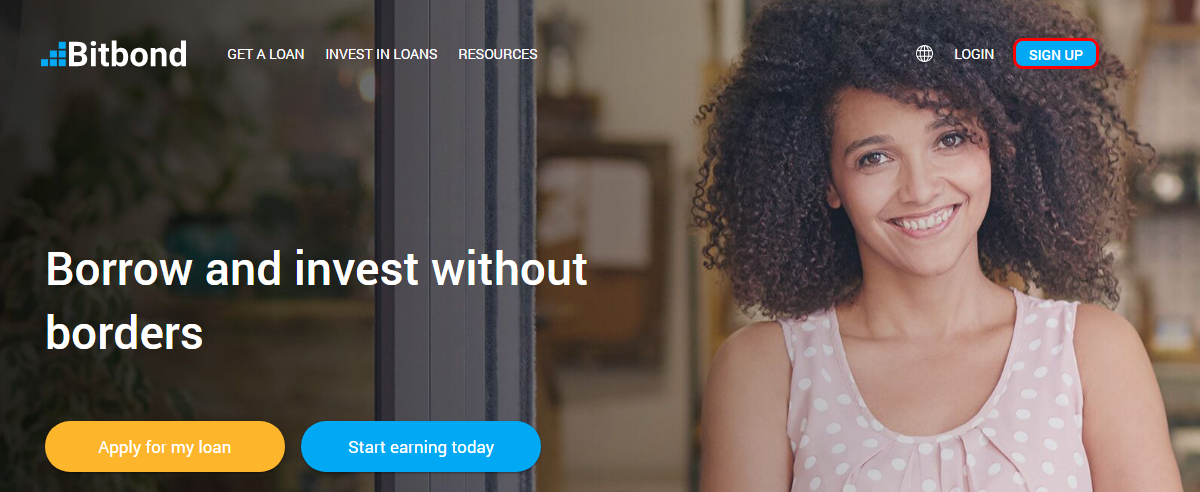 Step 3: Choose the type of account you want to create (lender or borrower), enter your personal data and click "Join now". Remember to tick the terms&conditions box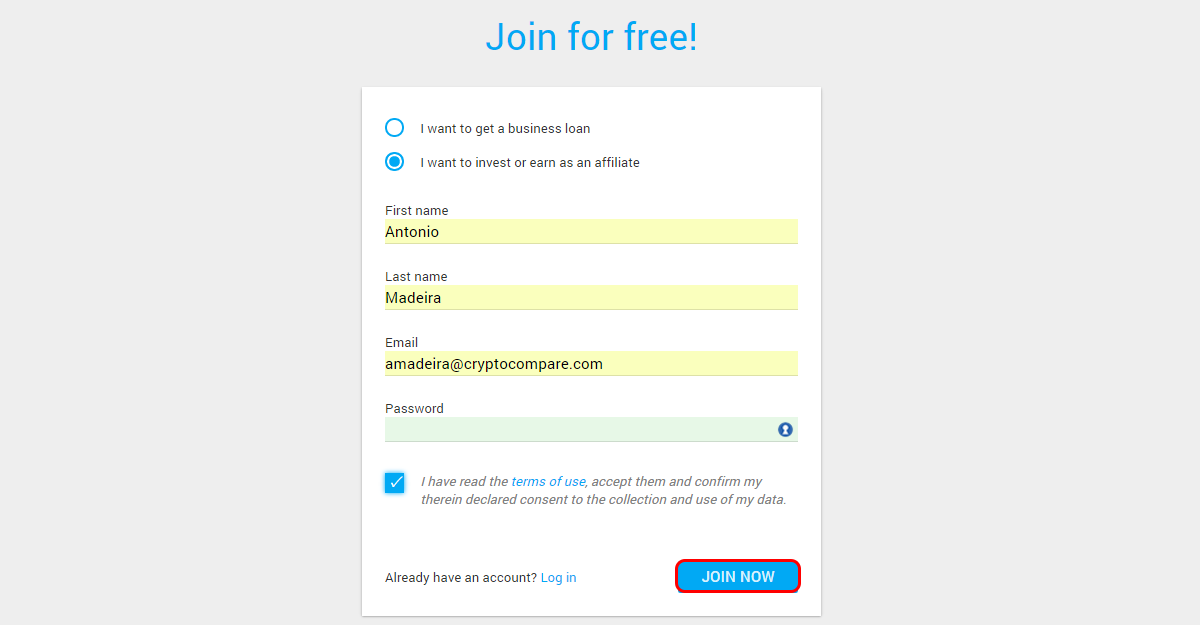 Step 4: You'll be sent a confirmation link to your inbox. Open it to confirm your email address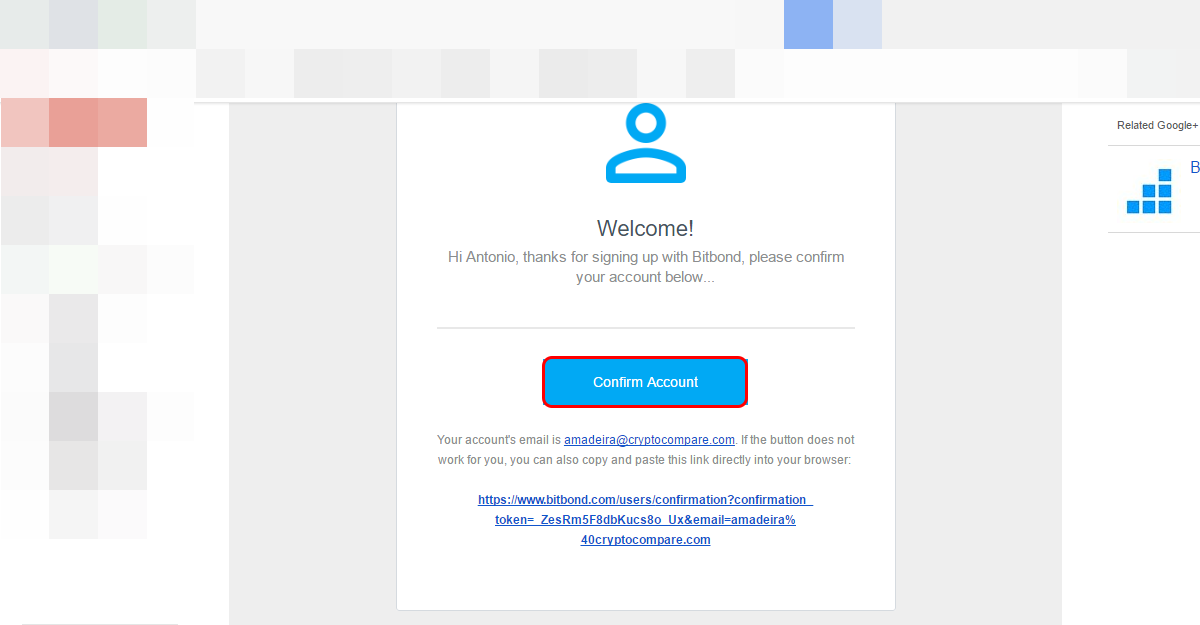 Step 6: You'll be taken to the login page. Enter your account name and password and click "Log in"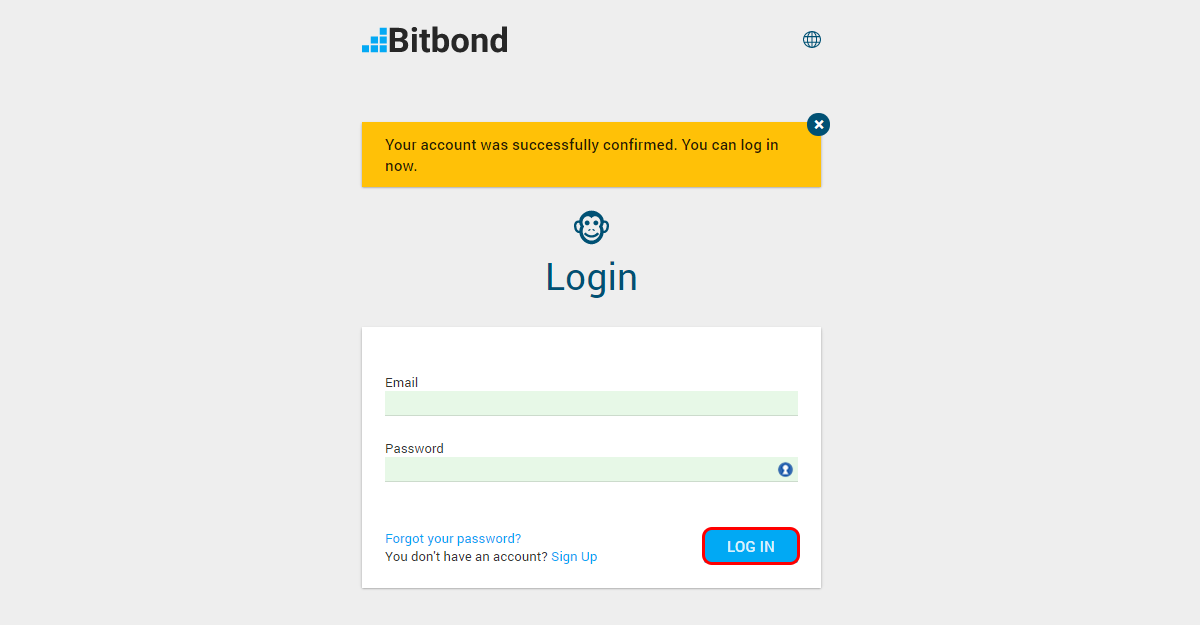 Part 2 - Create a profile and verify your identity
Creating a customized profile in Bitbond is a good idea, especially if you're a borrower. People will want to see your profile before investing in a loan to you or your business to learn more about you/it. You will also need to verify your account.
Step 1: Click "Personalize your profile here"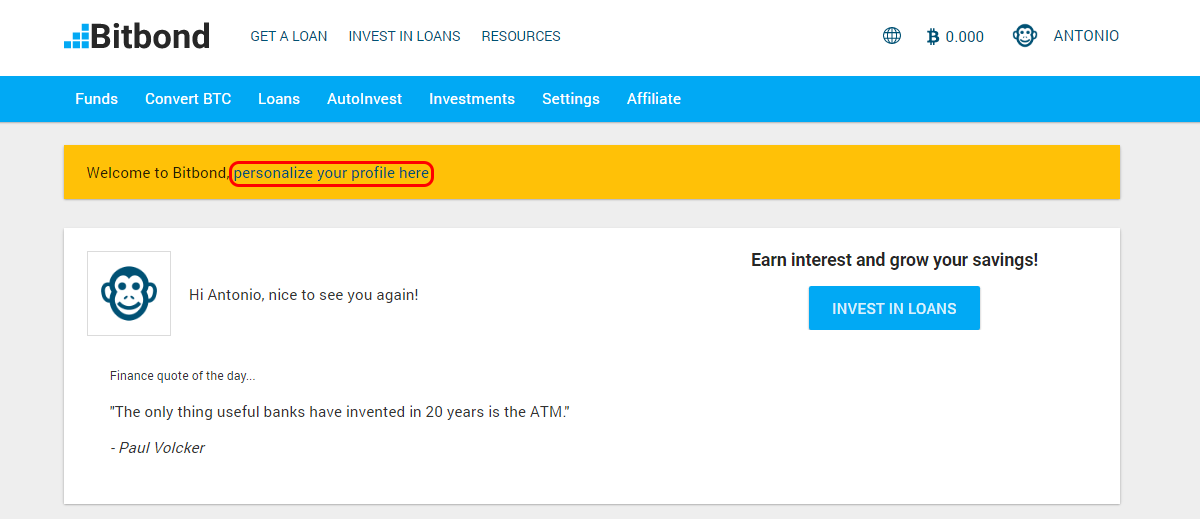 Step 2: You'll be taken to your profile page. Here you can change your avatar (by clicking the current one), your public username and your bio. Once you're done, click "Save Changes"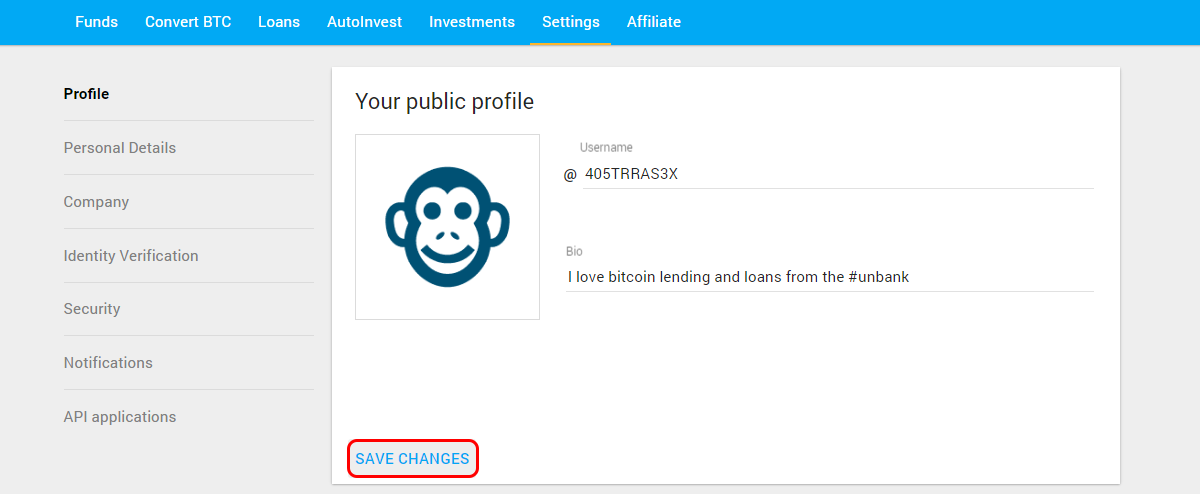 Step 3: Now let's move on to the "Personal details"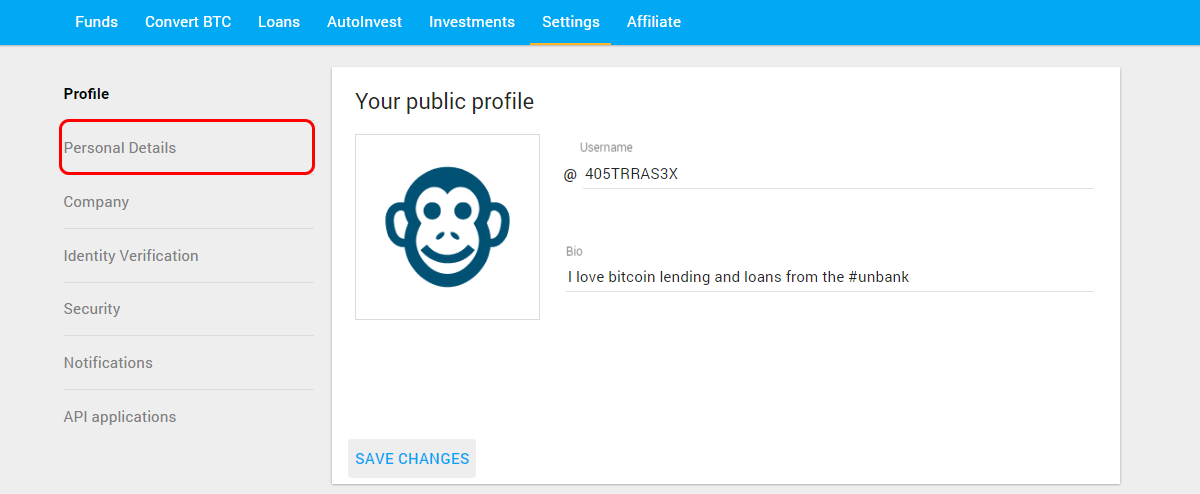 Step 4: Fill in your personal details and click "Save changes"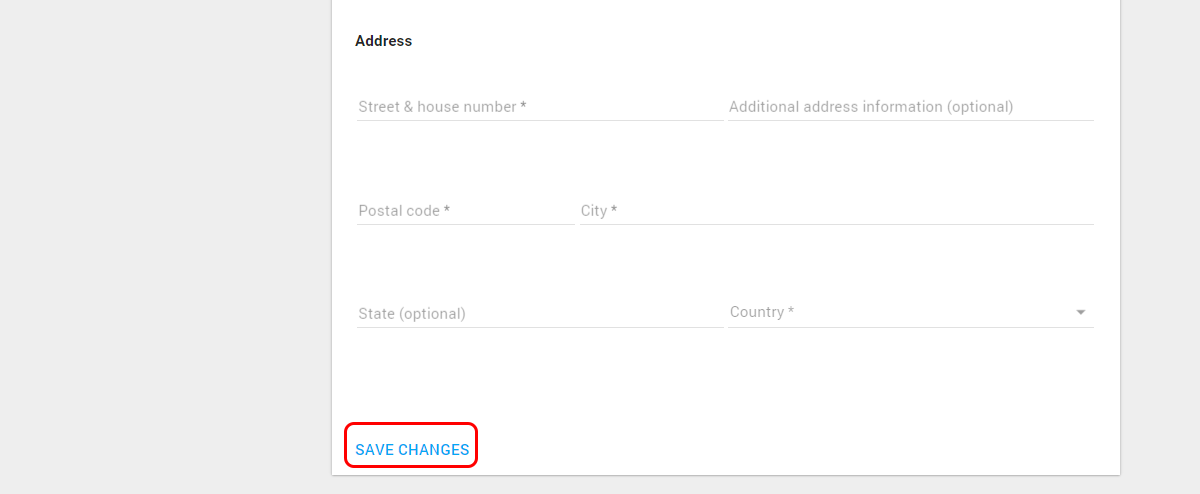 Step 5: You can also fill in your bank account details if you want to deposit fiat directly to be converted into Bitcoin. You can do this by clicking "Add bank account"

Step 6: If you have a company go to "Company" to fill out the details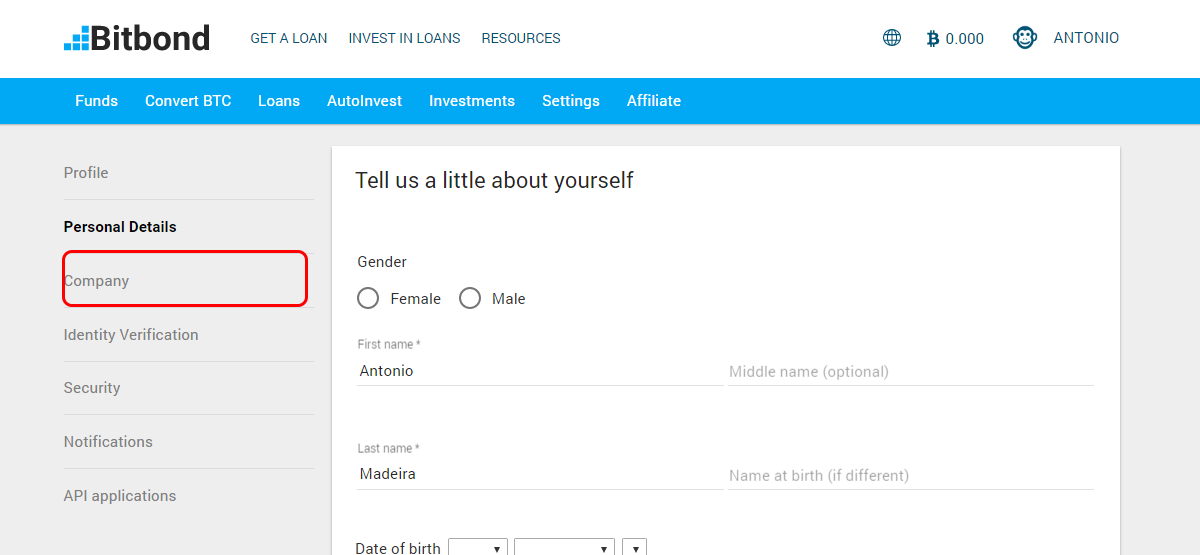 Step 7: and once more, fill in the details and click "Save changes"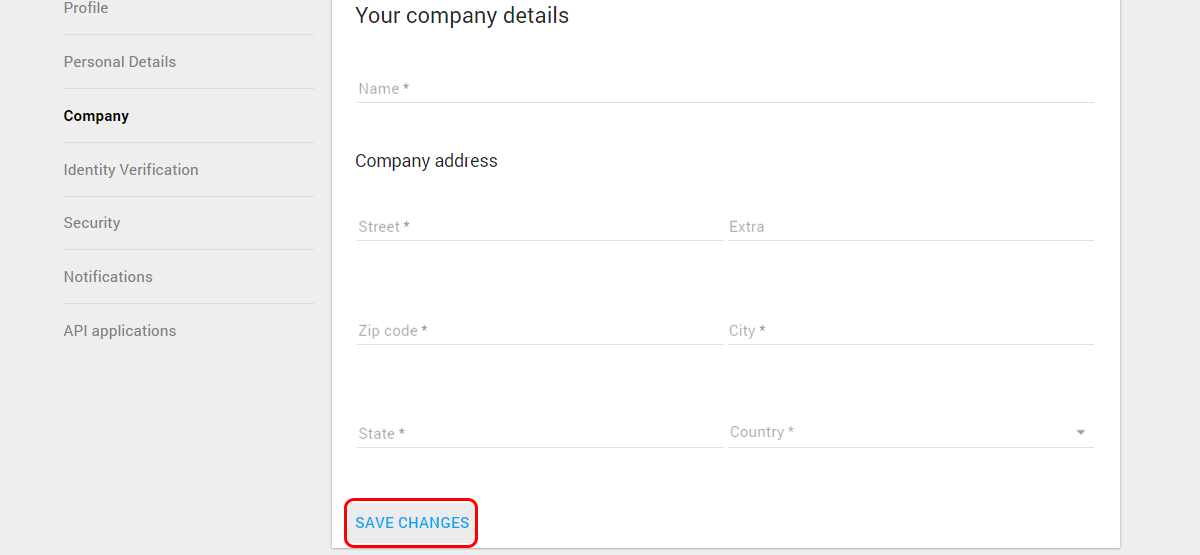 Step 8: Now, let's go to "Identity Verification"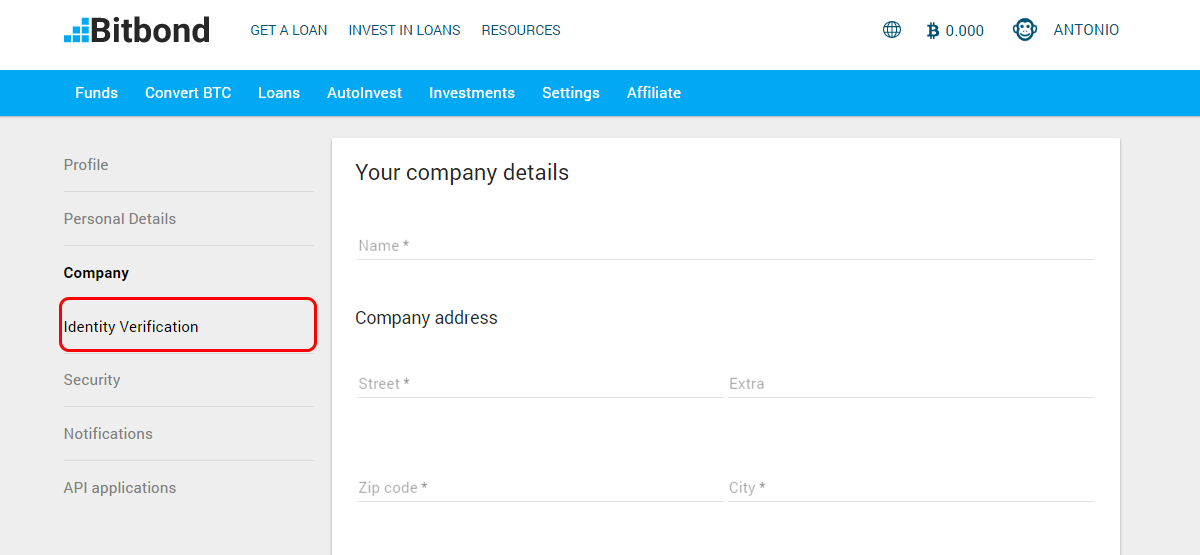 Step 9: Read the instructions provided then click "Start Verification" which will start a video session with an identity.TM agent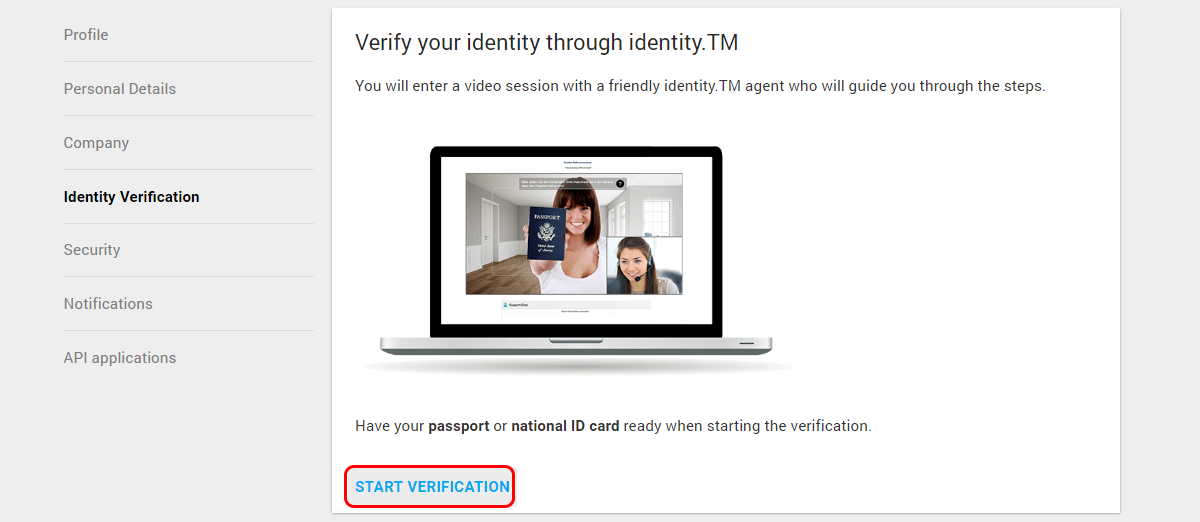 That's it! Your account now has all the required information and is fully personalized. Let's move on!
Part 3 - Lending Bitcoin
(If you want to borrow BTC instead of lending, skip to Part 4) Now, it's time for the good stuff! We're going to fund our fist loan which will allow us to receive interest and to help someone access the capital they need/want. The first thing we need to do is fund our account
Step 1: Click the Bitcoin symbol in the upper right corner

Step 2: Now send funds to the Bitcoin address shown. You'll need to wait for the transaction to be confirmed by the Bitcoin network.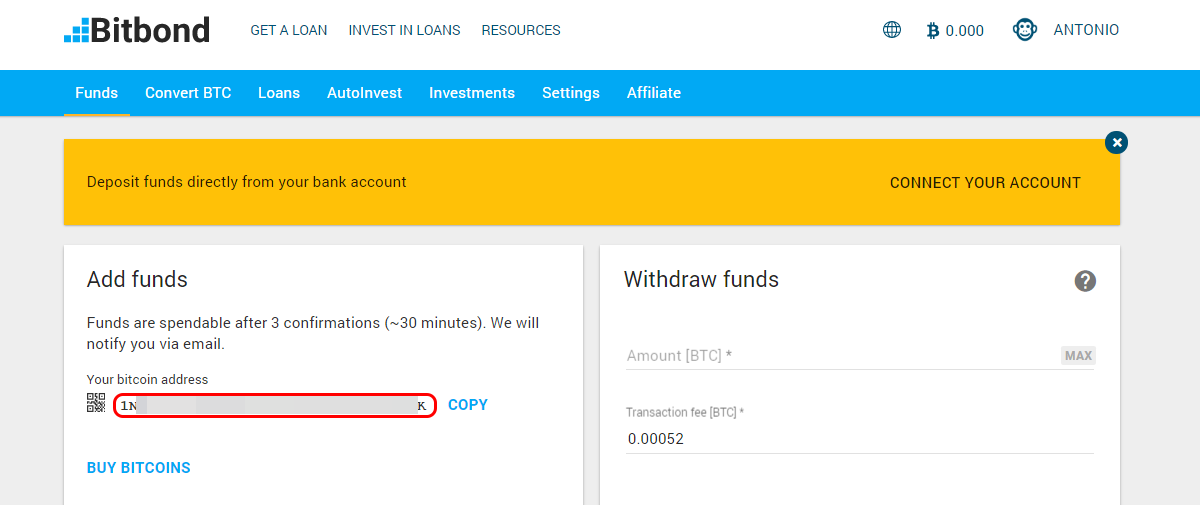 You can check the state of the transaction by scrolling down.

Step 3: Once the transaction has been confirmed by the network, click "Invest in loans"

Step 4: Now, you'll want to narrow your search down by using some of the available filters. You can sort (1) by funds gathered so far, time left, rating and term (how long the borrower wants to borrow Bitcoins). You can also choose the base currency (2), which is the unit to which the loan will be pegged, so if you lend in USD and Bitcoin goes up, you'll receive less BTC but the USD amount will be the same. Then you can select the rating (3) you want the loan to have, filtering out the ratings you don't. Lastly, you can also filter by the term (4).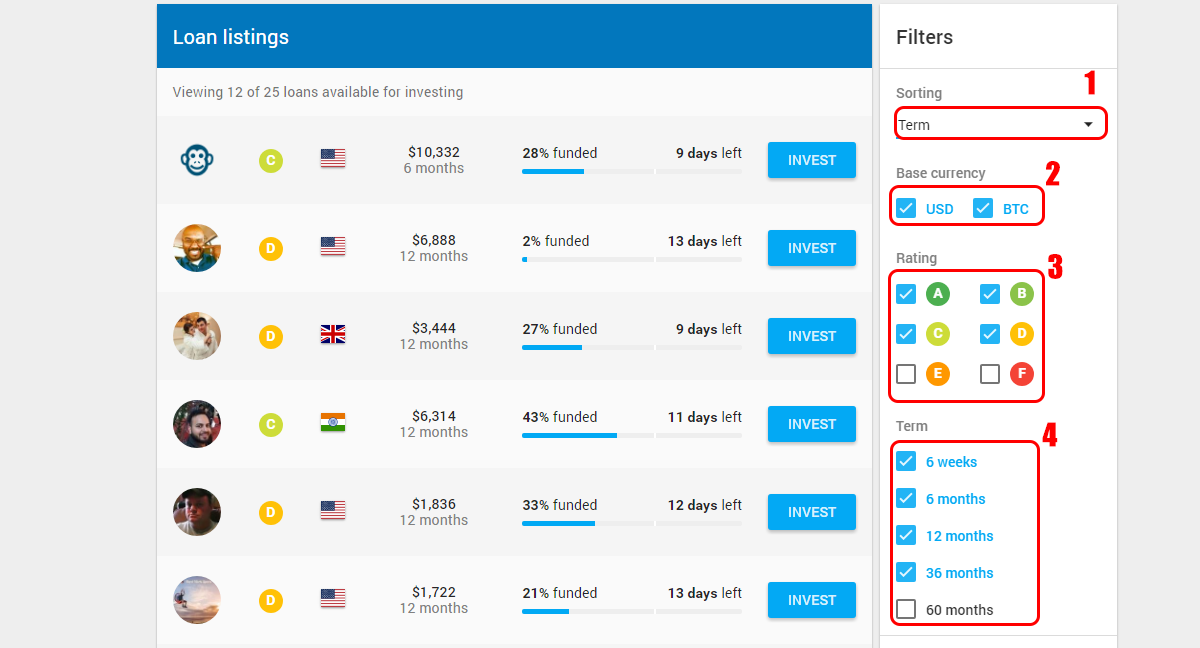 Step 5: You'll want to browse the loan requests available according to your filters and choose one that you are interested in (don't click "invest")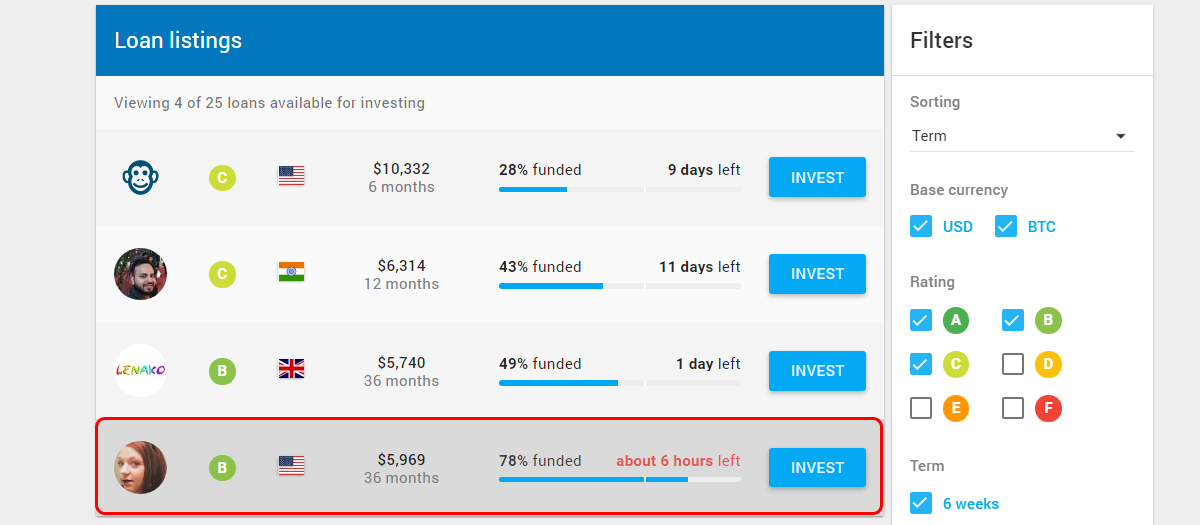 Step 6: Now, in order to decide if you want to invest in this particular loan, there is a lot to consider. You'll want to start by reading the loan description and check what the loan will be used for. If you think the business plan or payment guarantees are not reasonable or too risky, you may want to stay away. You will also want to visit the user's profile (by clicking his username or avatar) to check his past loan history and other details. Remember to check the connected accounts, in this case from Etsy and PayPal. Lastly, you'll want to check who's investing in this loan, if the lenders have a history of positive income, then you may want to jump in the same boat as them. You can check this help page if you have any doubts. Once you've come to a decision, click "Invest"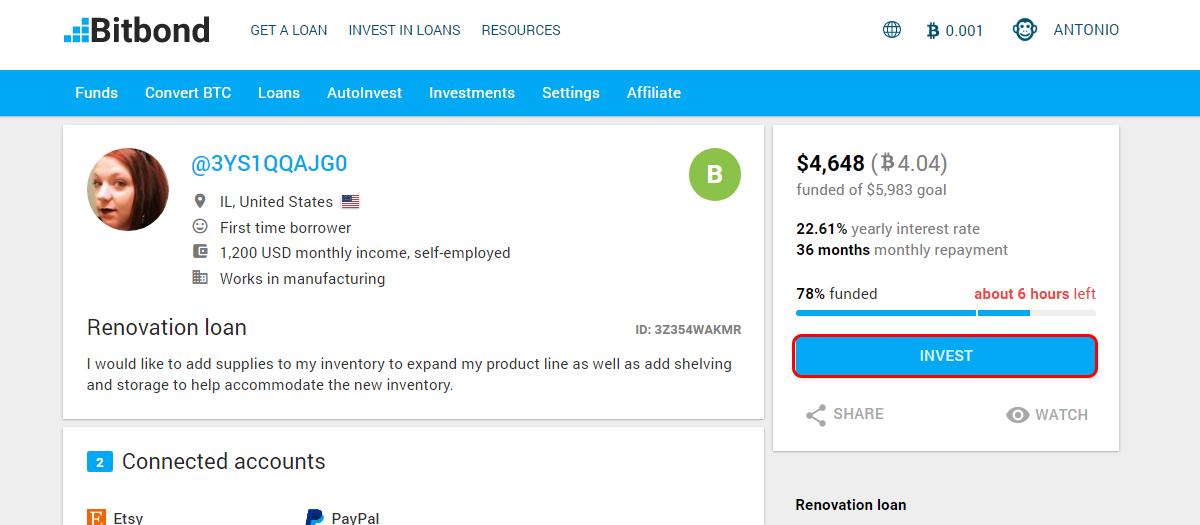 Step 7: Lastly, drag the bar to choose the amount you want to lend to the user and click "Invest"

That's it! You've funded your first loan in Bitbond. If you access the risk carefully, this is just the first of many.
Part 4 - Auto Invest
If you don't want to check every loan manually, you can take advantage of a special feature developed by Bitbond called Auto Invest. This tool allows you to invest in loans automatically according to the risk you're willing to take and other filters. Let's take a look.
Step 1: Click "AutoInvest"

Step 2: You'll need to transfer funds from your normal balance into your autoinvest balance. Choose the amount (1) and then click "Transfer" (2)

Step 3: Then, you need to activate AutoInvest

Step 4: Select your filters and preferences according to your liking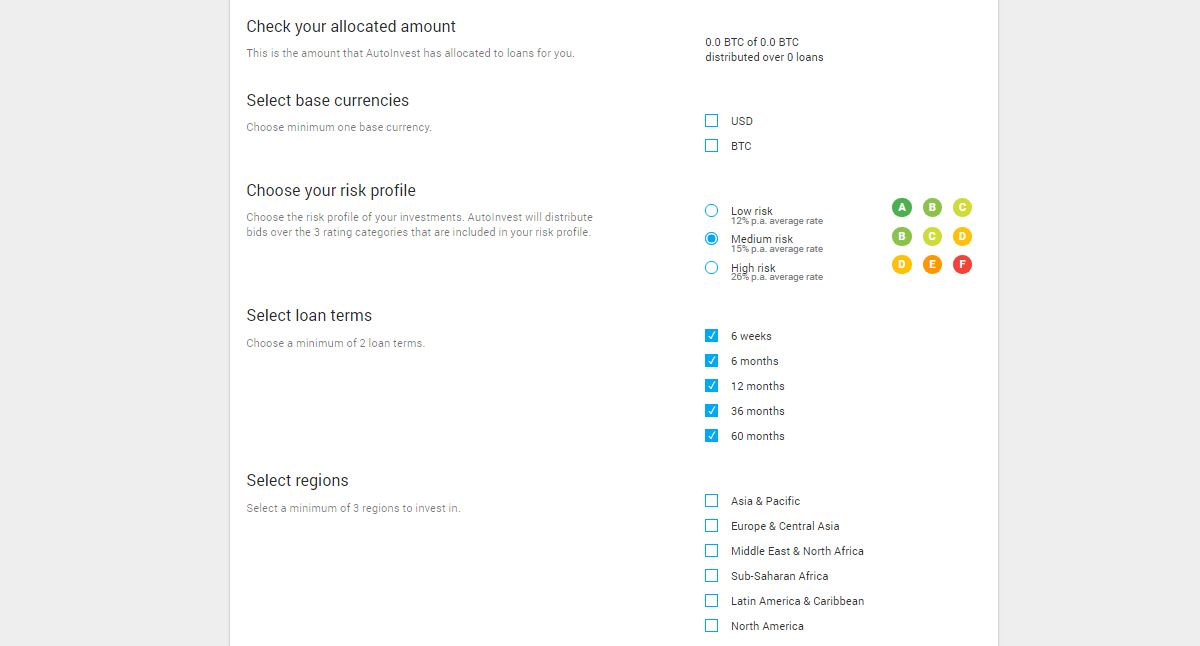 Step 5: Lastly, click "Update AutoInvest profile"

Part 5 - Borrowing Bitcoin
If you want to get capital for an investment, open a business, etc, then this is your chance. If you choose borrower account at the beginning, you'll be ready to get your loan. If not, you can always click "Get a Loan" to change the account to borrower (this only works once). Either way, you'll be taken to the borrower's application page. The page needs to be filled honestly and backed with real documents. 
Step 1: Fill in your personal details and click "Next"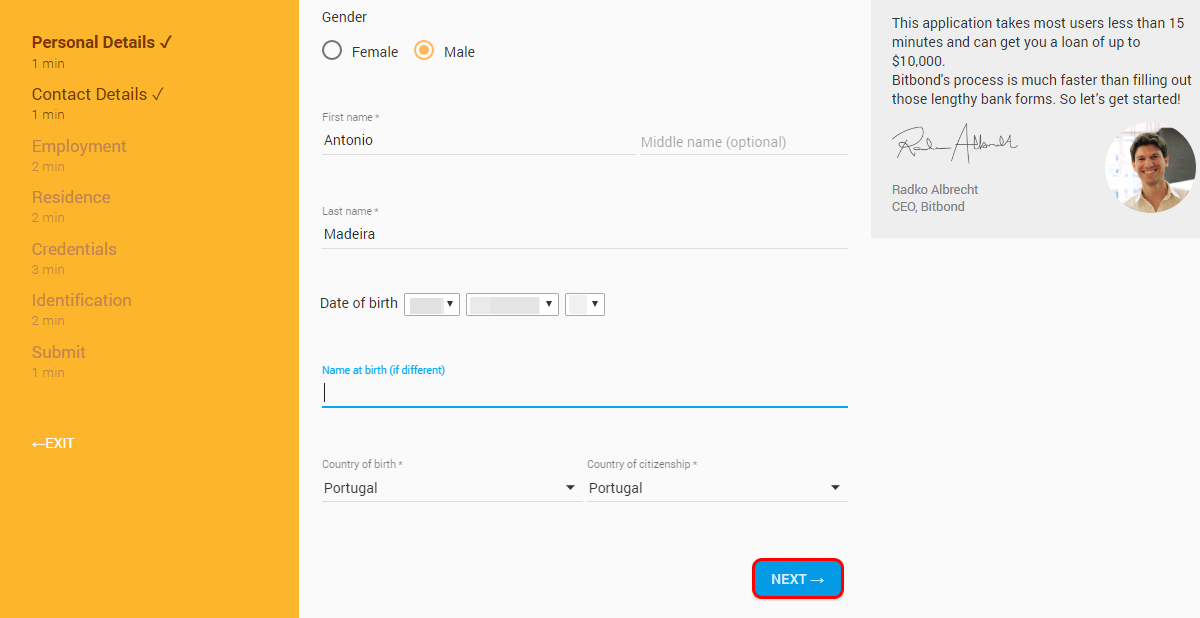 Step 2: Fill in your contact details and click "Next"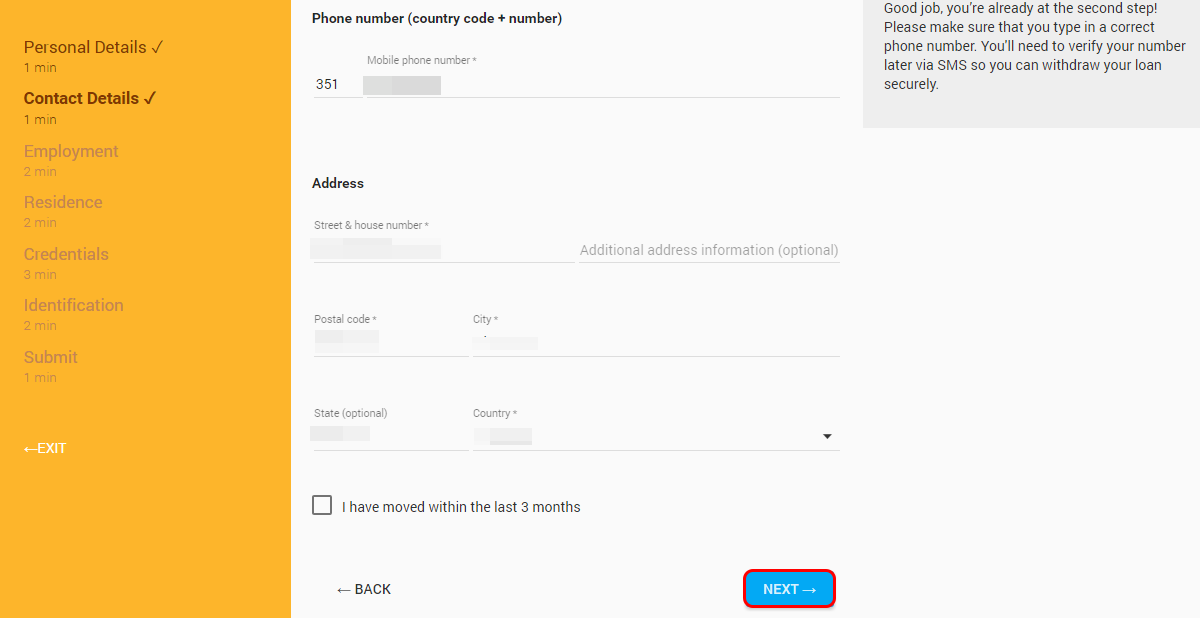 Step 3: Fill in your employment details and click "Next" (you'll need to upload a document that proves your inccome)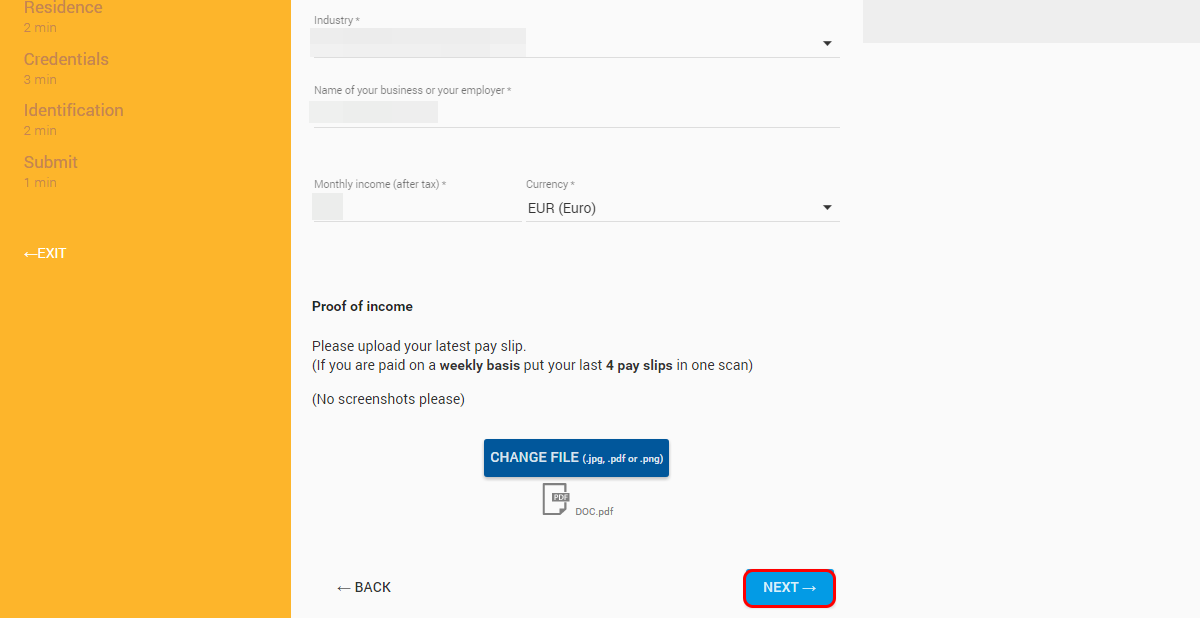 Step 4: Fill in your residence information and click "Next" (You'll need to upload a document that proves your address like a bank statement or utility bill)

Step 5: Fill in your credentials and click "Next" (You'll need to connect to some accounts like ebay, facebook, twitter and so forth). The more accounts you connect, the more trustable you'll be (both by users and the Bitbond ranking system)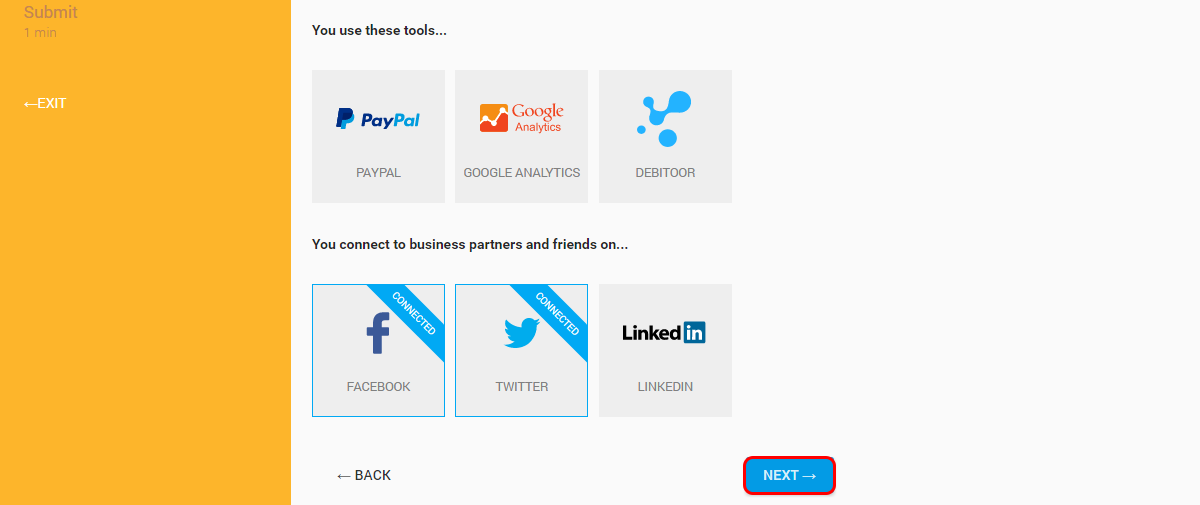 Step 6: Verify your identification and click "Next"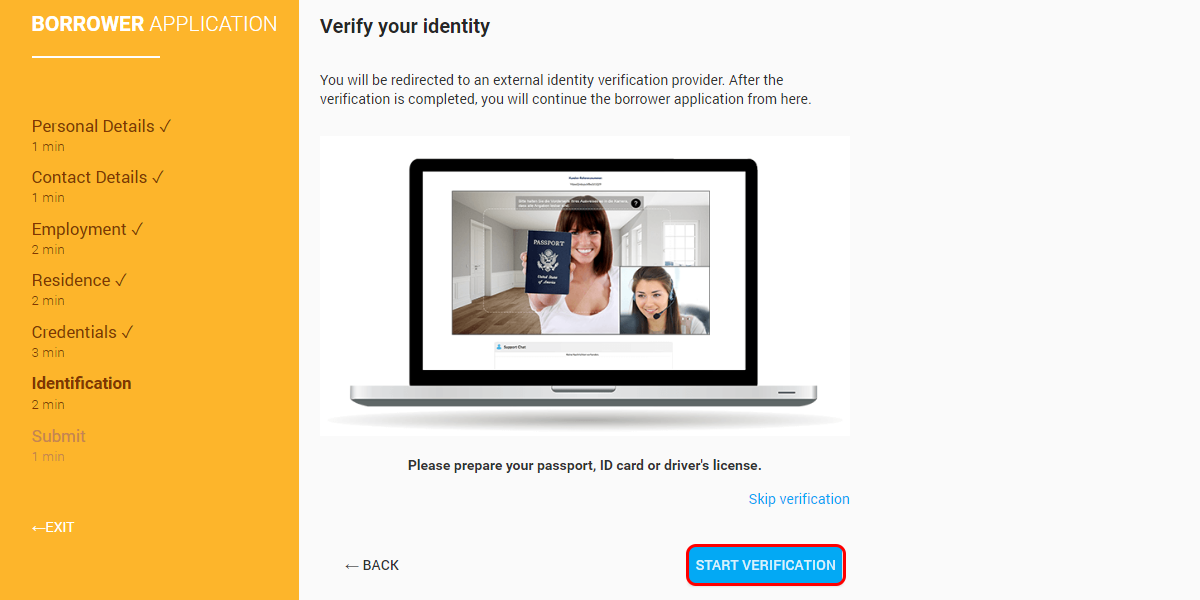 Step 7: Lastly, confirm all information is truthful and accurate and click "Next"

Now, you'll need to wait for Bitbond to review your application. This may take some time and Bitbond will email you once they are done.

This website is only provided for your general information and is not intended to be relied upon by you in making any investment decisions. You should always combine multiple sources of information and analysis before making an investment and seek independent expert financial advice.
Where we list or describe different products and services, we try to give you the information you need to help you compare them and choose the right product or service for you. We may also have tips and more information to help you compare providers.
Some providers pay us for advertisements or promotions on our website or in emails we may send you. Any commercial agreement we have in place with a provider does not affect how we describe them or their products and services. Sponsored companies are clearly labelled.