Online sports betting is extremely popular, and it's easy to understand why. It's fun, exciting and you don't even have to leave your house to do it. However, traditional payment services can eat away at your profits due to their impractical fees. As usual, using Bitcoin it can be much more affordable for the gambler, so we thought we teach you how to do it so you can bet on the winning team with a winning currency!
In this guide, we are going to be using Sportsbet.io, which is like the "bitcoin version" of the popular sports bet website bitcasino.io. This website allows you to bet on every sport you can imagine. even CounterStrike.
The first thing you'll need is some Bitcoin. If you are not sure about how to get some, you can check out this guide. 
Part 1 - Register an account
Step 1: Click here to go to Sportsbet.io
Step 2: Click "Register" to open an account

Step 3: Enter your personal info (1), agree to the terms and conditions (2) and click register (3)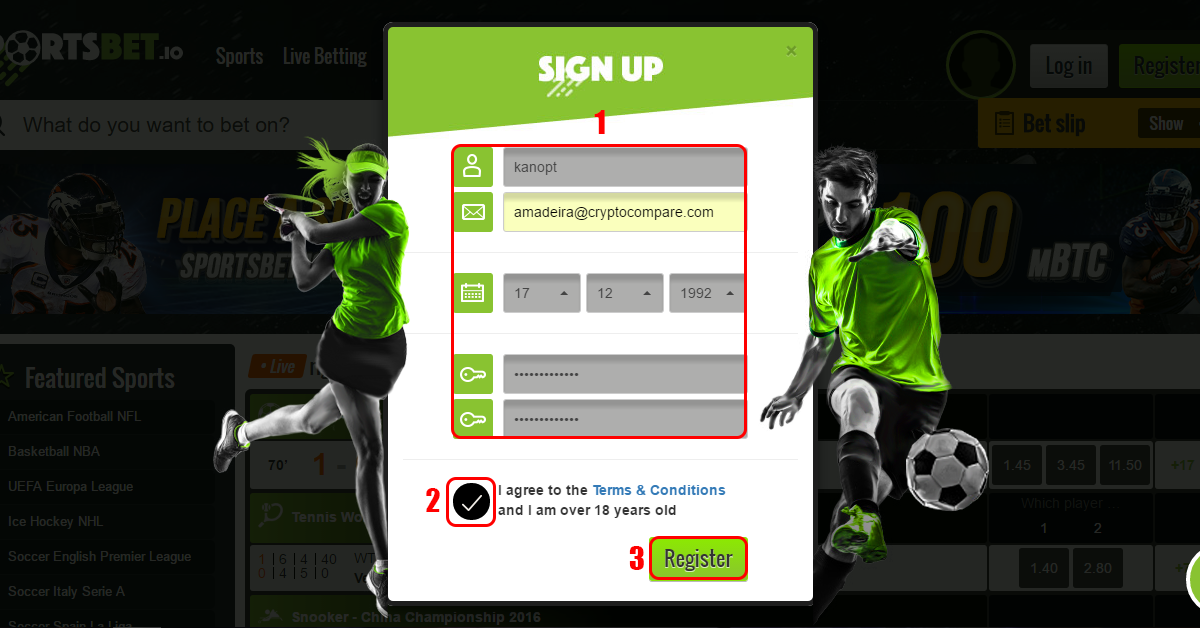 Part 2 - Deposit
Step 1: Click the wallet logo next to our name

Step 2: Send your bitcoin to the address shown

You can see the status of your transaction below the deposit address on Sportsbet.io

You will also notice that your balance will show up next to your avatar. We have sent 0.05 BTC, which is the equivalent of 50mBTC.

If you're looking for a place to buy your bitcoins,  you can click "Get Bitcoins" and check out one of the exchanges featured by Sportsbet.io

Alternatively, you can also send Altcoins through ShapeShift and convert them to Bitcoin. Click here to learn how to
Part 3 - Bet
Now it's time to make a bet! Like we've mentioned Sportsbet.io has a vast array of casino games and sports games for you to bet on. We can't really help you pick a winning team, but we'll show you how to place your bet. 
If you want to play a casino game like Blackjack or Video Poker, click "Casino".
You can also check out "Live Betting" to place a bet on a game that is taking place right now. We are going to choose "Sports"
Step 1: Choose the type of game you want to bet on

Step 2: Choose a game. You can now browse through the featured sports or others (1). You can also use the Search engine (2) to search for a team or championship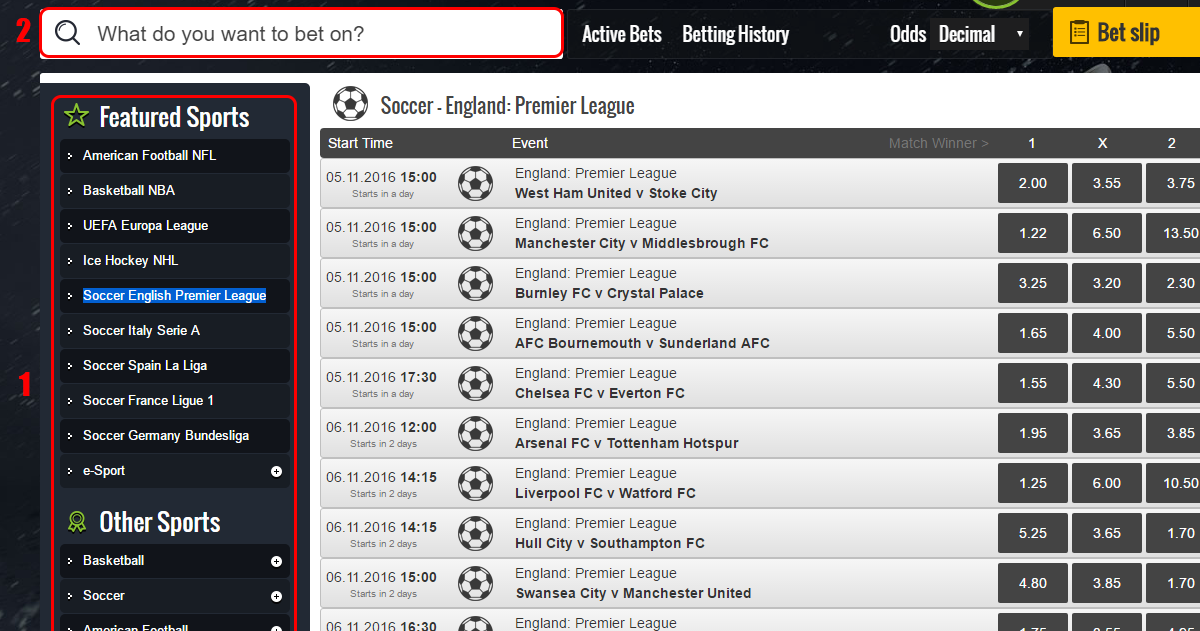 We are going to choose "Soccer English Premier League"
Step 3: You can now choose which team you think is going to win or on a tie. You can place your bet, by clicking the game you want to bet on. We are going to bet on the Manchester City v Middlesbrough FC game.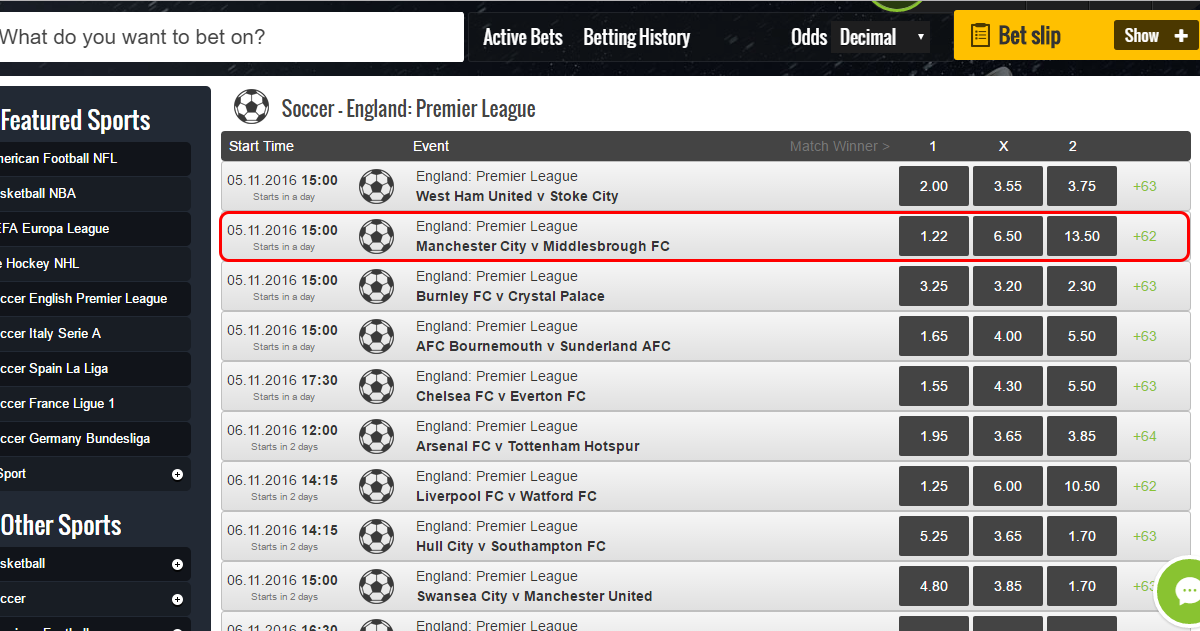 You will be taken to the betting page, where you'll be shown a vast field of options regarding the results of the game. You can bet on which team is going to win, how many goals, or bet in two results. You have alot to choose from when betting with Sportsbet.io. but we'll choose the most simple bet and we'll pick Manchester City to win.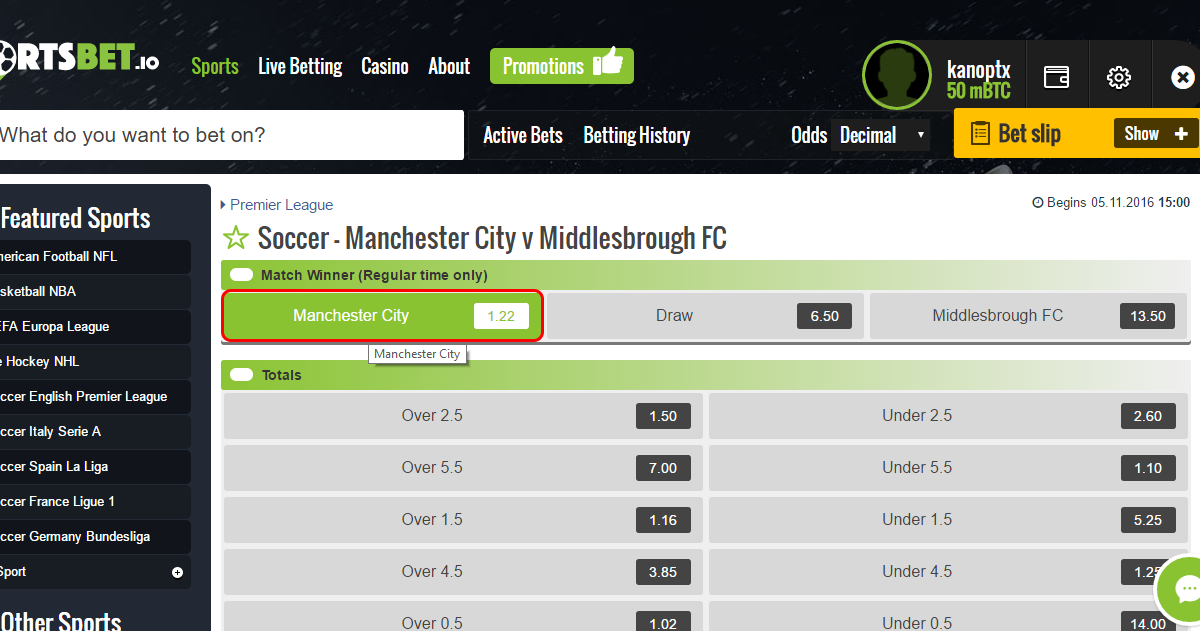 Step 4: Now that you have selected your odds, it's time to choose the amount you want to bet. Click your "Bet Slip" in the upper right corner.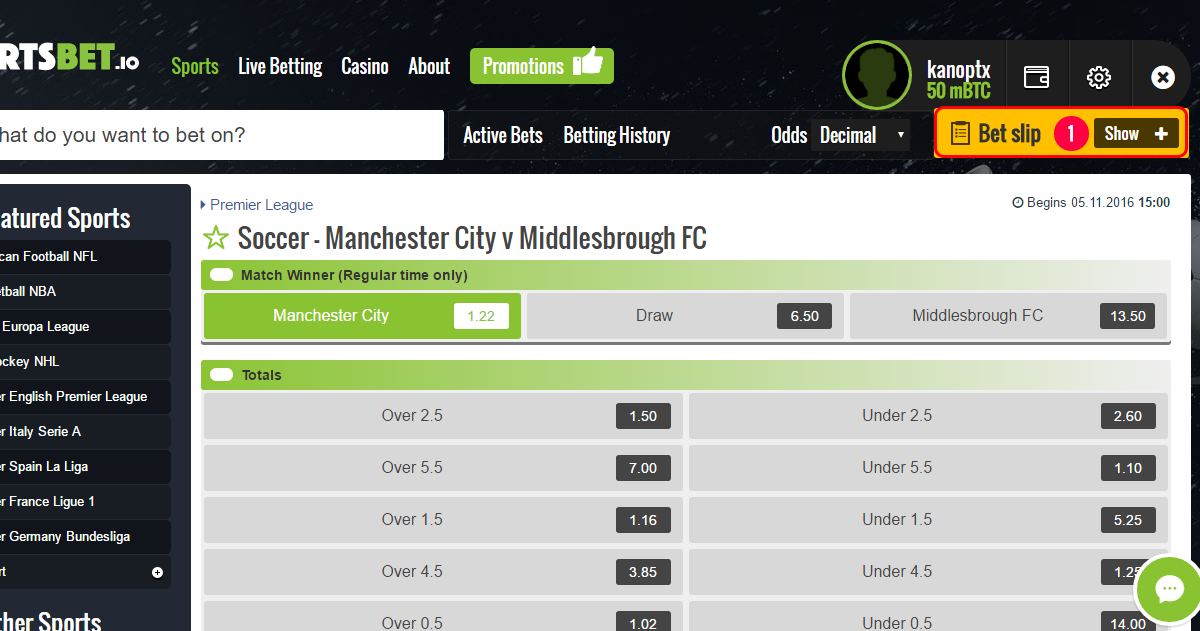 Step 5: You can now add or subtract 10 or 50 mBTC. We are going to bet 30mBTC or 0.03 btc.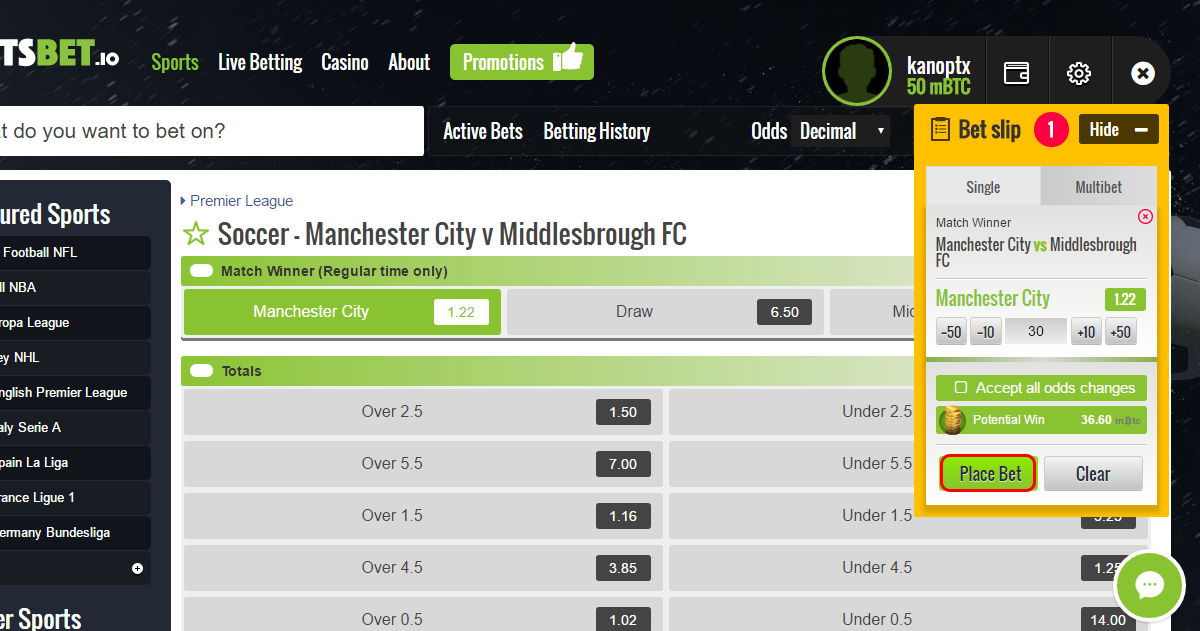 Step 6: Lastly, confirm your bet by clicking "Confirm Bet"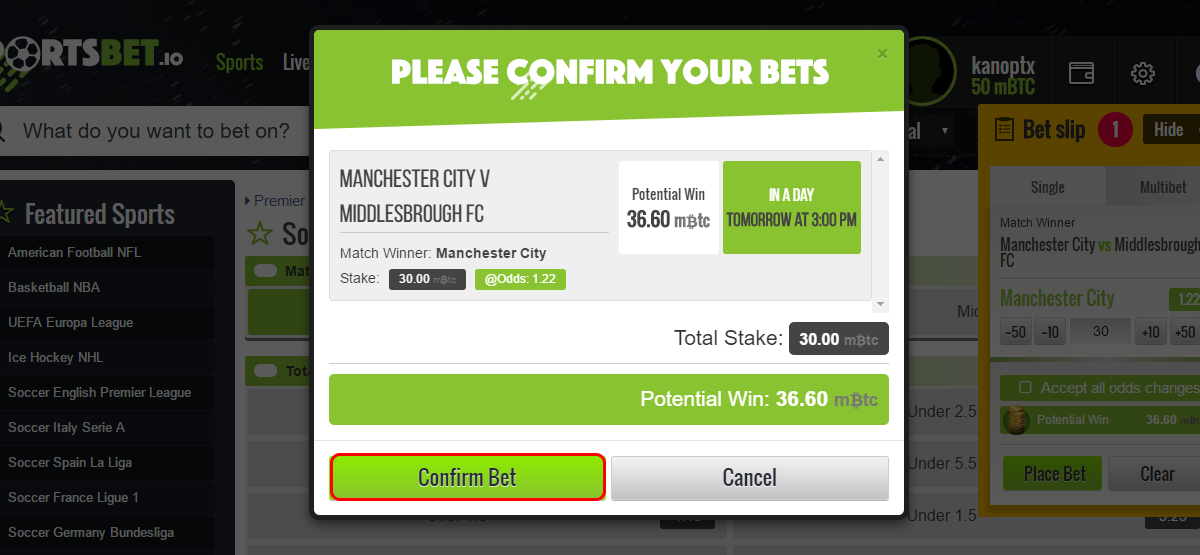 Now that you have placed your bet, you just have to wait for the game to be done with and root for your team to win!

Part 4 - Withdraw
 Now that the profits are rolling in, you can withdraw your Bitcoin to your favorite wallet or exchange. You can freely exchange Bitcoin for any other cryptocurrency or national currency or spend it in a place that accepts Bitcoin (which is not too uncommon these days)
Step 1: Go to your wallet

Step 2: Click "Withdraw"

Step 3: Enter your bitcoin address (1) the amount of Bitcoin (2) you want to withdraw.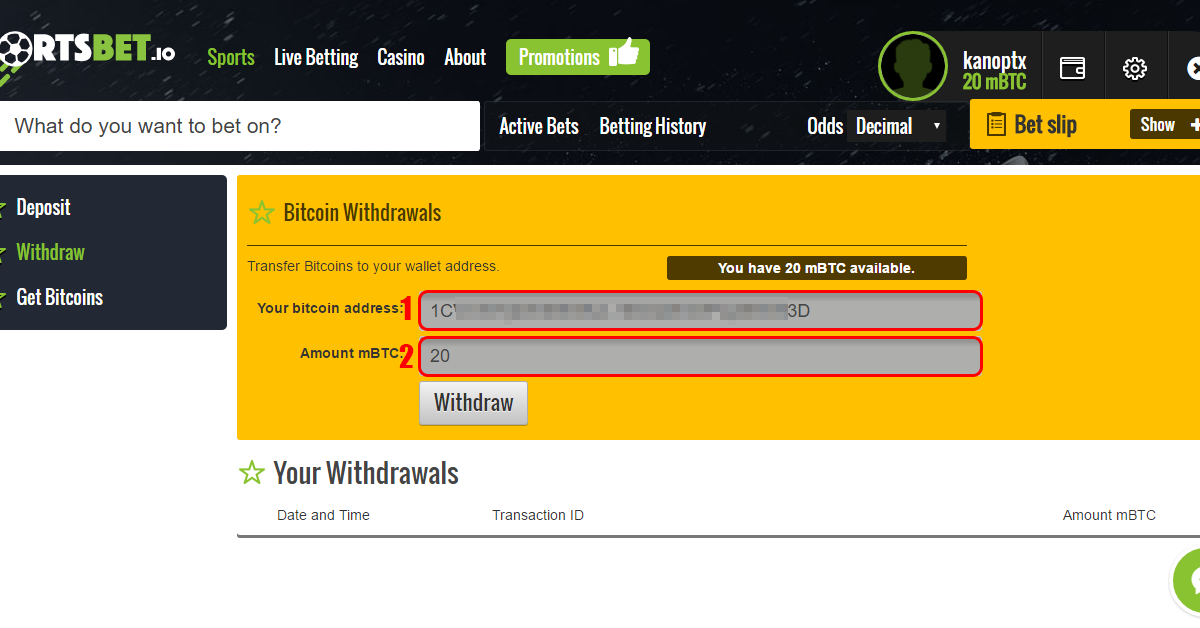 Step 4: Then click "Withdraw"
You will now see your withdrawal below, on the history.

As we can see, not only is betting with Bitcoin much cheaper due to the low transaction fees charged by the network, but it also allows you to bet anonymously, something that is not possible with traditional methods. Feel free to ask questions in the comment box below and remember to explore the colourful variety of games and sports that you can be on with SportsBet.io
This website is only provided for your general information and is not intended to be relied upon by you in making any investment decisions. You should always combine multiple sources of information and analysis before making an investment and seek independent expert financial advice.
Where we list or describe different products and services, we try to give you the information you need to help you compare them and choose the right product or service for you. We may also have tips and more information to help you compare providers.
Some providers pay us for advertisements or promotions on our website or in emails we may send you. Any commercial agreement we have in place with a provider does not affect how we describe them or their products and services. Sponsored companies are clearly labelled.