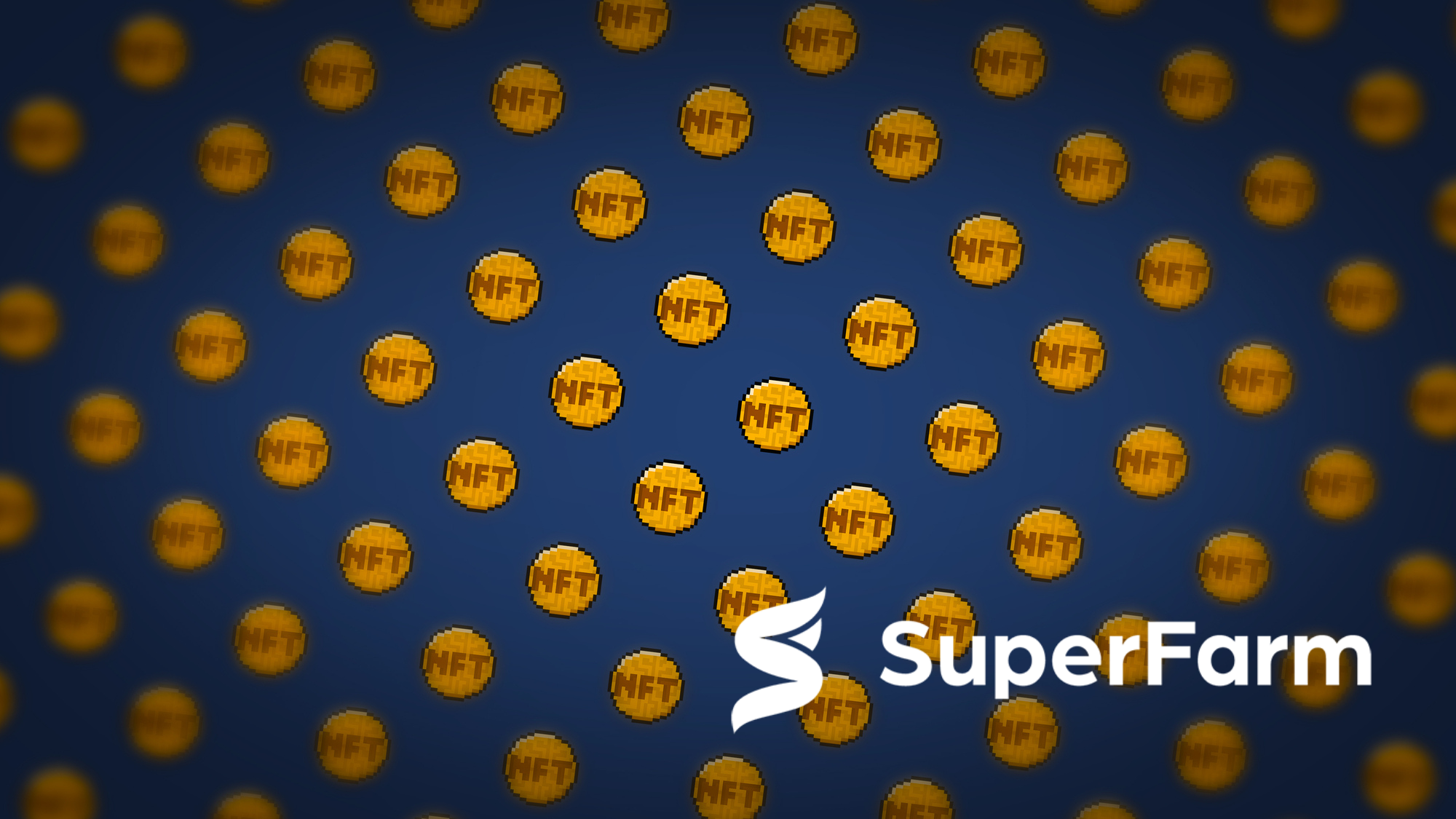 This is a sponsored story. Its content does not constitute financial advice. Please remember that the value of investments, and any income from them, can fall as well as rise so you could get back less than you invest. If you are unsure of the suitability of your investment please seek advice.
SuperFarm, a cross-chain DeFi platform designed to bring tangible utility to any token, has announced the launch of its non-fungible token (NFT) yield farming service. The new release fulfils SuperFarm's primary aim of making it easier for anyone to create their own tokens and add actual use cases to them through yield farming.
The launch of the NFT farming feature also carries benefits for the SuperFarm community, providing utility for their SUPER tokens and granting them access to passive income opportunities. More importantly, it rewards a project's community in a non-inflationary way, protecting token holders from being "inflated away."
Most projects rely on the premise of staking their native tokens to generate more of the same asset. This inflationary mechanism makes a supply glut and often has a negative effect on the overall token economy.
SuperFarm also provides a code-free setup for their partners to launch an NFT farm, which lowers the barriers and allows them to add a flexible staking model. These projects will then be eligible to turn their native token into NFT farms to achieve utility to both the project's and SuperFarm's communities.
Through the platform, businesses can also customize the rules for their tokens, identify their attributes, incentivize users' activity, and more. And because it does not have any coding requirement on the part of the partner, using SuperFarm's protocol lessens the technical complexity of coming up with a unique NFT project.
Partners that make the cut in SuperFarm's ecosystem also have full access to its suite of product offerings, such as NFT launchpad drops, staking, incentives for liquidity providers and more.
"Farmed NFTs can come in different shapes and forms, giving projects endless possibilities to add unique NFT properties and utility. NFT farms allow projects to bring a novel gamification aspect to their ecosystem in many creative ways – there is almost no limit to what can be accomplished with NFT farming," SuperFarm further explains.
How the NFT farming works
Users are given access to stake their $SUPER tokens and accrue reward points on a block-by-block basis based on their proportional share of the total pool. These points can be redeemed for SuperFarm Genesis Series NFTs, and even unredeemed points will have additional utility if users can't make use of them right away.
The company said it will kick off the process with the initial $Super farm, but multi-asset LP farms, including a SUPER/ETH farm to reward liquidity providers, will follow suit in due course.
Aside from reward points, some of the benefits that are available for SUPER holders include NFT drops from partnered gaming platforms. However, to be a part of the NFT drops reserved exclusively for token holders, there is a minimum requirement of SUPER tokens.
Overall, the SUPER token plays a vital role in the SuperFarm ecosystem allowing for a wide array of uses, from governance to fees and beyond.
SuperFarm provides a bridge between current decentralized finance (DeFi) ecosystems and the explosive non-fungible tokens (NFTs) industry. The company's first fundraising round amounted to a total of $1.1 million, where prominent industry players like Bitcoin.com, Genesis Block Ventures, Solidity Ventures, and Spark Digital Capital, and many others participated.
The NFT Farming release follows SuperFarms's beta phase for its platform's marketplace service aimed at easing the process of creating non-fungible tokens (NFT). Other features now include NFT farming, auctions, and special drops courtesy of SuperFarm partners.
This website is only provided for your general information and is not intended to be relied upon by you in making any investment decisions. You should always combine multiple sources of information and analysis before making an investment and seek independent expert financial advice.
Where we list or describe different products and services, we try to give you the information you need to help you compare them and choose the right product or service for you. We may also have tips and more information to help you compare providers.
Some providers pay us for advertisements or promotions on our website or in emails we may send you. Any commercial agreement we have in place with a provider does not affect how we describe them or their products and services. Sponsored companies are clearly labelled.