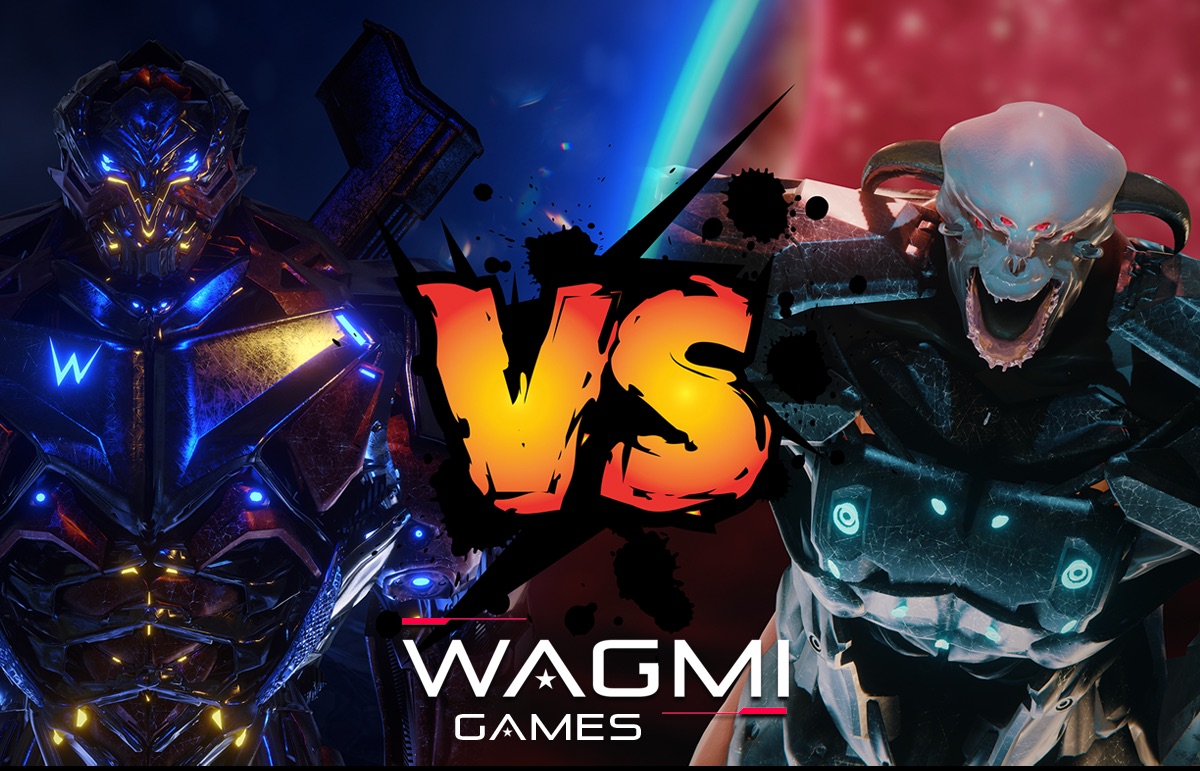 This is a sponsored story. Its content does not constitute financial advice. Please remember that the value of investments, and any income from them, can fall as well as rise so you could get back less than you invest. If you are unsure of the suitability of your investment please seek advice.
WAGMI Games has partnered with game development firm Cubix to launch a player-versus-players (PvP) tower defense play-to-earn (P2E) game that will allow players to collect non-fungible tokens (NFTs) and interact with blockchain technology while having fun.
The game will focus on Earth's survival and is set to be launched in March of this year. Called WAGMI Defense, incorporating the popular cryptocurrency acronym We're All Gonna Make It (WAGMI), the game is set to be available for Android, iOS, and desktop devices after launch.
Defending the Earth
WAGMI Defense is set in the year 3022 where an alien species called the Greys has discovered that an element critical to their survival, "NiFe" is abundant within Earth's core. Between them and their element is humankind, which now must band together to fend off the alien threat.
WAGMI Defense participants will decide the fate of the Earth in epic tower defense battles modeled after popular games like Clash Royale, which has over 500 million downloads. In WAGMI Defense, users will be able to wager WAGMI tokens where a winner emerges.
The game will, however, stand out as it will feature 3D graphics, game boards and NFT power-ups, along with special character development that will render its experience far more immersive than other simple tower defense games.
The PvP game is part of WAGMI Games' portfolio, which will in the future include a 3D Massive Multiplayer Online Role-Playing Game (MMORPG). The firm believes that launching its PvP game first will allow it to better further its mass adoption goals.
WAGMI Games and Cubix' Partnership
Developing new games is hard work and for players to actually enjoy their experience everything needs to be right. Finding an app development company capable of creating a game with cryptocurrency and non-fungible token elements is all the more challenging.
WAGMI Games, after a relentless search of dozens of game development companies that it reviewed, ultimately found Cubix' expertise was aligned with their play-to-earn goals for WAGMI Defense.
Cubix is a software development company with significant expertise when it comes to blockchain technology, and has a notable game development track record. With over 200 team members, the company has worked with leading household names including Nintendo and Walmart.
Taking all of this into account, the WAGMI Games team found that Cubix had the technical expertise and experience to pull off a game players will be eager to play with a built-in NFT marketplace and various NFT collections.
WAGMI on Ethereum and the Binance Smart Chain
WAGMI Games' native $WAGMI token, it's worth noting, has been launched n both Ethereum and the Binance Smart Chain, meaning it's available for users on two of the largest decentralized application networks.
Over time the firm will create multiple NFT collections for players to stand out and compete with one another. After the launch of WAGMI Defense, a 3D MMORPG desktop game is set to be released in Q1 2023.
Later this month the WAGMI Genesis Artist collection will be released. The collection will feature both hand-drawn comic style and 3D game characters. After the release, a new cinematic trailer is coming, ahead of the game's launch in March.
In April, the team will move on to work on the development of the 3D MMORPG while working on updating WAGMI Defense throughout the year. You can find out more information about the project on its website or keep up with new updates on Telegram. 
This website is only provided for your general information and is not intended to be relied upon by you in making any investment decisions. You should always combine multiple sources of information and analysis before making an investment and seek independent expert financial advice.
Where we list or describe different products and services, we try to give you the information you need to help you compare them and choose the right product or service for you. We may also have tips and more information to help you compare providers.
Some providers pay us for advertisements or promotions on our website or in emails we may send you. Any commercial agreement we have in place with a provider does not affect how we describe them or their products and services. Sponsored companies are clearly labelled.